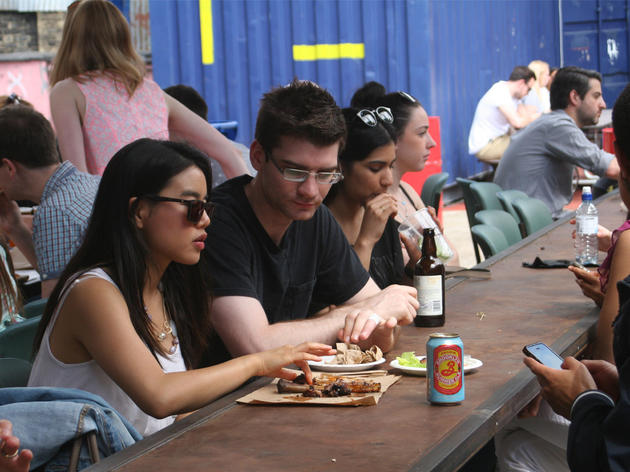 1/5
© Richard Ehrlich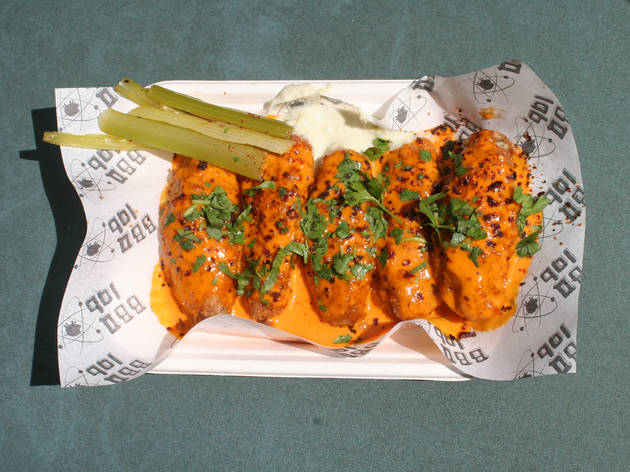 2/5
© Richard Ehrlich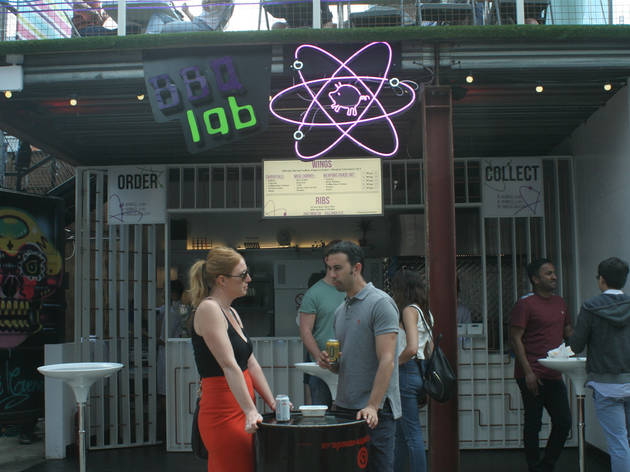 3/5
© Richard Ehrlich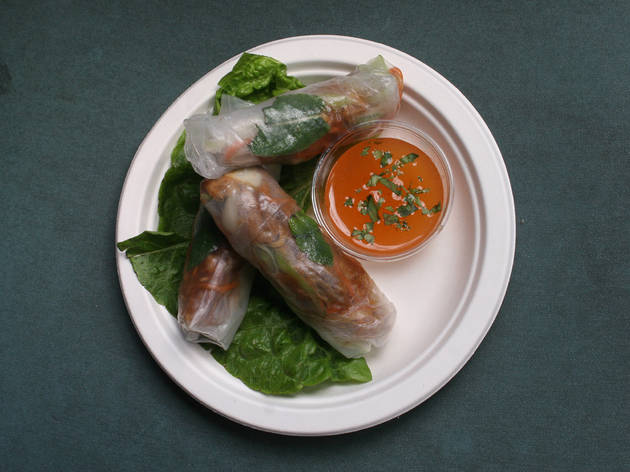 4/5
© Richard Ehrlich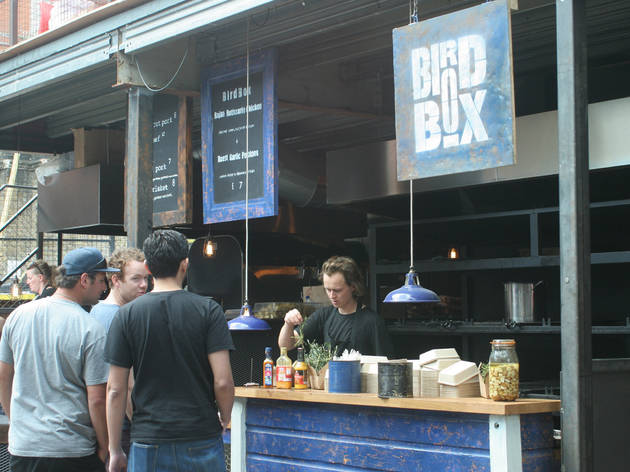 5/5
© Richard Ehrlich
Time Out says
Set in a former bullion truck depot in Shoreditch, Dinerama is a food and drink market from Street Feast, London's leading street food market company.
Open from 5pm until 1am Thursday to Saturday, the split level 1,000 capacity space has a heaving party atmosphere, and is less family friendly than its sister site Hawker House in Canada Water.
The look on the ground floor is somewhere between a yard and a warehouse, with a resident DJ, four bars and nine global street food traders – including Breddos Tacos and highly rated BBQ specialists Smokestak. Expect to queue for your food and hustle for a place at communal tables.
Upstairs things are less busy, with five breakout areas for 30 to 200 diners, and four more bars, including the intriguing German Sex Dungeon, which promises craft beer, whisky shots and submission.
Dinerama is open all year round: from May–September the space is open-air, but from October the site gains a roof, carpet and heating to keep diners warm for the winter. Entrance is free before 7pm, and £3 after that. The venue accepts both cash and card.
Read about the stats, facts, figures and fun stuff behind Dinerama.
Details
Average User Rating
4.3 / 5
Rating Breakdown
5 star:

23

4 star:

15

3 star:

7

2 star:

1

1 star:

0
Great music vibes and drink. The food stalls are awesome. Highly recommend Thunderbird Chicken, arguable the best wings in London.
This is a great place for a summers evening to chill. The food is incredible and there is so much choice that even the fussiest eaters like myself can enjoy themselves. There is a wide range of bars selling different drinks from wines, beers, and fancy cocktails. On top of this, they even show the football if thats what you're into! :D
One of my favourite places in London. The confit duck and foie gras burger is my absolute favourite but the ribs are pretty darn good too. Countless great nights here. Amazing food, bangin drinks... Yes please!!
Super cool! Stayed in the winerama section all night. Not overly expensive either!!
My boyfriend and I came across Dinerama on our way to Hoxton Sq for food, we ditched our initial plans and took a chance on Dinerama. We had an amazing time, spoiled for choice, took most of our afternoon trying to strategise what we would eat and in which order! All the staff were friendly and welcoming, the bar areas had an amazing vibe and delicious, reasonably priced cocktails. Wish I had more information on where to find the food vans afterwards, as I would love to go back to them.
My particular favourite was the monkfish curry on chips, but I can't for the life of me remember the name of the vendor - which I'm gutted about as it's one of the most delicious meals I've had in ages. My boyfriend was a big fan of the El Diablo cocktails.
Can get really busy and a little bit cold into the evening, but I would like to give it a try again later into the night. Got some great photos too, highly recommended for groups and a good place to start your night out.
Good food selection until Dalston street feast reopens, but venue can be cold in some parts.
I love it!! Good that they found an indoor place for winter times!
I love dinerama I wish it wasn't so expensive but such great food trucks
Dinerama is worth going for any foodies in London, everything looks really good to try and with interesting selections all stacked within one yard- you be guessing for some time what to try first. Typical east london / shoreditch decor. As it is located in an outdoor yard, you will enjoy it more on a sunny day out.
Here is what i tried and my ratings for it:
Cheeky italian - beef poutine: 8/10. Delicious and what I had expected. Lovely fried chips covered with thyme, pulled beef with gravy and liquid cheese on top. Yummy! That gravy was lovely to have on chips.....still thinking about it even now.
Cheeky italian- crab mac and cheese: 4/10 I had this after the beef poutine so the taste failed in comparison but also the portion was small....it was half the size of a normal take away container...for £7.50? I felt there wasn't enough crab in this dish even for that amount of mac and cheese. Still quite nice but don't forget to add salt and pepper.
Yum Buns- chocolate indulgent doughnuts with cornflake flavour ice cream (large): 6/10 doughnuts were nicely done, not too light or heavy. It was not one of the best tasting doughnut but topped with melting chocolate and marshmallows...and THEN on top you have CORNFLAKE ice cream. Delish! Also the amount was a lot more than i had expected which makes this even better to buy.
Other things I would have love to try is the woodchip smoked pizza and I heard the bird in a box is also very good (claimed by my other half.)
Such a great spot that I highly recommend for a cool lunch date or a bit of a drunken food orgy. Choose one of the other, you can't have both...(I'm trying to say get there before the cover charge kicks in at 5pm so you're not swimming in people!) Anyway, delighted to hear that come August 13th Dinerama is re-opening because the food is genuinely delicious. BOB's Crab Roll is a party in your mouth, whereas anything from Smokestack is worth the inevitable queue.
The area is split up nicely with different bars and music zones that don't bleed into each other too much. It's easy enough to miss if you don't know where you're going (it looks a bit like a used car junk yard from the outside - not saying it's a bad thing).
Ultimately it's 100% worth trying, don't be put off by 'Shoreditch types' or anything like that. Or do, it means more delicious food for me!