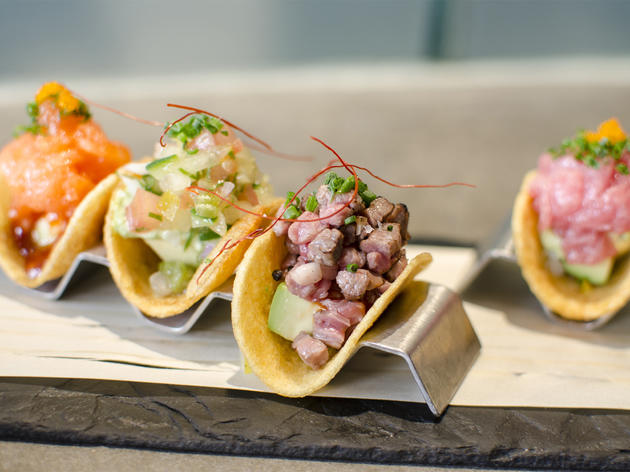 1/7
© Ben Rowe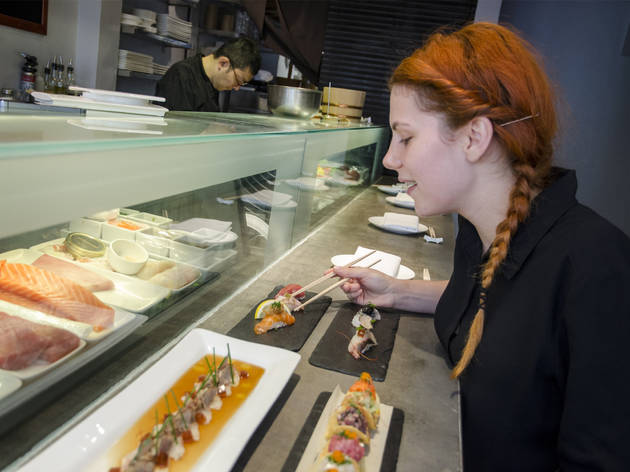 2/7
© Ben Rowe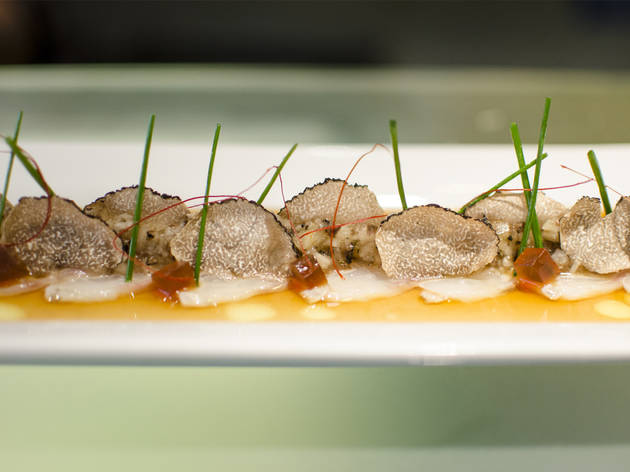 3/7
© Ben Rowe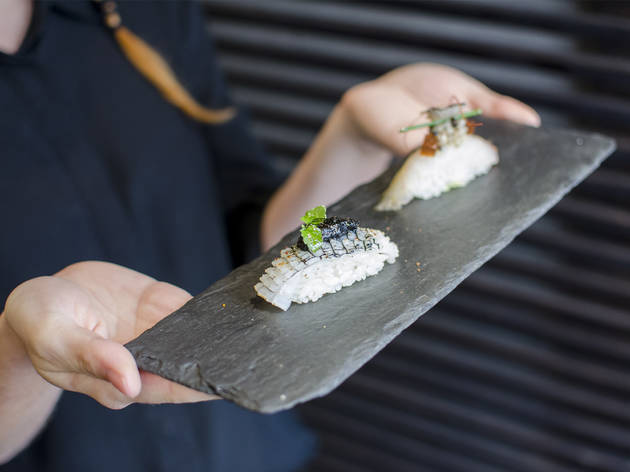 4/7
© Ben Rowe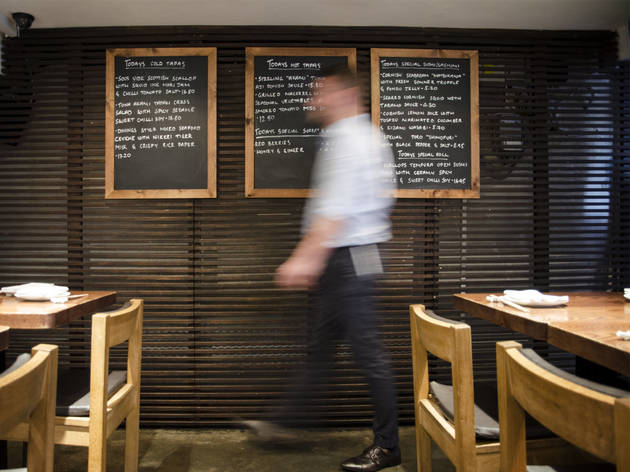 5/7
© Ben Rowe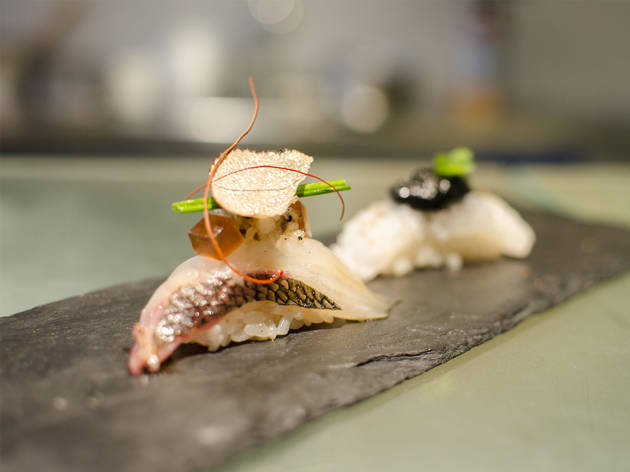 6/7
© Ben Rowe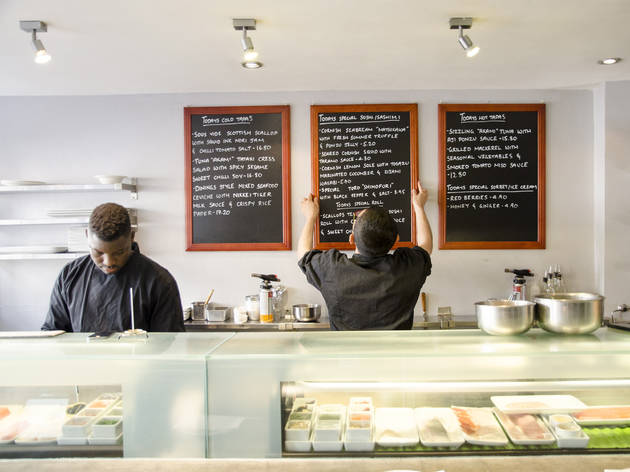 7/7
© Ben Rowe
Time Out says
Dinings has a reputation larger than its compact Marylebone setting for great (and pricey) Japanese food with innovative flourishes. Booking highly advisable.
Once one of Marylebone's best-kept secrets, Dinings now has a reputation larger than its compact, converted-townhouse setting. Getting a table in the basement is unlikely without a booking, but if you're lucky there may be a spare stool at the street-level sushi counter. If you're not keen on small spaces, then you may just like the ground floor better – it's brighter with more windows. Whatever your thoughts on the venue itself, the food is indisputably excellent (make sure you're packing plastic, as costs do mount up).
Conceived by Nobu alumni Masaki Sugisaki and Keiji Fuku, it displays plenty of Latin flair along with other innovative flourishes. Nobu-esque curved potato 'tar-tar' chips filled with minced fatty tuna, avocado and wasabi/jalapeño sauce offered an inviting taster of the style. The much-celebrated seared wagyu beef nigiri garnished with cubes of ponzu jelly and minced truffle was also a triumph. Presented on a long platter, a lunchtime sushi selection (good value at £23) tasted every bit as good as it looked.

Another lunch dish of pork 'shabu shabu' saw ready-cooked slices of tender pork balanced atop a heap of sticky rice and dressed with spicy fermented Korean sauce gochujang – despite the pungent mix, it wasn't overpowering. With polite, efficient chefs and waiters too, Dinings is a top performer.
Details
Average User Rating
3.9 / 5
Rating Breakdown
5 star:

7

4 star:

4

3 star:

4

2 star:

1

1 star:

1
Below expectations overall. Some really good nibbles (crab with wasabi-Jalapeno sauce, lobster with miso Americaine sauce) and the toro sashimi topped with foie-gras mousse was also very good. The sweet corn and potato croquettas were very interesting, with nice texture and taste internally covered with a properly made crispy shell and accompanied by a well-balanced paprika relish. The sushi rolls were mediocre (shrimp tempura with sweet soy, double crab), the Hamachi yellowtail sashimi was fresh but indifferent, the grilled chilli garlic black cod was not cooked properly as it was almost tasteless with a "watery" with chilli garlick suace and the grilled Aubergine with sweet miso was too hot (although warned, still not acceptable) and overly sweet. Very disappointing was the fact that they were out of our 3 consecutive choices of bottles of wine (Gavi, a riesling and a Gruner Veltliner) out of a short wine list. The staff members were attentive. Some good moments but highly overpriced/overrated restaurant
Nice food but very cramped surroundings and I agree totally with the comments on not so friendly staff and tiny, expensive portions (some of the starters are actually 4 teaspoons of taster!!). We were still hungry after a "good" and very costly lunch and had to fill up on Lebanese sweets found just down the road. Food is a bit different and very tasty but don't go if you're hungry.
Extremely expensive and staff not that friendly. The 6-28 pounds that tiimeout says for a main course is for a single bite, not for a main. Portions are tiny. Spent seventy pounds each for nice, but not amazing food. Then went home and had dinner.
Fantastic Japanese food, understated restaurant. Yes the place is small and not flashy and expensive, but the food was brilliant. Great flavour combinations, excellent sushi, creative and beautifully presented. Loved it.
Amazing food and great service. It could possibly be the best Japanese restaurant in London, I've tried many!
Best Japanese restaurant that I tried so far in London! The tapas concept is amazing, you will be able to try different things for an amazing experience. Of course it is expensive, as every good restaurant in London. Definitely worth every penny!
Inspired, delightful food with enough originality to make a highly recommended place.
Tried Dinings a few weeks back and we were somewhat disappointed. Not one dish stood out as 'amazing'. Do yourself a favour and spend your money at Nobu instead!
I've been twice now and this has become my sushi splurge of choice.
I used to swear by this place as being one of the best Japanese in London and perhaps in Europe. Alas, commercialisation has got to them and now the high prices do not warrant a visit to a basement dive. Worse still, the quality of the food had gone down dramatically and some of their best dishes are no longer on the menu. A real shame.
Best sushi I've had in London - and i've had a fair bit.