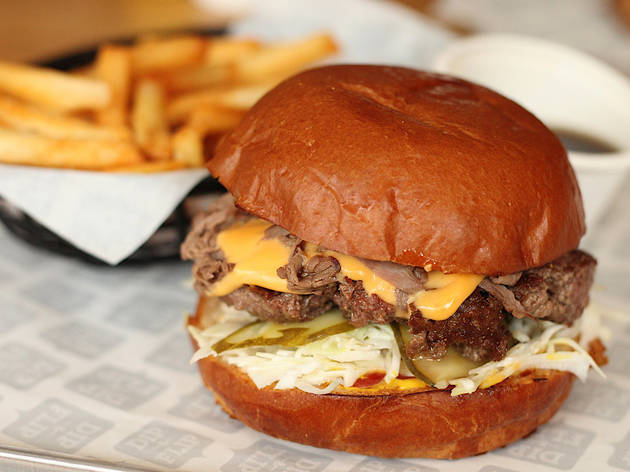 1/2
2/2
Time Out says
A French dip might sound like some swoony Gallic dance move, but it's actually a hot meat sandwich from the US. Thinly cut slices of meat are put back into their cooking juices (the 'jus'), then packed into a chewy baguette and served with more of the jus (or a cup of jus-based thin gravy), for dipping. It's just one half of the concept behind this South London newcomer. The 'flip' side, is a menu of – yup, you guessed it – burgers.
Our bacon cheeseburger was excellent, its beautiful charred-on-the-outside, pink-on-the-inside patty having been topped with molten cheese and crisp smoky bacon, not to mention long slivers of gherkin, burger sauce and shards of raw cabbage (a smart move: crunchier than lettuce, but with a peppery note). This was all snuggled into a rich, of-the-moment brioche bun. Fries were decent: medium skinny, properly crunchy and paprika-salted.
Yet the dips, which are the more interesting part of Dip & Flip's offering (and stop it from being 'just another burger joint'), proved disappointing. While our lamb dip saw juicy folds of full-flavoured meat slathered in a nicely minted gravy, these flavours were lost against the doughiness of the torpedo roll. Stateside, bread of this thickness would be offered double-dipped (where they gravy-soak the undersides before assembling) – apparently Dip & Flip tried this, but locals couldn't get their heads around it. We were also bemused to have been forgotten about as soon as our dishes arrived. But the vibe here is fun-loving, with loud, upbeat music and a warm bare-brick walls-meet-concrete-floors vibe.
We're seeing more and more excellent French Dips (in Meatmission, Hawksmoor and independent food stalls) across London. Dip & Flip, alas, should stick to the burgers.
Details
Address:
87 Battersea Rise
London
SW11 1HW

Transport:
Rail: Clapham Junction rail
Contact:
Do you own this business?
Rating Breakdown
5 star:

12

4 star:

11

3 star:

5

2 star:

1

1 star:

2
Twice my takeaway order has been incorrect. No response, no apology. Burgers are way undercooked. Not spending my money here again.
Soggy sandwiches – sound appealing? Perhaps not to everyone's palate but somehow it works.
Dip and Flip are introducing us to the world of the French Dipped Sandwich – slicely thinned beef or lamb, dipped in gravy and served in a fresh bread roll. You get extra gravy on the side to dip the whole sandwich in and then try and stuff the sloppy mess into one's salivating mouth. Definitely not a place to take a first date! Simple but fantastic. The burgers also impressed as did the huge American oversized thick milkshakes.
The venue is casual enough for the little ones, however we felt the Battersea branch was a little cramped for too many buggies. Highchairs available plus a separate kids menu.
Great burgers on their own, but add gravy and they are perfection!
Having tried numerous burgers in London, its truly a taste sensation. It might because I am northern and love gravy but burgers and gravy is an iconic combination like mac n cheese or gin n tonic. Eating the dip and flip double cheese burger is a truly euphoric eating experience.
The burgers are awesome and one of the best I've tried. The venue is small but fresh, lively on trend and the staff are superb, friendly, excellent at what they do creating an ambience that makes you want to return again and again!
Such good burgers - and the limoncello milkshake was great!
Only 3 words could describe an eating experience at Flip & Dip,… messy, messy and… messy!! Or dirty, really dirty as you prefer to put it.
The Flip & Dip burger is difficult to eat, it will break in your hands, you will surely lose all the ingredients on the attempt of dipping it into the gravy that comes with it and it will all end up on your shirt, but all an all it will be a satisfying experience. My burger was tasty, well made and above all fun to eat with a bunch of friends. The dip is a similar concept but the roll got slightly soggy and It was way smaller and less fulfilling, so I wouldn't recommend those. Milkshakes are great and let's be realistic, they increase the nastiness of it all. Soft drinks where really expensive though and the service was average.
As a friend of mine put it: " an ungodly abomination for some or a heaven on a bun for others, but definitely a unique eating experience that won't leave you indifferent".
Burgers are good but any burger joint should be. Chicken burger terrible and gravy like warm watered down bisto. Gutted as sounded so good. Hair in glass of coke and no one even asked if all ok. Oh and deafening music (I'm not being an old fart!) but literally painful and they clearly wanted you in round and out. Waited to pay bill for ages (they couldn't hear us as music so loud) so had to scrape together cash so we could exit! Manager was great when we got to speak to him.
love supporting independents but this just sends me back to Byron .....
The concept of a burger topped with shavings of roast beef and gravy had me watering at the mouth and I'd been dying to check this place out for months. So today I finally made the schlep down to Wandsworth. I wish I hadn't of bothered.

While the Dip & Flip burger was perfectly adequate, it wasn't anything game-changing. IN fact the meat of the burger was a little under seasoned. The gravy it came with was lukewarm and thin in both body and texture. It added nothing but unnecessary mess to the experience.
But the worst part was the completely amateur attempt at poutine. We ordered the fries with chillies, bacon, cheese and gravy.......only to be presented with a bowl containing a puddle of lukewarm gravy and solid mozzarella at the bottom, upon which sat a bed of bland fries peppered with chopped green chillies and bacon bits - for a second I thought this was a post modern attempt at a deconstructed version of this dish - until I tried eating it and found it nigh on impossible to combine the different parts onto my fork.
So I asked the manager to melt the cheese and he said they didn't have the facilities to do so, which I found faintly ridiculous. He offered to change it for something else but didn't seem to have any intentions on making my dining experience anything other than adequate.
The restaurant itself lacked atmosphere and was devoid of any charm. It seemed like this was not a business that the owners/managing staff lived and breathed, which to be honest, I think is vital given the competition of other London burger joints who place a huge emphasis on their craft.
I won't be visiting again.
Snap up exclusive discounts in London
Time Out's handpicked deals — hurry, they won't be around for long...