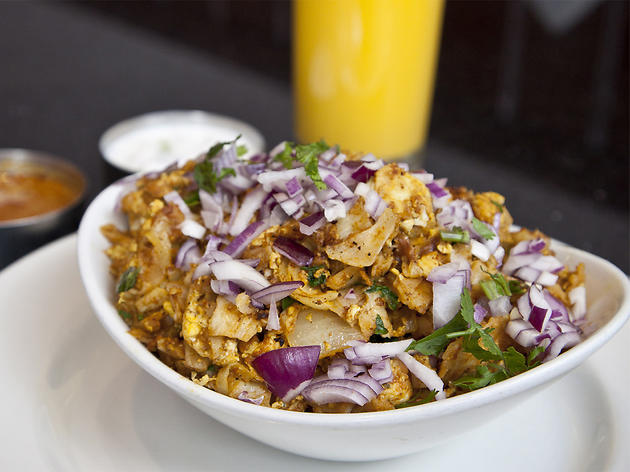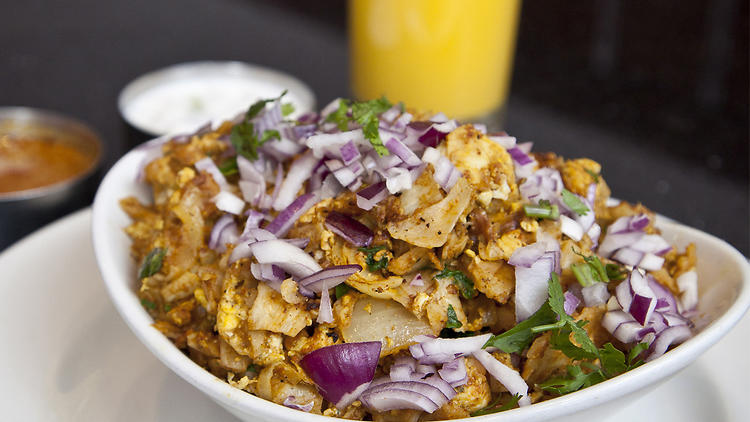 Time Out says
Dosas are the highlight at this rudimentary Sri Lankan and South Indian caff in Tooting – along with the minuscule prices.
Rarely have we seen such a perfect dosa: crisp on the outside, moist and rice-fragrant on the inside, a perfect oval bent over in the shape of a curling leaf. The accompanying sambar (spicy lentil dip) is rich and sweet, in the Chennai style, the coconut chutneys fresh (though only in two variants: red or green). Most of these meals cost under £3. It's true that this South Indian and Sri Lankan café might not have the most alluring of interiors – it is lit like a Tamil truck-stop, with furniture the colour of Sunny Delight – but at least you get to see movies on the flatscreen TV by way of diversion. On our visit, we watched a portly hero wiggle his moustache through enough song-and-dance routines to have us begging for some masala chai as a fortification. Although the vegetarian choice is exemplary, the non-veg options are OK too: mutton and chicken, mostly. But we suggest sticking to the meat-free meals, as this is Dosa n Chutny's forte; the classic breakfast and snack dishes are beautifully rendered.
Details
Address:
68 Tooting High Street
London
SW17 0RN

Transport:
Tube: Tooting Broadway tube
Do you own this business?
Average User Rating
3.9 / 5
Rating Breakdown
5 star:

5

4 star:

6

3 star:

0

2 star:

0

1 star:

2
Really poor service! Been there a few times and have always had to wait for someone even take an order. One time someone took an order but the food didn't arrive for 40 mins, then someone came over and told us that they misplaced our order! Anyways we placed our order again. Thinking that it was perhaps a one time thing we visited the place again. Same old shit happened again. First they gave us the wrong order. The waiters were SUPER rude! The Manager is a buffoon. After being spoken to rudely, we decided to not eat there and we asked for the bill for the uneaten food. The buffoon didn't even bother asking us to stay and quickly went back to get the bill. Not to our surprise it was a wrong bill with a beer added which we never ordered.
Anyways we left that place and walked into Sarvana Bhavan. Which has great food and excellent service. Dosa and Chutney has horrible customer service. Don't even want to give it a one star. The owner is a nice man but he is never around, he should know his staff is running the place to the ground! AVOID.
Amazing food in a relaxed cafe style setting.
Great little place that offers massive dosas for mini prices.
Doesn't look much from the outside but it's what's inside the kitchen that counts. Great food at great prices!
I went to the restaurant simply to order a takeaway. You would think that the process was simple but because of the staff it was a disaster. I was treated rudely and they swore at me. When i went to collect my food (after twenty minutes) they said that they had given my food to another customer because i returned later than ten minutes. I expressed my frustration and asked to speak to the manager and the man i spoke to lied and said he was the manager even though he had denied it before. Before I knew it, 5 members of staff had encircled me and were swearing at me because I had sworn once to express my frustration but after I tried to rationalise myself and the situation, they weren't having it. If you are a woman of ethnic origin, do not go there alone. They are misogynistic, chauvinistic bullies who swear and do not uphold good customer service. Their response was to intimidate me and ban me from the restaurant because I tried to stick up for myself. Had I been a 6'2 male i doubt they would have the courage to do so. Also the food was average
I tend to come here at least 3 times a month - I love it! The food is excellent - my favourites being the Chukka Chicken, Ghost Saagwala, Aubergine Regional speciality (cant remember the name) and the Dosas. Yes, service can be chaotic and sometimes your order might be forgotten the melee of a busy night - but the waiters are pleasant and it is the perfect place to go with a few friends for a long, relaxed, cheap and tasty meal.
Masala dosas to die for! Simply delicious. Great South Indian Experience! If it's full of indians, it must be good.
Excellent food. No frills but excellent service and great vegetarian selection. Great value for money.
Cracking vegetarian food, in God's Own Postcode - aka SW17 - you won't spend more than a tenner, you'll be stuffed, and you'll love it. What more do ya want?