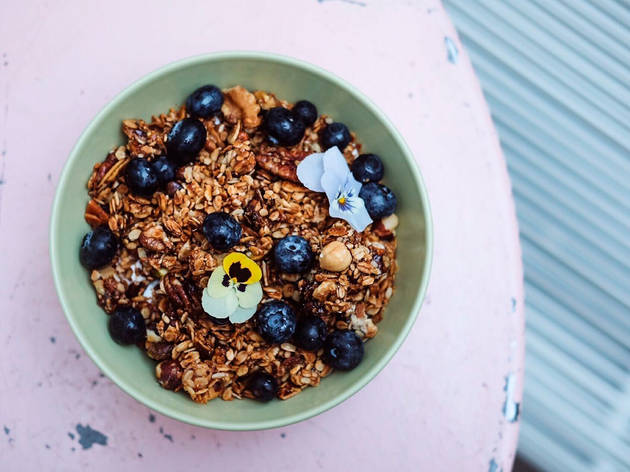 1/6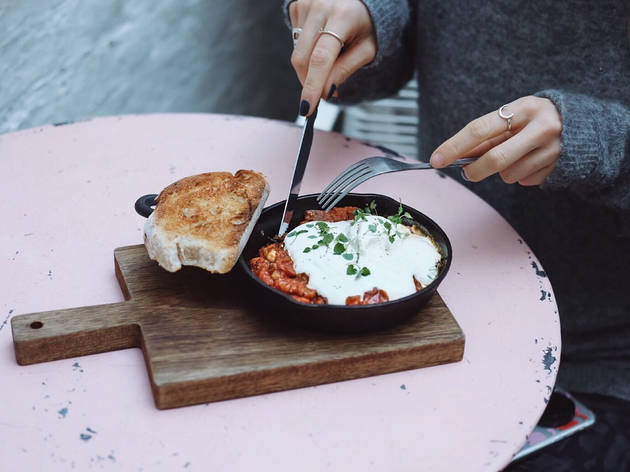 2/6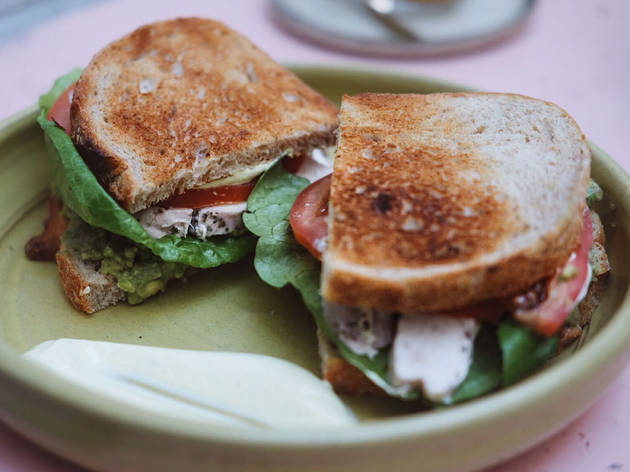 3/6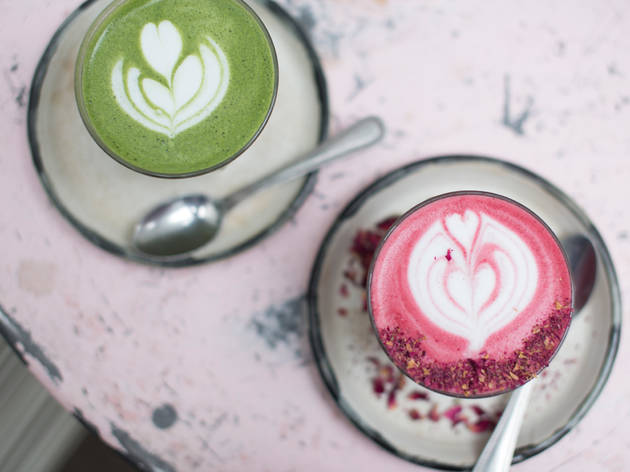 4/6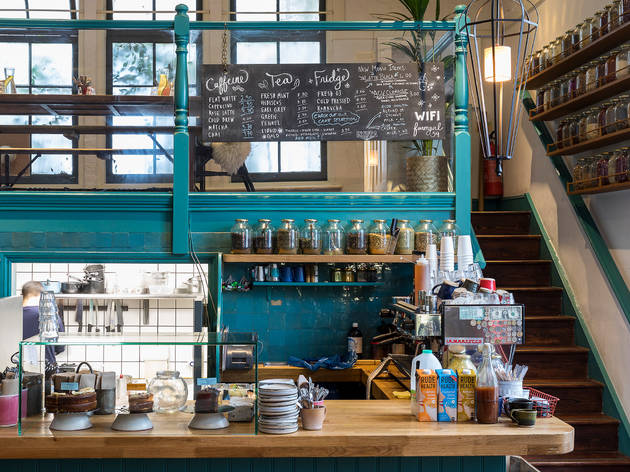 5/6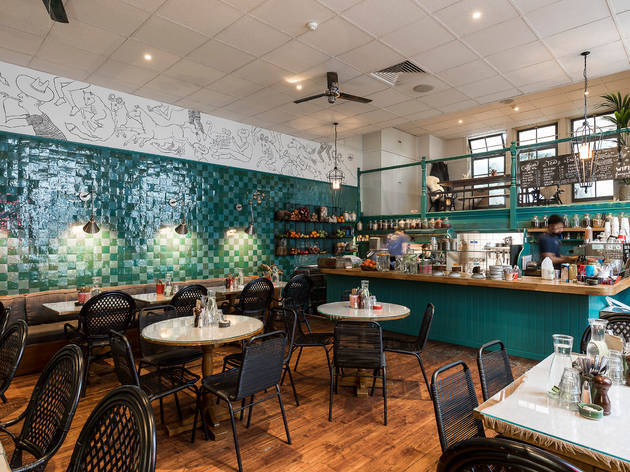 6/6
Time Out says
A Notting Hill branch of the stylish Aussie café.
Everything at Farm Girl – the nutritious brunch dishes, the casual, Aussie-inspired backdrop, the crowd of phone-happy tourists and wannabe Instagram models – is fresh, wholesome and oh so pretty. Case in point: matcha lattes arrived in shades of baby pinks and powder blues, sprinkled with dried flowers.
The food tasted as it looked: healthy. Take the icy, pleasingly tart açai bowl, or the slow-cooked chicken sandwich, which was both satisfying and nourishing. Surprisingly, the standout item was the Liquid Gold latte, which came with turmeric and astragalus, an 'immune-system booster'. It was one of the best I've ever sampled – not too sweet and with a long, milky finish. (The cute French bulldog stencilled in cinnamon atop the sunshine-coloured foam didn't hurt either.)
And yet, the health focus meant that most of the dishes weren't exactly moreish, plus all the added extras (£2 for a poached egg, £2.50 for mushrooms and £3 for about eight clusters of granola) crank the bill up fast and furiously. But as the Hemsley sister lookalike next to me photographed her £4.20 Smurf-blue, organic almond milk latte, I remembered: we're not really here for the food, are we?
Details
Address:
59a Portobello Road
London
W11 3DB

Transport:
Tube: Notting Hill Gate
Price:
Lunch for two with soft drinks and service: around £40.
Contact:
Do you own this business?
Average User Rating
4.1 / 5
Rating Breakdown
5 star:

6

4 star:

6

3 star:

2

2 star:

0

1 star:

1
It's a cute little place just off Portobello Road. Definitely try to stay outside in the tiny picturesque courtyard if the weather is lovely. I had the buckwheat pancakes with coconut and berries and it was really tasty. We waited about 20 minutes for a table, but they send you a text when it's ready. If Granger and Co is too busy or you're sick of going there, try this place out.
Farm Girl is another millennial cafe using their beautiful food and hipster – pink petal – coffee to attract the crowds. However, albeit overpriced, the food here is delicious. On a nice day, you can sit in the white courtyard surrounded by plants and you do forget that you're on the tourist-filled Portobello Road. The staff are incredibly friendly which is handy considering the queue to get in - surprisingly we only have to wait for about 15 minutes for a table and were given the pink one.
This place is all about plant power with the majority of the dishes considered 'healthy' but the coconut pancakes are delicious and my avocado and toast was well seasoned – I'm pretty sure I had a whole avocado. My coffee was also nice, just a tad on the small side.
If you're looking for a nice place to come, have brunch and take pictures, this is a nice spot and you won't be disappointed by the pretty plates.
This has been on my bucket list for a while and I'm so glad I finally got around to going.We went on a stunningly beautiful Sunday morning, full of sunshine and not a cloud in the sky. I was the first to arrive out of my group at 10:25am, they don't take bookings so I am glad I arrived when I did as I was second in the queue and didn't wait long at all for a table. The restaurant is easy to find but hidden through a little courtyard, we luckily were able to sit outside and enjoy the beautiful weather with some baked eggs, blue matcha latte and fresh juice.
Farm Girl has a great relaxed vibe, all the staff we met were absolutely delightful and I would recommend a visit!
I have wanted to go to Farm Girl for a long time, as it's an Instagram favourite and every time I saw a photo of those great-looking, colourful pancakes, I knew that this should be the go-to place for my next brunch outing.
I went there on a Saturday at 11 am and the queue was quite long - as I expected. But I was really lucky to get a table for me and my friend in 5 minutes, as we were willing to sit outside (it was an amazing and warm spring day). I found the outside space so cozy and it was lovely to enjoy the sun while at the same time enjoying a great brunch.
Naturally, I went for the buckwheat pancakes, which didn't let me down one bit and truly lived up to their Instagram reputation. They are full of spices, which makes them very different from the usual pancakes you get elsewhere. The pistachio nuts add a nice crunch to them and is also a colourful touch. Delicious!
My friend had perfectly poached eggs on sourdough toast with avocado and smoked salmon, which also looked delicious. We were both very happy with both the food and the coffees. What is also a bonus here is that most of the choices are healthy too ;-)
Farm Girl is a place that feeds your eyes as much as it feeds your belly and they make a great effort to make everything look delicious and special - they even add glitter to their cakes! Who doesn't want glitter on their cake?
All in all it was a really nice brunch place that I would like to visit again. The only small minus was the service, that was very slow. Of course, it was a super busy Saturday and as the the staff is so friendly and the surroundings so nice, it didn't really affect our all in all great impression.
Farm girl Cafe officially stole my heart. Nestled in a church mews just off Portabello road this brunch spot is a hidden haven from the hustle and bustle of the market street outside with a cute little courtyard and plenty of cute dogs bounding in and out of the door (dog friendly restaurants = my favourite places to spend a Saturday). It's quite lucky that the exterior of Farm Girl is so pretty because sadly you will probably spend a lot of time queuing outside of it. We waited half an hour. I'm not particularly bothered by this - it's London after all. But probably something to take into consideration if you're starving/hate queuing/it's pouring with rain.
Brunch is pretty much my favourite meal of any day but there's nothing nicer than sitting for hours enjoying pretty much everything on the menu. Especially when most items are pretty health conscious and veggie/vegan friendly! Hurrah!
Between us me and my brunch buddy G managed to get through:
- matcha latte
- cappucino
- buckwheat berry pancakes with amber maple syrup fresh berries & coconut shavings
- 2 sides of coconut bacon
- a lemon pie smoothie: Frozen berries, lemon zest, almond butter, apple & almond milk (YUM)
- Acai bowl: Organic frozen Amazonian Açai berries topped with sliced banana, chia seeds & goji berries, add almond butter
- 2 hot chocolates
yeah we ate A LOT plus spent a worrying amount of time lingering around the doughnut counter.
Everything was pretty delicious. I will have to be a tiny bit picky and say I was a little disappointed with the hot chocolate which i had expected to be thick and rich and was a little watery but serves me right for being such a fatty. It's also worth noting that I was pleasantly surprised at the bill which was not at all as eye watering as it can be in healthy cafe's such as this.
You can't fault Farm Girl for presentation either; I would happily place an order for all of the crockery and instagrammed every single course that was put infront of me. Kitchen goals.
The attention to details is pretty special here too. The bill came on a cute ceramic dish scattered with rose petals, my pancakes were basically a work of art and G's Acai bowl looked so pretty it was almost a shame to eat it.
If you're looking for somewhere to have brunch or lunch where you'll get good quality, healthy food at reasonable prices and won't feel rushed off your table - Farm Girl is the one for you!
It was pretty hard to decide on what I wanted because everything on the menu looked so good! So I first eliminated what I didn't want then eliminated the dishes that I could make at home myself. It came down to having either an Acai bowl or the granola. I went with the latter and so did my friend.

The Granola Bowl consisted of Greek yogurt topped with house-made granola with pecans and a few fresh blueberries. I liked that it was served in a large bowl and even though I normally ask for them to be served separately, I was not disappointed with this. The granola did not get soggy, even up until the very end of my bowl. The chunks were not too big, so I got a good mix of small clumps and large ones and the occasional pecan nut. I did feel that they could have been a little more generous with the amount of fresh blueberries they put on top, as I literally got 5-6 blueberries.

Along with the granola, I ordered a Matcha latte with almond milk. This was actually pretty well done – it got to us pretty quickly after we ordered and it tasted authentic. There was enough matcha powder in the latte so that I could taste the graininess of it but not too overpowering that it left my mouth powdery after drinking it. I liked that they did the standard heart-shape design on top of the latte and it held its form well.

I'll definitely be coming back to try out their weekend brunch menu, which I believe is similar to their weekday breakfast menu, but also to try out their lunch menu! We saw a couple people with lunch dishes as we were leaving and the sandwich looked quite enticing. I liked that they were a health-conscious café without overdoing it nor compromising on the flavours. Our granola looked pretty plain at first sight, but it was flavourful and not too sweet!

Farm Girl is hidden away in a corner of a small alley way just off of Portobello, but it's well worth the adventure. We managed to get a table in the Mezzanine area where we were kept company by Bronte, the owners adorable Frenchie.
The whole venue is fitting of its name, with rustic and quaint decor and weird and wonderful vegetables adorning the wall. From our vantage point we could see the cooks preparing the food and everything is fresh fresh fresh. We ordered the Pancakes and the Omelette. The Pancakes were HUGE (in my opinion, a little too large) and covered in a delicious berry compote & sauce. The Omelette was also cooked to perfection in the French but would've been improved by a smattering of Gruyere.
You'll have to get there early as there is always a huge queue, but that should be reason enough to visit. Don't miss out!
Stuff dont care about the customer, they totally ingore you since you are waiting to get a table. Food I must say is good, but my chicken sandwich had HAIR inside and the stuff was really rude and not even apologize. Never go back again. I would give a zero!