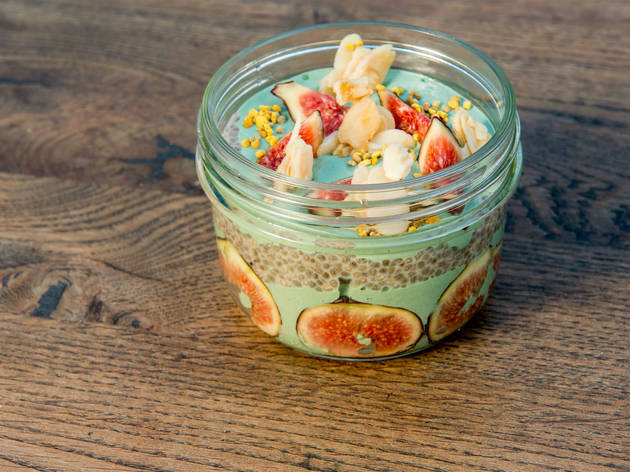 1/9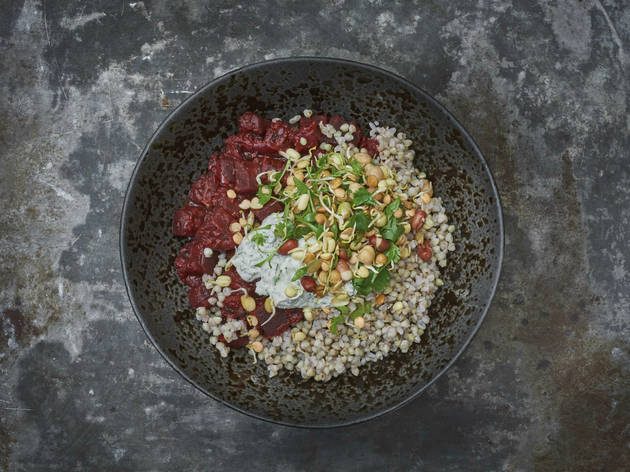 2/9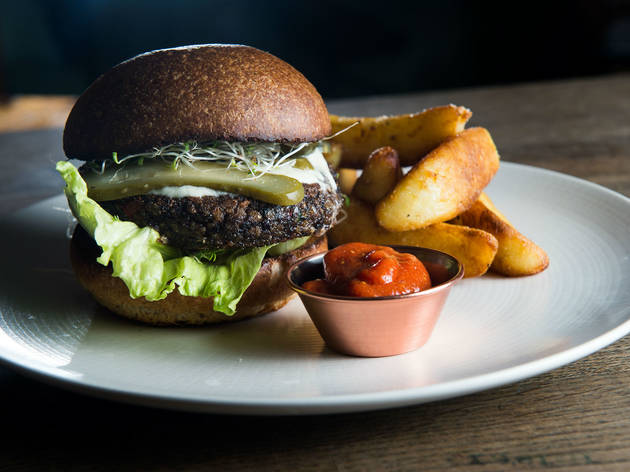 3/9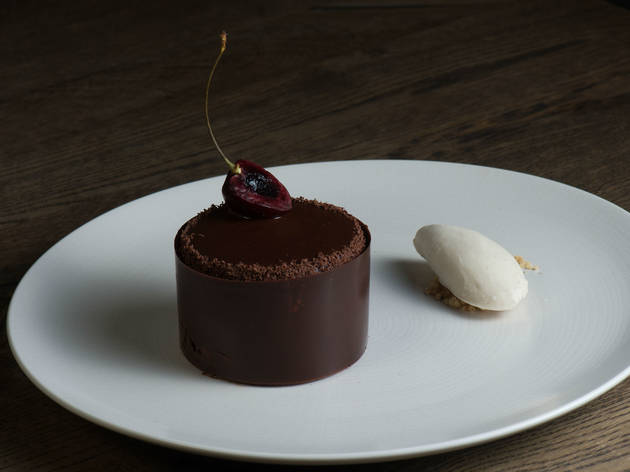 4/9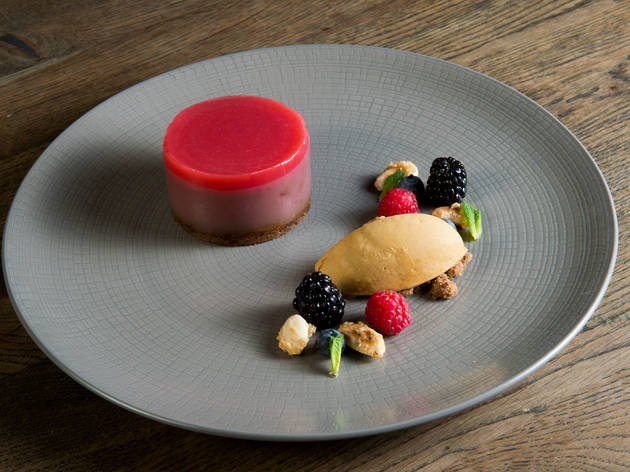 5/9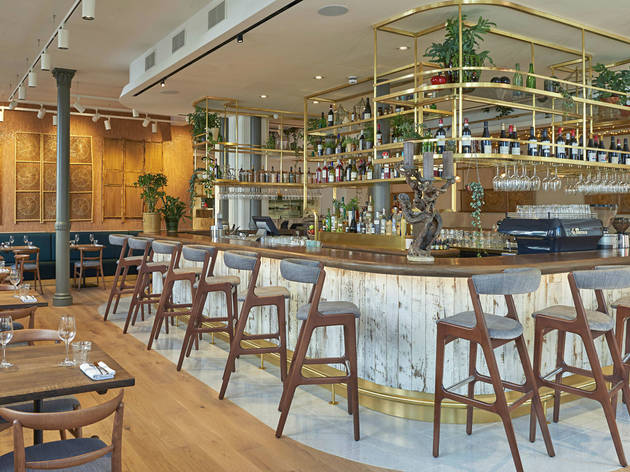 6/9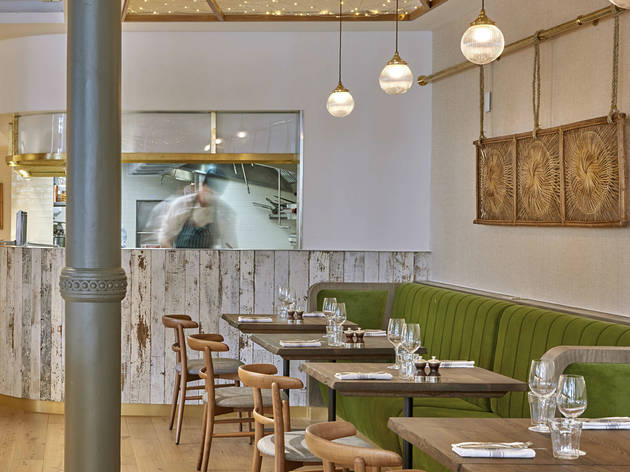 7/9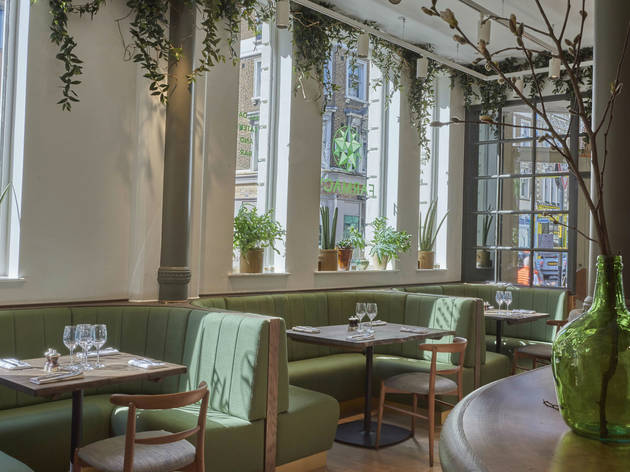 8/9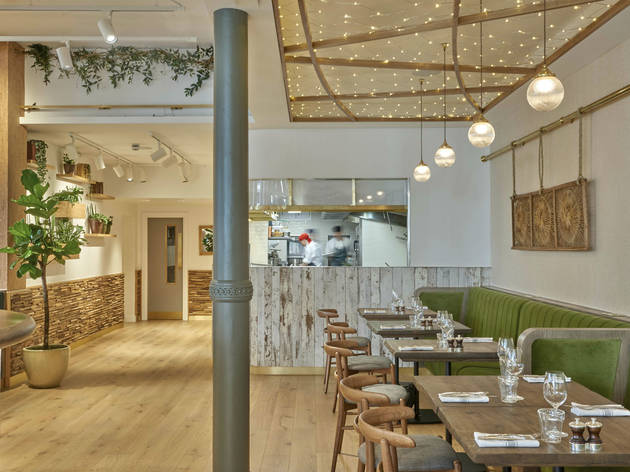 9/9
Time Out says
A stylish healthy-eating joint with plenty of 'free-from' options.
If Jay Gatsby had fled West Egg for the beaches of Bali, his new home would probably look a lot like this west London health food spot. Farmacy (as in health from the farm, geddit?) is free from most things – dairy, refined sugars, meat, additives and chemical nasties – though happily, not taste. In fact, it's packed with all kinds of taste, from the food coming out of the kitchen to the ultra-sleek décor. Despite being a vegan-friendly restaurant there is a reassuring lack of hemp, and pretty bamboo is tempered with beautiful brushed gold. It's smart, to be sure, but the atmosphere is relaxed and the staff are friendly.
Farmacy boasts 'clean indulgence', which means that the menu has lots of naughty-sounding but actually super-healthy things to choose from. The mushroom tagliatelle, made with spelt flour, has a good bite to it and the truffle sauce is rich and earthy without being sickly. Their eponymous burger has a nice, nutty texture. Loaded with avocado pickle, it's bicep-curlingly meaty despite being vegan, while the accompanying chips prove that you don't need animal fat to fry a delicious potato.
A good vegan dessert is harder to come by than the 347 bus, and the brownie sundae here doesn't cut it either. Instead, order the brilliantly zingy lemon cheesecake; light and creamy but with the kind of biscuit base Gregg Wallace would appreciate.
All-in-all, it's a crowd-pleasingly delicious spot – go with a group and make sure to invite that one picky friend who's currently cutting something out of their diet.
Details
Address:
74 Westbourne Grove
London
W2 5SH

Price:
Dinner for two with drinks and service: £90.
Contact:
Opening hours:
Open 9am-5pm, 6-10pm Mon-Fri; 9am-4pm, 6-10pm Sat; 9am-4pm, 6-9.30pm Sun
Do you own this business?
Average User Rating
3.8 / 5
Rating Breakdown
5 star:

4

4 star:

9

3 star:

1

2 star:

0

1 star:

2
Stay away! Incredibly rude management and service staff. they spilled food and drinks all over me, I was literally covered in food and my suit and shirt were all stained and white shirt had to be thrown out and all they could say is sorry and they offered for me to come back with the shirt and suit to dry clean them at their dry cleaner instead of simply discounting the bill so I don't have to make trips back and forth considering it was their mistake and not mine. The manager was quite rude when I complained about why I should make a trip back to their restaurant which will cost more than the cost of the dry cleaning and he rudely asked me not to dine there again if I did not like their policy. By accident I was booked for a dinner there a second time and they told us that they have no place to store our coats and we asked if we could place them on the chair behind us where it was an empty table among many other empty tables and they refused and they rudely asked us to leave when we insisted to leave our coats on the chair behind us. Stay away from this place they are simply arrogant and you can tell the restaurant manager was even more rude than the rude waiter! What an arrogant and rude crew over at this place. By the way, the food is also not great at all. Mostly tasteless comfort food than healthy vegan food.
Delicious and fresh tasting food. This is a vegetarian 🌱 restaurant so meat eaters beware. The service and staff were pleasant with an enjoyable ambience. Highly recommend a visit and feeling the glow of rainbow colours when you leave.
I absolutely love the Farmacy! The decor, ambience, staff, & of course the food, are all impeccable. I've just visited this restaurant three times in three days - that's how much I love it! It's most definitely my favourite restaurant in London, & one of the few restaurants that easily caters for my dietary restrictions. I can eat here safe in the knowledge that I'm not eating anything I shouldn't, & every dish is just so delicious. The service is always efficient & I've never had to wait long for my food to arrive. Also, the staff are obviously chosen very well. They are classy, professional, efficient, & most of all friendly & I'm always greeted with a smile. I simply cannot fault this restaurant. Well done to all involved!
I think Farmacy is the type of restaurant to divide people you either love it or you hate it. I personally love it. I have been to many vegetarian/vegan restaurants and this is one of my favourites. I think its important to remember that the food is vegan so your bean burger will never be a beef burger. However the food is clever and not overpriced. Most impressive in my opinion are the deserts - they are indulgent and delicious.
Honestly... This has to be one of the most disappointing food ventures I've had in a while. We came here with our vegan mother for a refreshingly healthy brunch!
What we got was healthy alright but extremely bland also!
The place was packed so we had to leave our names and reappear 45 minutes later! Surely a wait like this will be worth it right?
Not one bit!
I ordered the avocado on toast with a poached egg.....I sent the dish back as they overcooked the egg and what I got was a boiled egg on some smashed avo.... The vegan pancakes were tasty enough but they were stingy with the syrup and when we asked for more we were charged ....
Long story short the menu here is very healthy and organic. However, there's no excuse for the lack of flavour and seasoning.they aren't cheap And the wait is long .... I won't be back .
I'm no vegan, but this place is delicious.
The things they manage to pull off her literally had me scratching my head in disbelief. The House Classic Pizzetta (homemade sourdough wth tomato sauce, roasted vegetables, cashew 'cheese' and fresh herbs) literally tastes like a real pizza.
The real star here is their classic burger; a millet, mushroom and black bean burger served with garlic aioli, delicious goji ketchup, avocado, pickles, tomato and potato chips served in a wholemeal vegan bun. I work in the hamburger industry and this was honestly better than some proper burgers I've tasted elsewhere.
The restaurant itself is beautiful, with plenty of 'grammable opportunities inside and out. It made me laugh that our lovely waitress couldn't get through the service without dropping the fact that she was a vegan into the conversation (typical vegans!), but to be fair, when the food's this good you can't blame anyone for shouting about it.
I didn't know much of vegan food and when I went to Farmacy for the first time it was a lovely surprise. I loved the food both at brunch and dinner.
My friends and I had all seen or heard the hype around Farmacy. Whether it was because we'd seen a Made in Chelsea regular frequent there or we'd read about it on a trendy fitness blog, we all wanted to try the place out. It 100% delivered on the hype. There was no problem getting a table just before 7pm on a Friday night. We breezed in, which meant we were over our first hurdle, as you always worry about a lengthy Dishoom-esque queue at restaurants that don't take reservations. The wine was good value, £5 for a glass of the house and their variety of smoothies and juices left us browsing the menu for ages! We shared the mezze board between three for starter, which was plenty and had a good dip to cracker ratio. For my main I chose a spelt pasta dish, which tasted as good, if not better than regular pasta. It was seasoned beautifully with truffle oil and a mushroom sauce- delicious! For desert we settled for trying some of their famous syringe shots. Although they'd run out of the "Beautify" I settled for a the "O.M.G" which was a fun novelty to finish the meal. If you haven't been yet, definitely check out Farmacy, I'll be going back to try out the brunch very soon!
Really good food and atmosphere! Would be nice if you could book a table though as it was so busy when we went (you can only book if there are 8 or more of you). We waited for 45 minutes but it was worth it
Detoxifying, immune boosting, alkalising, liver cleansing – you know you're in for some sort of healthy spin just from a quick skim of Farmacy's extensive menu! The trendy, plant based restaurant in Notting Hill serves up a great range of vegan and vegetarian dishes, free from refined sugars, dairy, additives and chemicals. And annoyingly reservations. I'm always put off by restaurants with a 'no reservations' policy and long wait times. You have to suddenly become oh so tactical about which day of the week and time you choose to go. This is how the London restaurant scene is nowadays so my old soul ways need to get over it and get used to it. In the spirit of vegan month, I got myself to Pharmacy!
Organic, healthy, global and fresh. A restaurant catering to all of these clean eating dietary needs is hard to come by! Contrary to what people may think, the food here is delicious as well as indulgent. You won't leave feeling hungry as if you've just eaten a rabbit's dinner prepared by free spirited hippies! It may not be everyone's cup of herbal green tea. I don't think a meat loving carnivore would be completely sold but it's a fun place to try for a meal that feels relatively guilt-free.
The menu, inspired by dishes around the globe, offers everything from comfort food burgers and pizzas to heavenly earth bowls.
The nachos included light and airy chips. They were presented in a spiral with a trio of dips hidden inside. The dips included guacamole, sour cream, beans and a tomato salsa type one. Delicious and tasted so fresh!

The sweet potato falafels weren't like traditional falafels at all, but this was in no way a bad thing! I loved the strong sweet potato and garlicy flavour that's seeped though from the soft falafels.
The burger was flavourful and as good as a burger can be! I really enjoyed the side of thin and crispy sweet potato fries too.
I'd definitely recommend trying Farmacy. The clean eating fad is here to stay and I'm glad more and more restaurants dedicated to healthy eating are opening and showcasing a clean diet is far from boring. Even if the menu doesn't tickle your fancy at first, try it – you'll be pleasantly surprised and if anything, it's a goodie for Instagram!

If there was a place that could convert me to veganism, this would be it. Farmacy is a very cool spot for guilt-free indulgence (seriously, you'll go nuts) and they've done well to create a menu that transforms well-known, meaty dishes into plant-based masterpieces that taste exceptional - like the black bean and mushroom burger. They also do some fab cocktails and smoothies, but get your hands on one of their "syringe shots" - a healthy concoction of vitamin-y goodness that'll knock out a virus cold. For extra pharmaceutical fun, it comes in a syringe. As for value for money, you're not really gonna get cheap eats here - but it's not gonna break the bank either. It's definitely worth rounding up a few pals to make an evening of it, especially if you're new to vegan eating. You'll be impressed.