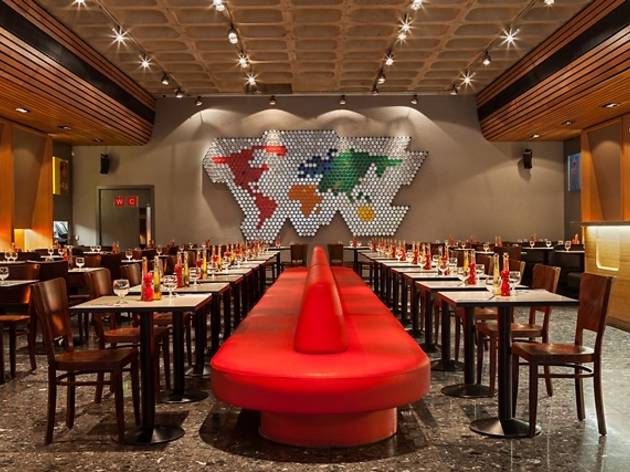 Time Out says
This Covent Garden pizza joint (of sorts) has made a bit of a name for itself in recent years, mostly thanks to unconventional toppings that stretch all the way to a Christmas special that features turkey, cranberry and gravy. A 'Naples' (cherry tomatoes, mozzarella and basil) is one of the more orthodox options.
But who comes here wanting one of those? The menu also offers a 'London' (Cumberland sausage, smoky bacon, roast potato), a 'Casablanca' (roast butternut squash, courgettes, onions, red peppers, cumin, mozzarella, dried apricots, pine nuts and mint yoghurt) and a 'Boston' (pulled pork, onion marmalade, red peppers, mozzarella, coleslaw and chives).
Mediterranean salads, chicken pesto rigatoni, sharing platters and polenta chips are some of the non-pizza alternatives.
Fire & Stone says
Just off Covent Garden Piazza and a short walk from renowned London theatres, Fire & Stone brings their unique gourmet global food menu to the heart of London's vibrant West End.
Taking pride of place on the menu are their renowned hand-stretched pizzas, as well as six sensational new burgers.
Details
Address:
31-32 Maiden Lane
London
WC2E 7JS

Transport:
Tube: Covent Garden or Leicester Square tube
Price:
Meal for two with drinks and service: around £30
Opening hours:
Lunch served noon-4.30pm daily. Dinner served 4.30-10.45pm Mon-Wed; 4.30-11.45pm Thur-Sun
Do you own this business?
Rating Breakdown
5 star:

1

4 star:

6

3 star:

3

2 star:

4

1 star:

2
I went here for a friend's birthday and I was not overly impressed by the food. For a pizza place, there wasn't one pizza on the menu that appealed to me so I ended up getting the Spicy Chicken and Coconut Laksa (which was really quite nice), however it wasn't what I came for (see photo). The general consensus of our party was that all the pizzas had unique toppings for the sake of being different, not because the flavours would work well together. Among us several pizzas were ordered, most of which I tried and everyone was in agreement that the Texas (see pizza pic) looked and tasted the nicest, though it wasn't mind blowing. The toppings used on all the pizzas were not great quality and this was most evident with the steak on the Texas pizza that was overcooked and fatty.
Although the food didn't do it for me, I was really impressed by the service and the effort the staff put in for my friend's birthday. I won't be coming back here unless that same friend choses to have her birthday there again next year. If so, I know the staff will treat us very well and that I'll be sticking with my Spicy Chicken and Coconut Laksa.
Once upon a time, we needed somewhere to chow for a team night out and my manager selected this place. Now, you think that "it's just pizza man" but truly, madly, deeply it is FAR more than just pizza - it's super pizza! The service is impeccable and the food was indulgent. I'm waiting for an excuse to go back very soon!
Brilliant Restaurant, Good food, good drinks. Great place to catch up with friends!
We had a reasonable meal there but def not worth the £7,500 it cost me because as I left, I tripped on the anti-slip mat and landed face down, breaking 3 teeth. No First Aid avail, no incident report forms;nada, zip, zilch. .
Their Insurers have just declined responsibility - after 4 months! 1 new implant, 1 new crown, bone restructuring & a new veneer. Expensive pizza! @AdrienneLawler
I have been waiting to visit Fire & Stone for a while after hearing how great it is. Visited the other night after the main dinner time in most restaurants and the most appalling service ever. The food I have to say is lovely made well displayed perfectly and very well thought out. The pricing also ok for the quality of food. The service is what lets the whole place down though. The waiter would almost ignore us all the time, took ages to order drinks and food, to pay the bill, to get plates taken away was over 20 mins. The waiter bringing our food over dropped my started on the floor covering my friends coat in sauce which has since stained which alone is not happy about. They never bothered replacing it until i had to mention to a waiter you dropped my food, then again to get the sauce that went with it. Also complaining about leaving broken glass all around our feet and still didn't clear it up. I find that awful and dangerous. Safe to say I will not return.