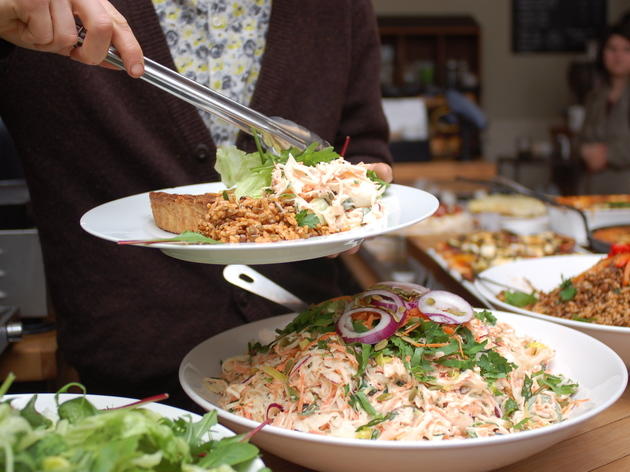 This café-bakery's focal point is its heavily laden counter of baked delights. Alongside old favourites (moist carrot or chocolate cake), there are more unusual offerings, such as the 'Fleet Jaffa Slice' and caramel and peanut butter shortbread – all perfect with a cup of quality Monmouth coffee. The cafe's tucked-away location has done nothing to inhibit its success, and lunch hour draws a crowd, much of which is from local offices.
Sandwiches, quiches and frittatas are also available, and a daily special is offered from midday, when the scene is reminiscent of a school canteen, with customers queueing for staff to spoon a robust portion of steaming stew, bake or pie on to their plates. Such popularity is not without reason: chicken, mushroom and tarragon lasagne (£7) was an unfussy, filling and tasty affair.
They have recently added mezze and cheese plates to the offering on Thursday and Friday nights.
Decor has a modern-rustic vibe, with reclaimed-door tabletops adding interest to otherwise unremarkable surroundings. If you don't mind the lack of elbow room, this is a great place to grab a decent lunch for under a tenner.
Venue name:
Fleet River Bakery
Contact:
Address:
71 Lincoln's Inn Fields
London
WC2A 3JF

Opening hours:
Open 7am-7pm Mon-Wed; 7am-9pm Thur, Fri; 8.30am-6pm Sat; 8.30am-4pm Sun
Transport:
Tube: Holborn tube
Price:
Main courses £6.50-£9.50
Do you own this business?
You may be interested in:
Average User Rating
2.9 / 5
Rating Breakdown
5 star:

2

4 star:

4

3 star:

1

2 star:

3

1 star:

3
Perfect spot for brunch before shopping in Covent Garden, the best eggs royale served with Allpress coffee
The food is good and so the cappuccino...pity that the prices are really high. It would be nicer to offer some discounts if you get "coffee+cake" or similar. Unfortunately cakes are not protected and flies are free to enjoy them...mmm...not my favourite.
Staff lack interest in the customer - just there to take your order and your money it would seem. If that is all you want ....
service can be hit and miss here, and when it's a miss it's not pleasant .. pity, because otherwise food and coffee is a real winner
Took 2 friends visiting from overseas for coffee yesterday afternoon, Sunday 11th August. Two girls working, one making the coffee, the other standing on a step ladder behind the counter wiping the specials board, completely unaware / disinterested in serving the 5 people waiting to order. She finally decided to start serving and then proceeded to tell us that they would have to serve our coffee in takeaway cups. The reason being is that although they weren't closing for another 30 minutes they had to "turn the dishwasher on". Won't be going back.
Been going there for ages for the food, but recently noticed the staff have perked up. Well done for improving your customer service guys.
scrumptious food! salads are delicious and their coffees are great too!
great food and top notch monmouth cofffee. great seating downstairs... good little hideaway from the hustle and bustle
I went there today because it looks nice from the outside. But I was really disappointed on the staff. If I order a takeaway sandwich isn't the staff supposed to give it to me or do I need to grab it myself? I waited for the staff to do something. Instead they asked if I wanted something else. I said no and waited. They came back and I pointed out if I could get the sandwich. Finally I got it. Their attitude against the customers is a joke. I won't return. In that area I will consider Pret or Waitrose for sandwiches next time.
I go to this cafe most mornings because the coffee is great and the seats downstairs are nice and out of the way of the Holborn hustle and bustle. But I don't look forward to being greeted by the same miserable staff members every day. Either they have severe amnesia, or they're just that rude, because despite showing up 3-out-of 5 days a week and ordering the same thing, it's the same blank, smug expressions on their faces every morning, and the same ignorance to my simple repetitive cappuccino order. The tall guy with the beard is nice, as is the girl with the dark hair. The others make up for the lack of bitterness in their excellent coffee by displaying in abundance in their shitty attitude. The prices are a laugh too.
The quiche was nice, the salad was completely unimaginative (come on - there's so much you can do with raw vegetables - a few leaves and cut-too-thick onion slices is not a salad in 2011. The serving girl was surly. Wouldn't recommend.