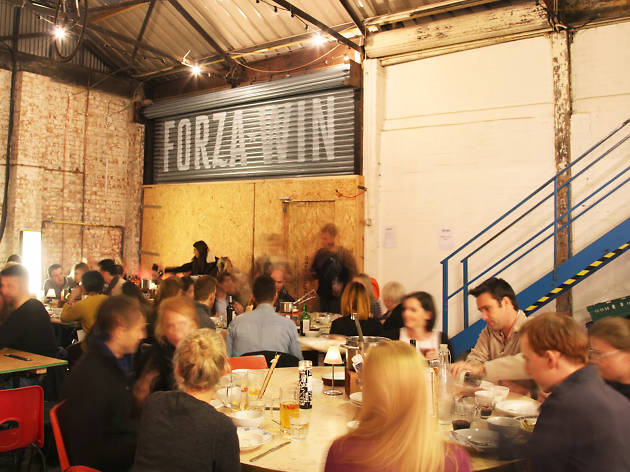 Cheek-by-jowl dining experience with an Italian twist in a former warehouse.
Finding yourself sitting between a solicitor and a software developer may not sound like the best start to an evening, but at Forza Win you've got no choice: this place is all about communal eating, and that means sharing a table – and all the food on it – with whoever else happens to be there.
Set in an old Peckham warehouse with scruffy walls, a plywood bathroom and a menu full of UK produce, it certainly ticks all the on-trend boxes. And the food is lovely: a bowl of whipped butter beans was difficult to put down, while a pile of pappardelle pasta topped with wild garlic flowers and a plate holding glistening slivers of steak were both delightful.
I just wish there had been more of it. In fact, everyone did – the scarcity of food was all our table could talk about. And that's a real shame, because Forza Win could be stunning. It really could. But placing a bunch of hungry strangers around a table and charging them each £35 for a few mouthfuls of food is just outrageous. There are so many other places in London where you can eat spectacularly well for that kind of money – and you won't have to worry about beating the lawyer on your left to the final bit of meat.
Venue name:
Forza Win Peckham
Contact:
Address:
Unit 4.1
133 Copeland Road
London
SE15 3SN

Transport:
Overground: Peckham Rye
Price:
Dinner for two with drinks and service: around £85.
Do you own this business?
You may be interested in:
Average User Rating
4.2 / 5
Rating Breakdown
5 star:

12

4 star:

3

3 star:

0

2 star:

1

1 star:

2
I, like many other, am not one for writing reviews, however, when I read the review by Time Out I felt it so wrong! I am a total foodie and this place totally lived up to what I had hope for. Yes its sharing plate but there was so much food to go around, we (a group of 5) actually could not finish the plates. The food is delicious, fresh, seasonal and generally super delicious.
I have recommended this place to so many friends who also totally loved the place.
Sharing is caring and this Time Out reviewer has it totally wrong!
Baffled by the review as I've been to Forza Win dozens of times now, either for their seasonal menu, their weekend lunches or their Awesome Sauce nights, and never once have I ever felt underfed. If anything you feel like they need to roll you out of there. I'm not really sure exactly how much food the reviewer needs to be satisfied, but if the antipasta, pasta and steak (plus sides) followed by dessert doesn't suffice, I'm not entirely sure what will. I'd also like to know all the places in London where you can get this quality of food for this price, as I have yet to discover them. I really think Time Out needs to take another look....
I barely ever leave restaurant reviews. However, Time Out's review is just wrong, literally incorrect. The whole point of Forza is good food and communal dining. I've been to a number of seasonal menu events and all other diners have always been friendly and there has always been so much food. In fact every time I've been there has been leftovers. You definitely get your money's worth! The food is lovely, great quality, fresh and in season, the staff are friendly and the atmosphere vibrant. I would definitely recommend Forza to anyone and I'm looking forward to the winter menu.
Not entirely sure if this review is a joke or not. I was unfortunate enough to be sat next to a pompous restaurant critic when I went, but hey we had enough food to fill us twice over.
Staff great, food great and the Awesome Sauce night is a steal at £10
I have eaten at Forza each time they have a new, seasonal menu out and weekly at their pasta nights. It's the place I'd take friends coming to London to show them what I love about living here. I would urge anyone to go there and I can't say I've ever felt underfed, there's always an over abundance of food for everyone so please don't be put off by the review saying there was a scarcity of food! I've always overindulged when I've been there, they also make it very clear that if you want more of anything just let them know. It really is a great place with wonderful staff, incredible food and I've had many a great conversations with strangers in there.
The reviewer didn't get what the place was about, don't be put off.
Bit gutted this place has gone down the pan a bit. Used to be lots of fun with cracking food but seems to have gone off the boil. Staff don't care, the owner seems a bit of a pompous arse and the food is sub par and the portions are weak. Shame as it had promise.
Gave us a post wedding party that was perfection.
Great food and great idea in a cozy room in Peckham
The first thing we were told was 'your late' followed by when asking if I could have a drink being told forcefully to 'go to the bar'
Am local Peckham and have wanted to go for years but have to say disappointed , the food was ok , beef nice but overcooked,
The real issue for me were the staff , unhelpful and to be honest pushy/patronising
£35 ph a lot of money excluding drinks , especially when you consider the feast you could be having with decent service in other places nearby or west end really
I do love the concept but feel perhaps the 'glory years' for Froza win are over
As mentioned one of the main issues was the staff attitude , this could easily be re-jigged perhaps and id say FW is a place for big groups
Sorry to have to leave a review like this
Great, fun dining experience, with a pasta and a pint meal deal? Spot on.
They're infamous £10 pasta and booze Wednesday!
Hands down the best pasta I've had in London, and definitely at the best price. A tenner for pasta and a glass of wine? Where would you get a better deal? The staff are lovely and welcoming and the place has a great vibe.
Sorry but your review is nonsensical - are you sure you were in the right place?
I've been to Forza Win in Peckham four times and only on the last occasion did I plan strategically enough to squeeze in dessert. Unless you had the Hulk at your table it is simply not conceivable that 25+ people went hungry. And actually, given the incredible atmosphere in the place, unless you got up and properly worked that table with your notepad and pen, I honestly don't see how you managed to speak to everyone at your table. And if you did actually speak to all of your fellow diners, why didn't you bother speak to the staff?
I rarely write reviews and am very much an "each to their own" person, but Time Out have a massive influence so I feel obliged to speak up. The quality and abundance of food at this place has consistently been truly impressive - enough to make me question whatever editorial motives you may have in writing this negative drivel.
The whole place is built on the concept of communal dining - that is the ethos, it's who they are and what they do - it's made abundantly clear through the booking process, on the ticket, on the menu and even in the little greeting speech that they deliver - just in case the two banquet tables didn't give it away - so to open your article with a grumble about having to sit with randoms makes it pretty clear that you did not one jot of research.
I am not associated with Forza Win in any way, I am just a fan. They have earned my respect and loyalty through four incredible, generous and insanely fun nights out.
Shame on you Time Out.
Utter nonsense — this place rocks and has done since it's birth.
I've been to all of the versions of Forza here and all have been excellent.
Portions are generous and we've always left delighted with the experience.
Your review is unnecessarily mean, unlike the Forza portions which are ample to generous.
I'm another one amazed by the Time Out review as I've been to Forza Win several times (Including the inaugural season on the roof of a pub in Shoreditch with the Pizza Pilgrim guys) and have also never felt underfed or surrounded by people I wouldn't get on with. it's a great opportunity for fresh, delicious food (I've even been given sneak tastes of future seasonal menus!) as well as chat with other like minded Londoners in a friendly environment - Put simply you'll get out of this what you're willing to put in!
More venues
Sponsored listings