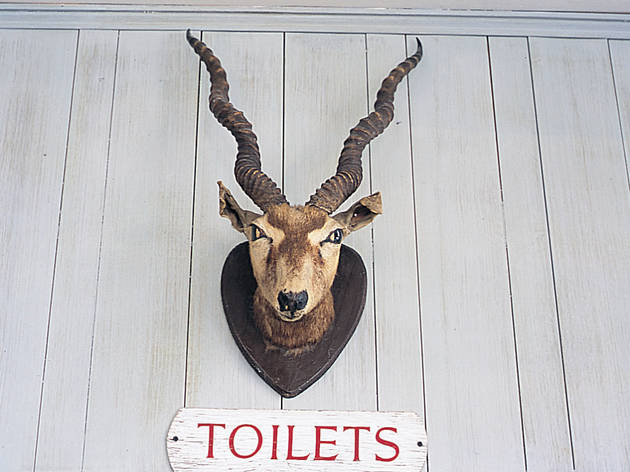 Time Out says
It looks like a lot of time has been spent on the interior at this otherwise food-focused pub on Bermondsey Street. Expect vintage, up-styled, renovated and reclaimed furniture alongside plenty of curios – diners have to pass the watchful eyes of a stuffed antelope's head to get to the toilets.
There's a slight lean toward Britain on a food menu that borrows from across Europe. That means classic fish and chips and braised jacob's ladder with bubble and squeak croquettes, shallots and braising liquor alongside orecchiette, duck egg with chorizo, and a couscous salad with roast cauliflower, pine nuts and spiced yoghurt.
The wine list focuses on the old world, with France especially well represented. Beers on draught include Truman's Pale Ale, Amstel, Heineken, Pilsner Urquel and a guest, with bottles including options from Anspach & Hobday, Orbit, Siren and Buxton Spa.
Details
Address:
99-101 Bermondsey Street
London
SE1 3XB

Transport:
Tube: London Bridge tube/rail
Contact:
Opening hours:
Open 8am-11pm Mon-Thur; 8am-midnight Fri; 9am-midnight Sat; 9am-10.30pm Sun. Food served 8-11.30am, noon-3pm, 6-10pm Mon-Fri; 9-11.30am, 12.30-4pm, 6-10pm Sat; 9-11.30am, 12.30-4pm, 6-9.30pm Sun
Do you own this business?
Special offers
2 or 3 course dinner for £25/£30
From a set menu. Terms and Conditions: Maximum of 6 diners. Includes VAT, excludes service. Valid For: 1 - 6 People Mon-Fri 6:00PM-10:00PM
Offer valid until
Jan 31 2020
2 or 3 course lunch for £18/£22
...from the set menu. Terms and Conditions: Maximum of 6 diners. Includes VAT, excludes service. Valid For: 1 - 6 People Mon-Fri 12:00PM-3:00PM
Offer valid until
Jan 31 2020
Average User Rating
2.6 / 5
Rating Breakdown
5 star:

1

4 star:

2

3 star:

6

2 star:

1

1 star:

4
Evening was completely ruined by awful customer service! Selected this pub for a pre Christmas night out with my team. It was a special occasion and we spared no expense ordering nibbles, starters, wines, desserts etc. Evening was brought to an abrupt end, when mid dessert, our bill was brought to us and we were forcibly removed from our table, to accommodate another reservation. Given that I booked the
Never start the Bermondsey Mile beer brewery crawl without a well lined stomach. Our first stop was at The Garrison on Bermondsey Road, a bustling corner building with a rustic interior, they have an extensive brunch menu from Eggs Royale to my Wild Boar Ragù pasta; oh, and they also do a two or three course set menu with bottomless prosecco… uh oh. The bellinis here are solid - refreshing without being too sweet. I'd pass on the Eggs Royale - the muffin wasn't well toasted which made it soggy. I still haven't found the best place in London for Eggs Benedict or Eggs Royale yet, suggestions are welcome, as it's construction is in the fine art of timing, amongst other things! The Wild Boar Ragu pasta was good however needed a bit more ragù sauce and a healthy dusting of parmigiano reggiano cheese. Although service is a little slow, The Garrison has fairly good atmosphere and it's in a fairly good location if you're thinking of kicking on for some afternoon beverages.
What we had:
eggs royale
wild boar ragu pappardelle
Bellinis
Tip: book ahead for large groups as weekend brunches do get quite busy
Good For: large groups, catch up with friends, casual brunch/ lunch/ dinner
It is no secret by now that Bermondsey street is one of the places to be in South London if you are looking for a cozy walk, a delicious glass of gin or an indulgent board of tapas. The Garrison fits perfectly in this setting. Cozy tables and mood, friendly staff, rich full bodied glasses of red wine paired with a decadent cheese selection. Great for a relaxed date or a catch-up with friends, the Garrison is definitely worth a visit if you find yourself in the area.
I'm surprised at the positive reviews for this place. It's popular, which lured us in, but what a mistake.
We had the worst, most expensive full English breakfast we've ever had here. Two small, inadequate sausages (described as Cumberland in the menu) I left most of mine because to my eyes it wasn't cooked as much as I would have hoped, slightly pink inside. Two small, fatty rashers of streaky bacon with very little meat, two small fried tomatoes, three mushrooms, small black pudding, tiny tin measure of beans, two eggs and such a hard, rubbery piece of 'toast' - some kind of sourdough supposedly - that I had to saw through it with effort and actually cut the inside of my mouth on the crust. All mostly cold and it took a long time to come - at £10 each very poor value. To add insult to injury they charged us £4 for each pot of tea (we only wanted one cup each). The bill came to £28 - shocking and shameful, and I had indigestion all morning to boot.
The man on the next table's looked better, so the standard is inconsistent, maybe it depends who cooks it, who knows?
This looked a lively, popular place with its shabby chic décor but our experience was terrible and we were totally ripped off - maybe we just looked too much like tourists. My partner's the kind, uncomplaining type so dutifully paid up but I'm still angry with these people for this awful experience. They were busy, undeservedly so but that's what being trendy does I guess - it's still no excuse for poor food and charging so much.
One further warning. The steps down to the toilets were greasy and slippery which meant being careful and clinging to the bannister. The downstairs area also smelt heavily and unpleasantly of machine oil or diesel.
We had a very enjoyable Sunday lunch here with our eldest son. Although the Manager was wearing an 'I'm sooo busy' face he let our dogs in and they sat under the table. The decor is a bit self-consciously quirky but I rather liked it and the vintage iron sofas are a lot more comfortable than they looked. My husband and son polished off straight-up roast lamb dinners and I had the hot noodle 'buddah bowl' type thing. It was delicious. Probably a bit over-priced but we'll be back. Might try their Sunday night film club which sounds good.
Better from brunch than other meals. Food is hearty - but sometimes a bit over-salted. I'd say this place isn't a "value for money" option, but it has a really sweet decor and individual style. I prefer other locations on Bermondsey Street e.g. Jose, 124 Bermondsey or the Woolpack. The menu is hit and miss - and sometimes portions and dishes can end up being a bit underwhelming after a saliva-inducing description.
a very disappointing Sunday service... My girlfriend and I had been to the Garrison before and had a brilliant time. So much so, that on a rare day off from work, we had made a very concious decision to head back here, and spend a very lazy, very boozy lunch together. On arrival, we were greeted by a very unhappy team of staff, who frankly didn't appear to want to be there, nor did the majority grasp any elements of what contributes to a warm welcome and friendly service. What made this matter worse, is that the manageress was the most sour-faced of them all. Sadly, first impressions lasted and it set the mood for the rest of our stay - which we cut short, deciding to spend our money elsewhere. The food was good-to-average. A beautiful pork belly, sadly topped with inedible crackling, accompanied by raw carrots - solid as rocks and a watery gravy. It appeared to us, that the staff are lacking in organisation. We were served by no less than 6 different members of staff, ensuring that no consistency or markable level of service was delivered. The venue is lovely, but sadly the design is let down by the team. A great shame, as we were so looking forward to letting the wine flow and the courses roll in. On leaving, the manageress did come to apologise for being grumpy and said she was feeling under the weather. Perhaps this should have happened during our visit, at the time that we made the complaint to the other staff member. Too little, too late I'm afraid.
Lovely interior, shame about the food! You get the sense that they're just trying a bit too hard with their menu. I had a goat's cheese salad, rabbit wrapped in bacon and we tried to share a crumble for dessert - I say tried because we ended sending it back, along with the rabbit. The chef had clearly gone a bit blow-torch mad which resulted in 2/3 dishes tasting a bit like singed hair (this was true of the goat's cheese, but I wasn't sure if that was the flavour they were going for so I didn't send it back). The rabbit was unwhelming- the bacon was fatty and undercooked and generally unappealing. The crumble went straight back with its funny singed taste. Having said that, the staff were very helpful and offered to take the main and dessert of the bill, but we still ended up paying nearly £50 for what was one of the worst meals I have in London.
I had been to The Garrison before but was disappointed this time. The food was ok but actually nothing special. My starter of mozzarella and tomato with salad contained three very tiny balls of cheese and my main course was not great either. It's always busy but with all the great restaurants on the street I think The Garrison need to up their game if they want better reviews. I went to Antico the night before which was much better.
The menu is inticing, but the food fails completely to live up to expectations. The squid and chorizo salad was a confused warm mess whose titular ingredients where noticeable by their absence. The service was poor and on occasion vaguely confrontational. Do not waste your money!
Excellent breakfast! Plenty of options to choose from. Staff were really friendly & the atmosphere relaxed. Can't go wrong if you're in the area.
Snap up exclusive discounts in London
Time Out's handpicked deals — hurry, they won't be around for long...