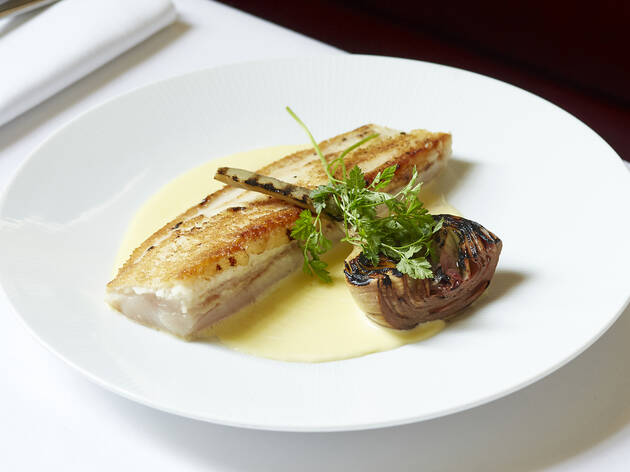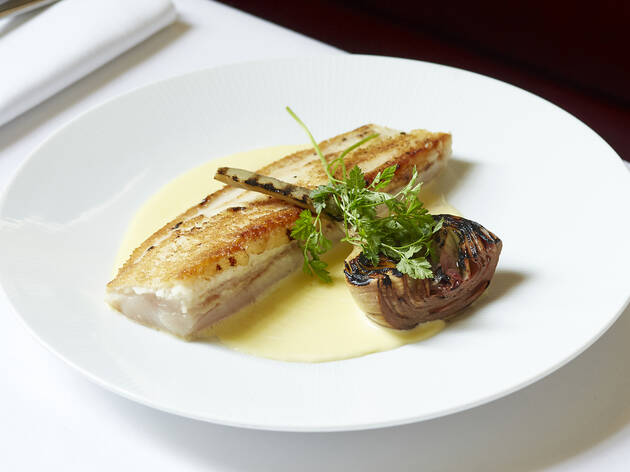 1/15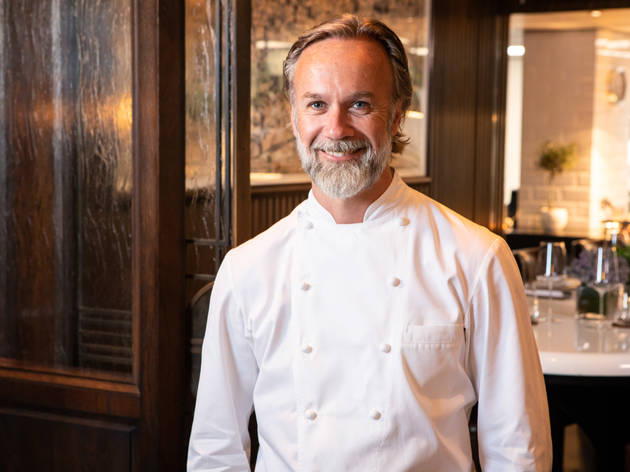 2/15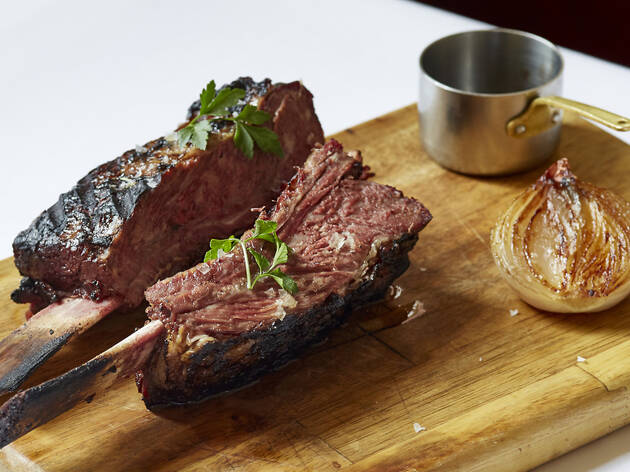 3/15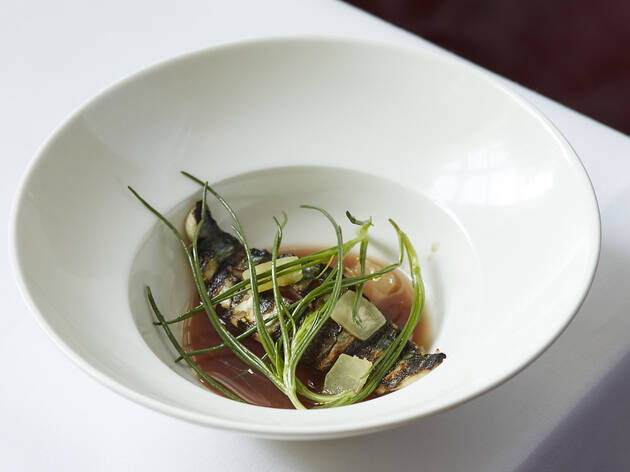 4/15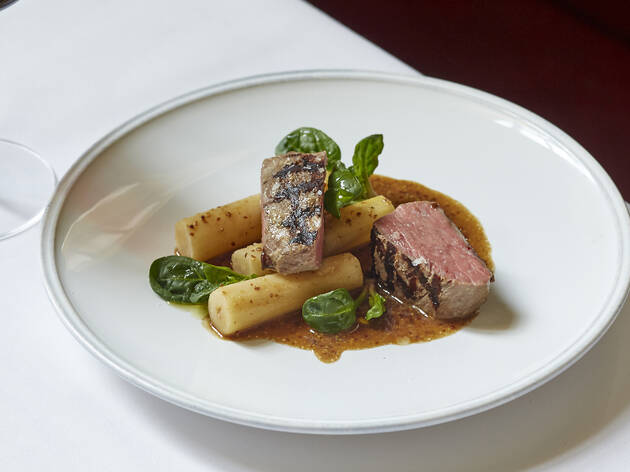 5/15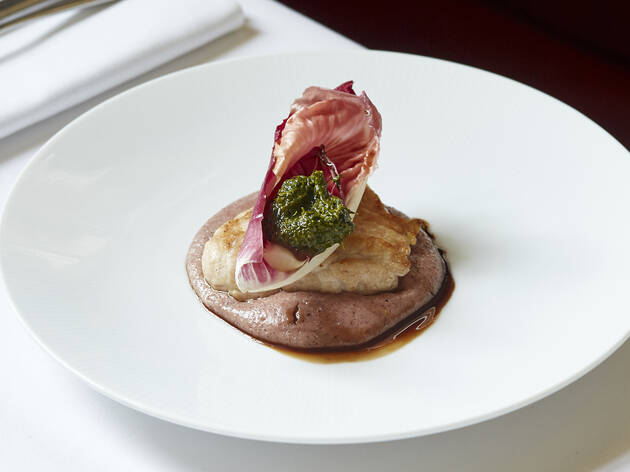 6/15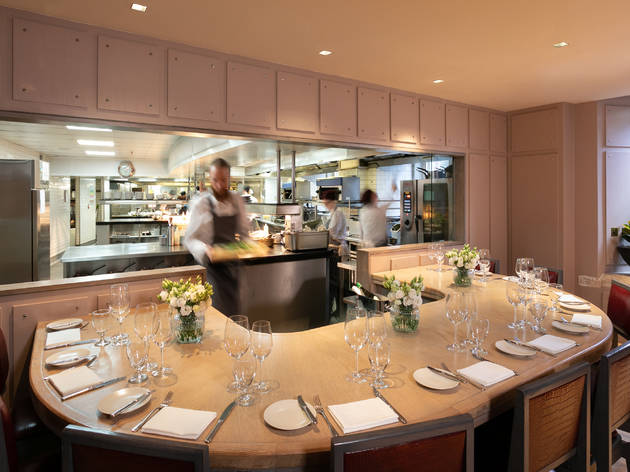 7/15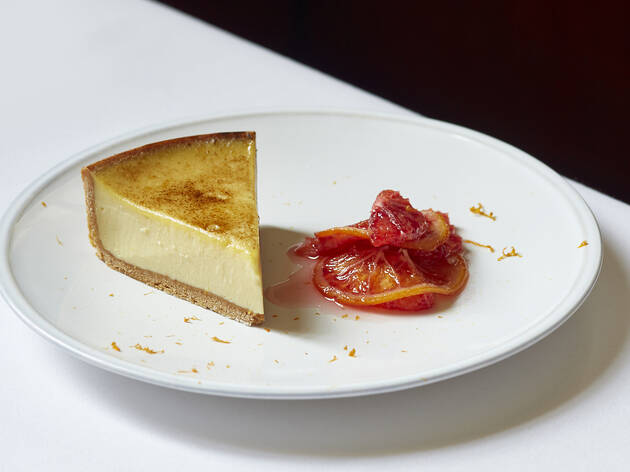 8/15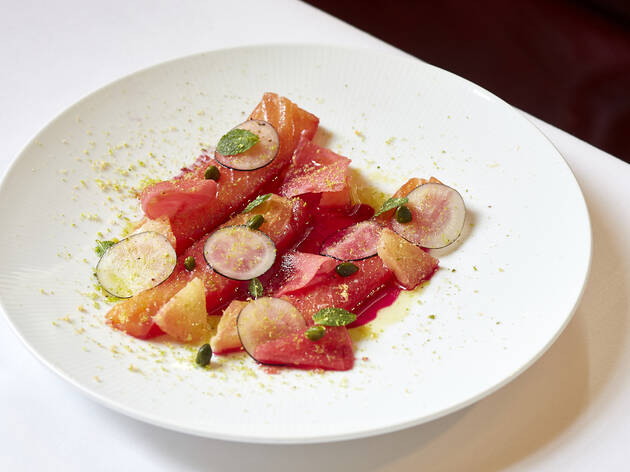 9/15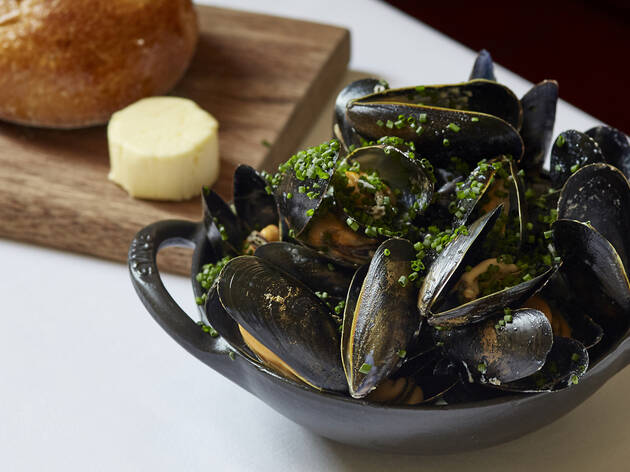 10/15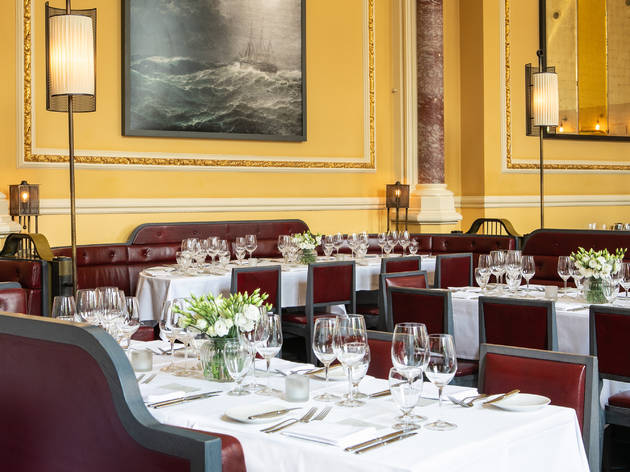 11/15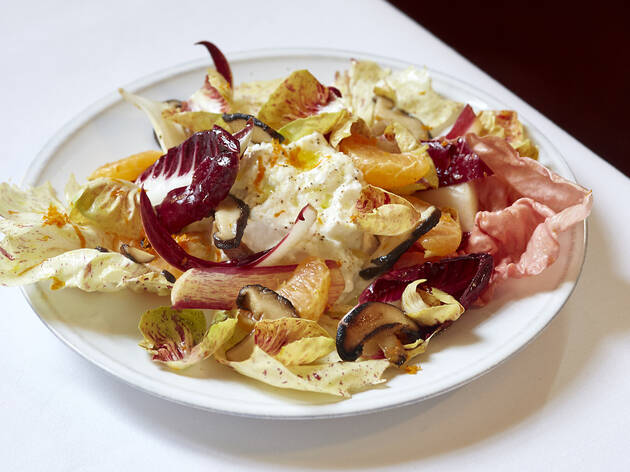 12/15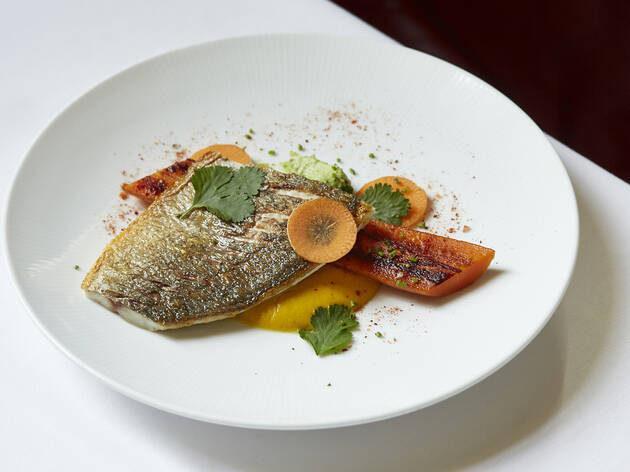 13/15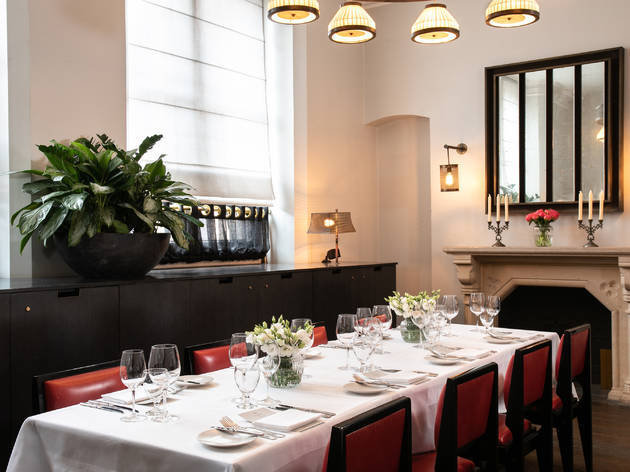 14/15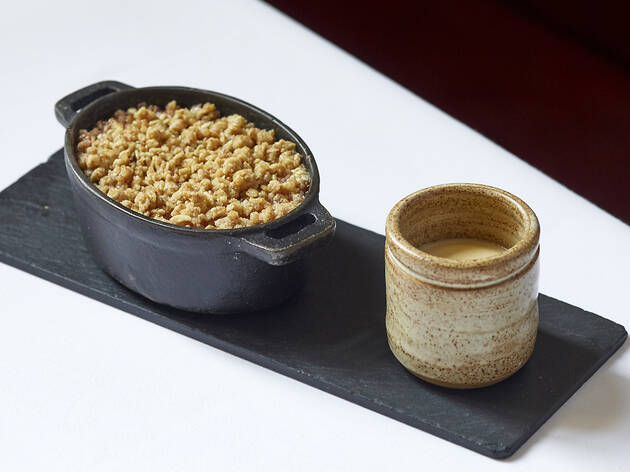 15/15
Time Out says
The 2011 reopening of architect George Gilbert Scott's former Midland Grand Hotel has resurrected one of the most visually arresting edifices in London; its former 'Coffee Room' is now home to this relatively casual venture from chef Marcus Wareing. His mark is evident in the well-drilled, personable service and flawless cooking.

As with the rest of the hotel, the space is nothing short of spectacular – this is Victorian embellishment at its most exuberant, with pillars, gilt, cornicing and huge windows. But, thankfully, it's no temple to fine dining: the please-all, best-of-British menu shows off the dedication and imagination of the kitchen with dishes such as crispy pig's head with pickled cockles and sea herbs, or curried parsnip soup with onion bhajis. More traditional diners will be impressed by the sterling renditions of battered cod and chips, or beefburger with braised oxtail.

Desserts continue the homeland theme: eccles cake with cheddar ice-cream, 'Mrs Beeton's snow egg', Irish cheese with honeycomb. The weekend brings roasts and a popular brunch, complete with pianist. The equally handsome bar at the entrance is good to know about in an area short of quality drinking options. Situated next to the Eurostar terminus, where Continental Europeans enter England, this is a restaurant of which we can all be proud. Don't wait for a train journey to book a table.
Gilbert Scott says
The Gilbert Scott is named after the prolific English architect, Sir George Gilbert Scott, who designed the St Pancras Renaissance Hotel (formerly The Midland Grand Hotel). It was the second addition to Marcus Wareing Restaurants in 2011 and is frequently described as one of London's most spectacular grand dining rooms.

A grand English feasting hall in the heart of London. Our menus focus on showcasing the finest British seasonal produce in the 19th century surrounds and the talented kitchen team is headed up by Executive Chef Jake White and Head Chef Michael D'Adamo.

Our Head Sommelier has composed a wine list to perfectly balance new and old world wines, with some iconic French and Italian references.
Details
Address:
St Pancras Renaissance Hotel
Euston Rd
London
NW1 2AR

Transport:
Tube: King's Cross St Pancras
Menu:
View Menu
Contact:
Do you own this business?
Average User Rating
3.6 / 5
Rating Breakdown
5 star:

6

4 star:

5

3 star:

3

2 star:

4

1 star:

1
We had a fabulous evening at the Gilbert Scott. The food was excellent, and portion size was good. The staff were courteous and friendly and made us feel welcome. I have already recommended it to my friends and family and will be going back again soon.
Unbelievable, but definitely not in a good way... What could have been a decent, if over-priced and under-served, meal was transformed into a truly memorable but utterly inexcusable fiasco - their flagship main course Rib of Beef (£66) was off! Yes, the meat had gone off, not just rancid, gone bad, the accompanying rib bone actually stank of rotten meat and while the centre parts of the beef were edible (eaten by my wife), both ends and all the fat (the best part for me) were wretch-inducing and inedible. Just as unbelievably, not once were we asked how the meal was, though I now suspect this was more than coincidence. I tried, and failed, to catch the eye of a waiter through the whole main course, but since my wife and I were entertaining my best client (who, fortunately had pheasant, which apparently was fine) so sticking my arm up and making a scene was out of the question. At the end of the meal, with half the meal going back uneaten, I explained the problem to the waiter and invited him to smell the meat. Perhaps thought I was joking, but he certainly refused and then returned from the kitchen saying the meat had been delivered today and must have been fine. Unbelievable! This remained the party line when I spoke to the Maitre D. while my guests were getting their coats and in a subsequent email exchange. What worries me is that the chef should have known the meat was off when he took it out of the fridge, he must have know when he cooked it. The waiter would have known when he brought it to the table. I suspected the moment it arrived, and knew as soon as I started eating. To be disbelieved and contradicted is just a personal insult, albeit made worse by the £30 service charge that I had paid, but in a wider context, what does it say about a restaurant that claims not to know that the meat it is serving is off and worse still, refuses to acknowledge it when it is pointed out. It's just a good thing it was beef and not pork or I might be writing this from a hospital bed with a drip in my arm...
Disappointing. The staff are reasonably attentive, the decor is attractive, the location is interesting, but the food does not match up. The mushroom and chestnut soup was not better than my own : peppery and just had a few chopped chestnuts in the bottom of the bowl. There seemd no point to mentioning the chestnuts on the menu, they added no real flavour. The onion and cep tart was almost inedible : tiny, tough flaky pasty with a few mushrooms, spinach and some tinned sweetcorn sitting in a greasy mess on top of the tart. The pastry was soggy inside and I only managed to eat half. £15 for one of the worst dishes I have ever eaten. £2 cover charge and an automatic 12.5% service charge, but I had to ask for a bread plate and then were given saucers.
One of the best restaurants in London. Great food, amazing décor, exceptional service. The bar is awesome and the cocktails delicious. Would recommend highly.
I went last night and had a lovely time - the service in particular was excellent. My guinea fowl was too cold so when I spoke to a waiter, the manager organised a new plate, took it off our bill, apologised several times and kept coming back to check that we were happy . . .he even offered to replace my partner's meal too so we could still eat together. The rest of the staff were likewise friendly and helpful. The comments below about tables being too close together may be true for the two-person tables only, but let's face it, iot is a relatively small dining room so they have to try to fit in plenty of covers. I'm looking forward to going back and trying "Tea with George"!
What a disappointment! I agree with other posters that there's little "wow" factor, why is Wareing not living up to the amazing surroundings? Despite booking well in advance we were crammed in between 2 other couples which made it uncomfortable for all 3 parties. Lots of other tables were empty the entire evening so why shove everyone onto 1 bit of sofa? I expect a bit when paying these kinds of prices. Food is really creamy and gooey- don't know if you have an issue with lactose or custardy stuff. Starters were the best-crab salad v good but other than that I could've made better at home. Shame as this is virtually my local but I'll only be heading back to the cocktail bar in future
I Love it!!! It looks so delicious I also admire the cafe!! =]
We went yesterday as a group of 5 people and it was just lovely. I am not sure how Mr Diamond of Time Out thinks the food 'lacks impact' and can only assume he's just too jaded as a restaurant reviewer to sense how delicious everything is here. We had 3 courses each and so tried a good range from the menu. The Queen Anne Artichoke tart and the Mulligatawny (quail) were indeed excellent starters. For mains, we had the sea bream, which was a whole fish ( to the delight of my uncle who loves his fish), the wonderful tasting and sounding 'Soles in Coffins', Kentish Pigeon in a pot, Spatchcocked chicken and Suffolk stew (mutton meatballs in a gorgeous rich sauce - their texture is firmer and denser than lamb minceballs and they had a different, more 'meaty' flavour that was well seasoned and satisfying). For dessert (or pudding as the menu calls it) we had Eccles Cake with cheddar cheese ice cream, warm chocolate in a pot (which is as gorgeous as it sounds!), Orange marmalade cake and Manchester tart. I think the marmalade cake, chocolate pot and manchester tart were all to die for and should not be missed if you are pudding person. The cheddar cheese ice cream was a bit weird - it had real bits of cheese in it. It didn't quite work for me but others found it ok. All in all, I think the menu really works as old-style British food that has been updated to suit modern tastes, so that it's not so rich, and overcooked. The palate is clean, the flavours generally were delicate and the textures were comforting in the way old style meals are. The portions were surprisingly generous (we were expecting the usual tiny tidbits in the middle of huge white dishes like most of these kinds of places, however, we got normal, good-sized restaurant portions). The service was attentive. We finished everything clean, washed down with various mocktails and other non-alcoholic drinks, and the lovely fresh mint tea was ideal at the end. Infact we were so happily stuffed by the end, we left in a suitably glorious and uplifted mood, with EVERY intention to return. The only things I'd say that were drawbacks were (1) you are indeed very close to your neighbouring table and can overhear conversations - the worst tables were the couples who got sat in rows next to each other (2) it would be nice if they gave you a bread plate, as you do end up with crumbs everywhere. Maybe that's French, rather than British etiquette, but it's just practical...! Just go - don't listen to reviewers. I've seen about 4 professional reviews of Gilbert Scotts and they don't seem to be tallying with the experiences of any 'ordinary' person eating there. It's almost as if there is a conspiracy to make Marcus Wareing fail. But who cares who inspired the chef, or what the decor is like if the food and service is genuinely great? I've had several friends going here and everyone agrees it's a special place. Well done, Marcus Wareing - you've got it spot on at Gilbert Scott's.
Lovely surroundings, great staff, but ... menu lacks wow factor. Doesn't read with fireworks, food well presented (well, did after chef sent finishing touches out with waiter ...) and tastes good - but nothing unusual, clever or remarkable. Perfectly enjoyable but hoped for more. Agree with Elvissa, expected more polish. Find someway of "pretending" (if necessary) that menu is changed daily (saying "May" at top is not a good ploy). Wine best part, which is fab but not supposed to be better than meal. Pudding (Kendal mint cake choc ice was best dish; also wrong to dominate starter and main). Would try again but so many other better places in London. Sorry Marcus.
Atmosphere and staff are amazing. The menu is excellent.
I went in the first week and was a bit disappointed with what I experienced - it didn't seem to know if it was sophisticated luxury or more modern and relaxed. While the dining area was beautiful the overall experience was a little rough around the edges. The food was nice but nothing special - it was neither exciting (the attempted British-with-a-twist flourishes didn't come through in the flavour) or perfectly crafted classic dishes. The menus were a bit scruffy looking (paper print outs in card folder - not the classiest) and the service was a bit confused, not as polished as I'd expect. Great cocktail bar, though, and we had some great wine with the meal!