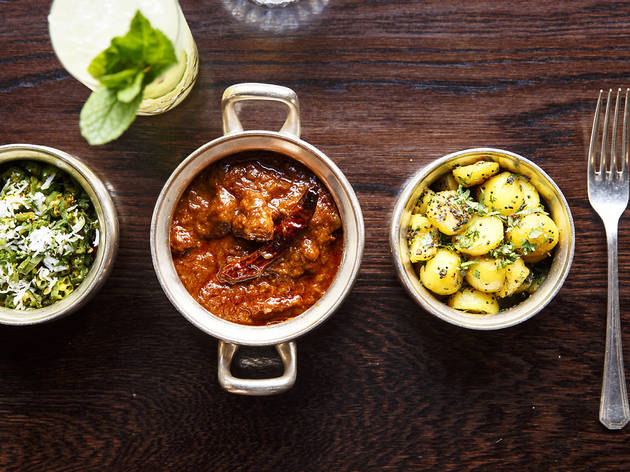 1/10
© Jonathan Perugia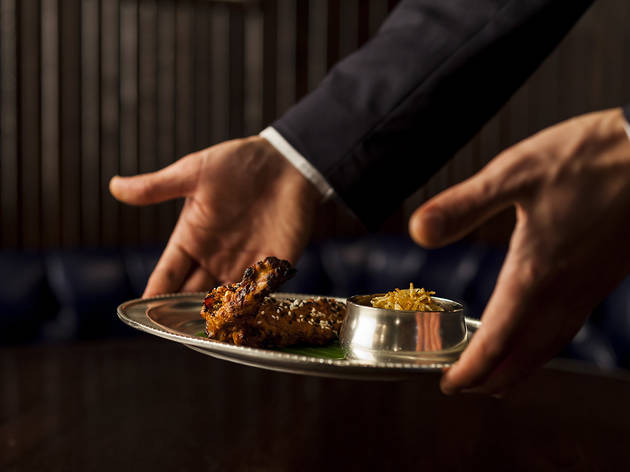 2/10
© Ming Tang-Evans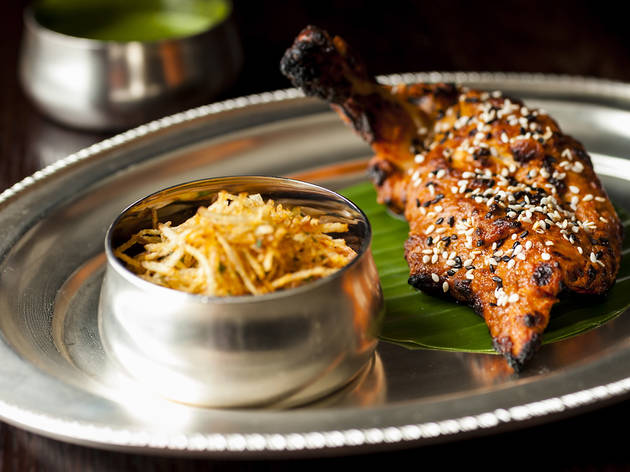 3/10
© Ming Tang-Evans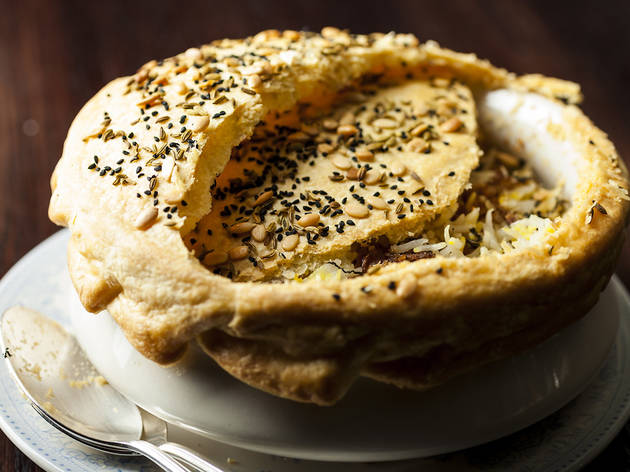 4/10
© Ming Tang-Evans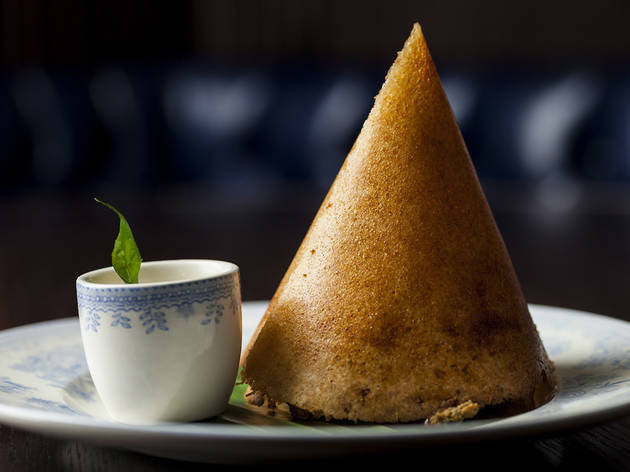 5/10
© Ming Tang-Evans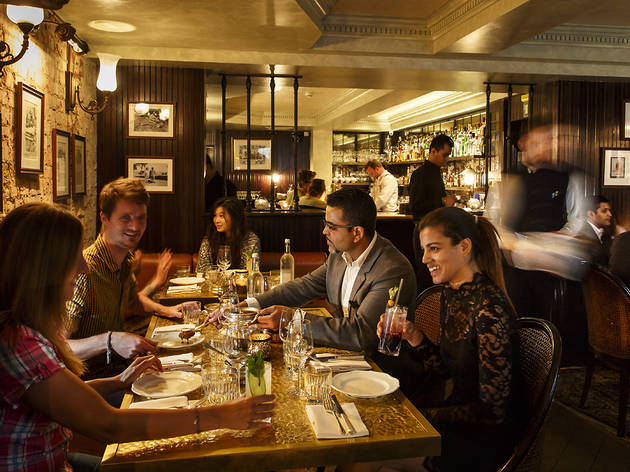 6/10
© Jonathan Perugia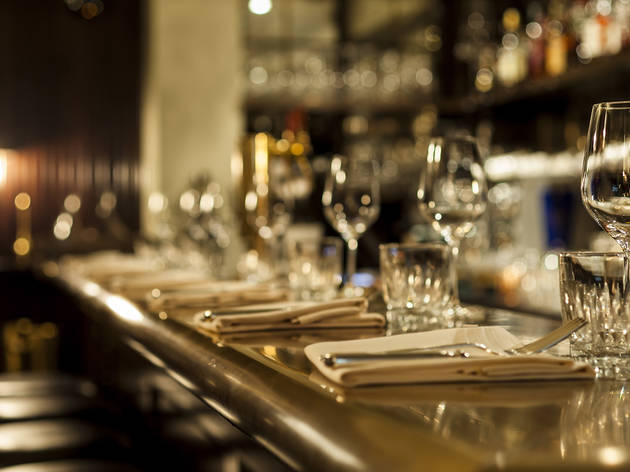 7/10
© Ming Tang-Evans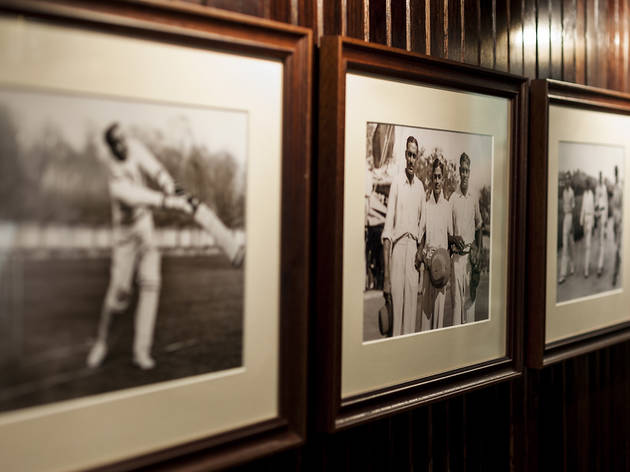 8/10
© Ming Tang-Evans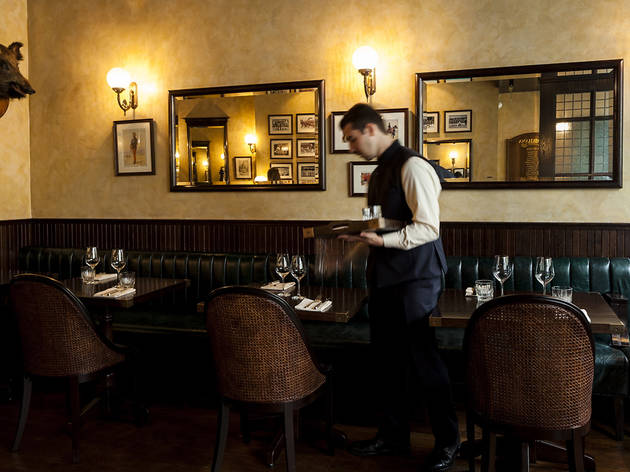 9/10
© Ming Tang-Evans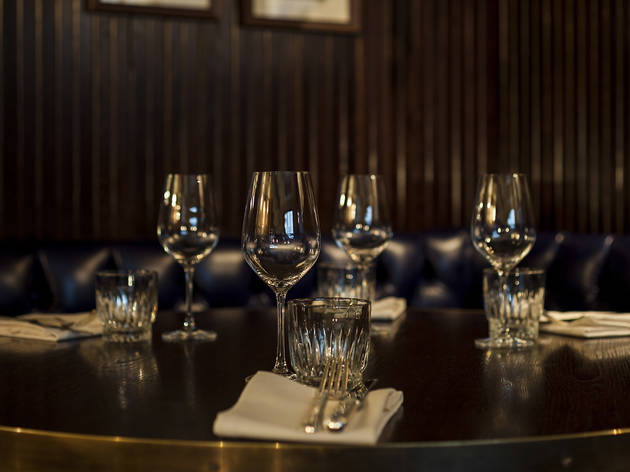 10/10
© Ming Tang-Evans
Time Out says
After being closed for more than half a year due to a fire, Gymkhana is back with its Michelin-starred Indian cuisine. While the restaurant has undergone a full refurb, the vibe is much the same: swanky and drawing inspiration from the British-colonial gentlemen's clubs in India. Expect sharing plates, tandoor oven roasts, curries, and char-grilled grub.
Details
Address:
42 Albemarle Street
London
W1S 4JH

Transport:
Tube: Green Park
Contact:
Do you own this business?
Average User Rating
4.4 / 5
Rating Breakdown
5 star:

9

4 star:

4

3 star:

1

2 star:

1

1 star:

0
Absolutely wonderful experience at Gymkhana! I've never thought of Indian restaurants as being overly upscale (clearly haven't been dining at the right ones!) but my gosh, Gymkhana is right on point. Food was utterly delicious, the pink gins were divine and the service could not be faulted. Our waiter provided some of the best service I have received in London; very attentive, knew the menu back to front and was confident providing suggestions, did not let us over-order and was generally a lovely person to deal with. I could not recommend this restaurant more, and will return.
I somehow managed to visit this restaurant completely unplanned on a Saturday afternoon. What a wonderful treat it was. The decor transports you to a colonial hill post in India. Staff are very friendly and gave us lots of help ordering - recommending we share some dishes which worked out perfectly. The vegetarian samosas and dosa to start were particularly delicious. Delicately spiced with some really punchy chutneys. For the main we shared the lamb shank korma - spicer and much more flavourful than your standard take away korma. We also shared some rice and a selection of breads, as well as some nice crisp seasonal greens. I really can't fault the food and the whole experience was a taste of the high life.
I can not however avoid the price point - which is high. £22 upwards for the mains and half that for starters. Add your sides and for what was a reasonable sized 2 course meal with one soft drink ended up being £50. As a one off it was definitely worth it - the food and feeling of the place is perfect. One reoccurring thought I had though was that I've had very similar experiences at Dishoom for half the price, but with an hour queue.
We came here for a special occasion and we were not to be disappointed. Even the entrance behind the solid green door added to the intrigue. Once inside, the leather banquettes, low level lighting and honours boards truly added to the old school Indian colonial club feel. The marble tables and silver cutlery added a sense of permanence to the restaurant. However, the service was anything but stuffy. The most sought after dishes were the Pork Cheek Vindaloo and the Tandoori Mixed Grill. The Wild Muntjac Biryani with venison and pastry was a visual delight.
Beware that the food can be quite spicy and several refills of water were required. Will definitely be there again for another special occasion.
This wasn't too pricey given the location. The portions were on the small side but was actually perfect because they were so rich and flavoursome. I found the fusion style dishes lacked seasoning but only just. Great place for work-lunch and for us anyway, brilliant location with being able to walk off lunch with some window shopping.
Gymkhana is stylish and moody, while the staff are very well rehearsed in effortlessly making the experience enjoyable. The Muntjac biryani is always a winner, but you'd struggle to find a below average dish on the menu. Gymkhana is modern Indian in its truest sense, and done very well. It has always been a pleasure and a treat to go back.
Gymkhana is an absolute treat for all the senses. Probably one of the best Indians meals I have ever had run by the ever featured Sethi family, it simply is a must for any fan of creative, delicious and mind-blowing food.
We went to town on this and had the wine-pairing menu - which although expensive made the experience unforgettable.
We had both the Meat & Vegetarian tasting menu's and they really were something special. The Paneer and Fish Tikka were particular highlights, however the food was all incredible and we had to take some home in a doggy box for the next day!
The Sommelier was very informative and attentive and really added to the whole experience by giving us tasting notes and history to expand the meal's enjoyment.
A firm favourite, definitely a treat, I will be going again!
I've been twice - the 1st time I thought it was amazing - you have to try the keema with Lambs brain and the suckling pig vindaloo (it's not that hot)
The 2nd time I was less than impressed and it was the day they were awarded a star. The restaurant wasn't particularly busy but it took 20 minutes to get served I guess we were forgotten - the people I was with ordered an aperitif that took a further 20 minutes to come, as did my beer, only to then have a leaky pewter mug full of ale on the table. When I pointed this out my beer was duly taken away and replaced, which took ages...service was not attentive at all, food took ages. Don't get me wrong the food was delicious, but the service was dire on a celebration day for the restaurant when they should have stepped up. As one of the guys at the table said, when you're paying top dollar for food, part of that is for the service... Haven't been back since :(
London: Gymkhana is my new number 1 for posh Indian, sorry Amaya (now no. 2). Having come from a background of top Indian home cooking, I am rather hard to please on the curry house front. This venture is by the people behind seafood Indian Trishna in Marylebone, so expectations are high. There is an old colonial India theme to the restaurant, however this is done elegantly with alluring dark wood booths, slowly rotating old ceiling fans, black and white photos of men with curly moustaches and a 1920s playlist. This place attracts the well heeled ,partly due to the location in Mayfair central but also the avid foodies. The reviews across the board have been ridiculously good. Service is helpful and unobtrusive. Time for the food, this was a spicy heavenly feast laden for the Indian gods. There is an art to presenting a curry well but Gymkhana has cracked it with immaculate, appealing dishes presented in novel ways, even Michel Roux would be impressed. To start with, the goat keema had a depth of rich meaty chilli flavour and was accompanied by little white buns to mop the residue . Chicken wings were not really wings, more little yummy chicken lollipops. Then came the crispy light dosa cone hiding a delicious duck curry. Tandoor guinea fowl was a beautiful breast of tandoori chargrilled white meat. We ordered it twice. Could this get any better ? yes, then came the 3 plump pan fried spicy wild tiger prawns with an unctuous red pepper chutney. I had to order an old school vindaloo but this was no ordinary vindaloo, rather a fiery suckling pig condensed into a dark velvety explosive curry. Sides were not just bland sides, the aubergine was a sweet rich accompaniment. Okay, I know I sound like a Marks and Spencers food advert but this is how it felt. This was a feast for the eyes and the robust belly. There were also a number of other gamey numbers such a partridge pepper fry, pheasant, deer, maybe next time. The only negative is that portions are a little meagre for the big price tag per dish, but it just means you have more room to taste more… I know when a place is a winner, when the very next day I have to book it again, to keep my spicy Indian frenzy hunger at bay. PS tables are hard to get, but go midweek for Indian game, why not indulge?