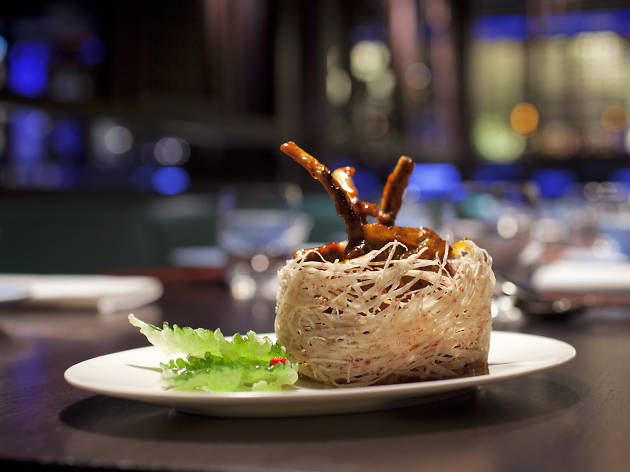 1/7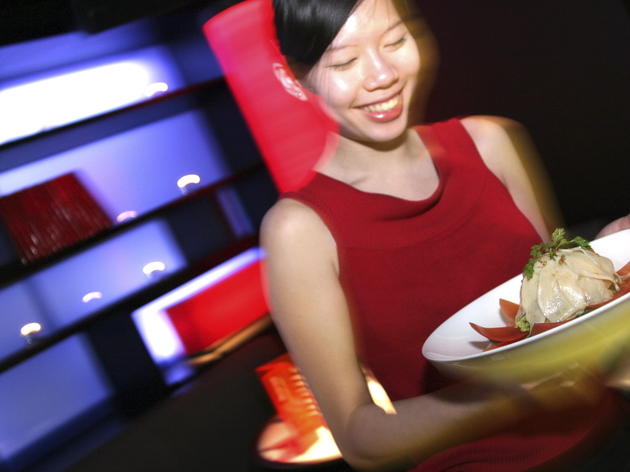 2/7
Thomas Skovesende / Time Out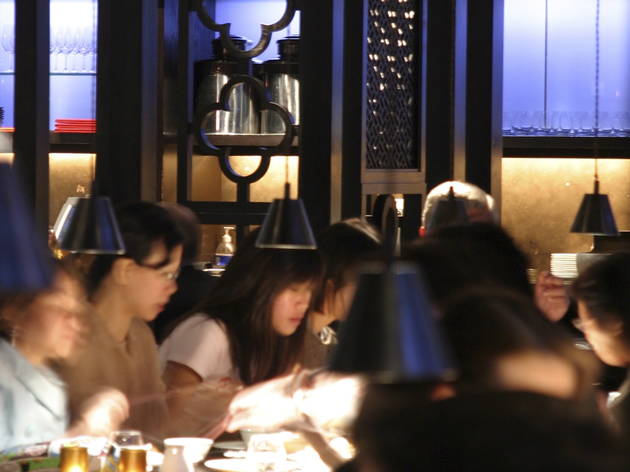 3/7
Thomas Skovesende / Time Out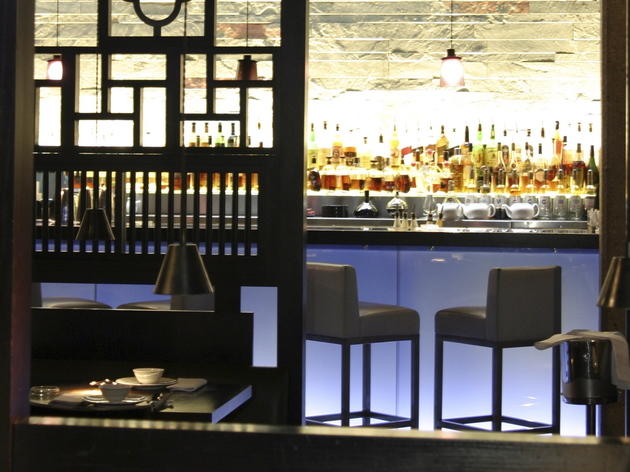 4/7
Thomas Skovesende / Time Out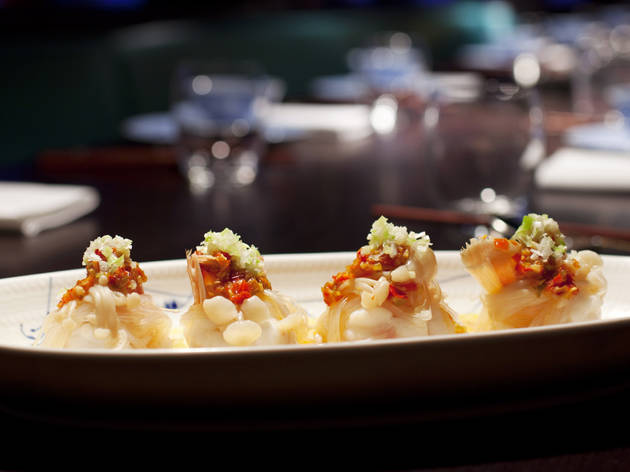 5/7
Ming Tang-Evans
Once the darling of chinese restaurant enthusiasts, has an expanding Hakkasan lost its edge? Charmaine Mok investigates. Verdict, Luxe ingredients and stylish execution, but with mixed results. Hakkasan, 17 Bruton street, W1J 6QB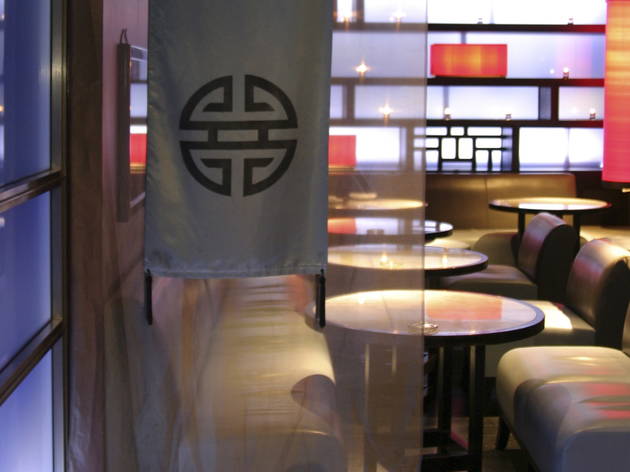 6/7
Thomas Skovesende / Time Out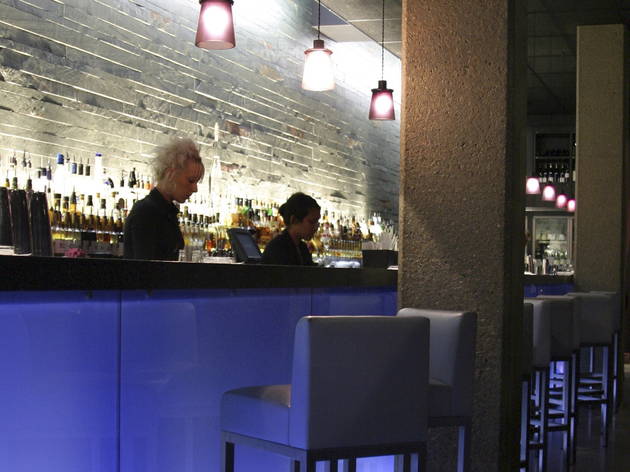 7/7
Thomas Skovesende / Time Out
Time Out says
With its stylish interior and innovative Cantonese cooking, Hakkasan is still the benchmark against which all high-end Chinese restaurants should be judged.
More than a decade after it started wowing London's big spenders with its classy Cantonese cooking, this Michelin-starred trendsetter remains a benchmark against which all high-end Chinese restaurants should be judged.
The basement's stylish interior (all dark wood lattice screens and moody lighting) still attracts the kind of beautiful people who might suppress their appetites – though there was little evidence of restraint on our midweek night visit. Plate after plate landed on tables around us, including signature dishes such as silver cod roasted in champagne, and jasmine tea-smoked organic pork ribs.
We started with the dim sum platter, a basket of superbly crafted dumplings. The pastry was perfect in give and texture, just elastic enough to encase generous bites of flavour-packed meat and seafood. Sweet and sour Duke of Berkshire pork with pomegranate was equally good, the melting tenderness of top-quality meat turning the clichéd staple into a luxury – Chinese takeaways should weep with shame. Drinks run from cocktails via high-priced wines to specialist teas.
The original Hakkasan that spawned a global empire (including a newer branch in Mayfair) retains all its appeal: cool enough to be seen in, yet authentic enough to dash pretension.
Details
Address:
8 Hanway Place
London
W1T 1HD

Transport:
Tube: Tottenham Court Road tube
Contact:
Do you own this business?
Rating Breakdown
5 star:

11

4 star:

10

3 star:

4

2 star:

3

1 star:

0
Good restaurant, excellent service, good food but possibly not worth the expense.
Wow, I was unimpressed, the prices were so expensive! What you're paying for is the pretence of exclusivity - the food is reasonably tasty but I'd really rather go somewhere less fancy and pay significantly less. There wasn't anything on the menu that you couldn't get elsewhere, although it kind of highlights that the menu is quite authentic and hasn't been significantly altered.
The problem for me was that we were really crammed in next to the other tables and the restaurant was too dark for my liking. When you're looking for a really special evening out and you're paying over £50 for some dishes, I want to be able to see what I'm eating and I don't want to be sitting so close to the next table that I could eat off their table without stretching.
I recently ate at Hakkasan for the first time in about 3 years and I can't help but feel that the standard has either slipped or the London restaurant scene has simply overtaken what was once a standout. I was there with my boyfriend, celebrating a special occasion so we went for the Signature Menu. The value (£130 pp) would have been good enough for generous portions of wagyu, caviar and lobster but the food was mediocre. I can't remember any of the dishes being a standout and 2 of them (the cod in some sort of orangey glaze and one of the deserts) remained virtually untouched as they were frankly not very good. The atmosphere however is still great, cocktails are delicious and Hakkasan's popularity clearly hasn't waned as the restaurant was packed. Service was friendly, but a bit clumsy. They forgot our drink order and then brought us the wrong cocktail. I'll probably wind up visiting Hakkasan again as I feel nostalgic for what was once my favourite restaurant in London. But at over £300 for dinner with cocktails, I feel like I could have spent my money somewhere with better food and service.
Fabulous food & wine as guided by the Sommelier. Very intimate setting, low lighting & dark oriental décor to create the perfect atmosphere over dinner with your loved ones whilst enjoying a special treat.
Having had Hakkasan on my "to do" list for a very long time, I was delighted to find a deal for their summer Ling Ling menu (3 courses and a cocktail for £35). The restaurant offers a great mix of traditional Chinese vibes and contemporary design. The entire Hakkasan experience felt very luxurious and I can highly recommend it. One negative remark was the fact that the cocktail of the pre-set menu could not be altered for a guest who didn't like gin. But hey ... first world problems?
PS: Have the macarons! they are insanely good.
I'm totally shocked at how this restaurant has received such good ratings, reviews and awards - at my first visit earlier this week I found the whole experience utterly disappointing for the cost. I'd wanted to got to Hakkasan for ages, and we finally booked a table earlier this week to celebrate our anniversary. The visit started off well - when we arrived we sat at the bar, and had 2 delicious cocktails; the bar was impressive, the bartender helpful and friendly. The waitress returned several times to ask if we were ready to be seated - we felt a bit hurried but stayed at the bar until ready. When we sat, our table was in a secluded spot, which is what I'd requested so that was good. We ordered the tasting menu at £118 each and it was from there that things went downhill. For a start, the food - it was underwhelming for the cost - it all tasted good, but not better than I've had in other nice restaurants that charge far less extortionate prices. Also the quality of the ingredients wasn't what I'd expect - "lobster" was the inferior Australian rock lobster, and the sea bass was farmed - at that price I'd expect wild. There was a huge amount of food, we couldn't finish, but at the price I'd expect less food but of a higher quality, and for the menu to better complement so it wasn't so 'heavy'. It didn't help that the service was extremely fast - dishes came out one after the other and starter and main blurred together. Twice we sent back dishes to come out later so we could eat the food hot, as dishes were just sat there getting cold - the staff seemed put out when we requested this, as though it was unusual to want to enjoy a leisurely dinner. On top of this we had 5/6 different people serving us through the night, at least 2 of whom didn't speak English well enough to understand our questions about the menu - I'd expect a server and one who knows the menu inside out. In summary the whole experience actually felt really 'commercial' like they wanted us in and out. When the Server that we paid asked about our experience we gave this feedback, he only responded to our comment about fast service, saying that most people want food to come out quickly and together. I'm really shocked at the positive ratings reviews and awards Hakkasan has achieved - it didn't resonate at all with our experience. I wouldn't go back, there are better restaurants, Asian and otherwise, that provide a more high-quality and intimate experience, and better food, for a fraction of the cost.
I took my boyfriend here for his birthday and we loved it. Our waiter was lovely and when he overheard it was my boyfrend's birthday he came over with a cake but asked us if it was ok to light the candle and sing as he didn't want to embarrass us which I thought was a lovely little touch. He also gave him another limoncello for free when he drunkenly knocked his half empty one on the floor! I was expecting it to be really expensive as we didn't hold back and 2 more dishes than recommended but I was pleasantly surprised with a bill of £130! The place is decorated really well too. Would definitely go back.