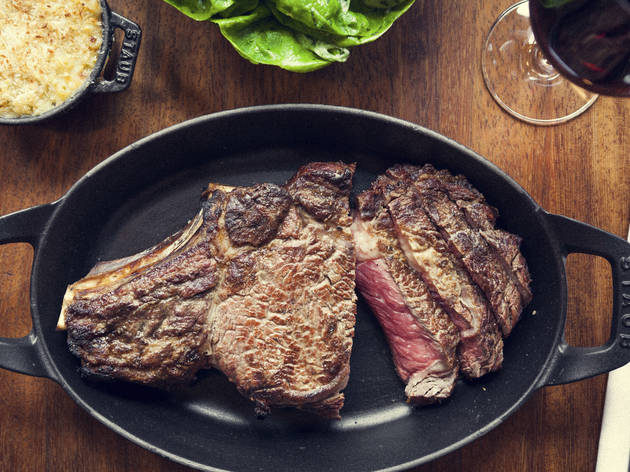 Time Out says
A City branch of the acclaimed British restaurant and steakhouse.
Hawksmoor: you either love it or you've never been. Any outlet of Huw Gott and Will Beckett's preternaturally marvellous, meat-centric micro-chain could be pegged as London's best restaurant on a good day. This City branch is no different.
Fine, it's not the greatest space, occupying an expansive, low-ceilinged box of a basement room. But aesthetically, it's much like the rest of 'em: 'Mad Men'-style low lighting; a forest's worth of wooden panelling; studded leather in muscular, muted tones.
Eating-wise, everything's brilliant. There were puffy yorkshires with potted beef, cool with bovine fat and doused in onion-thick gravy. Inevitably lighter was the crab on toast, a mound of delicate white meat ballasted to a slice of good sourdough with a hefty slick of mayo.
The monkfish is grotesque in life but resplendent in death – here evidenced by a whacking slab of full-flavoured tail meat, imbued with the pervasive smokiness that comes from being grilled over charcoal.
We swerved the steaks proper for a rib eye sandwich, the meat's ferrous hum given a few funky top notes with graceburn (a kind of soft cow's cheese) and some anchovy hollandaise. For sides, there were fries cooked in beef dripping (tasting eerily, brilliantly, akin to old-school McDonald's chips) and an iron ramekin of faultless mac 'n' cheese. Order both.
What with all the hardcore carb and protein loading, Hawksmoor's puddings are oft overlooked. This is folly: even veggies should make a beeline here for their enormous riff on a Malteser – a fist-sized, malt-flavoured meringue shell filled with chocolate ice cream that was every bit as good as that suggests.
Beckett and Gott have been doing this stuff for nearly a decade now. But however much their restaurants might feel like part of the furniture these days, Hawksmoor remains an ur-text for London eating. Classic stuff.
Details
Address:
10 Basinghall Street
London
EC2V 5BQ

Transport:
Tube: Bank
Price:
Dinner for two with drinks and service: around £140.
Do you own this business?
Special offers
2/3 courses and a cocktail for £30/£35
From a set menu, not available in connection with any other offers. Terms and Conditions: Maximum of 6 diners. Includes VAT, excludes service. Valid For: 1 - 6 People Sun 12:00PM-9:30PM,Mon-Thu 12:00PM-3:00PM 5:00PM-10:30PM,Fri 12:00PM-3:00PM 5:00PM-6:45PM 8:45PM-11:00PM,Sat 12:00PM-3:00PM 5:00PM-6:45PM 9:00PM-11:00PM
Offer valid until
Feb 29 2020
Average User Rating
4.3 / 5
Rating Breakdown
5 star:

13

4 star:

9

3 star:

0

2 star:

1

1 star:

1
Great steak Was so full couldn't have dessert Had the rump and was very tasty Good wine too
I was lucky enough to dine here twice in three days, once for dinner with family and once for a work lunch. For the evening meal we started with cocktails and prosecco, and Shaky Pete's Ginger Brew has gone right in there as one of my favourites – really refreshing and great flavour. And the steaks! I've eaten in a few steak houses around London and these are possibly my favourites, the only real competition so far would be Goodmans. For the evening meal two of us shared one of their bone in prime ribs (at 950 grams) which was cooked perfectly – moist in the middle with a lovely char on the outside. The surf n' turf (fillet and half a lobster) also went down very well, shared by my wife and her sister. Sides were great (love the triple cooked chips) but the béarnaise sauce was possibly a little thick – the fork stood up in it! Very tasty, but too rich. Lunch was a couple of days later, and to be honest I still felt full from the previous meal! But the rib-eye at 400 grams was perfect, the beef dripping fry's actually better than the triple cooked chips of the previous night and the bone marrow gravy much more suited to the meal than the heavier béarnaise. What can I say, I enjoy a steak and both times I've been here in quick succession they've been flawless. I know some people have mentioned the service, but both times I had absolutely no problems with it. Having said that it was slightly unnerving having the chap on reception start singing my name at me...
Food fabulous, service great, decor superb, can't praise it enough. Hawksmoor do the best steaks in london...fact. Looking forward to trying Air Street soon too!!
Wow - they've done it again! The steak, the sides, the cocktails...oh my - they totally lived up to my drool-laden experiences of their Seven Dials branch. The service also maintained Hawksmoor's friendly, attentive, down to earth style. We were sat next to a particularly offensive group of rowdy suits (which I guess is what you have to expect in a City restaurant), though the staff dealt with them impressively. Hats off to the the manager, who had a discreet word to get them to tone it down, and then offered us cocktails to compensate (even though we hadn't even complained). That's class.
Absolutely delicious and well worth the hype! The chateaubriand was an absolute treat, and the wine and sides were excellent - just what you would expect from a city steakhouse. The downstairs area can looklike a bit of a German beer hall (especially as it was filled exclusively with men in suits when I was there), but the atmosphere is lively and relaxed and service is friendly. Definitely worth a visit.
Simply the best stake house in The City and probably in entire London. Their chateaubriand is to die for
Hawksmoor Guildhall has to be the best steak restaurant in London, if not the UK! Never failed to be impressed with my visits here and with the added bonus of being able to enjoy breakfast here when it's time to treat ones self it cannot go wrong in my books!
Best steak in London! Best burger as well! Retro dining room in a modern city. Fantastic cocktails, personable & efficient, yet casual service. One of my favourite restaurants in London!
I won a winners breakfast at work at the Hawksmoor and I have to say it was by far the best breakfast I have ever had! I had the full English which for me was more than enough and more! The plum sausages.... out of this world! The beans cooked with ham hock! Then the breakfasts of all breakfasts was then served for the men (which I have to say deep down I was extremely jealous) and is served for 2 sharing. The grilled bone marrow and smoked bacon chop looked out of this world! The only downfall about the breakfast is that it is only served Monday to Friday! this would be great for a weekend treat, fathers day or just to enjoy an amazing breakfast!
Last Friday my usual Hawksmoor was fully booked so I deciced to give Hawksmoor Guildhall a try. The food (Crab on toast, Sirloin steak and sticky toffee pudding) was great and kept me in a deep food coma for the rest of the weekend. One tip: do not order more than one side with your main ... Value for money at Hawksmoor is really good and portions are massive. Service was lovely. Overall it was a really good experience, but I still prefer the Air street branch.
Hawksmoor are renown for their steaks and rightfully so, they are wonderful. But the breakfast is what we really need to talk about. Open from 7am-10am for the perfect pre work binge Hawksmoor Guildhall offers anything you could possibly want for breakfast and more: steak and eggs, lobster benedict and even fruit & granola (but if you're coming to a steak house for fruit for breakfast seriously, what are you doing with your life?!). I went for a classic bacon sandwich which was perfectly cooked with at least 4 full piglets in between the soft, white, perfectly toasted bread, it was dreamy.
The perfect breakfast for a hangover/business meeting/every single day of my life
i went there the other day, an di must say that the service was shockingly bad, even rude. i went there with my brother, and being in our early 20s and not dressed in an uninspired suit, we were perhaps not the usual cliental. now, i really dont think that calls for an incredibly patronising and rude service. first, we were not allowed to share a portion; "they don't do that" apparently. we also chose not to order any drink except tap water, something that awarded us a smug comment alluding to our age and clothing. after that, we had to wait a considerably longer time for our food than anyone else. i guess that a young audience is not the kind of crowd hawksmoor wants or even pays the slightest respect to. the food was good, but then again, given a good butcher, it is really nothing that you couldn't do at home. in fact, i make much better chips myself. its a steakhouse, its not really rocket science, something that makes the smugness and rude service even more bizarre. a humble honest down to earth product should be matched with a similar attitude to service and costumers one might think. finally, someone should really have look at the acoustics in this restaurant. if you have any kind of real hearing problem, i'm guessing that any dining experience at hawksmoor guildhall will be a wordless dinner.
Whilst the quality of the better cuts of steak are undeniably excellent and the cocktails superb I have always been let down by Hawksmoor whenever I have visited. For example, when I last visited a month ago for a friends party the triple cooked chips were terrible and the prawn cocktail starter was soggy. Nothing something I expect for the price! If you want an excellent steak it's hard to go wrong but fine dining this isn't and the price definitely could be better spent on far superior restaurants.
Snap up exclusive discounts in London
Time Out's handpicked deals — hurry, they won't be around for long...