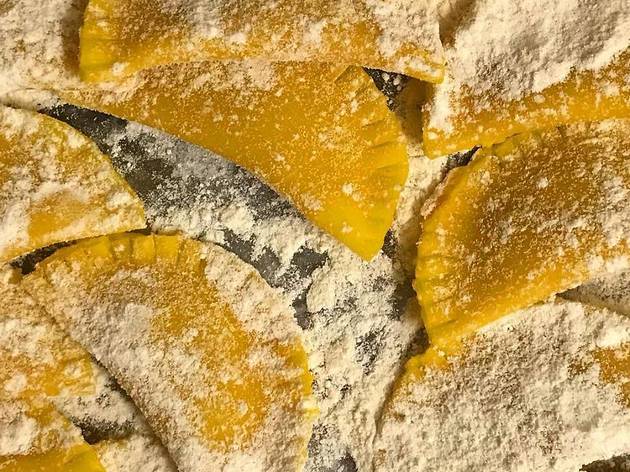 Venue says
Classic British cooking – at Hodge Podge we create a 'You'll Get What You're Given' set four-course tasting menu.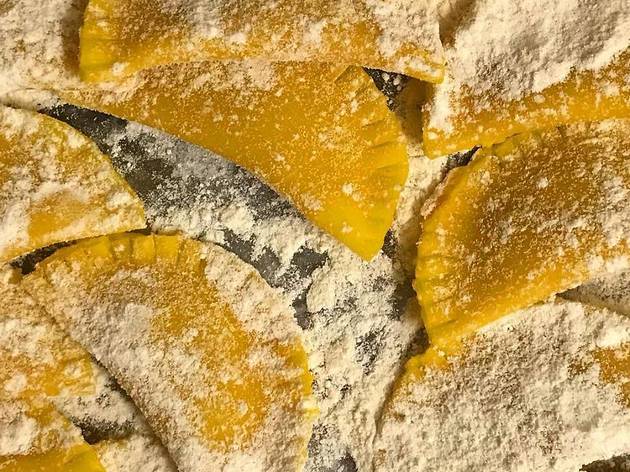 1/1
Time Out says
Friendly warning! We're working hard to be accurate. But these are unusual times, so please check that venues remain open.
A neighbourhood restaurant with casually clever food.
Tiny Hodge Podge is nestled just off Stroud Green Road, near great delis and supermarkets, a place filled with culinary creativity – and it's opposite local ledge Max's Sandwich Shop. The simple decor and spindly tables and chairs don't match a spot named after mess and miscellany. The menu also appears straightforward until dishes arrive, each with a mishmash of surprising flavours, and a kind of hodgepodg-iness starts to surface.
'Tuna and toast' was triumphant: a plump pile of tuna ceviche sitting on zingy lime and coriander salsa, paired with a generous smear of avocado and a crisp take on prawn toast. Equally brilliant was the 'aubergine and miso'. This – aubergine ravioli with apple and miso stock, pickled radish and watercress pesto – was light, delicate and intriguingly moreish. The strange delights continued. 'Hake and stew' was rich and sweet: a perfect seasoned fillet on a pile of fine fennel curls with a smoky tomato and mussel base. While buttery-soft short rib with a peppy oyster and parsley mayo was one of those dishes you eat in smaller and smaller mouthfuls to ward off that moment when there's none left.
Hodge Podge is a good word to say. But it sounds heavy and stodgy, which this fun, optimistic spot is certainly not. It can also mean a muddle or a confusion, which doesn't sit quite right either. Hodge Podge's dishes are a jumble of flavours, but nothing about this place is a mess.
Hodge Podge says
Hodgepodge is a local restaurant in North London serving 'Classic British Food'. Self-taught owner and Chef Simon Hodge takes influence from his time spent in the countryside across Britain. The Menu is a 'You'll Get What You're Given' set four-course tasting menu.

The menu reflects the seasons and incorporates seasons past with ferments and preserves.

Simon and partner Chantal Halley create a casual and fun dining experience.
Alongside the food, Hodgepodge serves wine which is selected from small independent winemakers whose ethos revolves around minimal chemical intervention, indigenous grape varieties, and a hands-on approach.
Details