1/10
2/10
3/10
4/10
5/10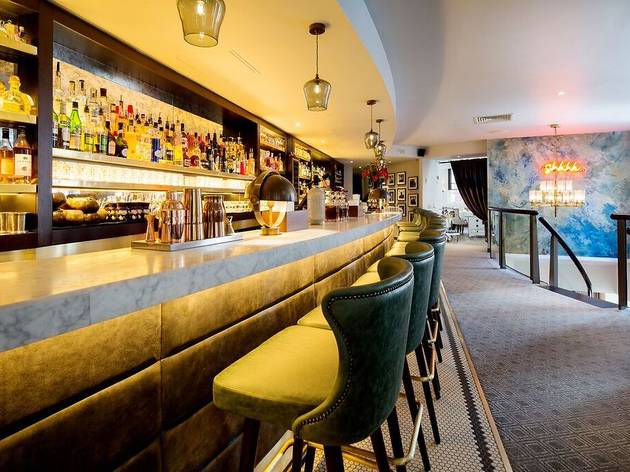 6/10
7/10
8/10
9/10
OLYMPUS DIGITAL CAMERA
10/10
Time Out says
This swanky Mayfair restaurant and bar remains a draw more than 15 years after opening its doors out onto Lancashire Court - a prime bit of Mayfair turf that doubles as the venue's particularly lovely courtyard dining area. Nabbing a table on those cobbles come summertime is certainly no picnic.
There's a global feel to the food menu here. Dishes range from salmon sashimi salad and tuna tartare with ponzu and avocado to white truffle tortelloni, whole roasted sea bass with lemon thyme butter, and chicken paillard with red pepper relish. Desserts include mars bar cheesecakes served with praline ice cream, and a white chocolate and Earl Grey crème brûlée.
Drinks enjoy equal billing thanks to a first floor cocktail lounge overseen by bar director, Pedro Solorzano. Expect classic mixes alongside a Hush gin martini (Hush boutique gin, orange Curacao, La Fe absinthe and lillet blanc) and the Hush Champagne cocktail, made with Russian Standard vodka, violet liqueur and Taittinger Brut.
Keep an eye out for fancy afternoon teas, too - served in the very classy Silver Room or out on those cobbles.
Hush says
Tucked away in a tranquil courtyard in Mayfair lies the sophisticated Hush restaurant. Offering multiple dining spaces; Hush boasts a classic brasserie, KityCow residency, award winning Aviator cocktail lounge, exclusive private space The Sir Roger Moore Room and one of London's finest outdoor dining spaces.

The chic but informal Brasserie is a popular place to enjoy either breakfast, lunch or dinner.
Our diverse menu features classic brasserie dishes with a European flavour, such as Carpaccio of Beef "Harrys Bar" style and our favourite Cacio e Pepe Pasta made in a giant Parmesan wheel.

Aviator at Hush

Aviator at Hush is incredibly proud to have won 'Best Bar in London' at the London Club and Bar awards 2017. Also available for exclusive hire the perfect location for Cocktail & canapé receptions for up to 120 guests.

The Sir Roger Moore Room

The private dining room at Hush occupies the entire 2nd floor of our Mayfair townhouse. The room boasts state of the art AV equipment for presentation purposes and offers a discreet setting together with an exclusive bar, kitchen and cloakroom for your event, making it the perfect space for a wide variety of occasions.
Details
Address:
8 Lancashire Court
London
W1S 1EY

Contact:

New

Private events:

This venue has areas available to hire for private events

More info

Do you own this business?
Average User Rating
3.4 / 5
Rating Breakdown
5 star:

2

4 star:

1

3 star:

3

2 star:

2

1 star:

0
Lindsey
I bought a TO deal for Blades at Hush. Paid £52.20 using TO card. An Exclusive Offer so I was looking forward to it!
It was difficult to find as we were looking for 8 Brook St whereas it is actually 8 Lancashire Court. On entering the first floor 'fine dining restaurant' a blast of cold air hit me; not a good start! Polite waiter noticed my reaction to the cold and said he would turn the AC off. The restaurant however remained cold for the duration of our visit so that I had to wear my coat and even my normally hot-blooded husband felt cold. It was early so we were the only two diners. However two hours later, only two other diners had arrived.
We chose our cocktails - large and very aromatic. The waiter failed to give us our amuse bouches as per the menu so I had to ask for them: we were given some bread, butter and olives. Nice but nothing special.
We chose starters of Spinach Salad, which were very tasty and generous portions.
The main course menu had a £5 supplement for the Angus Sirloin Steak. This had not been mentioned in the sample menu description online when I purchased the deal. My steak was fine but my husband's was a bit grissly. Came with hand cut chips which were beautifully salty.
Desserts were good quality and one of them was a generous portion.
We thought we might finish up with a cup of tea each to warm us up before making our homeward journey but decided against it as the waiter seemed engrossed in something in his corner.
Just as well we didn't add on the tea as we were in for a shock when presented with the bill. There was a non-discretionary service charge of £18.60! which I queried. This also had not been mentioned in the TO deal description. In fact, quite the opposite! I quote "Usually a menu that doesn't contain any numbers means that you should worry about your wallet at the end of the meal, but with this exclusive Time Out readers' offer, you can get yourself this scrummy four-course meal and a cocktail for an un-shaken, stirring £29".
We had to pay it, as the waiter produced the bill we should have had ( had we not been on the TO deal) which was for £142 something! The meal and drink were certainly never worth that much, let alone the £80.80 it had cost us!
Very disappointing evening as I have always been pleased with my frequent and previous TO offer s. Maybe a bit of discussion necessary between TO and the client.