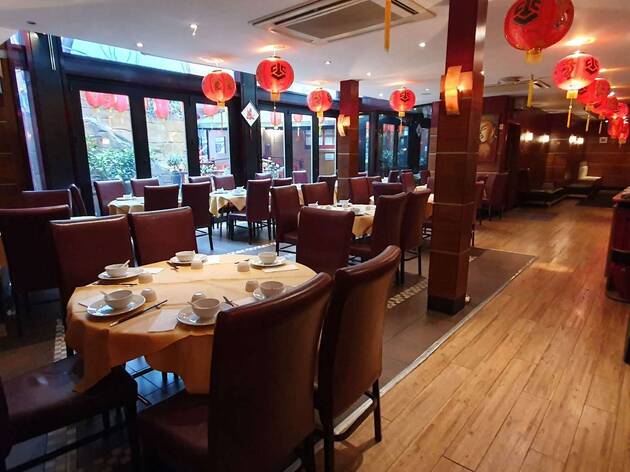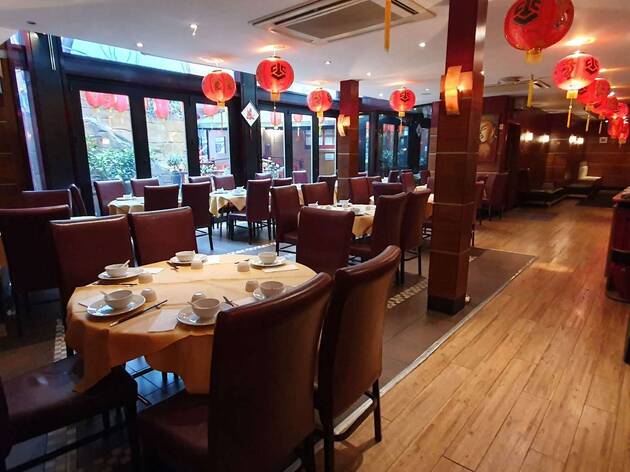 1/9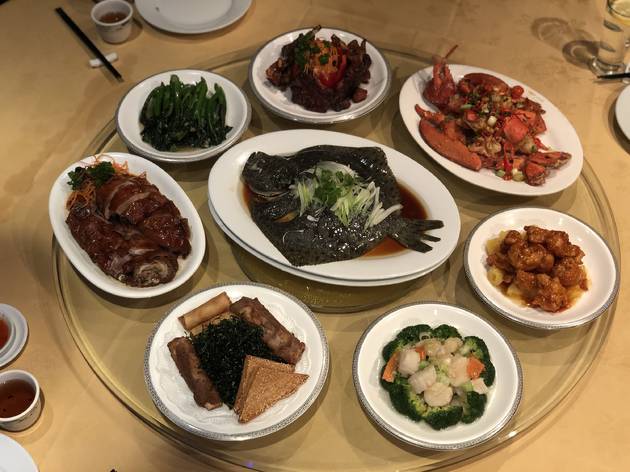 2/9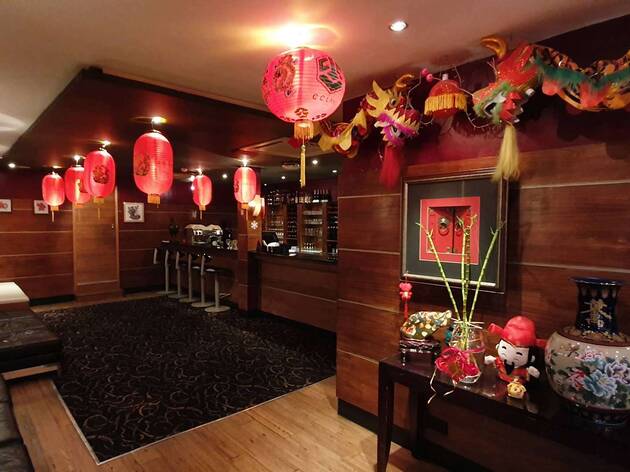 3/9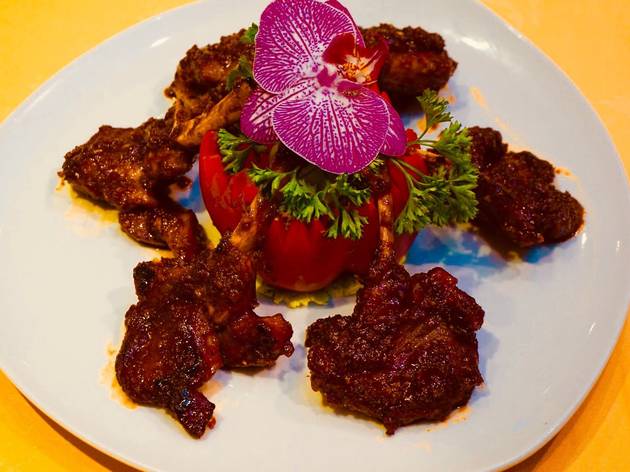 4/9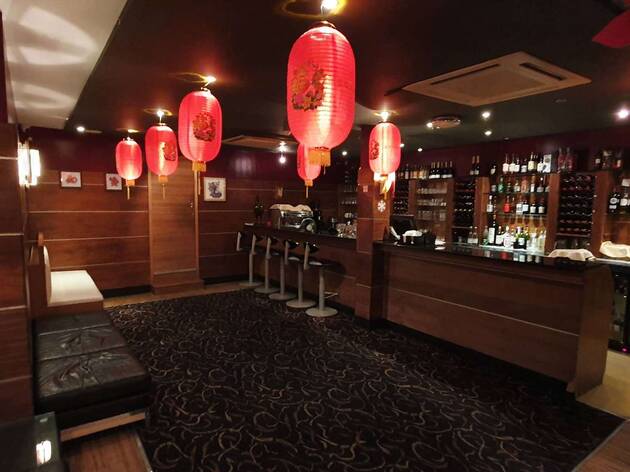 5/9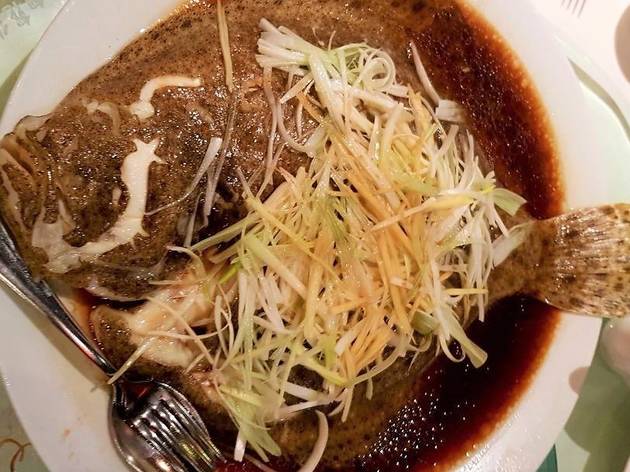 6/9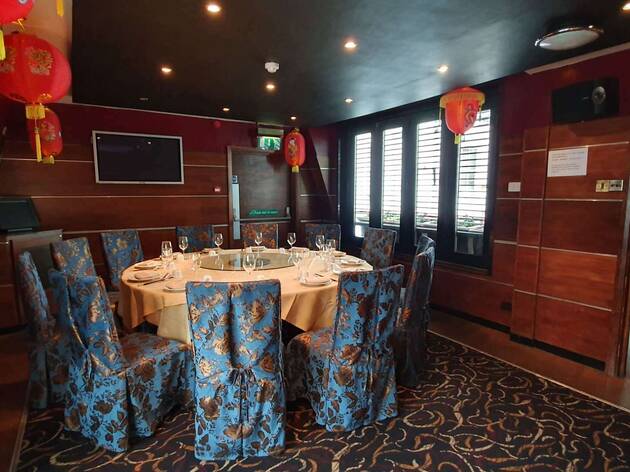 7/9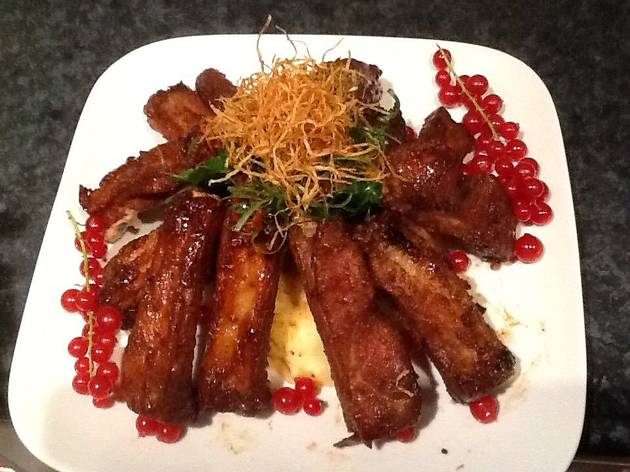 8/9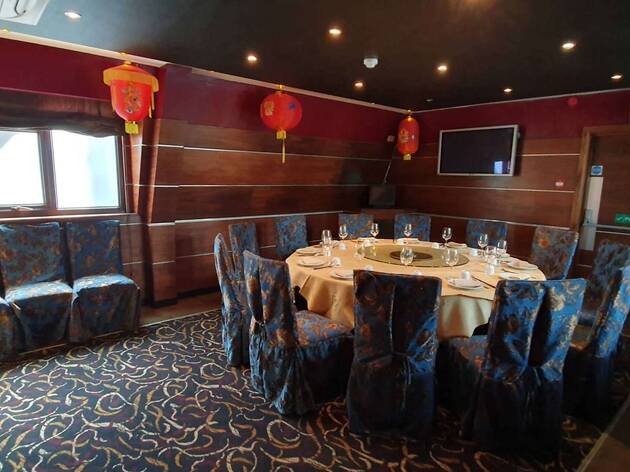 9/9
Time Out says
An elaborately decorated three-floor restaurant serving dim sum, plus karaoke rooms.
A small wooden bridge spanning an ornamental fish pond, warm wood panelling, kind lighting and a second floor offering a view of the dining room below set this Cantonese stalwart apart from all others in Chinatown. Yet in every other respect, it's indistinguishable. Service is efficiently brusque to maximise customer turnover. We've often had to wait for a table, whether we had booked in advance or not – as if an empty seat, even for a minute, is seen as a threat to profits. No surprise then, that dishes are delivered quickly. During a weekend dim sum lunch, about a dozen baskets arrived simultaneously, minutes after ordering. There were no standouts among the parade of dishes we tried, but we had no complaints either. The food is reliable, authentic and of decent quality. Portions can be rather miserly, however, especially given the high prices compared to rivals in the neighbourhood. Then again, Imperial China appears to get away with it. The relatively handsome and comfortable decor, accessible location and clean toilets seem to keep the venue consistently popular among both Chinese and Western diners.
Imperial China says
About Imperial China

Imperial China is situated on Lisle Street in Central London, just off London's famous Chinatown. Since opening for business in 1993, with over twenty years of experience, we have been a familiar sight in the area for many years. Imperial China is one of the largest Cantonese Chinese restaurants in the area, with the highest number of private rooms separated over three floors. Though in Central London, you are immersed in an atmospheric environment upon entry: Outside, a bridge situated over a Koi pond, surrounded by rocky waterfalls; inside, a stylish environment complete with eight variously-sized private rooms. Each of these private rooms is fitted with karaoke functions, and is suitable for both private use or for corporate gatherings. The main restaurant itself can comfortably seat several hundred people, and is perfect for wedding-banquets or other celebrations. It is a wonderful place to go for a meal with friends, old and new.

The kitchen of our restaurant is managed by a celebrated Hong Kong chef, and is made up of specialised sections - The "Main kitchen", the "Dim Sum Kitchen" and the "Roast Kitchen" - which prepare many, well-known, traditional Cantonese dishes; however, that doesn't stop our chefs continuously coming up with new ideas!

During your visit, we highly recommend our speciality dishes, particularly the lobster and seafood dishes. Also, don't forget to try our roast duck, and soy-sauce chicken!
Details
Average User Rating
3.6 / 5
Rating Breakdown
5 star:

3

4 star:

2

3 star:

2

2 star:

1

1 star:

1
Rude service. It used to be good but it has gone downhill. I dont usually bother to write reviews but I was so ill-treated yesterday that I needed to let people know. Lemon chicken was really dry but the worst part by far was the service.
We were looking for some dumplings that allow us to share and try different things and after investigation we have decided to try this restaurant.
From the outside it seems small but when you adventure inside is actually quite big and cosy.
We tried several different dumplings and they were quite good and quality.
It's not expensive and I think that in terms of quality and price this is spot on.
I will definitely go back.
I was taken here by a friend from Japan who said it was some of the best dimsum he'd had in London. I wasn't disappointed. The place was charming and the staff were extremely friendly and accommodating. The food was excellent, I was hugely impressed, bolstered by how good it was, started trying more exciting things that I wouldn't necessarily want to try elsewhere. It was all fantastic and wasn't at all expensive. I'd highly recommend it to anyone.
Consistently excellent for Dim Sum. Gets very busy but then that's a good sign. We are regular visitors so we have experienced the restaurant on many visits and have never been disappointed. The atmosphere is clean and pleasant and somewhere that I could seriously recomment. The negative reviews are seemingly based on one-off experiences and a great surprise to read. We have always had very good service and excellent food.
Attention to service is severely lacking in this over-hyped Chinese restaurant. After thirty minutes of being sat at a table, with a party of ten, we were asked to vacate the table and move to a different table at the back, so they could accommodate a party of eleven. We graciously moved. The service was then inattentive and food distinctly average. It is an incredibly basic Chinese restaurant, that does not make Cantonese food well; think overcooked beef and MSG heavy sauces. Having eaten in China town and lived in China, there are a lot of better places in London... Best avoided, unless you want to be disappointed.
We had heard good reports from a Chinese freind who visits regularly. We were not disappointed. The food was excellent and we thought it was very good value for money. We had booked in advance by e-mail for ourselves and two guests and the duty manager made us most welcome. The service was attentive, helpful (we ordered red wine by mistake and it was 'no problem' to change to white (we ended up having both!) and efficient in spite of the fact that the place was crowded. We'll definitely be back!
The rudest service I ever encountered. After requesting to pay the tips (12.5% Discretionary!) in cash and not debit card, the waitresses proceeded to pressure intimidate and humiliate my wife and I in the middle of the room while talking loudly in Chinese between themselves, giving us evil stares. Don't go if you are not rich, not Chinese (racist comments as I am white and my wife asian), and like human decency and respect. Also the prices seem to go up £0.20 a dish every 2 months. I was a regular... never again