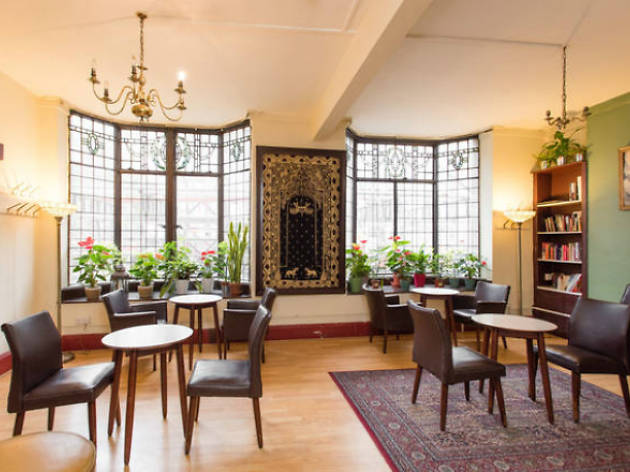 This longstanding Indian restaurant and bar at the Strand Continental Hotel obviously knows a thing or two about keeping on keeping on - it's been in operation for nearly 70 years now. This enduring appeal comes less from its no-frills decor than it does its winningly inexpensive showcase of South Indian cooking.
It's a showcase offering regional items alongside curry house staples such as prawn bhuna, chicken korma, lamb madras, pakora chicken and tandoori chicken - available by the quarter, half and whole. Pilau rice, chapati, paratha, puri, naan breads, bhajis and dosa provide the accompaniment.
There's no drinks license, so feel free to bring your own booze. Or simply settle for authentic lassi, masala tea or kulfi for refreshment.
Venue name:
India Club
Contact:
Address:
Second Floor, Strand Continental Hotel
143 Strand
London
WC2R 1JA

Opening hours:
Lunch served noon-2.30pm, dinner served 6-10.50pm daily.
Transport:
Tube: Covent Garden, Embankment or Temple tube/Charing Cross tube/rail
Price:
Main courses £3.50-£7.80. Set meal £12-£16 per person (minimum 2). Unlicensed. Corkage no charge.
Do you own this business?
Average User Rating
3.3 / 5
Rating Breakdown
5 star:

2

4 star:

4

3 star:

0

2 star:

1

1 star:

2
Delicious, authentic, affordable Indian food
I love this place. The food might be fairly basic (but still very good) and it's all a bit shabby, but it's a pleasing time warp in the modern West End, nestling as it does with a v old-fashioned cheap hotel. The waiters wear old-fashioned whites and they now serve beer and wine (you used to have to go and get it from the hotel bar downstairs). As long as you're not after a classy experience and interested in more unusual London spots, this is recommended.
Since the 1970s I have visited this wonderful restaurant about four times a year. Mosala Dosa with sambal and coconut chutney has in variably been my choice, It is consistently excellent and served with the minimum of delay. One feels removed from the commercial world; there are people reading on their own ;there are happy groups of people who clearly think this place is perfect. Sepia photographs of famous personalities from the sub-continent gaze down at one. The Staff quietly go about their business; there is a site-line through to the kitchen , which gives the certainty that everything is hand crafted. . The staff seem never to get older. I expect the same staff in fifty years. Any-one who cannot afford an annual visit to India should come here. You get the atmosphere of the country ,as soon as you walk in. There is a whiff of Somerset Maugham and E.M Forster about the dining room. Marcel Proust were he alive today would appreciate the soul and feel of the place. Were I to leave England , there are many places I would miss- amongst them would be the India Club.
I have been loving indian food for 40 years. Touring the UK I have visited a very large number of Indian restaurants and never until now, have I been told that I couldn't have a chapati as it 'took too much time'. The service was appalling, rude and unhelpful. The food was, at best average. I would avoid this dirty old dump and go somewhere they want to serve you decent food, at a reasonable price, because the food here is a rip off.
Had my 28th birthday party here - was fantastic! Food was delicious and such a quirky find - reminds me of what an Indian cafe in Mumbai would be like. All my guests thoroughly enjoyed it and said they'd be back!
Been coming here for years - best Indian in town!!
Having read very positive reviews of this restaurant about a year ago (autumn 2010) I had been meaning to visit it ever since. The promise of 'authentic' and 'cheap' Indian food in central London sounded wonderful. In December 2011 I was on the Strand looking for an early dinner and so finally made my visit. I could not have been more disappointed. The food and overall dining experience were abysmal from start to finish. I would not have cared about the poor décor and rude service if the food had been as excellent as promised. However, it was truly disgusting. I ate better curries in my school dining room as a child. I have travelled extensively in India and have never eaten food this terrible anywhere in India, not even in the cheapest, grimiest eateries. We ordered a lamb curry (I forget which) - the meat was overcooked, the curry lukewarm, the sauce a tasteless brown gloup; a portion of rice (which we had to ask for several times) - overcooked, possibly reheated, low quality rice; a mushroom dish - tinned mushrooms in the a similar, or possibly the same, brown gloupy sauce as the lamb; a plain naan - not freshly made but out of a packet and barely heated; a paratha - stodgy and heavy not light a layered; a masala dosa - probably the best thing we ate but the dosa was a bit soggy and the filling mediocre, the coconut sambar was luminous green and not very good; finally we had a sweet lassi - neither sweet nor drinkable. The service was rude and inattentive and when we came to pay they kept pointing out that service was not included. The food is not particularly cheap and there are far better Indian restaurants in London for a similar price. But to be honest even if they were giving away this food I would not chose to eat here again. After our visit I checked some more recent reviews of the restaurant several of which said that the restaurant has recently changed hands and has since gone downhill. A shame, but please do not fall into the same trap I did based upon older reviews. The restaurant is terrible. AVOID!