Ippudo Central Saint Giles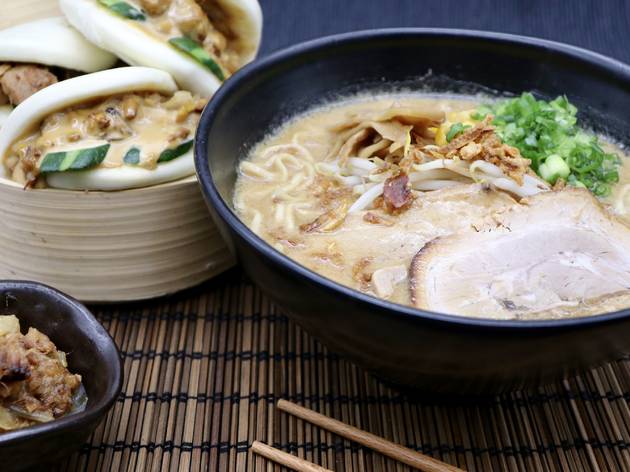 1/9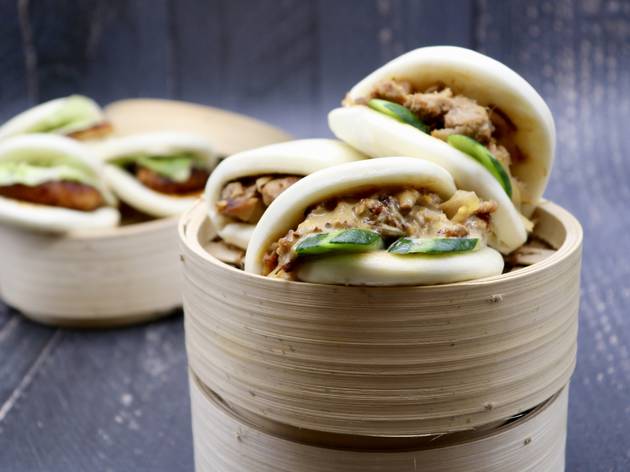 2/9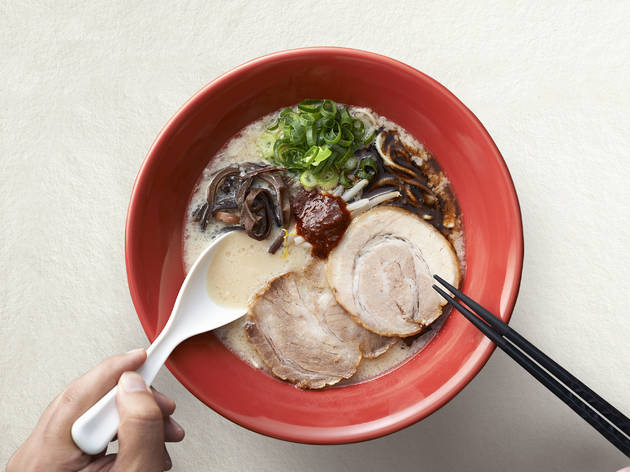 3/9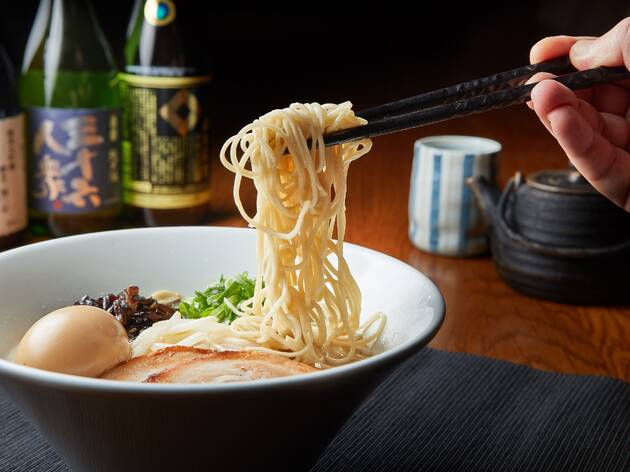 4/9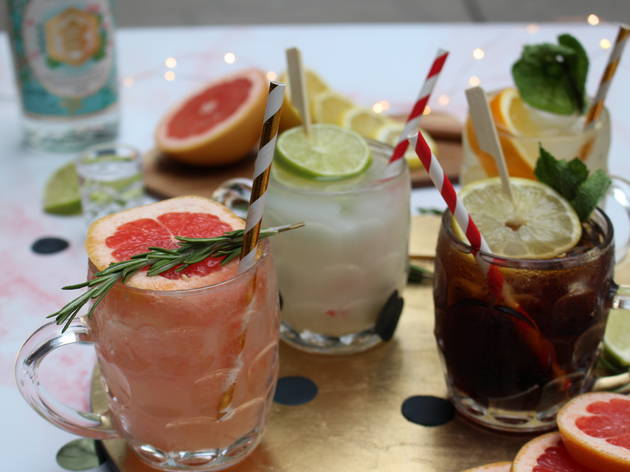 5/9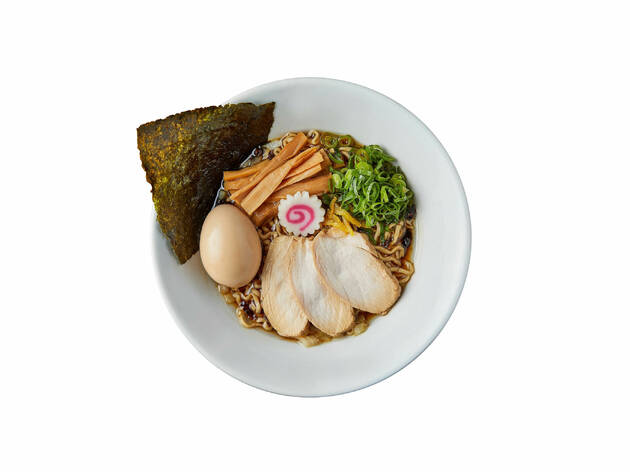 6/9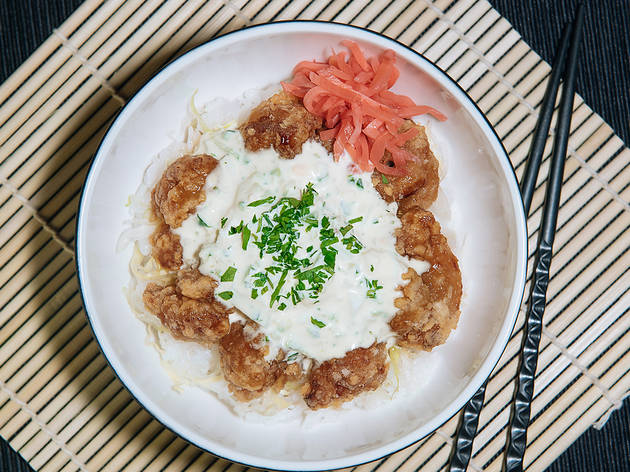 7/9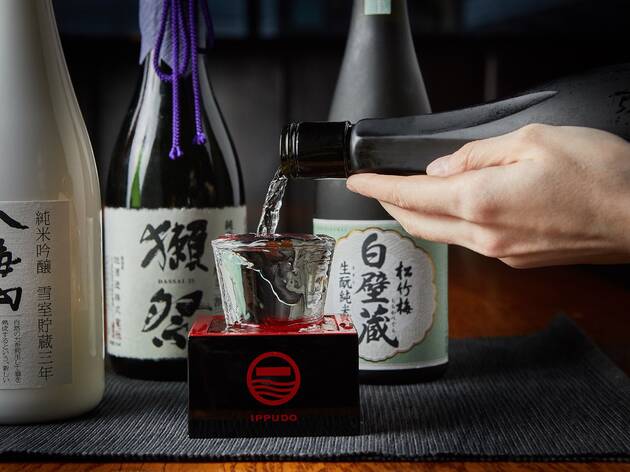 8/9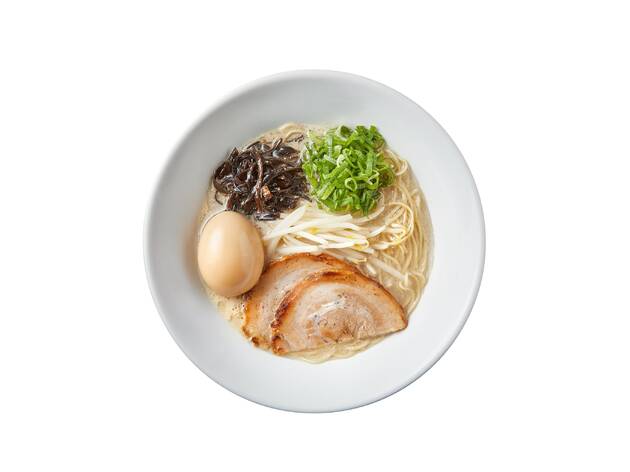 9/9
Time Out says
A super-slick international ramen chain that's taking London by storm with its stonking tonkotsu and great side dishes.
Ippudo, a super-slick international ramen chain, has around 120 restaurants with branches in New York, Hong Kong, Singapore, Sydney, Tokyo and across Japan. This is the Japanese company's first foray into Europe. The interior is dark, polished and brooding, with lots of glass and metal, and the staff, Japanese and other nationalities, make liberal use of a handful of Japanese phrases. This can cause a cacophony at times, but overall service is accommodating.
The speciality here is tonkotsu with pork loin slices, crunchy kikurage (cloud ear mushroom) and thin, own-made noodles (in the dish called Shiromaru Hakata Classic). As ramen goes, this bowl's not exactly a looker. But what it lacks in beige appearance it makes up for in flavour. For added oomph, order it with a dollop of spicy miso paste and a dash of black garlic oil (in the variant called Akamaru Modern). Vegetarians are not left out at Ippudo: there's a seaweed and mushroom broth-based version that's topped with fried tofu.
Some ramen joints make it a noodles-or-nothing proposition. Here you're spoilt for non-ramen choice, with dishes such as black cod with miso, seared Wagyu beef or deep-fried chicken. One of our favourites is Yamitsuki Goma Kyuri (sliced cucumber with salt, chilli, sesame oil and seeds). God knows how they got so much flavour into such a simple dish. And the cocktails are fun too.
Sadly, this is another no-bookings restaurant, and despite running to 80 covers, queues have been enormous so far. Our first attempt was nixed by a two-and-a-half-hour wait: you put your name on the list and wait for a call, but we didn't have the stamina. Arrive early enough and you might get lucky.
Ippudo Central Saint Giles says
Passion. Spirit. Legacy. IPPUDO, first founded in Japan in 1985, an internationally acclaimed joint, strives to share smiles through their ramen. Creamy tonkotsu broth, home-made noodles, and fresh toppings – a simple definition of comfort food, all in one bowl!

Their flagship store in Central St Giles Piazza will charm you with the most authentic ramen experience that you won't be able to resist. Spacious interiors, modern design, and traditional Japanese food are what make it stand out. Peek into the open kitchen and see the true mastery of chefs, always ready to entertain you with their performance.

The menu also includes vegetarian and chicken-based options, as well as a wide variety of appetisers, and a premium selection of sake.
Details
Address:
3 Central St Giles Piazza
London
WC2 8AG

Transport:
Tube: Tottenham Court Road
Contact:
Opening hours:
Mon-Fri midday-11pm; Sat 11.30am- 11pm; Sun & Bank holidays 11.30am-10pm
Do you own this business?
Average User Rating
3.4 / 5
Rating Breakdown
5 star:

2

4 star:

5

3 star:

1

2 star:

1

1 star:

2
I have been to a ippudo in NYC, Manila, and Singapore and though there are some variations in the offerings, the service was good.
HOWEVER, the IPPUDO at 3 Central Saint Giles Piazza; St. Giles High Street, London has ATROCIOUS service.
After a 30 minute wait ( not unusual of ippudos), we were seated and after waiting another 15 minutes at the table, I had to get up and go find my waiter to take our orders. Our waiter 'Eric' took the order which was large sake, 4 waters, 2 ORDERS ( 6 pieces) of pork bun appetizer, 3 Karakamen ramen (2 with medium noodles and one with hard noodles) and 1 Shiromaru Hakata classic Ramen (medium noodles). and after 20 minutes he hadn't even brought our sake or water. So I got up and went over to him and then he proceeded to bring the water. 15 minutes later, someone from the kitchen showed up and brought 2 PIECES of pork bun. I asked him what happened to the other pork buns and he said that the waiter only ordered two buns. So I called our waiter Eric over and told him that I ordered two orders of pork buns which is six pieces as exactly I had explained to him however he just didn't seem to get it. The pork buns were quite anemic with the pork filling. 95 % bun and 5 % filling. This is not the IPPUDO that I know. Also, I had ordered Karashi takana to put in the ramen but that never came until later in the meal I had to ask another waiter for it. When our ramens came, I asked him which one had the hard noodles and he said " it doesn't matter because they are all the same". WHAT?? I looked in my ramen bowl and it had mushy soft ramen noodles. I told him that I wanted hard noodles in my Karakka Ramen. He really didn't seem to care. I know that in other parts of the world, ippudo takes pride in the quality of the food as well as customer service, however, London's Ippudo clearly does not follow that philosophy.
The waiter than suggested he will just bring some hard noodles which I can dump in my Ramen. WHAT?? So what am I going to do about my mushy soft noodles that are sitting in the ramen bowl mixed up with everything else that is in the bowl. The noodles don't just come out so easily without the other elements of the ramen coming out with it. I told him that was unacceptable and I just want the Ramen noodles that I ordered. All in all, it was a very disappointing Speary and's having been to multiple other ippudos around the world. If you have been to other Ippudos around the world or in your own home country, do not think of this Ippudo as being related to the one that you have been to in your own home country or at other destinations. This is clearly a very substandard ramen noodle restaurant. I have not been to other Ramen restaurants in London but I am absolutely certain that there are other Ramen restaurant which would for outshine Ippudo. This was an extremely disappointing experience, one I will never repeat again. Save yourselves the anticipation, excitement, or hype of an IPPUDO in London and go eat at any decent London restaurant whatever ethnicity the food is. I can't imagine the service to be any worse than this or the food quality to be such a disappointment. TRUST ME, it is just NOT THE SAME IPPUDO that you may have been to in your own home countries. Save your money. Enough said.
Excellent place for ramen. It felt like being back in Japan, a really elaborated flavour. Service were really nice, though it took a while to get our food and they forgot one dish. Anyway, the quality of the food made it totally worthy.
From my Japanese perspective, it's really authentic Tonkotsu ramen. Now we can enjoy the real McKoy in London! I will be back soon.
Excellent ramen spot that works as a great alternative to Kanada-Ya, where the queues are often ridiculous (tip: go out of term time - much less busy). Gyoza were good, tori kara-age well done and the house salad fine. It's all about the ramen though - all of the tonkotsus are excellent but the real surprise for us was the spicy vegetarian 'karaka'. No pig bones but a bag full of flavour. The only negative? Shit service. But they were friendly enough.
Great location, fabulous food and a great welcome. We ate pork buns, chicken wings, octopus, 16 pound steak (beautifully cooked) and spicy ramen. Will be back
Disgraceful. Just came back from a month in Japan and ate ramen across the country on a daily basis. This was was even worse than the ramen at Tokyo airport (quite a feat). I even had my dish changed and the alternative was even worse. Forgot pork ramen -- this tasted more like sardine ramen with my Mum's day-old roast pork.
Cannot really comment on the quality of food at this branch as never stayed long enough to try it. First two times left as the queue was 45min to 1.5 hour wait. The third and last time - we (two of us) were given a table between two families. We noticed there was space by the bar, like space for 12 people in total so we moved ourselves to the bar before we were even served and the restaurant manager said we couldn't sit there because the bar area was required for a group of four that had been waiting. There were two more tables beside us and an upstairs area but we were asked to go back to the dodgy family area. No. Not going back.