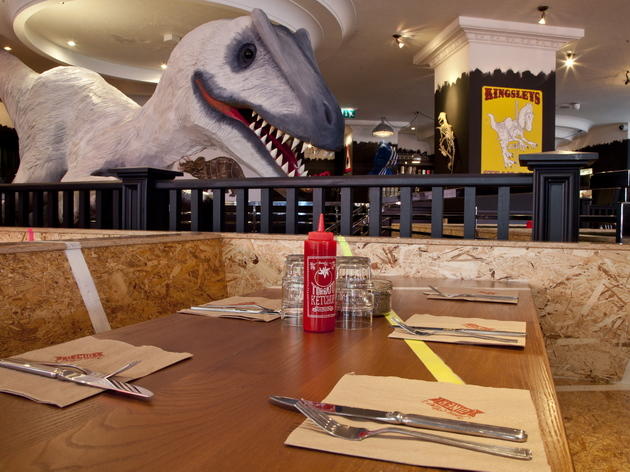 A no-bookings diner from Jamie Oliver, this 'extended pop-up' is running on a three year-lease (which started in 2013).
Oh no, Saint Jamie. You haven't... Oh yes, he has. Oliver has become the latest restaurateur to join the 2012 bandwagon – sorry, dining trend – that was US 'dude food'. But before you stick the knife in, remember that this is a natural progression for the slayer of the turkey twizzler. He's spent a huge amount of time Stateside, educating Yanks on matters of cooking and whatnot, and co-owns US-style grill Barbecoa with barbecue maestro Adam Perry Lang. If anything, why didn't Oliver join the party sooner?
Running on a three year-lease, this no-bookings newcomer stretches the definition of 'pop-up'. But it's on-brand Oliver: free-range meat ('because happy pigs mean better flavour') and a 0% landfill promise, meaning that leftovers are composted, recycled or upcycled. The interior mixes reclaimed and recycled furnishings, finishing the wholesome vibe off with a U-rated 50s soundtrack and dinosaur theme (complete with full-scale models).
Within pick-pocketing distance of Piccadilly Circus, it's squarely pitched at out-of-towners and families, yet in spite of the 'easy audience', it has resisted the urge to cut corners in the kitchen. We enjoyed our beef burger, with its proper patty (thick, nicely-charred outer, lipstick pink middle), toasted sesame bun, and old-school trimmings (a light burger sauce and shredded lettuce). Next up, though the tangy mustard marinade of the 'dirty' barbecue ribs wasn't to our taste, the fall-off-the-bone meat was good quality. By comparison, a dull slice of NY cheesecake was a let-down. But ultimately, this is a cheery, people-pleasing place brought to you by a cheery, people-pleasing chap.
Venue name:
Jamie Oliver's Diner
Contact:
Address:
19-23 Shaftesbury Avenue
London
W1D 7HA

Opening hours:
Meals served noon-midnight daily
Transport:
Tube: Piccadilly Circus
Price:
Main courses £5-£16.50. Around £40 for two with drinks
Do you own this business?
Average User Rating
2.8 / 5
Rating Breakdown
5 star:

1

4 star:

5

3 star:

2

2 star:

2

1 star:

4
VERY DISAPPOINTING. I had a day out in london with the family( me wife and 4 kids aged from 16 to 5) never been to jamie olivers diner but as he is on the telly we expected a very good meal....how wrong we were! To be fair the service was ok and we didnt have to wait long but the food was very average. My son is 16 and is attending westminster college and he could have cooked a lot better! I know it wasnt jamie himself in the kitchen but i really think he needs to check on what his cooks are cooking!! I wouldnt go back there for the simple reason that for what i paid i couldve got a lot better quality food elsewhere. Sorry jamie but your diner is not what i expected after seeing you on the telly!
CAME OUT FEELING ROBBED! Food was substanderd, over priced and found the whole experience poor. If you're paying £10-£15 for a burger you expect a portion of fries with it. And as for the JUMBO portion of ice cream.....Staff were nice but let down on quality and price of food. For something with Jamie olivers name to it you'd expect more.
Had the most amazing BBQ Chicken Wings, bursting with flavours which had a kick to them! For me this was the highlight of my evening!!
Absolutely awful. I am not someone who usually complains but Jamie you need to do something about this restaurant before your name is tarnished forever! Worst hot dog ever, stale dry bun, daughters burger soggy and overcooked with brown wilted lettuce, 10-15 fries in a mug full of brown paper, an inch of coke in a glass of ice and charged when asked for a little more to make up for the fact that the first one was all ice, staff unhelpful and not very polite, total disappointment for my poor teenage daughter who had been taken out for a treat. Even she said better value could be got from McDonalds. Will not return and will recommend others don't either.
No option to request the burger cooked as you prefer, it comes medium to well done.. I have asked to have it mid-rear (Why cannot be chosen?! I don't get it...) The burger was actually well done. The taste very very average. Possibly better a Tesco burger. I ordered an Aperol Spritz.. Not sure what they put in it but it tasted like it had gin. Due to food intolerances I had to have the burger with no bread and slaw... The kitchen made no effort in compensating this with additional salad: very very sad presentation. Overall food, including sweet potato fries not very crispy, quite average to poor quality. The competition is so high on this diners, I will definitely not go back. Byron is 10 times better! I cannot believe this is JO's standards!
We went here on a very busy Saturday night- we were seated pretty much immediately. The food was very good- chicken burger cooked well with nice salad to accompany. My husband had the beef burger and his was good too. Drinks weren't cheap, as you would expect but my cocktail was very nice! Good atmosphere, great food, fun surroundings, I would recommend it if you wanted a good meal that wasn't too fussy.
i went for a mates party it was amazinghggghyufsO7HVDOA[HYHRIBN;IUDAHYPINBAELJ3TKIUE08FY7H6VGT7YUAHek8judvs87f9i8e8khucxjbhygu6hcyugxddhycx67uhdjyuf76cfhuy7cxhnmgtuy78cvuhjmfnrgtyunm its amazing LOLOOLOLOLOLOLOLOLOOLOLOLOLOLOLOLOLOLOOL OMG OMG OMG OMG GO TO IT! TROLOLLOLOLOLOLLLLOOLOOL
I actually liked it. The girl who served our table was AMAZING, the ribs delicious, there was this amazing salad which I'm trying to figure it out what was made of, chicken, and dessert, everything ggrrreat!
I went here for a saturday lunch with a friend. It was just what we were after a nice relaxed place we could sit and chat, didnt need to book and didnt feel rushed. The food was as good as you would expect from a diner style restaurant and certainly better than some of the slop you get from chains like TGI. There was also clear indication of which meals were healthy vs bad for you! We also tried avacado chips which were a bit odd but worth trying once! Id recommend going but dont expect this to be groundbreaking just because its got the name Jamie Oliver over the door. Its still a diner but a good one at that!
Terrible from start to finish. Service - sloppy, arrogant and rude. Two VERY LARGE doormen downstairs make you feel very unwelcome. One of them stood right infront of me before letting me in. Felt like it was the entrance of a nightclub at 3am. It was only just gone 6pm!! Food - bizarre. Was told the beefburger would come medium but it came VERY well done and totally overcooked. The waitress disagreed and said it was medium (despite the texture of the burger, the fact that there was no pink bits and the taste.) Manager came over and apologised and said another burger would take 10 mins but couldnt guarantee how it would be good. They took the burger off the bill. JAMIE - go to Burger n Lobster and see how a proper burger should be cooked. Its not hard. 10 veg slaw was good. Spaghetti meatballs - plain and underseasoned. Crabcakes - dry, potato dominated and lacking flavour. There were also 3 large bits of shell. Not acceptable. Avocado fries - DISGUSTING. Had the most horrible taste. After taste even worse. Drinks - asked for a 500ml hosue rose which was served in a 2 litre jug. Wine was ok. Avoid like the plague and go elsewhere.
I thought the food was average at best and the portion sizes were modest. While the waiting staff were very friendly and polite there lacked a certain atmosphere that one would expect in a trendy diner. If you are in the area and fancy this type of food I would suggest going around the corner to Bodeans.
More venues
Sponsored listings