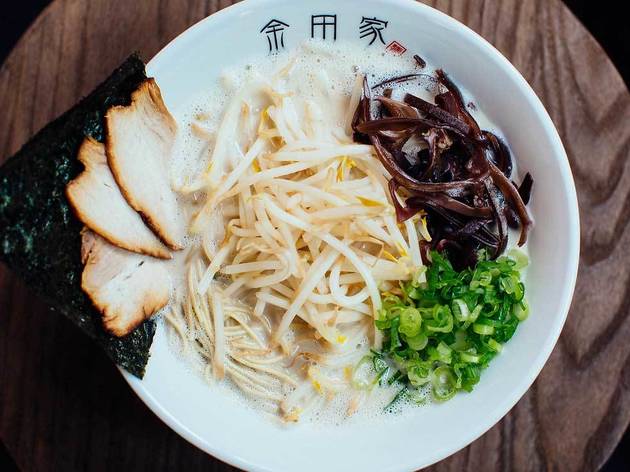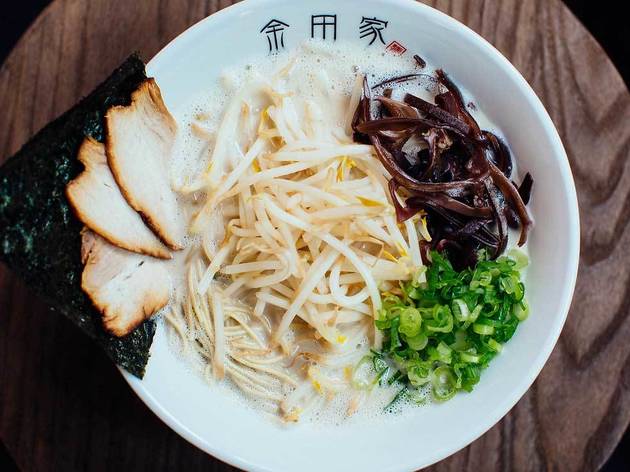 1/6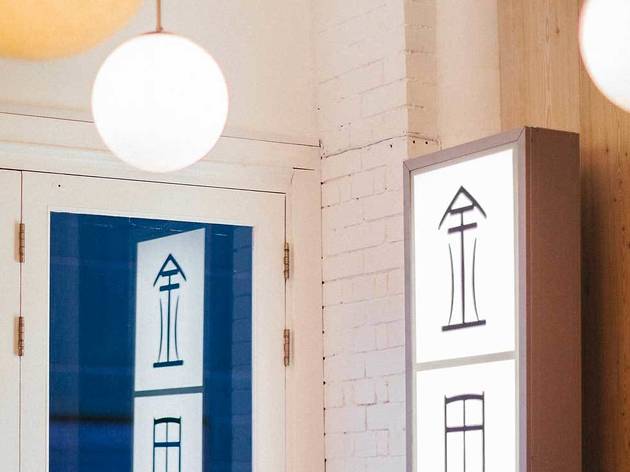 2/6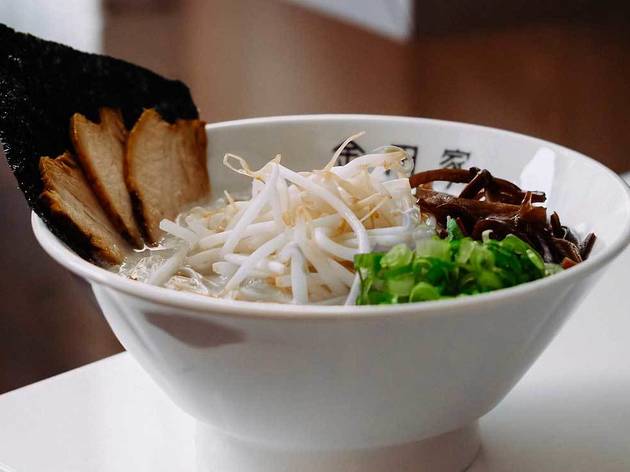 3/6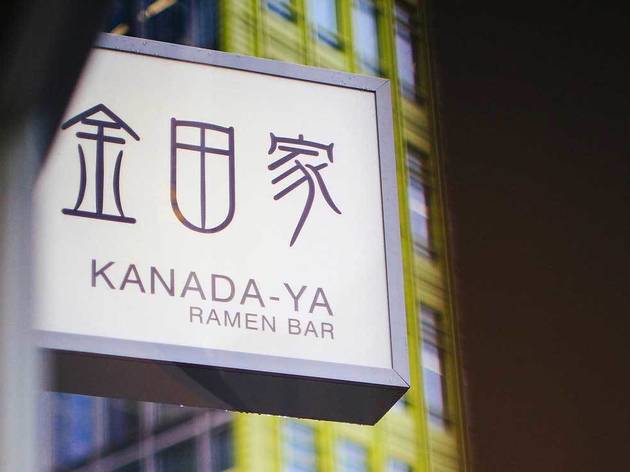 4/6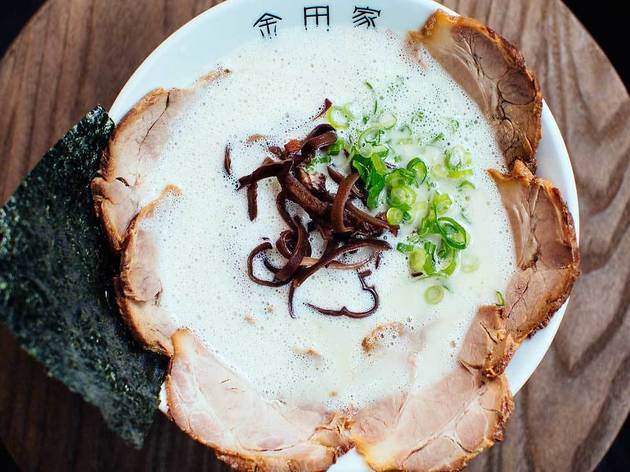 5/6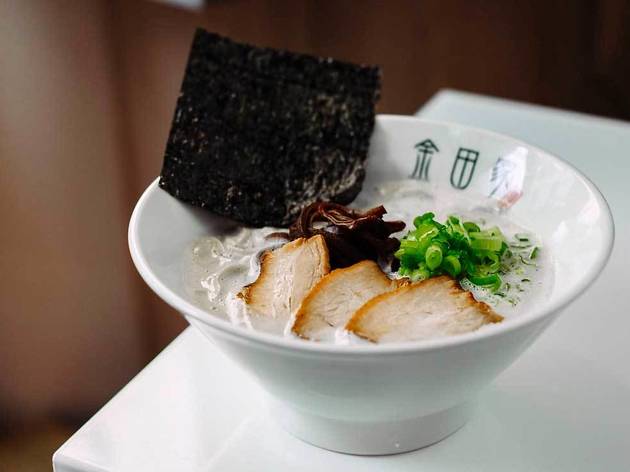 6/6
Time Out says
Tiny in size, mega in reputation, massive in quality: here you'll find soup noodles to knock your socks off – after you've paid your dues in the queues.
Founded in Japan in 2009, this award-winning tonkotsu specialist arrived in London in September 2014. Small, brightly lit and minimal, it is not the place for a leisurely meal. And it has a serious downside: lengthy mealtime queues outside its doors. We queued outside for a chilly 45 minutes for a (shared) table. Once inside, it felt like being in a goldfish bowl, as hungry and hopeful diners watched us through the windows slurping our noodles.
But there's a reason for Kanada-Ya's already-large fan base, which includes plenty of Japanese and Chinese customers: this is exceptional ramen. Pork bones are simmered for 18 hours to create the smooth, rich, seriously savoury tonkotsu broth – one of the best we've tried in London. Bowls of this are then filled with thin wheat noodles made on-site thanks to a noodle gizmo imported from Japan. They're cooked to your specification, from super-firm to super-soft. Toppings range from pork belly slices to pork belly and blanched beansprouts or pork collar. (That's right: if you don't eat pork, forget it.) You can add extra bits and pieces such as soft-boiled marinated eggs (a must) or pickled mustard greens, although these were on the table anyway when we visited.
To go with your ramen you can splash out on onigiri (rice triangles) stuffed with pickled plums or salted salmon – but you won't need them. Drinks are strictly soft. If you want to try a classic Japanese fizzy drink, go for the Ramune. But be warned: it tastes seriously synthetic.
The staff were lovely. They even agreed to charge our phone for us. Interactions are minimal, however, as choosing your meal involves no more than ticking choices on a paper order sheet. If you want nothing more than excellent noodles in broth, Kanada-Ya's the place for you.
Kanada-Ya Covent Garden says
Kanada-Ya launched its first UK location at 64 St. Giles High Street in September 2014. The smallest one out of all three of their branches with only 24 covers, the restaurant is open for lunch and dinner 7 days a week.

The restaurant has perfected its unique cooking technique to create the perfect ramen that sets Kanada-Ya's ramen apart from its competitors.

Variations of London's most popular ramen include Tonkotsu X (pork & corn-fed chicken bone broth and chashu pork belly – exclusive to London!), the extremely popular Gekikara (pork & corn-fed chicken broth with spicy 'tan-tan' minced pork belly chashu) and Truffle Ramen. Small plates of Japanese fried chicken, Truffle Edamame, Seared Chashu Pork Belly and Ongiri are also available.
Details
Address:
64 St Giles High St
London
WC2H 8LE

Transport:
Tube: Tottenham Court Road
Do you own this business?
Average User Rating
4.6 / 5
Rating Breakdown
5 star:

12

4 star:

3

3 star:

0

2 star:

0

1 star:

1
On Panton Street sits Kanada-Ya, a cosy authentic Japanese Ramen bar.
My experience:
My love of Japanese food never seems to ends, so last year when I was invited to review Kanada-Ya ramen bar I quickly accepted. Kanada-Ya sits in the heart of Piccadilly and is a well-known ramen bar.
Upon arrival, I traditionally ordered a sake sampler, which one is supposed to consume from left to right, and the sakes became sweeter and stronger as I drank on. Firstly, was the 'Jewel brocade'- (Dewazakura Omachi Junmai Ginjo). A premium chilled sake, which is extremely flavoured with honey and sweet rice. For me, it was extremely sweet but in a distinctive way. Second from the sampler was the 'Heart of Oak' (Tamagawa Junmai)- Which is a masterpiece made by the genius British sales master Philip Harper, it was nutty and deep Umami and is to be served at room temperature. For me, this was better than the Jewel Brocade, it was rich in sweetness but does not leave a bitter aftertaste. Finally, the Yuzu (Umenoyado Yuzu liqueur)- a refreshing Japanese and fruit sake. For me this was the best of all sakes, as the alcohol was prominent, but was sweet and cooling, this definitely was my favourite.
Although Kanada-Ya is predominately known for their Ramen, I was feeling extra hungry and thought I would try out some of their small plates. Karaage is Japanese fried chicken, served with mayo. I was pleasantly surprised with the first bite as the fried chicken is soft, supple and gently breaks off in the mouth. The chicken is well seasoned and full of flavour and is served in four pieces, although I only ended up eating one piece as the Karaage is quite filling.
I also tried the Kanada-Ya's Aburi Chashu, which is seared Chashu pork belly with yakiniku tare. I am a big lover of pork; especially pork belly and I could not wait to try this! The pork belly melted in my mouth and the musky but sweet taste enhanced once dipped in the provided sauce. The only issue is that some of the pork pieces were hard.
I was advised to try the Tonkotsu X or Tonkotsu, which are the most popular Ramen choices at Kanada-Ya, however, I was coming down with a cold and the best way to cure a cold is with spice. Therefore, I chose the spicy Yuzu ramen; with spicy Yuzu, pork, corn-fed chicken broth, Chashu pork collar, wood ear fungus, seaweed and spring onion. The menu recommends choosing hard ramen noodles, so I went ahead with this recommendation I was worried about the wood ear fungus because I had no clue what ear fungus actually is, but all the ingredients in the dish worked well together. The ramen was full of flavour, as the taste of the spicy chicken broth has a potent taste, and is just the right amount of spice, which enabled me to still enjoy the dish. The seaweed added a more salty/savoury aftertaste to the ramen. I still had some Aburi Chashu left from my starters, so I added this to the ramen and let it soak in the broth, which aided in softening up the pork. I felt that there was not enough pork in the dish, but that is because I am a heavy meat eater, so I would advise adding extra meat as a topping.
After most of the content of the ramen was gone, I shamelessly sipped on the chicken broth, which was delicious and I do believe it aided in getting rid of my cold, which is a bonus! As it was my second time trying ramen, I really enjoyed this experience and I would love to go back and try the Tonkotsu X.
To refresh my palette I had a full large glass of Yuzu sake, which is very refreshing after the ramen. However, you are warned, for this sake is a silent creeper for the sake is so sweet that I did not realise the amount of alcohol I was consuming! Overall, this was a great experience for me as my second time eating ramen. Kanada-Ya is ideal if popping in on a lunch break from work, or casually eating with friends.
Price: £
(However, the sakes can get pricey)
What to wear: Smart casual
(I wore a blazer, top and trainers)
Ambience: Cosy restaurant with knowledgeable staff
This is the best ramen I had in London, the taste is almost no different with the Japan's one, highly recommended.
Tucked away in a tinny corner towards Holborn and with a minuscule size you would imagine the queue is always going to be big, which is totally the case. However, its reduced size is not the only reason for the queue, the quality and authenticity of the food is.
Once we managed to get in (after around 20 minutes of sharing a bench with some Asian ladies), we were seated in a table with people we have never met before. The menu is fairly small, 5 types of Ramen one of which was sold out on the day and a few starters. We go for the Tonkotsu and add an extra egg on it.
The food comes quickly in a hot bowl lovely presented. Oh man what a surprise when trying it! The broth is proper broth! Like flavoursome, home-made thick broth. The pork belly is tender and the noodles are boiled hard as per what we asked for. Probably one of the best Ramen I have tried in this city.
Totally recommend the experience. True, you will queue to be tucked in a tinny place surrounded by strangers where not even your Primark bags will fit, but you will also get to takes amazing flavoursome food.
Service was lovely and attentive and the turnaround of tables quick, so don't expect a long romantic dinner here.
There is ALWAYS a queue outside but it's worth the wait. It's the best ramen I've had in London. The staff are really friendly and the service is quick and efficient.
Authentic, firm noodles in rich and creamy base...amazing :D
This is definitely the BEST needle shop in London by far.
if you have ever eaten tonkotsu ramen in japan you won't go to this ramen bar,
chashyu was colder than room temperature and it was extremely thin,and the broth was not tonkotsu at all,
it's just good for people who don't know much about ramen.