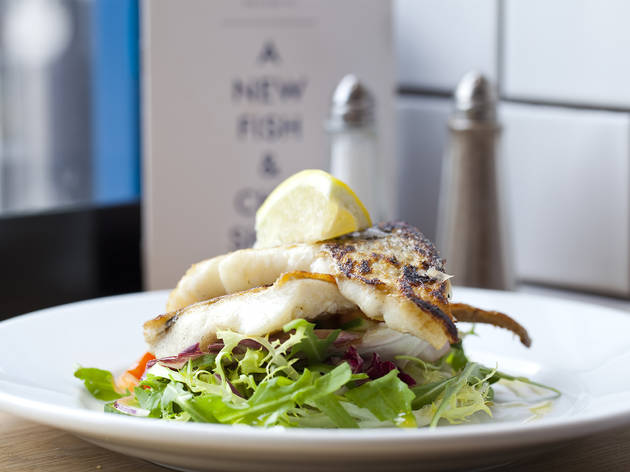 Love and care are lavished on every ingredient served in this upmarket but unsnooty chippy.
Perched at the zenith of London-based fish and chippery, Kerbisher & Malt works within pretty tight strictures. There are, after all, only so many possible variations on the theme of deep-frying seafood and potatoes. Hence, the kitchen team tweak every stage of the process to make the food as appealing as possible. This means high-quality fillets dunked in floaty-light batter, cooked freshly to order. Chips are double-fried, the tartare sauce is rich and made in-house, and the onion rings have been 'pickled', adding an appealing vinegar tang. So committed are the owners to transparency that they've installed a CCTV screen to allow punters in the dining room to watch the chefs slicing haddock and mushing peas. Extras are good too; fish finger butties, lightly spiced fish cake burgers with a twist of lemon mayo, and pots of piping-hot breaded calamares all add to the experience. The long shared table is permanently filled with families tucking into piles of pollock; regulars pop in for boxes of whitebait; and there's a steady stream of custom from noon until 6pm, attracted by the early specials.
See more fantastic fish and chip restaurants in the capital
Venue name:
Kerbisher & Malt
Contact:
Address:
164 Shepherd's Bush Road
London
W6 7PB

Opening hours:
Lunch served noon-2.30pm, dinner served 4.30-10pm Tue-Thur. Meals served noon-10pm Fri, Sat; noon-9pm Sun
Transport:
Tube: Hammersmith
Price:
Main courses £4-£8.60
Menu:
View Menu
Do you own this business?
You may be interested in:
Rating Breakdown
5 star:

7

4 star:

2

3 star:

1

2 star:

0

1 star:

2
Kerbisher and Malt in my opinion set the standard for great fish and chips...they really are the masters.
Probably the best fish and chips I have had in London since I moved here in 2009
Simply the best fish and chips in London. The pickled onion rings are heavenly
Head and shoulders above the other London fish & chip shops. Beautifully fresh fish, top quality chips & friendly service.
Best fish and chips I've ever had in London!
I went here and ordered fish and chips and a bottle of ginger beer the fish was not cooked inside well at all and the chips were nothing to write home about. I thought it was vastly overpriced and I told the waitress I was very disappointed in the meal. I decided to go back and give them the benefit of the doubt I ordered the same meal again and the cod was still slightly uncooked so I told the waitress and the chef came and said it was fine but he would give me another piece which he did. I cut into it and again it was slightly uncooked so I took it back and the chef again said it was well cooked and I said it was not and he quite clearly knew nothing about frying fish, I had not ate any of the fish on the two occasions I was offered it so I was offered my money back which I took, I would not return there as it is overpriced and badly cooked. Baileys in Fulham is the only good fish and chip shop I am so glad I found it by chance whilst driving home one day.
Definitely the best fish and chip spot in London (although to be fair there aren't that many great chippies in London). A great haddock and chips - the fish large and fresh, with some of their homemade lemon mayo for me and my friend had the calamari and some onion rings, which were also delicious. With a couple of their beers, the price came in about £20 for 2.
I was TEMPTED into 'Malt &Kerbisher' by it's pronouncements to (and I paraphrase, but ONLY JUST!); "Preserve the traditions of Good, Traditional English Food." Being only semi-vegan, I asked about the vegetarian options (which were NOT EVEN on the Menu.), and the reply that came back was extortionate, for what they amounted to. Undaunted, I pressed on,and opted for a portion of chips and a cold drink, expecting high-quality potatoes and a good standard of cooking. When I thought about it, I decided that if, as they claimed, they had 'High Standards', that it might be an idea to get some bread for a chip butty. I happily paid the extra quid from my pocket, and left the premises with two, attractively-wrapped boxes (at unnecessary expense - evidently - style, over substance). The chips had no vinager and salt on them, despite me SPECIFICALLY and NOTABLY requesting for this, and being assured that they would; and were stodgy and indigestable. But, the coup-de-grace came when I opened the box with the 'bread ' was in [ - anticipating a high-quality stone-ground farmers' market loaf,or at the very worst, a good- quality white crusty bloomer]. I THEN found, : to my great surprise and disgust, that I had been charged a whole pound sterling, a LOT of money in what is, after all, just a chippy, for ONE SLICE OF MOTHER'S PRIDE SLICED BREAD LOAF WITH NO BUTTER OR SPREAD ON IT. 'Nuff said.
I have to K&B twice and had a great experience every time. The staff is warm and nice and the venue is gorgeous (there is no doubt they deserve their latest design award...). Moreover the food is excellent, the fish looks and taste fresh, the batter is crispy and rich and the chips are tasty and good-value. I will return there very soon...
Chips were not served warm enough and tasted like reheats, curry sauce was too heavy on the tomato (nearly a great idea but not quite well enough executed), the fish flesh was cooked perfectly but the batter lacked presence and had a slightly "off-banana" taste to it. Portion size reasonable although for the price I'd describe it as a shade under generous. I'd go back if I happened to be in the area and fancied fish and chips but the feeling remains that there must be somewhere else in the locality that either offers better food or better value food of a similar ilk. If only I could find it.
It's the best chippy in the area, but falls slightly short of somewhere I would make a special detour to in order to get food. Seems to close early for a chip shop type restaurant, but I guess this isn't an average chippy.
More venues
Sponsored listings