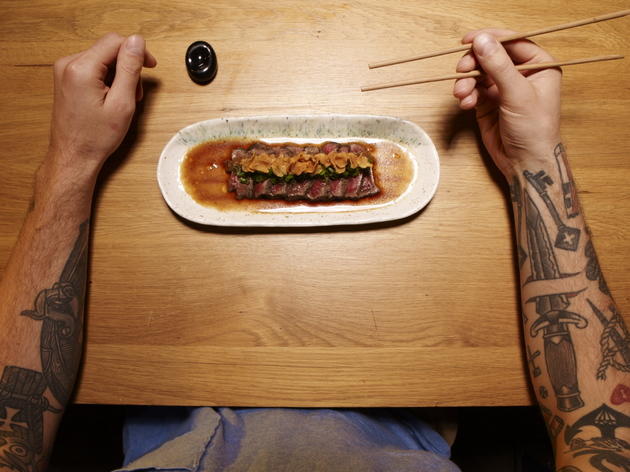 1/7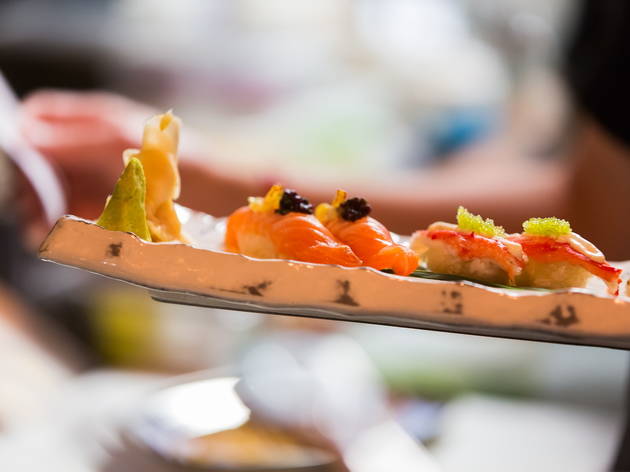 2/7
Paul Clarke +44(0)7515 655932 paul@paulclarke.com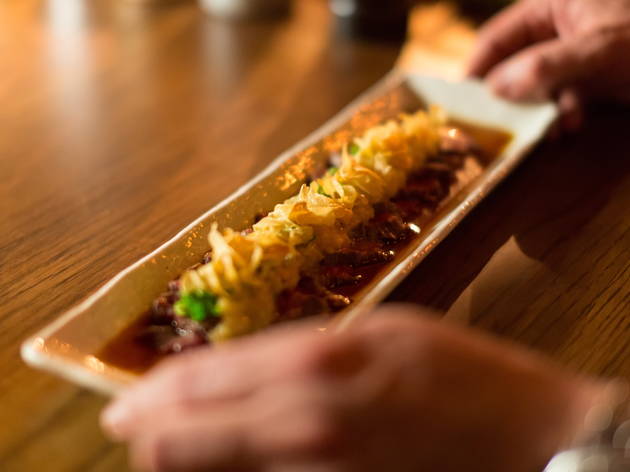 3/7
Paul Clarke +44(0)7515 655932 paul@paulclarke.com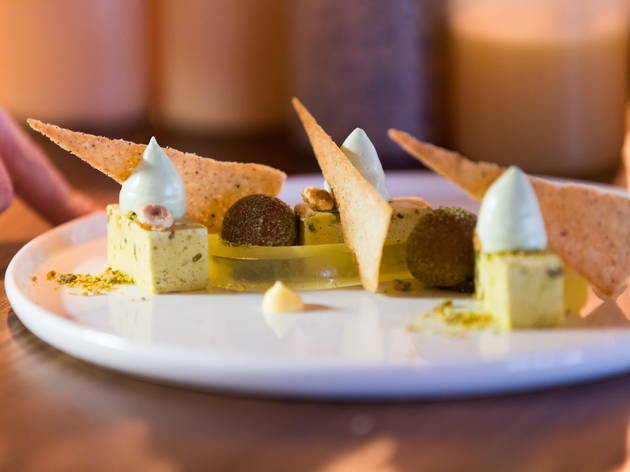 4/7
Paul Clarke +44(0)7515 655932 paul@paulclarke.com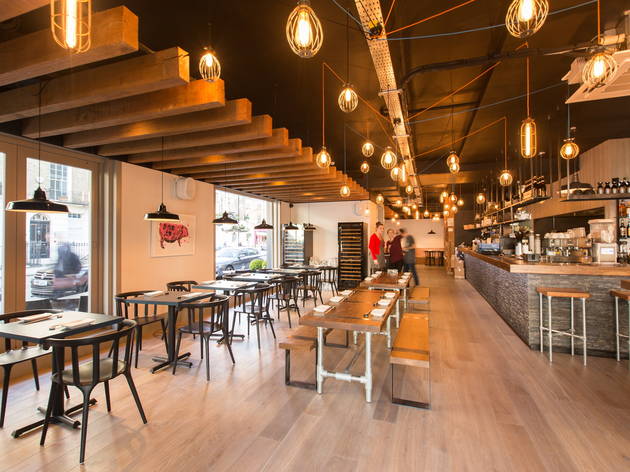 5/7
Paul Clarke +44(0)7515 655932 paul@paulclarke.com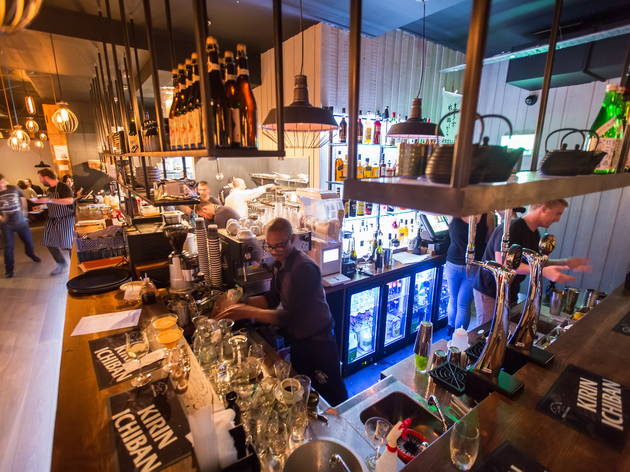 6/7
Paul Clarke +44(0)7515 655932 paul@paulclarke.com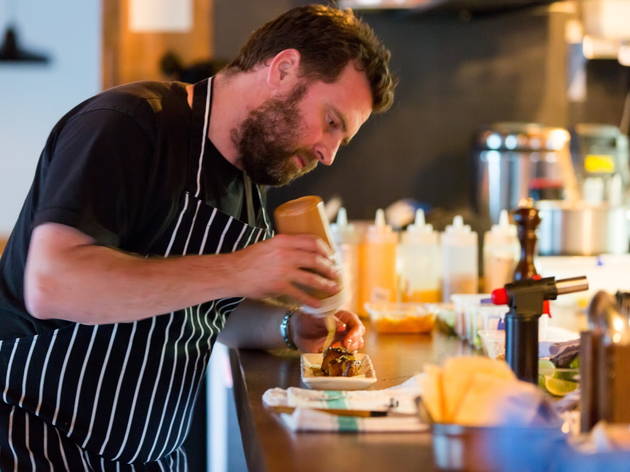 7/7
Paul Clarke +44(0)7515 655932 paul@paulclarke.com
At Kurobuta, you're more likely to be greeted by the shredding guitars of Iron Maiden than the traditional Japanese welcome – 'irrashaimase'. Like a boisterous teenager, this contemporary Japanese restaurant is loud, showy and just a little misguided on occasion. But it's also likeable with a pleasant lack of airs and graces, a trendy interior and suitably playful dishes.

As is the case with many of London's Japanese-cuisine chefs, Kurobuta's Scott Hallsworth worked for a stint at Nobu, and East-West fusion influences pepper his small-plates menu. A globetrotting salad of quinoa, buckwheat and broccoli finished with a honey and soy dressing was light and refreshing, while a dish of sweet snow crab nigiri, topped with fragrant yuzu citrus mayo and wasabi-flavoured flying fish roe was eloquent. But the Nobu-esque tea-smoked lamb chops were almost as imbalanced as a teen's hormones, with spicy miso sauce trampling across the perfectly cooked meat with the subtlety of a pair of scuffed Doc Martens.

From the on-trend 'junk food' options, such as wagyu beef sliders and spicy chicken wings, the steamed buns with barbecued pork belly and spicy, soy-based peanut sauce were just a little bland.

Kurobuta attracts plenty of clientele who are on post-work jollies, making it a lively spot – and one that's perfect for getting back in touch with your inner teen.
Venue name:
Kurobuta
Contact:
Address:
17-20 Kendal Street
London
W2 2AW

Opening hours:
9.30am-10.30pm Mon-Sun
Transport:
Tube: Marble Arch
Price:
Meal for two with drinks and service: around £110.
Do you own this business?
You may be interested in:
Average User Rating
3.5 / 5
Rating Breakdown
5 star:

3

4 star:

6

3 star:

2

2 star:

3

1 star:

1
I went along to one of their bottomless brunches with the Timeout offer. My 4 friends and I had a great time. The food was a higher quality than i expected for a buffet brunch and the service we were provided was fantastic. I have multiple food allergies, and they were great at accommodating.

Josh I believe was our waiter. He was lovely and was great seeing to our table checking that we had everything we needed throughout. There was a live singer at one point, it started getting louder as we got into the afternoon and more packed. Really enjoyed it and will be back. Will stick to an early lunch though for the slightly quieter time.
Absolutely gorgeous asian cuisine, cool and funky setting reflects and cool, funky and adventurous menu.
So me and few of my friends went to Kurobuta on Saturday for the bottomless brunch for my friends birthday. The atmosphere was really good they had a live singer who was really good! They have 3 menu options, we went for the top menu which was £55 unlimited food (buffet style), unlimited prosecco and signature dish (pork buns, ribs and lamb Korean style). The food was really nice and the staff were generous with the prosecco! We had a round of Sake bombs which so good, loads of fun and very strong! It was great start to an eventful night! Great for a meal for 2 or a large group!
I came here for the afternoon tea and loved it! The tea included a creative variety of dishes (so no cucumber sarnies, thank God) and it was all very sophisticated. The only catch was that it didn't come with tea which was a shame, but they do a fine menu of cocktails worth perusing.
Really enjoyed lunch at Kurobuta. The place blew my preconceptions of Japanese out of the water, it was relaxed, informal and we got to listen to some great music including Pavement and Stephen Malkmus (and frankly how many restaurant reviews will I be able to say that?!)
Food highlights were the pumpkin tempura, the pork belly steamed buns and the sea bass. OK the seating isn't the most comfortable ever but if I had one tip it's chill the beer a bit better, especially if you're going to serve gimmicky frozen heads. maybe stick your glasses in the freezer.
I found the service slack, slow and snotty! The food was ok but not great. The music is so loud you can't have a proper conversation... on the uncomfortable seating, most disturbing was the attitude and cleanliness of all the staff both waiting and cooking. All were scruffy and decidedly grubby and far to full of their own importance for my liking.
My verdict, go somewhere where the staff and place are clean and they actually care about their customers not themselves!
http://dinnerwithjo.wordpress.com/2014/09/30/kurobuta-marble-arch-london/

As is the case with many restaurants these days, the food is "fusion" and the menu is "designed for sharing." Whilst these terms are a tad cliche, when the food is so good, who really cares.
Kurobuta is located on Kendal Street off Edgware Road, understated and on its own amidst large residential blocks. In fact I don't think it even says Kurobuta anywhere outside (I say this with some uncertainty as I haven't had 20:20 vision since I was five and dinner with jo was at 5pm). It is unassuming on the inside also; quite large, dimly lit, simple wooden tables and not much decoration on the walls. The atmosphere was just right, buzzy yet relaxed and not too noisy.
Our waiter was very friendly and helpful, making recommendations as to which sake cocktail to try, how much to order and where to adjust the portion to suit a party of three.
I was happy with my sake caipirinha; for the fusion enthusiasts amongst you, note the fusion here of Japanese staple and Brazilian classic.
One by one, our eclectic mix of dishes began to arrive. Edamame, so simple yet so full of potential, as evidenced here flamed with sake, butter, sea salt and lemon. Next the crunchy rice senbei crisps with avocado and jalapeño dip. This was a nice side dish (a cross between a prawn cracker and a rice cake) but not terribly exciting.
We then had Jerusalem artichoke chopsticks with truffle ponzu sauce. These were really good; imagine the casing of a spring roll but thinner and longer filled with tasty artichoke and ready to dip in the sauce. Next came a salmon gravadlax and avocado tartar, which was one of the more basic items on the menu but very good quality.
One of the highlights was the tea smoked lamb served with smokey nasu (aubergine) and spicy Korean miso. Luckily our waiter had pre-warned us this dish comes as two lamb cutlets so to order an extra half as none of us would have wanted to share these wonderful 'no time for a knife and fork, just pick up and eat' cutlets!
The piece de la resistance. The tuna sashimi pizza with truffle ponzu, red onions and green chillies. This was spectacular, in terms of taste, contrasting textures and originality. Don't think Dominoes, think delicate.
Japanese mushrooms with Gorgonzola, miso and pine nuts. This was my least favourite (too cheesy) but not bad. Last but not least was a crispy skin duck confit with watermelon and spicy peanut soy. This was really excellent, I loved the flavour and the varying textures.
The beauty of Kurobuta is the dishes are small so you don't fill up and there is still room to sample the desserts. We picked roasted pineapple with shortbread, crumble and caramel (below right) and apple pie with creme brûlée (below left). Both were really great, who knew you could combine apple pie (albeit a sort of de-constructed apple pie) with creme brûlée!
At £50 per head, including one cocktail, this is fairly pricey. It was excellent though, so if you feel like splashing out, head on down to Kurobuta.
More venues
Sponsored listings