Lady Dinah's Cat Emporium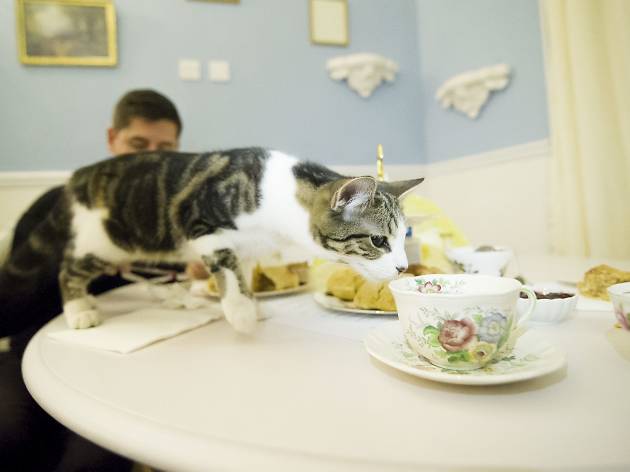 Time Out says
Taking inspiration from Tokyo, where this kind of thing first blossomed, Lady Dinah's was London's very first cat café, opening its doors back in 2014. Filled with cute kitties, faux-vintage furnishings and plenty of chintzy crockery, this crowd-funded caff in Bethnal Green takes cat loving to a new level.
There are 13 cats mooching about, providing the backdrop to light meals, sandwiches, salads and bagels filled with things like houmous, tomato and cucumber, egg and cress or honey-mustard chicken and rocket. High teas and afternoon teas are also available, alongside a range of interesting pots of tea – think chantilly cream tea, or popcorn green tea.
Details
Address:
152-154
Bethnal Green Road
London
E2 6DG

Transport:
Shoreditch High Street rail/Overground
Do you own this business?
Average User Rating
3.8 / 5
Rating Breakdown
5 star:

8

4 star:

5

3 star:

1

2 star:

1

1 star:

3
Very unpleased to discover the access is forbidden under age 12 once I was there. When I expressed my surprise of not having read this on the site, the young man asserted that it definitely was. I have since read the site over again and can find NO mention of such condition terms. And now I can see in the reviews that some 8 year old kid actually accessed. What happened ? We were clean, polite and anything ecpected !!! All that transportation for this kind of greeting. Very despicable !
I visited on a Saturday afternoon and it wasn't what I expected. We arrived and paid in the small room between the cats and the kitchen. The lady in the room then told us to go through to the cafe and wait to be seated. Someone came to seat us and said there were no seats left downstairs and we would have to share a table with someone upstairs. I thought this was very unusual as we had booked a table for three and assumed that a table for three would be available. As more people arrived they were told they could sit wherever they wanted and didn't need to be seated. It was all very inconsistent. Three staff asked if we had been served. We were brought an order twice. Overall it was quite disorganised. The menu could do with improving as there were several salads listed with unusual names and no description of what was in them. In the end I received one I didn't really like and would have preferred to know what I was ordering.
Two of the staff were extremely helpful and friendly and knew a lot about the cats and tried to get them to interact with you. The upstairs of the cafe seemed quite boring compared to the basement. There are three large tables and a sofa upstairs and as people rarely arrived in a group of 6 the tables were being shared between groups. It was much more relaxed downstairs so we would have preferred having the option of sitting there.
One member of staff was extremely rude and made us feel uncomfortable. She didn't interact with any customers unless absolutely necessary. Her only interaction was 15 minutes before closing for the afternoon break when she told a couple they had to leave within 3 minutes. Her top wasn't big enough to cover herself up and her underwear was on show for 90% of the time. Completely inappropriate for a cafe setting.
The cats seemed very happy and spent most of their time sleeping in the window. There were a few who enjoyed interaction but it did feel like there were too many people in the cafe at one time to be able to spend any time with a cat. There were so many toys, several groups of people were trying to get the attention of one cat at the same time.
This place was a huge disappointment. Awful coffee and cake and a bunch of cats either sleeping or hiding. That and the smell makes it one to avoid. Don't believe the hype.
Its just amazing nothing will ever beat it the downstairs is lovely the upstairs is lovely the cats are lovely.Its just amazing I recommend it to anyone! They have definitely improved (as I see from the reviews) the staff are very friendly and the the food comes quick enough they have this rule for not disturbing sleeping cats at first I was disappointed but I don't think the cats would have been friendly if we did disturb there sleeping. Tinkerbell is the cat that I had most interaction with she let me play and cuddle her. the reviews at the bottom of the page describe the café very badly but I assume that is just how much it has changed.
Absolute cat lovers heaven. All the cats are content and well cared for. The high tea was completely refillable and delicious and the hot drinks were also spectacular. Already can't wait to come back here. My dream place!
Amazing place! Gorgeous kitties, nice vintage style furnishings and yummy food with vegan options.
Back when it was announced that the UK would be getting its first ever cat cafe, I was totally thrilled, following the stories on Time Out with a keen interest. Though there were a lot of questions asked about the welfare of the cats at the time. Since visiting, I have to say it's an extremely well executed idea.
Yes - This place does have its rules, which some people don't like. It's super important to respect that as the cafe is their home. Would you like it if someone came over to your place for tea, picked you up to cuddle you without permission and started dangling things in front of your face while you were trying to sleep? It's certainly a good thing they don't allow young children into the cafe to run around terrorising these poor cats!
When we came to visit, many of the kitties were snoozing for the majority of it. Two little ones jumped up and napped on the windowsill whilst we were having our afternoon tea. If you let them come to you, the cats at the cafe can be very friendly and sociable. They're also really well looked after by and have such a great bond with the lovely folks who work at the cafe. We were served coffees with little cat's faces and whiskers sprinkled onto them, and slices of cake with little chocolate mice - Lots of really cute little added touches and well considered attention to detail!
I've been really wanting to come back to visit this place for a while now, but haven't yet been able to since you need to book in advance, and I'm often quite last minute with plans. It's lovely to go for a treat and for those who would like to enjoy the relaxing company of cats over a cup of tea.
It's nice going to a coffe shop with tea and cats, the possiblity to pet and play with them, and the staff are nice and friendly.
Best cat cafe ever! The athmosphere is amazing and all the cats are super happy, estimulated and very well care of! They are the bosses there ;) staff is great, food is awesome and the variety of specialty drinks is huge and greatly characterized with cute cat themes! Highly recommended! Best experience for cat lovers
The cosiest, prettiest, little cafe with gorgeous, fluffy furballs, absolutely lovely staff and even more gorgeous, fluffy furballs.The cats are clearly content, loved and the rulers of the Emporium - from Petra the supermodel to Artemis the playful flirt to Biscuit and her elegant paws, to name three of the residents. I found our visit both relaxing and fun - if you love cats and realise they do indeed have a mind of their own and snooze away many hours of the day, you´ll fit in just fine, If you´re lucky Lizzie will make you brush and then pet her, too. :)
Write a review...
I visited Lady Dinah's Cat Emporium yesterday with friends and we had a wonderful time. Our 'slot' was 12.30 - 2pm and we waited in the seated area just inside the door as we were early.
The cats were absolutely divine! Some cats slept the whole time we were there, some were wandering about and the 2 kittens played delightfully, as kittens do. The cats are clearly very content and their welfare is put first as it should be. Patrons are kindly but firmly prevented from picking the cats up or waking them and flash photography is forbidden. The staff clearly love the cats and encourage them to play when appropriate.
We had bagels for lunch and pots of delicious loose leaf tea, the food and drinks we had and saw were of high quality and fresh. Staff were around at all times to take orders or chat about the cats.
I highly recommend a visit for all cat lovers. If you are unlucky and most of the cats are asleep, this shows how relaxed and happy the cats are. True cat lovers would find this reassuring if frustrating, such is the nature of the independent cat! I can't wait to go back!
I was so excited to visit, thought it would be fun and cute. In reality it took 40mins for a hot chocolate. All the cats were sleeping or hiding in the corners and had disrespectful people shaking them awake and poking them. Having to endure that all day is no life for a cat. I left very disturbed and unimpressed. I hope it closes down and the animals put to a good home where they wont be used as prisoners for constant unwatted petting while trying to sleep.
Snap up exclusive discounts in London
Time Out's handpicked deals — hurry, they won't be around for long...