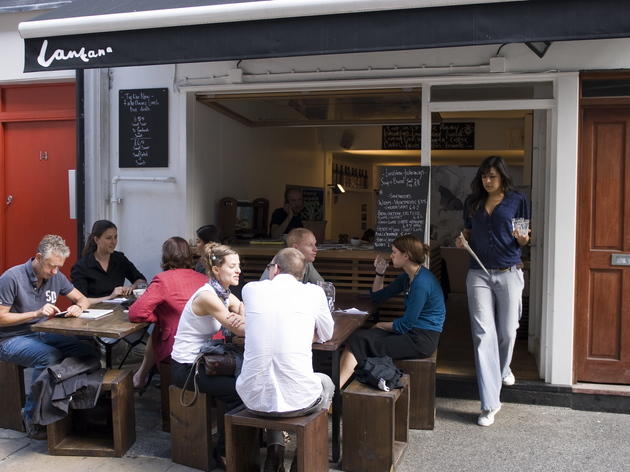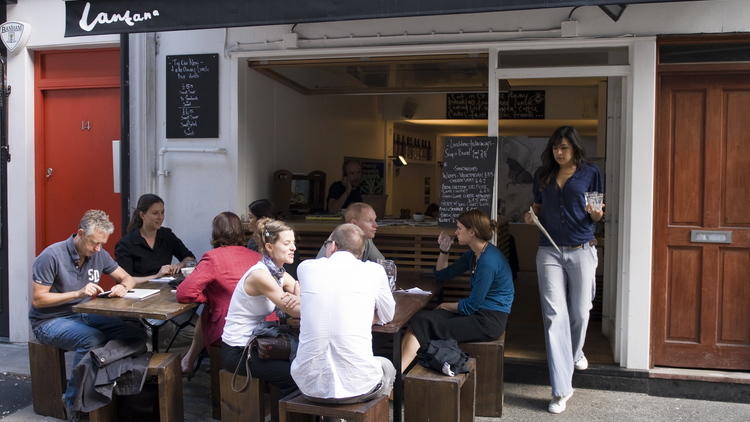 A pioneer of the Australian-run modern café scene, Lantana remains a lively spot. Its look – wooden tables, mismatched chairs, small pieces of art on white walls – is now commonplace, but the staff pride themselves on their coffee-making and baking skills, and rightly so. The flat whites are super-smooth and go well with a moist raspberry friand or an Aussie 'cherry ripe' cake slice. The breakfast and brunch menu sounds great too, though sadly, maple french toast with streaky bacon, grilled banana and candied pecans was a little dry and came without any syrup; the chef had also forgotten to candy the pecans. Nevertheless, the staff, though the relaxed side of perfect, were very apologetic. At lunchtime and in the evenings savoury dishes can be ordered with a glass of wine. The kiosk next door sells some dishes as takeaways, such as the tart of the day; on our visit this was a big slice of mushroom, spinach and goat's cheese tart, served with a selection of salads that included a slightly bland lentil and beetroot assembly, but also a much more vibrant and flavoursome greek salad.
Venue name:
Lantana
Contact:
Address:
13 Charlotte Place
London
W1T 1SN

Opening hours:
Monday to Friday 8am to 6pm, takeaway from 7.30am. Saturday and Sunday 9am to 5pm *kitchen closes at 3.30pm weekdays and weekends.
Transport:
Tube: Goodge Street
Price:
Main courses £5-£12.50
Menu:
View Menu
Do you own this business?
You may be interested in:
Average User Rating
3.2 / 5
Rating Breakdown
5 star:

6

4 star:

5

3 star:

2

2 star:

4

1 star:

4
When I first visited Lantana it was something a little special. The food tasted good, the coffee was great. I really believed i'd stumbled on a little part of Melbourne in London. However what is truly sad is that it's gone completely downhill since those days. I have been twice in the past month. The first time around 4 weeks ago I headed in for breakfast by myself. The scrambled eggs and bacon were ok but not made with the love they were a while back. The coffee was disappointing - the milk was not right. But what got me more than anything was the lack of charm and smiles in the place. The staff seemed totally pissed off, unwelcoming and miserable. I left feeling extremely underwhelmed and also shocked at the price - they seem to have put the prices up massively! Today I decided to try it again with a friend. What a total disappointment. My scrambled eggs were undercooked and the plate drowned a huge mass of rocket?! Awful! I didn't bother to get a coffee - my friend's coffee was totally average. She couldn't even eat her corn fritters - they were dry, tasted of nothing and again, massively overpriced. I will never visit Lantana again - there's no love at all for the food there now. It also took over 30 minutes for our food to arrive and again the staff totally miserable.
I don't agree with this place featuring in TO's best of breakfast list last month - my poached eggs were vinegary and watery. the coffee bitter. The staff were aloof and unresponsive to my polite comments on the food and coffee - even though they had come and asked how I was liking it. I won't go back until I've heard it's really improved.
I think this place is a victim of its own success. We went there on a weekend and waited in the queue- a staff member told us that it is going to be at least 20 minutes and that we can't wait inside! It was freaking cold out there so it basically meant we had to pass on this one.
I came here recently for the second time, having enjoyed my first visit. I was much less pleased the second time as the food was somewhat greasy and not as good as I had remembered. The ingredients appear to be good quality, which goes someway to justifying the high prices, but I don't think it is really worth it. I was also disappointed with the service as it wasn't particularly friendly and the waitress very cheekily did not bring back the change despite a service charge having already been applied at 12.5%!
This place is probably fine on a weekday but do not recommend for Sunday brunch. We were told a 20 minute wait, 90 minutes later we were seated and another 30 minutes before we saw any food. Poor line management by a friendly but overly disorganised front of house meant several groups were seated before us despite our protests. The menu was interesting but my poached eggs were seriously over cooked. An unacceptable error for a place selling itself on its breakfast reputation. Drinks were nice but orders were missed and the total bill for 4 people was over £85. Far too expensive for what is basically a pavement caff. We sadly won't be back.
Quite simply the best place for breakfast in London. Food is brilliant and the menu changes regularly. Coffee and cakes have been destroying my waist line for the last few years. I have never had a problem with the serving staff, they change orders for you take things out of meals if you don't like them. The only reason I could understand these negative reviews is the simple fact it's a very small cafe, I think it maybe has maybe room for 28 people, this coupled with its popularity means sometime a long line of people waiting down the street to get in. If anything it's a victim of its own success. If you want to avoid a wait don't go at lunch time on Sunday. :-) In short brilliant but very busy, if you don't like waking go in a quiet time!
Food is ok, nothing special and too fat for my taste. The level of service is...well I am not sure we an call it service at all. Part of our order was wrong, we had to go to the bar to get someone's attention. After queing outside for around 20min we were given a table next to the door. Waiters going in and out did not care closing the door behind them (in January!). After closing it 10/12 times ourselves, we asked the waiter who was passing by (Luka) to close it. Reply: "Can't you see I am carrying stuff?". Nice. We did not pay for the service and when we explained why, no excuse at all, just a rude and sarcastic reply. Toilets are in desperate need for cleaning.
I have to say,, best breakfast and coffee in London. Having moved to London recently from Melbourne I have been in desperate search for a good latte and breakfast/brunch. The coffee was fabulous and the food amazing. I had the corn fritters and grilled haloumi - both fresh and full of flavour! I went back twice last week and will be back this weekend. In relation to comments about bad service, etc, I cant complain. Sure, the staff were not as doting as they may have been if the whole cafe wasn't full with a line out the door, but the food and coffee made up for it. However, perhaps I was just giddy with happiness at finally having had a good brunch experience in London. No offence to the English breakfast, but give me a Melbourne breakfast of poached eggs, bacon, roasted tomato, mushrooms and smashed avacado on toast and Im in heaven. Lantana comes close to what I could have had at a good Melbourne cafe. Love it!
Went for brunch on a Sat morning. Finding a place that does really good Gluten Free options is difficult in London, and this is the best I have had. Loved the food - the fact they can substitute of the meals with the bread was really exciting. A little pricey, but worth it. Head guy was really helpful and friendly. It was busy, but it didn't matter and people seemed happy.
The staff and the management of this place are truly appalling. Offhand rude and complete disregard for thier customers. People standing in line were ignored, people on tables were ignored, there is a real arrogance and total lack of courtesy which I'm assuming they derive from the award received 2 years ago BUT that was 2 years ago and this place is complacent to the point of a joke. Time Out should be paying attention to most of the comments below ( but not the two below from Leticia whom I suspect are staff or the owners, please notice the carefully placed info in those comment especially leticia " also found out they are open during the summer for drinks between wed- fri". And to other supposed poster "Jonathan Dove", whoever you are, places like this may get packed from time to time but the staff do not have to be rude and obnoxious in the process to thier customers who are waiting. The rating is not deserved anymore, pay attention Time Out! The scrambled eggs were overdone, the toast dry burnt on the edges and it took about 15 minutes to attract the truly obnoxious waitress to order another tea, she waved us off but didn't come back for another 15 minutes so I had to go in and let them know we were leaving and wanted the bill to which she shrugged and said "whatever" and her boss who was observing us stifled a giggle. A total dive whose staff must get thier attitude from the management who engender such behaviour. If I could have given no stars I would have. AVOID AT ALL COSTS, THIS PLACE IS A DUMP!
Amazing breakfast (particularly whatever the special for the day might be) and coffee is always fabulous. Great vibe and atmosphere, you absolutely can't go wrong for brunch/breakfast. Also found out during summer they are now open Wed-Fri for drinks (had a fab mojito) and delicious tapas. Highly recommend, especially after a tough day at work!
A welcome infusion of cool low key authentic Australian cuisine in this busy district - just off the Tottenham Ct Rd / Goodge St interchange. Service was friendly & excellent. Note to readers of comments below: All restaurants in this area of town get overwhelmed from time to time.
More venues
Sponsored listings