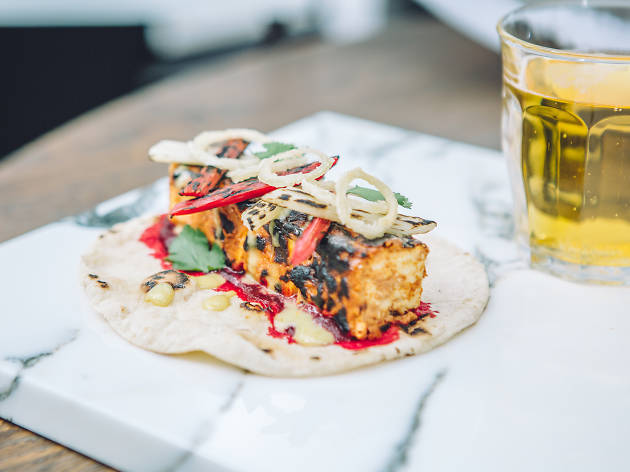 1/9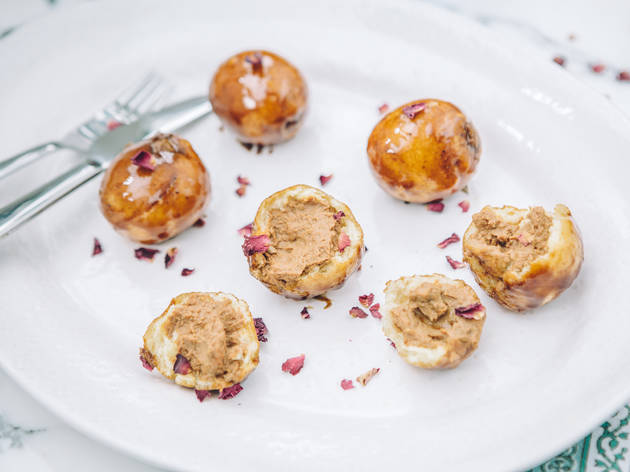 2/9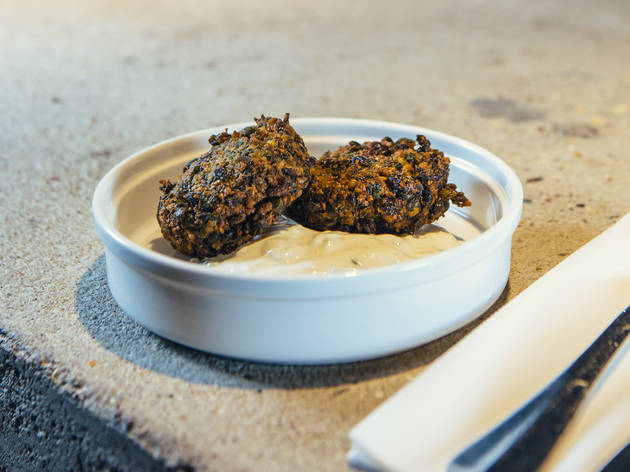 3/9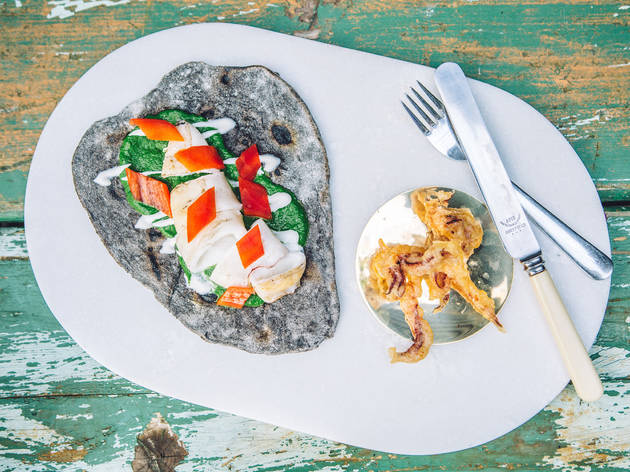 4/9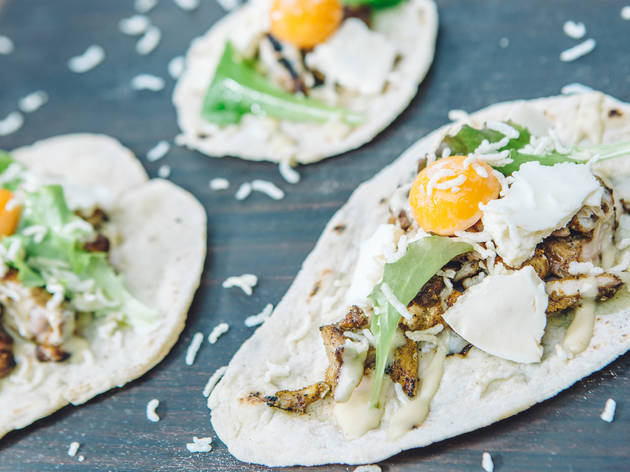 5/9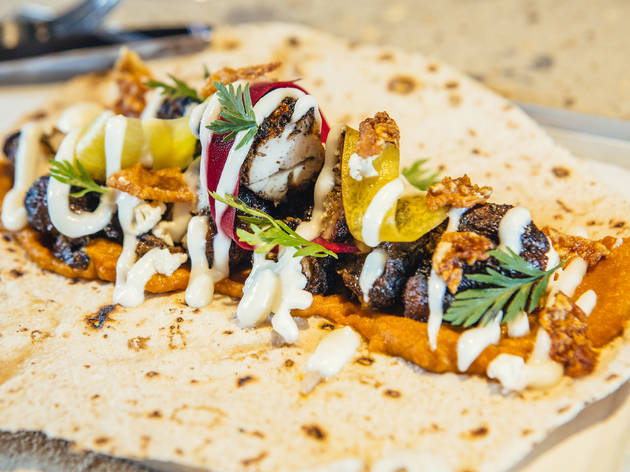 6/9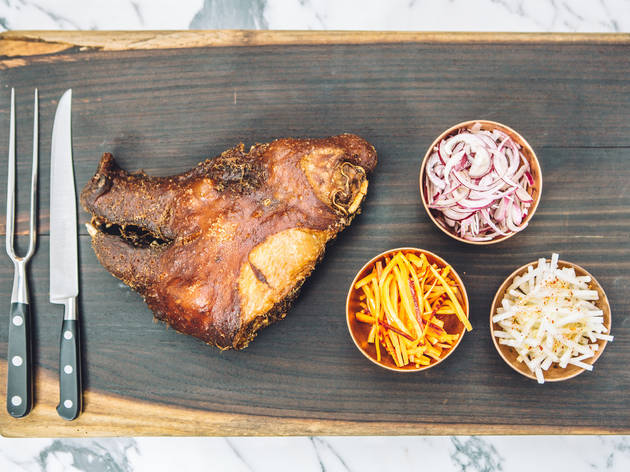 7/9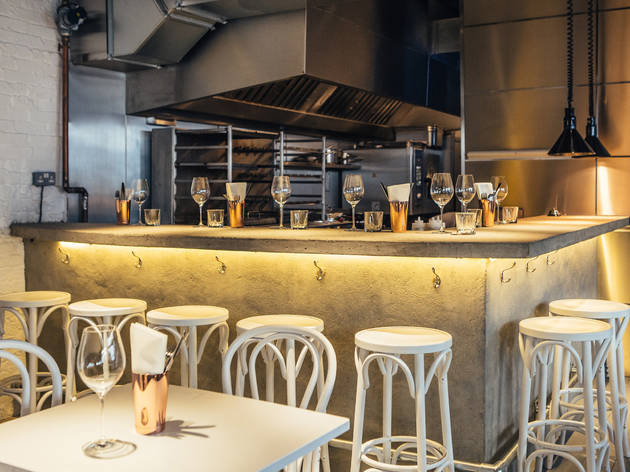 8/9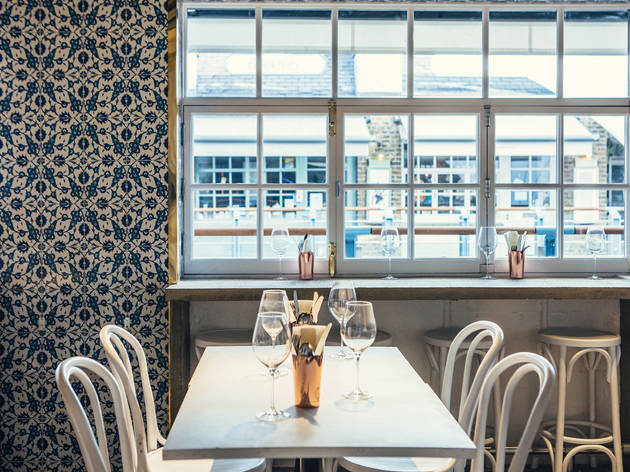 9/9
Time Out says
A Kingly Court restaurant specialising in high-end kebabs.
It had to happen, didn't it? We've had gourmet burgers, gourmet hot dogs and gourmet fried chicken. So when we heard about this purveyor of posh kebabs, it was less a case of us asking 'What?' and more 'What took them so long?'
The backstory is pure junk food-to-jewels. Two chaps meet at uni. Bond over 'a mutual fascination with the ancient gastronomy of kebabs' (their words – seriously). Decide one day to 'go gourmet'. Do the sensible thing and get experience via 'stages' (chef internships) at Michelin-starred restaurants and even a stint at Le Gavroche (where they'll later hire their chefs from). Launch street food operation. And finally, move to a small, permanent Soho spot. Cue our visit. It was Saturday night, so we had to go away for 45 minutes until a table came up. But hey, it was worth the wait.
The kebabs are beautiful. They have an almost Scandinavian look, being served 'open sandwich'-style, the contents painstakingly arranged over a thin, house-made flatbread. It almost seems a pity to roll them up. Fillings change with the seasons, with preserved, charred and fermented ingredients adding to the Nordic vibe. We loved 'roe deer adana', with its peppery chunks of robata-grilled meat, fragrant juniper berries, blackberry and chilli jam, and even a sour cavolo nero 'kimchi'. The other 'bab we tried, a 'free range pork shawarma' with crunchy crackling and pork aioli, was nice enough but a touch oily; it needed more 'winter salad' (beetroot, radish, cabbage).
In fact, the best thing about Le Bab isn't the posh 'babs. Sure, they're good, but if you want your proverbial socks knocked off, hit all the small plates. Highlights for us included the mind-blowingly delicious 'meatlafel' (a crunchy-edged patty of chickpea and red meat served over lightly garlicky tzatziki), the 'fondue fries' (hand-cut, skin-on chips with a subtle stout-and-stilton dip) and the outstanding endive and pomegranate salad (a glorious mix of sharp, crunchy, sweet and salty).
Staff are clued-up and genial, while the small room – its plain centre bordered by pretty blue-and-white tiles – makes you feel like you're eating inside a jewellery box. So until someone starts up an artisanal pork pie restaurant, Le Bab will do nicely.
Details
Address:
2nd Floor
Kingly Court
London
W1B 5PW

Transport:
Tube: Piccadilly Circus
Contact:
Do you own this business?
Average User Rating
4.5 / 5
Rating Breakdown
5 star:

12

4 star:

7

3 star:

2

2 star:

0

1 star:

0
Le Bab is literally one of my favourite restaurants to frequent. One of the very few places with a unique concept which works brilliantly, for such a reasonable price. Crazy how good a kebab can be, when put together by a kitchen full of 2-michelin star chefs!!
The Dark & Stormy and Smokey Sour cocktails are incredible, and the wine list befits any palate. Particular shout-outs to the pork and paneer kebabs, fondue fries and spiced cauliflower pastilla starter!
I first went to Le Bab a few months ago, but have been back many times since both for quick work lunches (if I can get a table!) and slightly more leisurely dinners. The kebabs themselves are delicious and clearly a lot of thought has gone into each recipe. The simple presentation belies the amount of work that has clearly gone into each component and I have always enjoyed whatever combination of mains and snacks I have ordered. On top of that, the restaurant has got the drinks menu spot on. A good selection of cocktails and an even better list of extremely good value wines.
Highly recommended for whatever occasion.
Great food and cool atmosphere. Most of all, a really good modern twist on the traditional kebab. Thoroughly recommend
Fantastic flavours and great fresh ingredients in our Le Babs! Also must try the chips with fondue they were amazing. Nice cocktails too.
Managed to nab the last table on Friday night for a group of 8 of us. A beer on their balcony at the top of Kingly Court was not the worst way to begin the evening.
A really lively atmosphere in the restaurant; busy, but not crowded. The large open windows along the front make the summer experience that bit more special and compliment the Mediterranean/Middle Eastern cuisine.
We ordered a couple of each of the starters to share; really delicious. Special mention must surely go to the Scotch Kofte (a scotch egg that leaves all others in the dust), closely followed by the Spiced Cauliflower Pastilla.
I had the Hardwick Lamb Adana Kebab which arrived at the table open and unwrapped. This gave me a chance to admire the visually impressive dish and elevated the meal to that gourmet/fine dining feel. Eating it was no less enjoyable. The grilled lamb was full of flavour. There was no wayward or redundant ingredient; the rainbow radishes provided texture, the chutney some sweetness, and the yoghurt tied it all together and added some sharpness to keep the richness in check.
Service was impeccable throughout and the bill ended up being a lot less than we expected. Couldn't recommend it more highly. Definitely one to watch.
What a fantastic restaurant on the top floor of Kingly Court!! The food is so well thought out and absolutely delicious - I was lucky enough to have the Monkfish Tail, which is to die for. The Lokma doughnuts to start are also a must. Alongside the amazing food we sipped on Pomegranate Mojitos and Smokey Sours - all the cocktails looked great and tasted even better.
The service throughout the night was faultless and nothing was ever too much trouble for the staff. They were very attentive and friendly. The restaurant has a very buzzy atmosphere about it (and great music!).
Really can't wait to go back. You MUST go - you won't be disappointed.
I went to Le Bab in March whilst visiting London after a recommendation from a friend. First off: the kebabs were sublime. We had the Roe Deer, pork and paneer. They taste delicious, look beautiful and it's obvious how much love and care goes into each and every one. Next up: the wine list was limited but well thought out, we went for the Meerlust Rubicon - which I'd recommend, especially if you're having a gamey meat. Last but not least: get the Meatlaffel and Fondue Fries - both were delicious.
My only criticism was that the service was a little slow - but these things are to be expected from a new restaurant.
It is to be expected that the latest on-trend Soho places will have a queue - that comes with the territory. Le bab manage this well by taking your details and allowing you to go and have a drink elsewhere while you wait - very much appreciated on a cold February evening. Once we got in and seated service was quick and friendly. We started with some lokma, which are lovely little doughnuts filled with rich and meaty pâté. All was looking good, but from this point on things dropped off a little. There was a long wait for our main course to turn up, and when my roe deer adana turned up I was left feeling a little disappointed. From what promised so much on the menu, gamey meat, fruity jam, sharp and spicy kimchi, it all came together to be a little underwhelming. While Le Bab is elevating the format to new heights, £13 is quite a lot to pay for what remains a kebab that doesn't deliver on flavour. Following this, the service continued to slide and we found ourselves craning our necks from our window stools and going to some lengths to attract any attention and pay our bill. Le Bab is a nice little restaurant, they're doing something different and the staff are great when on form - but lokma alone are probably not enough to have me rushing back.
Snap up exclusive discounts in London
Time Out's handpicked deals — hurry, they won't be around for long...