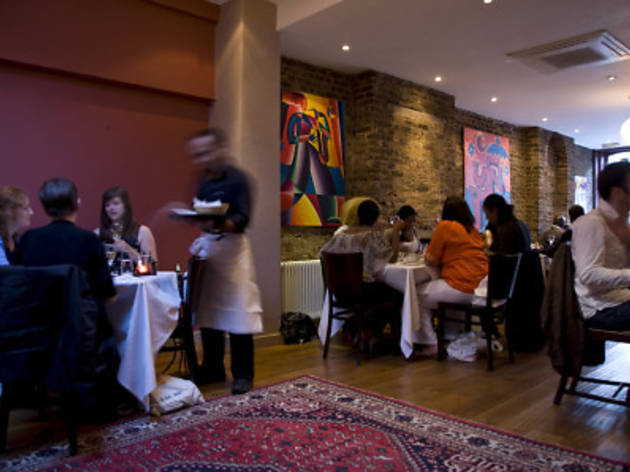 On a busy Camden Market Saturday, the Mango Room was not a happy place, with two large tables of disgruntled tourists and a bemused-looking Asian couple all wondering where their orders were. This was because the coolly stylish room (pink and bare-brick walls, colourful paintings, white tablecloths) was being tended by a lone waitress. She was making all the drinks too, which, given the popularity of the cocktails here, could mean a long wait – though she was coping admirably.
Food, when it arrived, looked heavenly. Salt cod fritters were light and airy, the fresh garnish and mango sauce creating a Caribbean scene in miniature. Their presentation was bettered only by the gorgeous palette of colours of Creole snapper fillet, a well-balanced dish in which the flavours of the fish were enhanced by a tangy green peppercorn sauce. Goat curry was rich yet delicate, the meat tender and, unusually, bone-free. A side of roti (the flaky Trinidad version of the Indian flatbread), for mopping up the juices, was near-perfect.
Such attention to detail comes at a cost, but it's worth it… even the disgrunted tourists were smiling by the end of the meal.
Venue name:
Mango Room
Contact:
Address:
10-12 Kentish Town Road
London
NW1 8NH

Opening hours:
Lunch served noon-4pm daily, dinner served 5-11pm daily
Transport:
Tube: Camden Town
Price:
Main courses £7.50-£15.90
Menu:
View Menu
Do you own this business?
You may be interested in:
Average User Rating
2.2 / 5
Rating Breakdown
5 star:

1

4 star:

1

3 star:

2

2 star:

0

1 star:

5
This place should be reported. The portions were minute, and we both felt sick from the seafood. The staff were not very apologetic, the chef denied the scallops were off, but it was. Minus 5 stars.
Paid for a dessert. It never came. And they insisted I pay for it anyway. Better jamacan restaurants elsewhere.
It seems that people only leave reviews when they have something bad to say. I have been going back to the Mango Rooms for nearly 15 years and it's one of my favourite places in London. Beautiful food and atmosphere.
Very small portions, service extremely slow, ok Caribbean food will never live up to the real thing. And pricey.
I've been to Mango Room on numerous occasions and only come back for the food which is delicious, especially the goat curry. Sadly, I can't say the same about service, every time I went the service was appalling- slow, inattentive and rude. On one occasion my friend and myself got shouted at by a manager who thought we came in from the street just to use the toilet. Shocking!
I ate here last year with work colleagues for our Christmas dinner. I will soon be celebrating my 30th birthday and thought I'd love to bring my family to Mango Room as I had been really impressed on my first visit. The ambience is lovely, the food was great, service amazing. However I am no longer impressed by Mango Room. I phoned them 2 weeks ago to make an enquiry for my birthday and to this date the manager has not bothered to call me back. I find this highly unprofessional. I mean do you not want my money? Evidently they don't. It's fine though, I've booked somewhere else and me and my party of 30 will enjoy eating at The Terrace in Wimbledon instead.
Currently eating in the restaurant (1st June 2012, 21:22) and the mere fact that I am online writing a review, whilst still in the restaurant represents the high dislike I have taken to my meal. For my starter, I ordered Ebony Chicken wings with chilli . When the dish came out I was surprised with its lack of taste, it wasnt presented well, and appeared like roast chicken although the restaurant boasts of being a "Traditional & Modern Caribbean Resturant". I am black British, parents come from Jamaica and St. Lucia and the food was not up to standards at all. I would not recommend to people from a caribbean decent, although to the locals the meal is a step up. The meat was still a little red in the middle and the flavour, what flavour? It was absent in this dish. I would have been satisfied with Morleys or even KFC. (Morleys SW London fast food) This put me off my main meal. For my main meal I ordered Snapper with garlic and pineapple sauce. This was not a true representation of what a REAL traditional Caribbean cook or chief can do. If you want a mouth watering meal, head down to Thronton Heath,CR7 and taste the heart and sole of the Caribbean. The fish was left on my plate, and all I had to line my stomach was a couple pieces of bread. Oh before I forget, the plantain was the best part of my meal. Our entire table prob will spend somewhere between the region of £180-£250, and I will be stopping somewhere on the way home to grab a takeaway.
I went for a friend's birthday, being a strict diet for health reasons I had already resigned myself to the fact that I probably couldn't eat anything on the menu. I did have a word with the waitress about what my options might be, but she came back with no help, and the chef didn't sound like s/he would be very accommodating. Now having worked in the industry for years myself, I probably would have hated a customer like myself, and quietly accepted the fact that I would just fill up on cocktails. However in the almost three hours that we were there we managed only to get in two rounds. And both those times we had to seek out the staff to order drinks, in which we then had to remind them again after we had been waiting awhile for them to arrive. Service was absolutely appalling, I think everyone else enjoyed their food, (I spent £9 on rice and steamed veges... literally). And when it came to paying our bill we payed half our 12.5% added service charge, and we're questioned why we didn't pay the full amount!
More venues
Sponsored listings