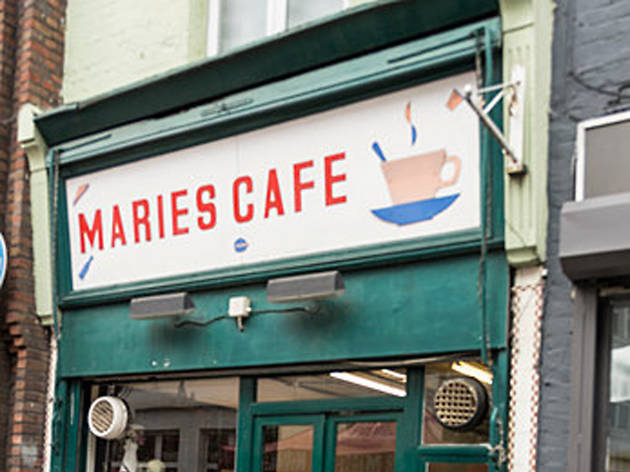 Time Out says
Our second-favourite thing about Marie's is the wicked retro green-painted shopfront, which has somehow remained unchanged for decades (eagle-eyed nit-pickers will notice the lack of an apostrophe in the name above the door). Our favourite thing, though, is the fact that jungle curries and pad thai are as popular as plates of fried eggs, chips and beans at this tiny caff near Waterloo station. By day, the Formica-heavy interior functions as a full-on greasy spoon serving gut-busting fry-ups; by night, it's an informal Thai restaurant packed with nattering cabbies and spice-loving locals scoffing authentic food at bargain-basement prices – think chicken satay, sum tum salad, stir-fries, the aforementioned curries, noodles and desserts such as banana fritters. Marie's is unlicensed but you can bring your own booze for a modest £1 corkage fee.
Details
Average User Rating
3.5 / 5
Rating Breakdown
5 star:

2

4 star:

0

3 star:

1

2 star:

0

1 star:

1
I don't normally like to complain about small businesses, but tonight I was shocked by the treatment my friends and I received at Marie's Cafe.
Marie's Cafe is a Thai restaurant near Waterloo. It's cheap and you can bring your own booze. It's very popular with young people for this reason. I've long been a fan and have often recommended it to friends, as well as bringing various social groups here.
I fear it has become arrogant, though. It is so used to its high demand that it has abandoned all courtesy, which I discovered tonight.
Tonight I visited with two girl pals. When we arrived, it was packed. Lots of people were waiting for seats. Even though I had booked a table, we still had to wait a while to get ours.
We sat down, and immediately the service wanted to know our order. This seemed like a good sign at the beginning, but I honestly felt harassed by the end of the evening, as if Glenn Close from Fatal Attraction had become my waiter – but with less charm. We had a waiter and a waitress who constantly hounded us to order the next item of food; they are so desperate to flog meals that they treat customers a bit like cattle that have to be rushed through.
We ordered starters and mains. They brought these out quickly, and together. They then cleared my starter plate away when I had not finished it.
The service was mad. We were constantly harassed to finish our food. At every opportunity, the waitress would ask if we had finished. My friend finished the last spoonful of her main and she took her plate away. I told the waitress could she please let us be for a bit, but things continued. We must have been there about half an hour when they started trying to get rid of us.
We ordered a cup of tea in order to justify staying longer, but halfway through the waitress handed us the bill – which we did not ask for. I turned it upside down and we ignored it. Eventually the head chef came over and told us we had to pay as our table was needed.
We had not even finished our drinks. I got annoyed by this and complained to another waiter, who had been equally bothersome for the half hour/ hour we'd been there. I asked him if they could all just leave us in peace.
Instead, the head chef came over again. He told us we really had to go now, all the while we had not finished. I told him how rude he was, and he said he didn't care – it was the way they were. I said I would write about this experience and he said he didn't care, we still had to go. I told him I thought he was a bully. At one point he gave me a piece of paper and pen and told me to write down exactly how he should run his business.
Like I say, I am shocked. I might have been less shocked if they had given us a warning they expect such a quick – McDonalds-standard – table turnover, but they didn't. They acted as if we were a group of thugs that needed escorting off the premises. Our crime? Wanting a leisurely curry! Should a restaurant that feel stressed enough that it must intimidate customers into leaving might I suggest it buys more tables? Or shuts down!
I'm all the more unhappy about our treatment because I've always promoted that restaurant. I once even wrote an article about how much I love it! Its owners clearly think they are too good for manners. All of this is self-defeating; we would have spent more money had they let us sit in their premise for more than an hour. Marie's Cafe is run by a bully. One that has no business sense, either.
Oh, and the food wasn't even that good.