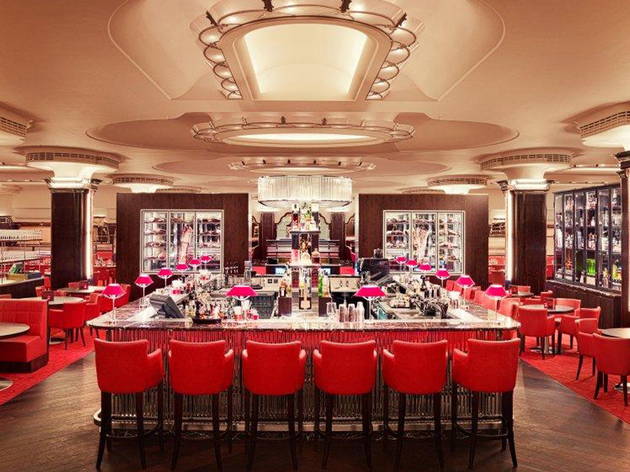 Time Out says
This steak restaurant (it stands for 'Modern American Steak House') is from a popular Denmark restaurant group, and is their first venture outside Denmark.
Details
Address:
77 Brewer Street
London
W1F 9ZN

Transport:
Tube: Piccadilly Circus tube
Contact:
Opening hours:
Lunch served 12pm-3pm Mon-Sat. Dinner served 5-11.30pm Mon-Sat; 5-11pm Sun
Do you own this business?
Average User Rating
4.3 / 5
Rating Breakdown
5 star:

12

4 star:

5

3 star:

1

2 star:

0

1 star:

2
The worst stake I ever had. It was almost uneatable due to the majority was fat - an ugly experience. The fries were terrible, too salty and with an undefined taste - I saw the naibour tables didnt eat them either, even pleanty of the ok bernaise sauce couldnt hide the bad taste. Apart from the terrible taste, they were low qualty in general, and seems like they were made three days ago and heated up for the ocasion. The small salad served was more sophisticated than salat, and didnt match the meal. Complaining about the ugly stake, the waiter use the term "cow" when he tried to argue - old cow wold would be a better phrase, since this piece of meet could not be served as a stake, but better boiled for hours making a gullash - boil out all the fat. My friend had A Uruguay steak, which was much better, but dry even it was medium made - far from worth 30 £. The primitive ( think they hired the waiters at the nearest boxing club ) and rued waiter didnt offer any replacement - all in all a terrible experience - and for we had and the bill, not worthwhile to visit again. I give one star for the architecture.
King house best steaks ever !
Excellent venue, meal and service. Ended up being pretty expensive at £120 per head, which included a £30 saving with the Time Out Card. Must remember to drink cheaper wine next time.
Highly recommend MASH, the staff are so attentive, happy and understand everything about their produce and what they are serving. The best way, if you are in a group of four or so is to share the starters. We chose the MASH Tartare, Crispy Squid, Fois Gras Terrine and the garlic snails, they really know what they are doing with these dishes. Full of flavour. For mains, I would I was torn between the Wagyu and Uruguay Beef, both so juicy and tender. If you share two or more types of beef, the Waiters will come and chop it up in front of you which is a great additional service. Pair the meat with creamy spinach, ceasar salad, bearnaise sauce and regular fries to top it off. I was slightly jealous I didn't have the HUGE crispy onion rings which the next door table had, they looked amazing. Trust the Sommelier, he knows which wines to have. Loved MASH, see you again soon. Thank you
Outstanding!! We were a group of 12 people dining and several of the guests said it was the best steak (meal even) they have had in years!!
LONDONS BEST STEAKHOUSE! Dear Timeout, dear readers this place deserves a warm warm salute because they know what they are doing! NO BULLSHIT just good food and best service in London. I have been to them all and yes I like Goodman but MASH is not just a steakhouse it also gives me that feeling that makes me feel special. So dear MASH please continue and give more of your steaks! - Thanks to the blond female waiter that help us find our way in the private dinning area (best kept secret)
I visited Mash London, never before have i experienced such a high level of service anywhere! Beautiful art deco venue, top design. The atmosphere was really cool. Down to the food:-) The steak was the best i have had in my life, never have I had so tender and moist, we had the American Bone in Ribey and the Danish Ribey WAAAAU it was the best. The wine selection was HUGE!! and the prices was very good. The cheesecake is to die for! MUST GO AGAIN
Had a lovely evening meal there on Tuesday. I had the US rib-eye and it was delicious, as was the side order of spinach. I would have preferred the fries thinner but they were still good. It's not cheap but it's the only decent steak I've ever had in London!
Had a great evening at mash the other night. Service, food and drinks were spot on. Friendly and casual but precise staff guide you through all the different cuts which to my knowledge doesn't include Argentinian beef as the review mentions...!? Anyways, we (2) had a starter to share (charcuterie) and two of their basic value offer "steak and fries" which came with a green salad too. At £25 it doesn't really get better than that, tender, juicy and perfectly cooked. Sure you can go berserk in some of the bigger and more expensive cuts as well as the massive wine list (make sure to get a tour through the wine cellars) but it's really up to you. No room for desert, we ended up at £110 including two glasses of sherry and a bottle of red wine to share. Will definitely come back again for the steaks, the wine and the buzz!
Were offering ourselves some extra, by taking a prolonged weekend to go Christmas-shopping in London....and of course we had to try the British outlet of the MASH we know so well in DK. Anyhow, we entered we were served and it was absolutely outstanding. Actually my girlfriend, commented, that the staff were actually appearing to be even more schooled and skilled than the waiter we last met in Copenhagen Airport. Starters was a lobster, witch I had last time I was with clients dining in Aarhus, and they STILL got the hang of it,,,,,,VERY good served. And the sweat taste and freshness was there, and not the harsh fish-taste it can have if the Chef, don't know how to do it right. Main course: Got myself the a Rib-eye and yes, it WAS goooooooood, Ordered medeium-rare and it WAS!! Side dishes and gravy was also nice. When we come back to London in the spring, we will be back. In short: Wan't good meal, and VERY good meat??....go to MASH, you won't regret. :-) T
Went there this weekend and it was absolutely brilliant! I got the Ribeye on bone and a couple of sides. The meat was cooked perfectly and the seasoning was spot on. The wine list was very comprehensive. However, we decided to go for cocktails and had the bartender to recommend a couple based on our liking. The plenty staff were all knowledgeable and very friendly. Pricing was as expected (upper mid range). I will definitely come back for more!
Very disappointing meal at MASH London. The staff, though friendly, unfortunately were inefficient and leads me on to the meal itself. From the time we sat down and ordered our cocktails it then took nearly an hour for our starters to arrive, after I had to prompt a passing member of staff to find out what the delay was. Our own waiter was not very attentive and resulted in us dealing with at least six different members of staff throughout the evening, including the duty manager. When our steaks arrived, by serving them on enormous plates on their own the impression it gave was of a very meagre portion size, though credit where credit is due, they were expertly cooked. The side orders, unfortunately, were below par: the marrow, though tasty, was only half a bone and was eaten in two scoops of the spoon; the chilli fries tasted as though chilli powder had just been sprinkled over the top of the dish of chips and the onion rings were absolutely inedible as they arrived with a massive coating of batter that tasted as though they had been fried in old oil. The corn and bacon we had was decent enough. It was at this point we asked to speak to the manager as we felt it was important he know of the experience we were having. The initial response to our feedback was that this was the first time anyone had received a negative experience, which to be frank was of no concern to us as this was the experience we were receiving. He offered us a complementary dessert, but without allowing us to see the dessert menu he chose to bring us two strawberry cheesecakes, of which I am not a great fan. As was pointed out by my friend when they arrived, the servings looked as though they had come from a local supermarket with defrosted strawberries on the top and not to the standard we would expect from a fine dining establishment. After a couple of bites, these were taken away and we were offered cocktails in their place. According to the manager the signature cocktail was a liquorice drink which was very much to my liking, however when it arrived he had neglected to tell us that it had a coffee base which I am not able to stomach. So yet again, this was taken away. Throughout the entire dining experience my friend and I kept a polite manner, as did the wait staff and manager, and we continuously apologised for coming across as 'difficult' diners as this was never our intention. But we were left feeling deflated by the experience and it was with regret I asked that the 12.5% gratuity be removed from the final bill.
Mash :-) i was there and it was fabulous, judge bar with very nice drinks and very good ambience :-) will come back for sure .
Snap up exclusive discounts in London
Time Out's handpicked deals — hurry, they won't be around for long...