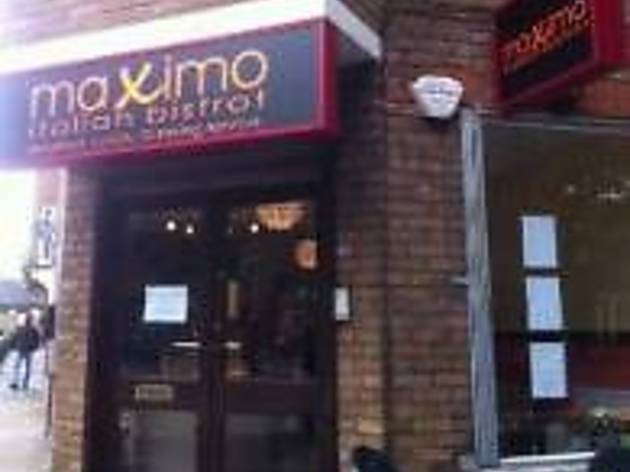 About
The content on this page is provided by a Time Out partner.
London is such a huge city, with a mix of ethnicities, cultures, traditions and religions.
So what to offer our customers when every kind of food has already been discovered?
How to stand out from the crowd? How to make a difference? We are italians and food is central in our daily lives, we do love London and, our aim is to use our fine culinary art with a hint of international taste.
Our cuisine is made of genuine ingredients, food is hand made to ensure freshness and according to many of our customer's feedback " it goes down a storm".
We are keen on experimenting and we are opened to suggestions by our customers to let Maximo Bistrot take the shape they like the most.

Maximo Italian Bistrot,

International taste, Italian style.


Maximo Italian Bistrot says
Maximo Italian Bistrot is the perfect restaurant in Kennington for a spot of romance, offering an air of discretion and comfort that is sometimes hard to find. Situated in front of the tube station, the bistrot is a popular choice amongst dining couples and groups who are around here for the night.
Details
Average User Rating
4.3 / 5
Rating Breakdown
5 star:

5

4 star:

2

3 star:

0

2 star:

0

1 star:

1
Came in with because it looked cozy and cute. ordered the crab ravioli in a cream Salmon sauce. Half way through the meal I felt like the dish needed a little something. So I asked the waiter for some Parmesan cheese and he sort of gave me a bewildered look. I waited for his response which I couldn't believe. He literally refused to give me the Parmesan, stating you do not put Parmesan on any seafood because it would take away the flavor. When I explained that I wanted it because I liked my cream dishes cheesy, he repeated himself and walked away. Honestly I was too dumbfounded to be pissed off so I ate the rest of it and decided I would not make a scene but could not get it off my chest so I called him once I got back to the hotel. I basically explained to him about customer service and his job was to cater to the paying customers and he said even if I insisted on getting the cheese he would not give it and seemed offended that I could even ask. I realized that the conversation was going no where and the real reason I wanted the cheese was to make it taste better! UnreaL........
great food - lovely people -although service can be a bit slow
real Italian food, excellently cooked, lovely friendly staff, the best Italian restaurant for miles...
High quality proper Italian pizza and pasta in cosy family restaurant.
In absolut The best Italian bistro in London!
Excellent and friendly service, delicious typical Italian food and exquisite pizza.
Simona and Massimo, keep the good work up!!!
Fabulous pizza and pasta. Nicest waitress in London too!
We get here by chance the last Saturday and we were hit by its warm and comfort, and also for the flexibility off the staff: my girlfriend is vegan and they made a dish just for her! Very good and tasty choices, that the food lovers like us will appreciate for sure.