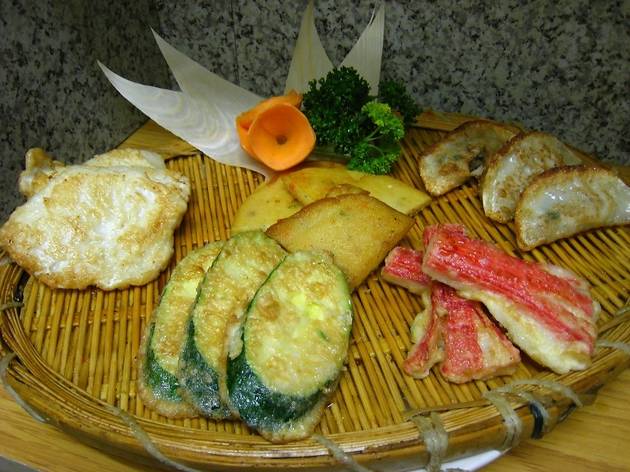 The cosy booths in this long-established restaurant just off Carnaby Street are filled with a vibrant mix of families, Koreans and the usual West End crowd. Try not to end up in the brightly lit private dining room at the back, as you'll miss out on much of the bustling atmosphere. Hot hand towels are brought to the table as soon as you sit down – a nice touch.
The menu covers the usual Korean repertoire (soups, barbecue, stir-fries and noodles) executed to a reasonable standard. Tolsot bibimbap is available in an assortment of flavours, including beef, pork, chicken, prawn or tofu; egg doesn't come as standard, though, so ask if you want it (for a £1 supplement). Our beef version was tasty enough, but too oily.
From the barbecue menu, sweet marinated pork contrasted well with its salt and sesame oil dip. A selection of namul included satisfyingly crunchy blanched bean sprouts and palate-cleansing, sweet, spicy radish.
Buzzers brought staff – who were polite if not over-friendly – to the tables quickly. Although barley tea is missing from the drinks list, there are plenty of other Korean options including ginseng tea and soju cocktails.
Venue name:
Myung Ga
Contact:
Address:
1 Kingly Street
London
W1B 5PA

Opening hours:
Lunch served noon-3pm Mon-Thur. Dinner served 5.30-10.30pm Mon-Thur, Sun. Meals served noon-10.30pm Fri, Sat
Transport:
Tube: Oxford Circus or Piccadilly Circus tube
Price:
Main courses £7.50-£8.90. Set lunch £11-£13.50. Set dinner £25-£45
Menu:
View Menu
Do you own this business?
You may be interested in:
Average User Rating
2.1 / 5
Rating Breakdown
5 star:

2

4 star:

0

3 star:

1

2 star:

2

1 star:

6
I always visit this restaurant but on this specific day I was out with my friends to celebrate a birthday. The food was great especially the mixed BBQ. But what put us off is that this specific lady (older) was extremely rude. We asked for a cutlery and she walked off with a very angry pouty face and just gave us one spoon (note for 6 people) and left. I have never experienced such service and I would never come back.
Very disappointing on every level. I am Korean, and everything here is bland and tastes a bit cheap. I think they use a lot of msg in the food too as I felt strange afterwards. The bibimbap vegetables were not seasoned individually and just plain. The service was awful as well. Rude, and they overcharged us by one bottle of water, which isn't a big deal, but annoying, and they didn't apologise. The pajun was greasy and had no seafood in it at all other than one small piece. The prices are cheap and the food reflects that.
After accepting a waiting time of around 20 mins for a table for two, during which two the couples ahead of us in the queue were seated, a pair of Korean girls who came in after us were seated at the next available table. When I pointed out to the manager that this must be a mistake, she was standoffish and virtually called me a liar. I politely insisted, but she wouldn't budge or apologise. The food smelled lovely, and obviously it's a bustling little restaurant, but there is no way I am going to give my patronage to a place with an attitude like that – outright rude and insulting. Needless to say we walked out, wouldn't go back, wouldn't recommend it. Soho is full of lovely little restaurants, so the competition will probably take care of this! Judging by the comments below we didn't miss much foodwise either.
We didn't make a reservation, but we were willing to wait for 45 min to get a table for three. After 45 min we were still waiting so we asked when the table will be free since we saw several table weres free. Apparently they forgot about us and asked us to wait for another while. After 10 min more we finally got seated. No sweat we thought, we could finally order our dishes. The seafood pancake was a bit off than the usual ones, but it still tasted good, only we couldn't find any seafood in it despite it was supposed to a seafood pancake. I kept wondering whether they didn't make a mistake. Since another dish wasn't also wrong. We ordered thinly sliced beef for the BBQ, but instead we received the thick beef slices. But we didn't want to ruin our dinner so we kept quite about it and decided just to enjoy our meal. The other meats for the BBQ have also arrived so the waiter started to BBQ these for us. We have already noticed from the previous sliced beef that just a split second they would turn the meat over, since it was only beef than it was still okay. But the other meats as pork and chicken they would do the same. Even though everyone knows that these have to be well done. After seeing that these meat are not well done. The chicken was still raw and the pork was still bloody. We turned on the heater again to grill them a bit longer. Not a minute longer, even though seeing us grilling them again, the waiter came back and turn off the heater again. It was like they couldn't care less that the meat weren't well done, whether it was pork of chicken. It felt like they were rushing us to finish all the dishes as we set down, because more people came in to wait for a table. Overall the service was very poor and the service fee was standard in the charging bill. The prices are also higher compared to other Korean restaurants. Disappointing was also the absence of small dishes which were usually provided at the beginning, like little bowl of kimchi, sour cucumber, etc. Even though the restaurant survived since 1990, it would properly be, because it was better located than the other Korean restaurants. If you really want to eat good Korean food, you can do much better at Arang (9 Golden Square, not much further away than Myung Ga) and the prices are much more faire. And if you want to eat just Bibimbap then you can go to Bi Bim Bap (Soho) at Greek street.
I'll start by saying the food is ok, certainly not the best or cheapest Korean I've had in London, but ok. The service however is another story, after noticing we had been over-charged on our bill we asked the waiter about it, the manager arrived to say some things we had ordered cost extra, which was not indicated on the menu. We would have accepted a simple 'I am sorry we should have made that clear', but the manager was incredibly rude and dismissive about it, so we asked them to remove the service charge. He stormed off and called the police! Seriously! We were stunned (the police never showed up due to have actual crimes to deal with on a friday night in Soho!). After a half hour stand off with the manager we didn't pay the service charge (and left quickly before SWAT showed up!). As a former waitress I'm pretty sure the threat of incarceration is not really the best way to get tips! Considering the high number of very decent korean restaurants in Soho (try Bibimbap on greek street) I can safely say NEVER go here!
After frequenting it and recommending it for over ten years I'm afraid to say I will ACTIVELY DISCOURAGE people from eating at MYUNG GA Korean restaurant on Kingly St in Soho. After overcharging our group (and we're all quite good at adding up!) the manager CALLED THE POLICE when we quibbled politely about the bill. Initially they refused to remove the over-charge (which we proved we were correct about by consulting the menu), so we said we'd just not-pay the service charge (optional by law anyway). I can't stress enough how measured, sober and polite we are, this was not a 'lads night out' rowdy group by a long shot. But anyway, the manager exploded at this point (not literally unfortunately) and ran screaming and shouting to pick up the phone and dialled 999 to summon the police, actual police, blue lights, nee-naw, 'now then now then' POLICE. (They never turned up obviously as they have genuine police work to do and don't need time wasters like Myung Ga management stopping them from doing their work). Avoid. Avoid. Avoid.
Found it by accident and loved it! Very friendly staff, good service and very delicious food! Going back again to try more dishes!
I went with three friends to have dinner here last Friday. The waiters were friendly but the lady manager/waitress was very business-like and not friendly at all, this spoilt the whole meal. We had the impression we were being rushed through dinner and we will not go back there again. The food is good but there are a lot of other restaurants like it around London.
went yesterday with friends, the service was definitely brill, i loved their uniforms! food was excellent, even though the price was a tad expensive,it was worth the money :) the atmosphere was very lively as you could hear lots of food on the grill sizzling! it was by far the best korean restaurant i have been to so far comparing it to other restaurants in london(good location as well) i don't know why time out gave it two stars, should be at least 5!!!!
More venues
Sponsored listings