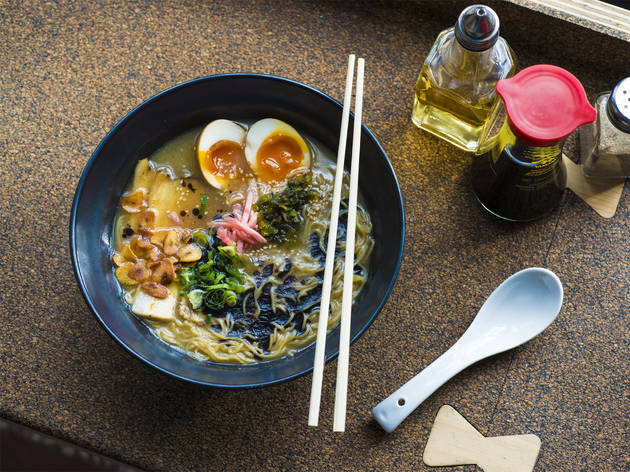 1/10
© Jamie Lau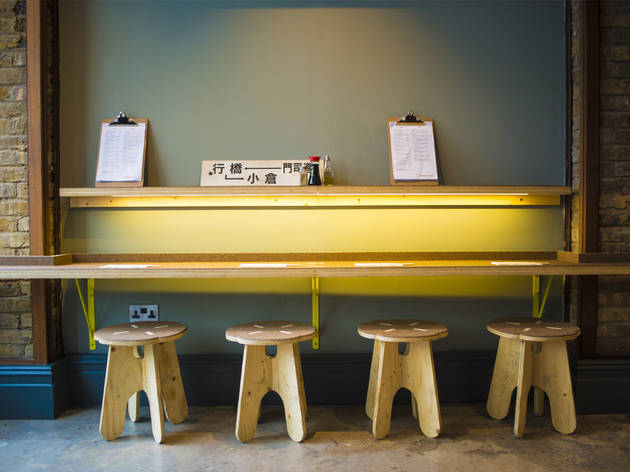 2/10
© Jamie Lau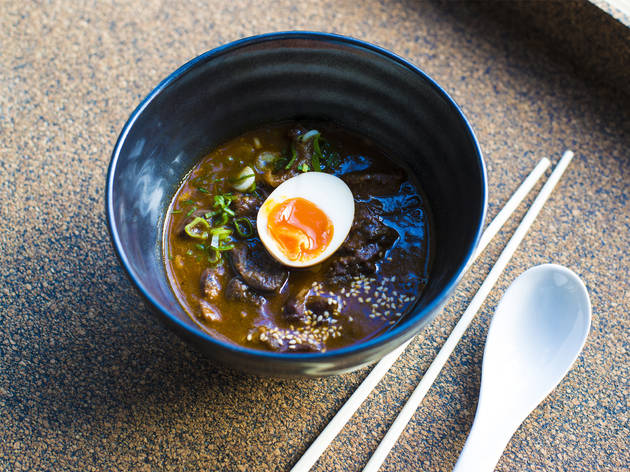 3/10
© Jamie Lau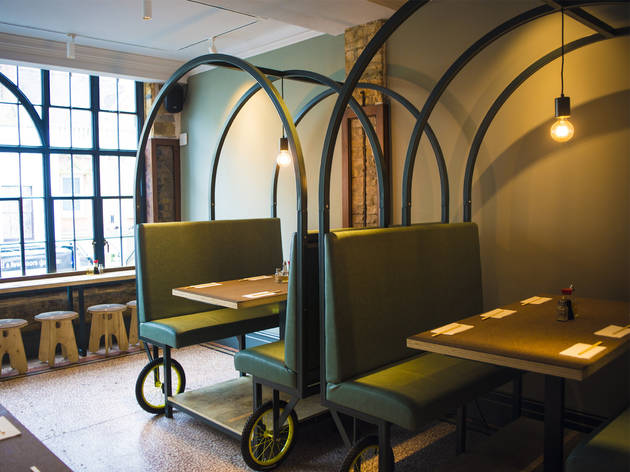 4/10
© Jamie Lau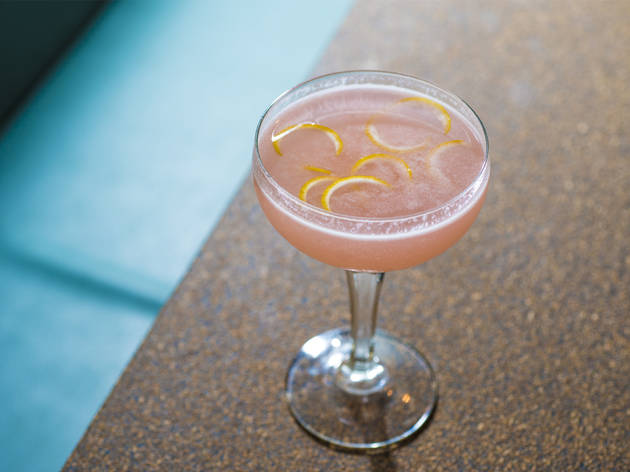 5/10
© Jamie Lau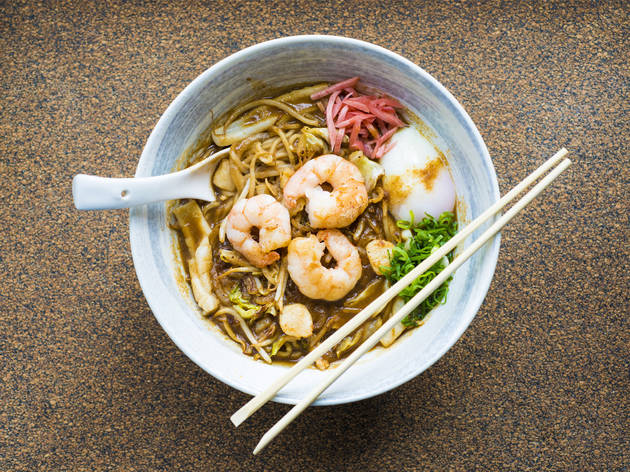 6/10
© Jamie Lau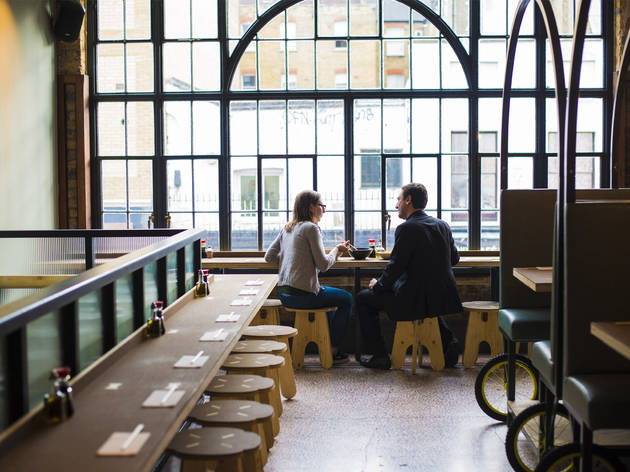 7/10
© Jamie Lau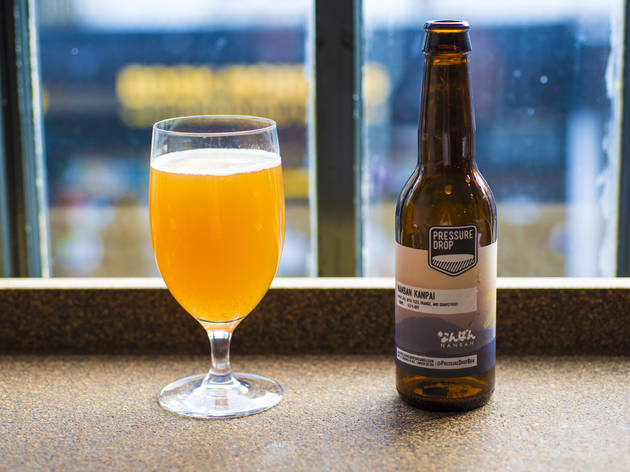 8/10
© Jamie Lau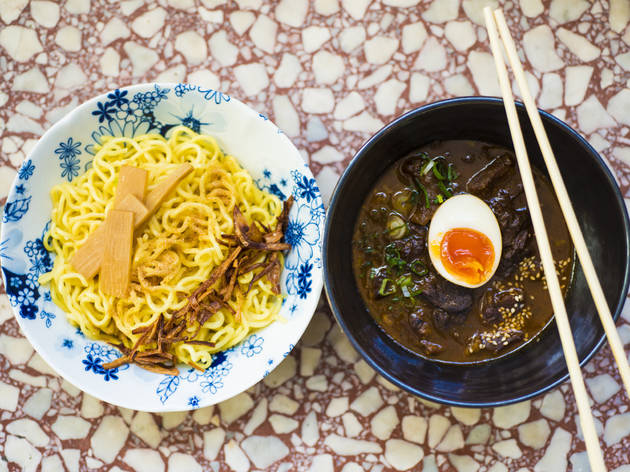 9/10
© Jamie Lau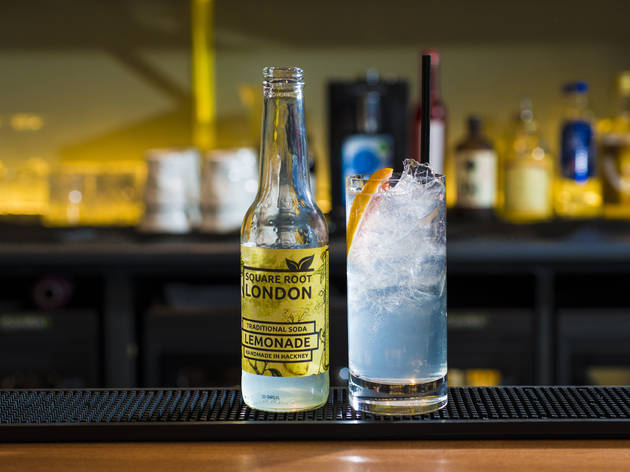 10/10
© Jamie Lau
Time Out says
The Kyushu-style ramen bar from former MasterChef winner Tim Anderson.
When US-born Tim Anderson won 'MasterChef' and announced he'd be opening a Japanese 'soul food' restaurant, there was a whole lot of excitement. Then waiting. Waiting. And more waiting. Some got tetchy. Others were patient. Then finally, in late 2015, it arrived. Was it worth the wait? 'Course it bloody was.
Sure, it's not the cosiest spot, with its bright lighting and hard backless stools (top tip: go with a few friends and ask for one of the upstairs booths-on-wheels instead). But the staff are lovely and this place is all about the cooking – think comfort food with Asian flavours. Like the chicken karaage: with its crunchy chilli-and-salt flour coating, it was good enough to rival the Keralan fried chicken at nearby Kricket (and that's saying something). Then there was horumon yaki. Yes, okay, it's pig tripe (aka stomach 'parts') but don't let this put you off. It's not at all 'offaly', just extremely tender, stir-fried with crunchy rice and sprouts, plus salty, sweet and sour flavours with a fiery hit at the end. Of the small plates, only the electric eel disappointed, mostly because the oily fish needed more pickle.
Large plates are good, too: mentaiko pasta (a retro dish found in hipster NYC noodle joints) was a little like a creamy cod roe version of a carbonara. Rich and satisfying, it's pretty much the perfect hangover cure. And finally, the absolute must-try: curry goat tsukemen. Two bowls: one containing the curry and the other a firm ramen, half a tea-pickled egg (oh and a garnish of bamboo shoots picked with Scotch bonnet chillies that deserves a mention). This reminded me of a rendang, with its melting, tender meat and intense flavours.
If you consider yourself an adventurous diner, Nanban should absolutely be on your bucket list.
Details
Address:
426 Coldharbour Lane
London
SW9 8LF

Transport:
Tube: Brixton
Contact:
Opening hours:
Mon-Fri noon-3pm, 6-11pm; Sat, Sun noon-11pm. Last orders 30 minutes before closing
Do you own this business?
Average User Rating
3.1 / 5
Rating Breakdown
5 star:

4

4 star:

5

3 star:

1

2 star:

3

1 star:

4
Offensively stingy portions, exorbitant prices, broth that leaves your mouth feeling like you've quaffed a tube of vaseline and a spiel about the special 'Cypriot potatoes', which it turns out are just regular potatoes, but which you pay £4 for half of one. Slip on some salmon chinos, embrace gentrification and give your bank account the clean out the good people at Nanban seem to think it needs.

My girlfriend ordered The Leopard without cheese (she's lactose intolerant), however once she'd eaten half the soup it was fairly clear it had cheese in it. This is the second time this has happened. The ramen is good but don't expect any sort of customer service. Okan down the road is probably better.
I am going to completely disagree with Bursts of Rain below. I thought this Masterchef inspired Japanese Brixton restaurant works!! Timeout picked Anderson's Lazy Goat Rahman as in the top 100 dishes in London - absolutely agree! This was fantastic. All the food was excellent, salmon sashimi, crispy chicken, and a sweet potato dish that must have been created in heaven! Superb. Decent value too, a must visit!
I am a big fan of ramen and a big fan of Masterchef so after finding out about this spot, I've been dying to go, maybe that's where I went wrong. I went in with such high expectations and finished my meal rather disappointed. I love ramen and for me, this was an example of when a Western adaptation of an Asian classic has turned out badly. In my experience, ramen is usually served in a clear, light broth with bouncy noodles, but at Nanban, I was disappointed to find heavy, over-seasoned soup which clung to the noodles and left an overpowering taste in my mouth. Maybe I went on a bad day or maybe I went in with a set idea of what I would find but unfortunately my experience hasn't been great.
This is now probably my favourite restaurant in Brixton.
Outstanding flavours that explode in our mouth. Super friendly staff. Amazing decoration.
I'm already planning my next visit to explore the menu.
The worst service I have ever encountered, had better at nandos self serve. Had to wait shockingly long time for my starter and also my main. Incredibly disappointing. Food was good.
I'd been eagerly awaiting the opening of Nanban since it's inception by Tim Anderson, one of Masterchef UK's most loveable and quirky contestants. For just shy of £12 I thought the pork ramen I ordered was not only delicious (the combination of whole garlic chips, tender pork belly and pickled mustard greens constituted a powerful flavour combination that a foodie's dreams are made of), but the dish was also great value for money. Washed down with a bottle of Brixton brewed beer in an intimate Japanese interior, Nanban is soul food well suited to the tight-knit, yet multicultural community of South London.
Not very good. The food is average at best and a little bit over priced. The tonkotsu broth is more akin to gravy then soup. Some people like it that way but it does mean the flavour stays with you after the meal. Quite cloying. What made this a particularly bad experience was the service. My wife got her main first, fine, but she had finished her meal and my food still hadn't arrived. I chased a couple of times and there wasn't an apology. Sometimes you have bad nights, but the fact they didn't even notice shows a lack of care. Oh, and they still had the cheek to add a tip to the bill.
Ah, the previous reviewer seems to know the price of everything and the value of nothing - it certainly seems to have gone over his head here at this place.... As usual, Mr Anderson's touch is the culinary equivalent of gold: The chicken karaage (spicy chicken thighs) were moreishly delicious, tender, perfectly flavoured, then I had the Miyazaki Ramen which was a mahooooosive bowl of gorgeousness: thick thick saucy pork and fat noodles, and egg - I couldn't finish it all it was so big and filling. My dining partner had the Yaki-Imo which we stuffed madly into our faces (they are baked potato pieces with a buttery salty sauce - so wrong, so addictive) - I actually licked the plate of the sauce - in public - not caring - it was so good. Partner had the Curried Goat Tsukemen and we groaned at how wide our bellies had become, not being able to stop shovelling in the good saucey noodles and meat. You really don't need those starters here, but you would be seriously missing out if you didn't, so it's an actual dilemma. The staff are kind and unassuming and helpful; I was intrigued that they didn't have the more well-known warm sakis on sale but maybe that's too mainstream and usual. I can't fault this man's cooking or choice of restaurant set-up. Perhaps the answer is just a dish a time, and to come here regularly til you've tried everything, then once a week to have your faves.
I went here for my Birthday this year - read about it here : illhavewattsheshaving.co.uk/entering-my-28th-year It was completely bonkers, but a really enjoyable experience.