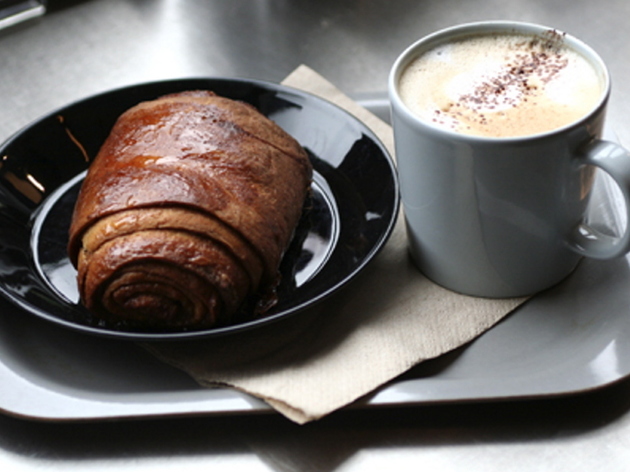 Time Out says
An oasis of calm and poise in frenetic Soho, this cool café is a fantastic under-the-radar pitstop for Scandi-style sandwiches and sweet treats.
Stepping out of the anarchy of Soho, pushing open the heavy wooden door and crossing over into Nordic Bakery's calm, ordered world gives you a rush of reassurance that everything will, in fact, be alright. You'll be greeted by attractive smiling servers and cocooned in a warm wood-lined interior where everything, from the Alvar Aalto furniture to the Helvetica signage, is clean of line and muted in tone. Even the sandwiches look pretty – neat circles of dark rye supporting Scandinavian staples such as gravadlax, brie and lingonberry, or the delicious combination of vinegary herring with soft egg and a smooth mustardy mayonnaise. Or try a karelian pie – a traditional Finnish rice or potato pasty, perhaps with a bottle of Nordic's in-house blueberry cordial. Get there early if you want to get your hands on one of the famous cinnamon buns, though the squishy, sugary butter buns are pretty addictive too.
Details
Address:
14A Golden Square
London
W1F 9JG

Transport:
Tube: Piccadilly Circus tube
Contact:
Do you own this business?
Average User Rating
3.5 / 5
Rating Breakdown
5 star:

5

4 star:

5

3 star:

6

2 star:

1

1 star:

2
This cafe has a cool vibe and great service. However, I was disappointed with the baked treats such as the cinnamon bun. This is supposed to be the speciality but it was not impressive at all. May be best to stick to drinks here.
Perhaps foolishly I decided to try the very dry and largely bland skoleboller rather than the seemingly lauded cinnamon bun. Coffee was decent and the decor and atmosphere have a relaxed, simplistic Scandinavian vibe which provides a nice haven from the surrounding bustle
I only had their cinnamon bun. I thought that the bun was decent but a little thicker than I had imagine. It was more bready than the other buns from Fabrique or Beigeriet.
When I visited first I was naturally drawn to the fantastic cinnamon buns. They are truly delicious! But on my last visit to the Covent Garden branch I decided to be sensible and have some savory food first. I had their delicious salmon salad with a generous helping of potato salad. The cafe was pleasantly quiet for a saturday but not empty. There are plenty of tables upstairs and a few more tucked away in the basement. A great spot to grab a bite to eat away from the hustle and bustle.
I think I have a bit of a cinnamon bun obsession, but this place certainly caters to my pastry and cinnamon needs. There's often a queue inside – always a good sign – and although the interior doesn't do the place any justice, what they lack in Scandinavian style décor they make up for with their bigger than hand size, warm buns. Not too sweet, they are honestly delicious and the best I've had outside Sweden. Their filter coffee is seriously nice too but I certainly advise taking your bun and coffee to go and enjoy it admiring your surroundings in the Golden Square opposite.
I'd heard loads of great things about this place and actually made a u-turn to visit it when I cycled past it last week. The queuing situation seemed a bit all over the place (turns out they're card machine was down, tut tut), but my first impression was that people love the bakery, they do what they do well, and a regular visit never hurts. Especially if you're going for the cinnamon rolls - they're so good!
A cinnamon lover's dream! The iconic cinnamon bun has an almost bread-like texture with a cinnamon and sugar filling. The filling is evenly spread such that each layer in the centre has a good amount. However, the edges seemed to lack that filling, which made the pastry a little dry.
I loved the fact that the bun was still warm when I ordered it at around 4PM. It was reassuring to find that they do in fact bake them fresh throughout the day. The bun is also quite big in size so you could share it with among 2 for a light afternoon snack or have it for yourself as a breakfast option.
I remember the days this was still a great place to go! Sadly nowadays the coffee is mediocre at best, the staff seem stressed and grumpy, and the buns are a former shadow of themselves! Once I even walked in and they didn't have their signature rye bread! I guess the saying "What goes up, must come down" really does apply here. I hope they aren't expanding too much as I miss the days I could walk in and see the happy smiley (and yes a cliche - blonde) people that I would love chatting to, sit down and enjoy a great cuppa with a wholesome sandwich... not warburtons half and half sandwiches with burnt coffee and baristas that seem to constantly be changing. BUT if you're still looking for rye bread and sugary buns then its still the (almost) only place to go! Please get your act together again Nordic Bakery. Love - a former regular.
Amazing buns. Not your cheap sugar filled commercial ones. Expect something completely different and amazing. Been going for over two years now. Never had a problem with staff. Not for the type that considers McDonald's an enjoyable meal.
Great coffee, great cinnamon buns. However, abrupt and snarky wait staff cast a gloomy cloud over the experience...
Rather gloomy place with ok-ish. Tasteless, overburned and dry cinnamon rolls - which is what they advertise as being great....Avoid it, there are much better places.
Excellent food, lovely staff & great atmosphere! My favourite cafe place in Marylebone!
great coffee slow slow service