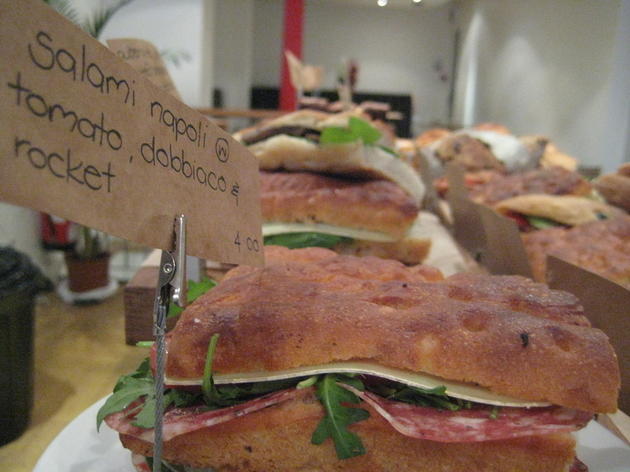 This original branch of Nude just never stops being busy, even at times of the day that should be quiet. The enduring popularity has a pretty simple explanation: quality and (relative) consistency. That, plus a sizeable local catchment area encompassing business as well as residential custom. And a choice of food that's among the best in London's coffee bars. Indeed, these days Nude seems to be as much a destination for food as for coffee.
The menu's approach remains steady even as the selection changes from day to day: breakfasts, brunch dishes, a few fairly complicated assemblies, salads and baked goods of high quality. The coffee proposition is based on espresso; if you take it in one of its milky incarnations you're in luck, because Nude's espresso blend is high-roasted and short on sweetness. At weekends the long, narrow and eminently attractive ground-floor room can get very crowded. But it's a good-natured and well-managed crowd, thanks to matey but ultra-competent staff.
Venue name:
Nude Espresso
Contact:
Address:
26 Hanbury Street
London
E1 6QR

Opening hours:
Open 7am-7pm Mon-Fri; 9.30am-7pm Sat, Sun
Transport:
Tube: Liverpool Street or Shoreditch High Street rail
Do you own this business?
You may be interested in:
Average User Rating
2.8 / 5
Rating Breakdown
5 star:

4

4 star:

2

3 star:

1

2 star:

3

1 star:

5
One of my favourite coffee places in London (probably even in the world)! The coffee is always really nice (or at least the flat whites are) and I personally have never experienced rude staff as mentioned in quite a few of the reviews. It does get very busy though which can lead to longer waits but great coffee is worth waiting for.
Rude Service!!! Beware of the woman with red hair. I've now seen her twice speak to a customer rudely with no reason. The woman who was buying the sandwich noticed that they had risen in price by 50p so obviously a repeat customer. Her expression was one of surprise and the cashier said 'Don't look at me like that. I'm not the one who makes up the rules.' When the woman replied that she wasn't looking at her in anyway and backed down the cashier didn't let it go and than said 'How would you like it if I walked into your shop and looked at you like that?' There was no need for any of those comments from the cashier. People are allowed to look appalled at a price hike and without her taking it personally and than commenting on it aggressively. There are a few good coffee shops in Shoreditch now. I'll take my patronage to AllPress on Redchurch street now where the staff are friendly and the coffee is just as good if not better. They've lost two customers in that transaction, I doubt the woman buying the sandwich will be back either.
Went in June 2012 - just off the street as we were hungry, no idea what it'd be like. Food very good - crayfish tail linguine followed by a strawberry semi-freddo, delightful and definately worth a recommend. Was very quiet so not sure what like when busy but our service was speedy and very attentive, a lovely NZ young man who then talked us through the home-ground coffees on sale very sweetly and knowledgeably (which we bought on the basis that the food made us think the coffee was worth a punt! - and it is good.)
Staff not friendly, coffee normale but we need to wait at least 45 minutes after ordering a cappuccino to be able to drink it... Really not organised!
I went to this place last Sunday and I must say as soon I stepped in I was overwhelmed by the smell of the coffee and I thought, this is a good start. My Girlfriend and I sat down and ordered 2 cappuccinos and 2 Pastries. The Pastries arrived quite quickly but unfortunately the cappuccinos took their time. I usually like to eat the pastry with the cappuccino; it is like having a meal in a restaurant and the wine comes at the end!!! It took 15 minutes and although it was not extremely busy (5/6 people) we ordered a cappuccino not a 3 course meal! Anyway to a certain extend it was worth the wait because it was delicious and also the cup was a decent size not a bucket i.e.Starbuck! Although quite pricey the cappuccino and pastry was very good. We decided to go back after a meal for an espresso; my logic was if the cappuccino that involves a shot of espresso is good so must be the espresso. How wrong I was! Even though it was not busy as when we came earlier we still had to wait! Anyway when the espresso was served, it was cold and very dense quite an anticlimax. I also agree with most of the other reviewers on the appalling service. They can be bothered can't they? It does seem that they do you a favour. Get your act together mate!!!
Good coffee, though not as good as Monmouth in Borough. Baristas are good, however on every occasion I have been, the other staff have been appalling whether busy or not; disorganised, disinterested and thoroughly lacking passion for the product. Customers are made to feel like a nuisance and not valued for paying a premium price for what is supposed to be a premium product. A real shame as could be so much better.
It pains me to say that the coffee was good because the service was thoroughly charmless. However, a decent cup of joe alone is not enough: there are dozens of other places close by selling equally damn fine coffee without the surly - nay, rude - attitude. I'll be checking those out instead. Nude Espresso, get over yourselves!
I've been going to Nude for a year or so as i work round the corner. The coffee, although pretty expensive is generally great. The staff's demeanor tends to range from 'too cool' to borderline rude. However on my last visit I was actually tutted at and told off for putting my dirty spoon in an empty glass on the counter. Presumably the girl didnt want to have to go through the lengthy and arduous glass rinsing process. Will miss the coffee but will be looking for a new local coffee spot on brick lane from now on.
I couldn't disagree more strongly with previous comments. Went there last Saturday and thought the staff with unfriendly in the extreme. Food ordinary. Music super-loud, tinny and dated. Food unexceptional. We hated it so much we couldn't suffer it long enough to have coffees. They need to seriously revisit their people skills. Avoid.