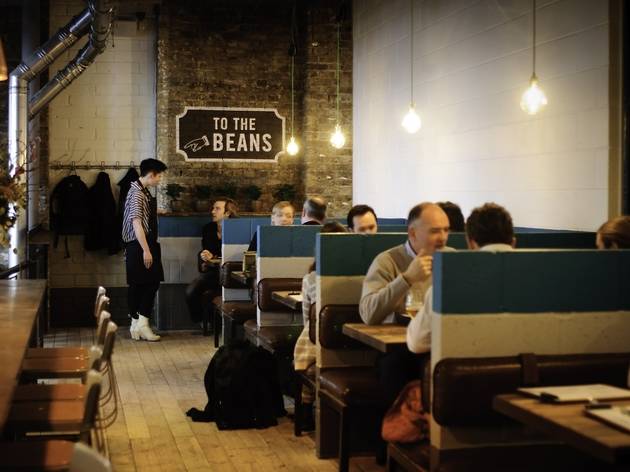 Kiwi-owned Ozone has become a major hit with the office workers in and around Silicon Roundabout, and its ground-floor café is sometimes completely full even outside prime time. The endearingly un-refurbished basement space, where the beans are roasted, often holds greater promise of empty seats. Ozone has made a big deal of its food since it set up shop in 2012, and the menu remains a draw.
Standard dishes often have a touch of the unorthodox: kedgeree with fried shallots and salsa verde, for instance. Soup of the day is a reliable option. Coffee isn't confined to espresso and its offshoots; there's a daily changing pair of 'slow-brew' specials, and the expertly roasted beans show well with this treatment. A caveat about sitting in the basement roastery: coffee has a tendency to cool on its way down the stairs. But we can't find much else to complain about here.
Venue name:
Ozone Coffee
Contact:
Address:
11 Leonard Street
London
EC2A 4AQ

Opening hours:
Mon-Fri 7.30am-9pm; Sat-Sun 9am-5pm
Transport:
Tube: Old Street
Price:
Main courses £5-£11. Meal for two with drinks and service: around £50
Menu:
View Menu
Do you own this business?
You may be interested in:
Rating Breakdown
5 star:

10

4 star:

8

3 star:

1

2 star:

3

1 star:

1
Great place to meet for a catch-up with colleagues or friends and not just for coffee, the food is brilliant.
Probably my favourite cafe in London. Loads of coffee options (incl woodneck and syphon!), the menu isn't the standard brunch menu and it changes seasonally, the area is large and the roastery downstairs adds some personality. And the toilets are great too! What more could you want?
Perfect for a hipster brunch or delicious coffee. Warning, during the week there are loads of people on laptops and ipads having meetings.
One great place just recently discovered from TIMEOUT which was never good but this time, TIME OUT guys have done a good research of various places and all are FAB. Must visit place for a hide out time and a coffee. I didn't try the food, but seems alrite. The best thing. Its NOT a RIP OFF. Enjoyed my time there. Staff is ok. Excellent interior.
such a lovely and trendy spot to hang out. The coffee is amazing and so is the service! This is my new spot!
Agree on second till - really needed. Been open nearly a year so time to put that right
Don't believe the hype. Food is just decent, but things like olive oil already in my toasts with butter and jam are confusing, not very good taste and extremely heavy too. Prices are ok. All the rest is average, starting with the service. These guys need better training, care more for little things (very hot water glasses, no salt in the tables, no cuttlery or napkins, and "organic" juices that come from some unknown source with to bright colours and are served with ice by default) Worst part of all was the sense of "chain" restaurant, with a dubious taste for music and annoyingly noisy. It is also quite dark unless you sit by the windows. All in all, not worth getting out of your way.
I've finally given up on Ozone. I've brunched there three times, grabbed a coffee on countless mornings. My first brunch was scrambled eggs on toast - decent - but let down by the measley two mushrooms that I bought for an extra 3 or so pounds. On my next visit I had scrambled eggs again, not bothering with the sides. The eggs were so dry that I had douse them in ketchup (not ideal). On my third and final visit I had the most tasteless omelette of my life. I gave up after eating a third of it, but the waitress did not ask why. Ozone is a nice-looking cafe. The coffee is ok, but the food is such a let down that I won't spend any more money on it. There are far nicer cafes in the area - Salvation Jane's just around the corner shows promise (although the service needs work) - and although live very close to Ozone I'll happily walk an extra ten minutes to Workshop Coffee for my future weekend brunches.
Been 5 times and the flat whites have been perfect every time - very rare to find in this neck of the woods. The food is spot on, service with a smile, great interior and brilliant atmosphere. Best cafe in London hands down.
Visited just after it opened and loved it. The coffee was excellent, I didn't realise I missed NZ coffee so much. Had the eggs benedict and it was really tasty. Just a pity that it is on the other side of London otherwise they wouldn't be able to get rid of me.
Loved it! Visited recently when in London and thought the coffee was amazing (although admittedly I had the trditional flatwhite). Atmosphere was fabulous and the granola (which I think of as muesli) was gorgeous and so filling I couldn't finish it. Loved the kiwi touches in the bathroom and cushions in the booths. Will return...
Went to Ozone today for Brunch- was brilliant. Nice interior, fantastic food and lovely staff. Slightly expensive, but nothing too bad at all and the quality of the food is great. The kitchen is the centre of the room and is completely open which makes a great viewpoint. Well worth a visit.
I cannot understand the hype for this place. The location is indeed interesting but I could not find the coffees special at all. We have also been very unlucky with the service as the waitress was very rude and unwelcoming, despite we have been polite and did not do anything to upset her (the other waiters looked more friendly though). Overall, I just think it is another coffee shop, with a good location, but nothing special about beverages and food
i strongly disagree with the reviewers comments - to me their filter coffee offering is strongly dosed - certainly compared to other top level specialty coffee places such as notes, tapped and packed and workshop. one of the key things you'll note at top level places, is the filter is served at a lower temperature than mcdonalds and the like - the brew temperature is optimised to get the most out of the coffee. and often aeropress in particular, is brewed cool. i think 3 stars is a bit rough. the environment is amazing, as is the service. the food and coffee are a whole shebang better than an average cafe.
More venues
Sponsored listings