1/8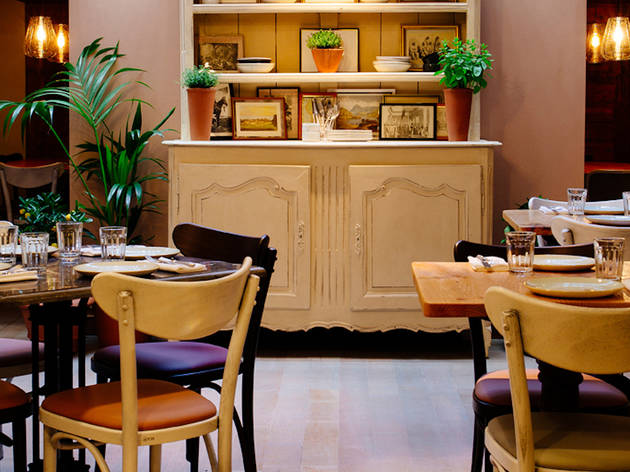 2/8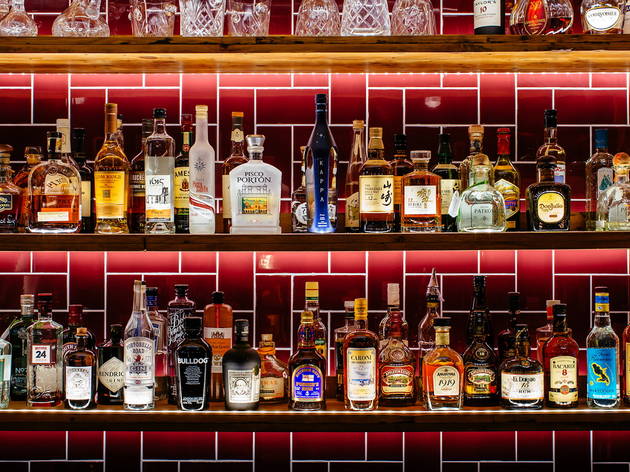 3/8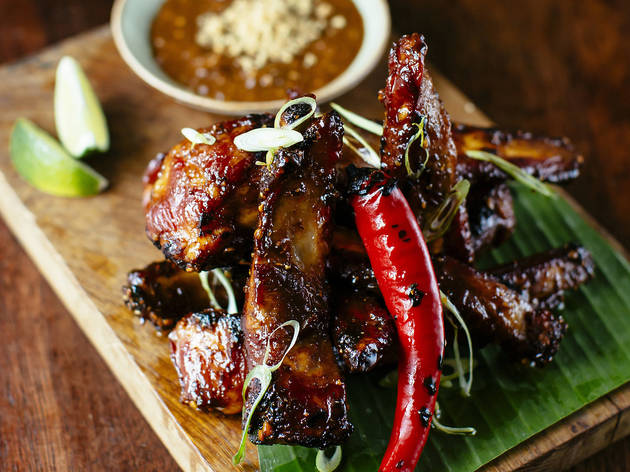 4/8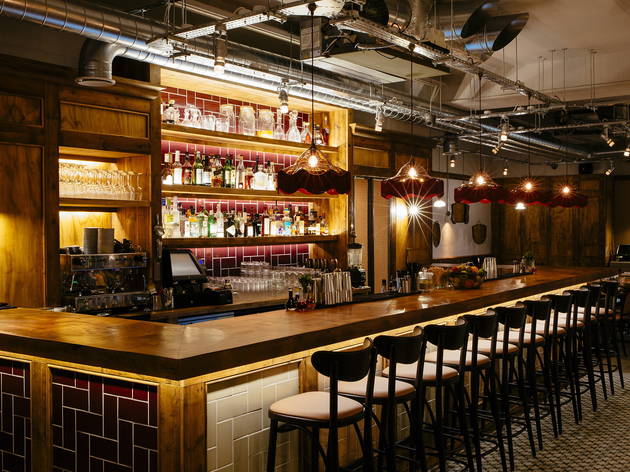 5/8
6/8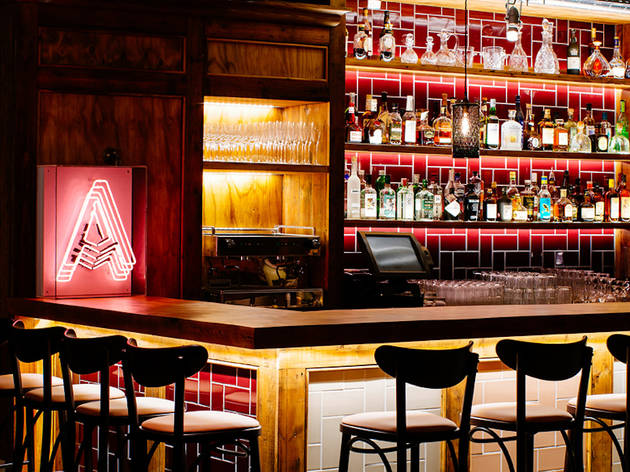 7/8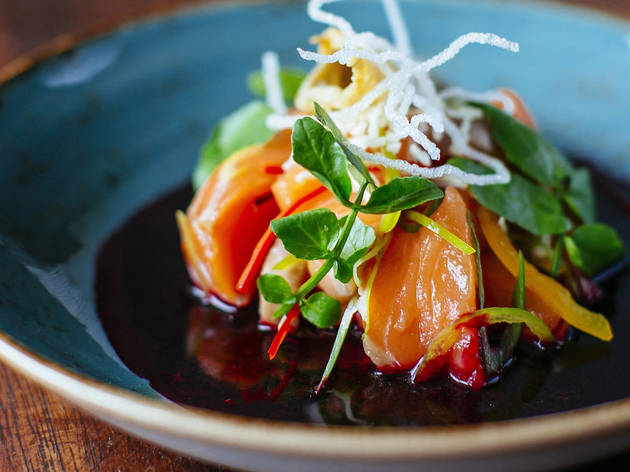 8/8
Time Out says
Fetch me a llama! I need to make a sacrifice. That's the way to show gratitude to Pachamama. In Peru, Pachamama is the goddess Mother Earth; in London, she is a new Marylebone restaurant. But the name is apt: this is a place to revere. Four pillars underpin the Quechuan cosmos (water, earth, sun and moon), and four pillars support a great restaurant: food, service, decor and ambience. This hotspot has it all – and a price tag that mere mortals can afford.
We arrived with no great expectations. There'd been no buzz about the place, and we'd have walked past the door had we not been looking for it. Just another Peruvian bandwagon-jumper, we assumed, trotting down the stairwell into the basement. Oh, how wrong we were.
Firstly, it looked gorgeous. There was a thoughtful mix of rough and smooth, like a beautiful old hacienda in the process of being done up: chunks of plaster knocked out of the pillars, pretty vintage lampshades, wooden dressers full of pot plants. Low lighting, laidback Ibiza sounds and a constant influx of impeccably groomed twenty- and thirtysomethings (where do they all come from? Are the cooks cloning them in the kitchen?) made for a vibe that was electric. Not bad for a restaurant that had been open for less than a month, and should by rights have been inhabited only by friends, family, and bloggers with big cameras. On weekends, said our nothing's-too-much-trouble waiter, the place goes from being 'civilised party', to 'party party', with a DJ on the decks from 8pm to 11pm. Wine kicks off at £4.50 a glass; all cocktails cost £8.50; the tasting menu's £35.
But the best surprise was that the food looked – and, crucially, tasted – just as good as the crowd. Modish (but never wacky) Peruvian plates combined finesse and flavour with aplomb. A terrific sea bass ceviche came with chunks of crunchy radish and tendrils of samphire – a nice twist. Dinky skewers of chargrilled veal heart on a delicate celeriac purée would have converted even fervent offal avoiders (tip: ask for the fiery salsa on the side). Then there was a sweet baked plantain, offset by crumbly, salty feta and a mild aji (chilli salsa). And to finish? A bowl of glistening rice pudding, with buried treasure of tangy damson chunks at its centre, a scoop of fragrant own-made cinnamon ice cream melting on top and a smattering of toasted, flaked almonds. Divine.
All hail Pachamama! we say. Now, where's that llama?
Details
Average User Rating
4.3 / 5
Rating Breakdown
5 star:

14

4 star:

6

3 star:

0

2 star:

2

1 star:

1
I was at this restaurant twice. Wonderful authentic Peruvian food, great friendly staff and magical cocktails, especially Pisco punch and Pisco sour !!!
Incredible experience. delicious food, highly recommend Ceviche See bass. Was very friendly service)
We booked last minute for 8 people over the phone. I.e. They were not full but they still asked for credit card details to confirm booking, which I provided over the phone.
At no stage did they indicate minimum spend.
When we arrived they said it is a MANDATORY £45 per person for food and we have to order wine. They further indicated that if we left they would charge the credit card for the full amount so we ended up staying.
We ordered 5 beers and they brought 8 beers instead. They charged us for 8.
My mother asked for a cognac with a mix on the side. They got this order wrong 4 times.
We were put in separate room and asked for aircon to be turned up. We had to ask 6 times before they did this.
They brought us lunch menus and when we asked for the dinner menus (it was 8pm) they neglected to bring them for 25 minutes and then told us to order because the table needs to be made available for another party.
The waiter was arrogant and dismissive.
We ended up spending £650 at Pachamama and left with very sour taste in our mouth.
I am a lover of food and a well traveled person and in 15 years of regular traveling this is the first time I have felt so strongly about the experience that I went to the trouble of writing a bad review.
Disgusting attitude by senior management.
Friendly environment, great music, amazing cocktails and the food travels you into the heart of Peru as our staff tries to turn your night out into a great experience.
Lovely place, local peruvian inspired cuisine. Great food, great people!
Outstanding food and attentive but not intrusive service, great atmosphere and brilliant cocktails. We did the party menu which is lots of smaller courses and they were all fantastic but especially the ceviche. I can see why Alyssa may have thought the portions were too small but I disagree - it is all about quality over quantity and that is what this sort of place is all about.
The two star rating is down to the small portions- bipolar service and pace- and no tasting menu. The menu was interesting and had lovely flavour- but portion size was incredibly small. I'd have a much bigger lunch before dinner here again. We had complete plans to try the £35 tasting menu which was not available. The staff sighed and said "I guess we could try to do something for you... "Not exactly wanting spit in our food we ordered off the menu. Our starters and mains came in rapid fire succession making what should be a relaxed dinner a 35 min drive through experience. And while our food came so fast making eye contact for a second drink was like playing wheres wally in a room full of candy canes. Disappointed overall because it so easily could have been 5 stars. Atmosphere, DJ, and pisco sours were top notch.
Amazing place! And very tasty food! Had best service. And amazing music