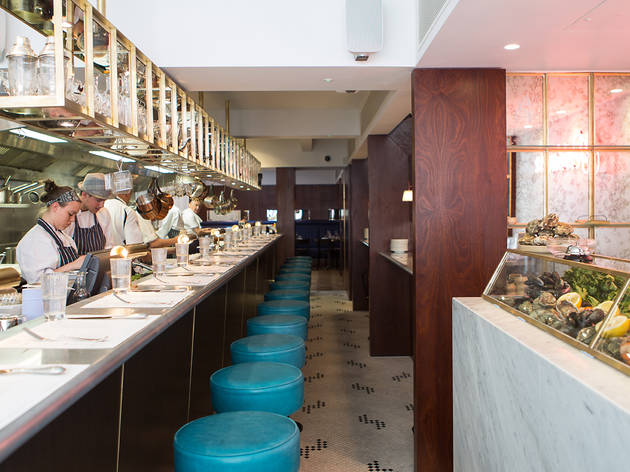 1/10
© Helen Cathcart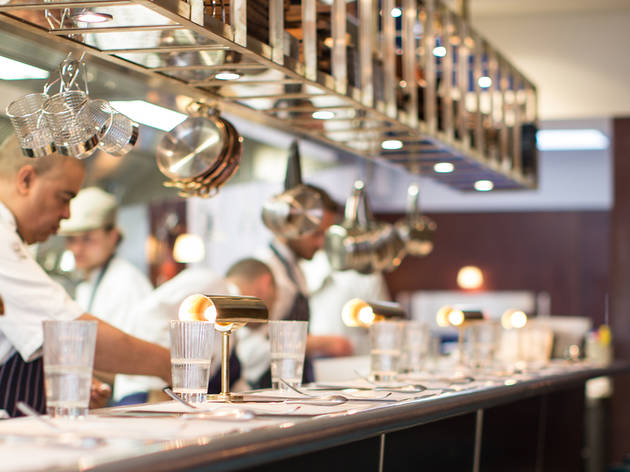 2/10
© Helen Cathcart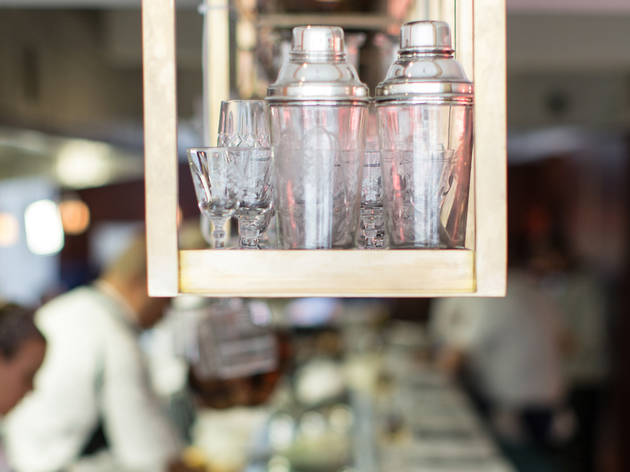 3/10
© Helen Cathcart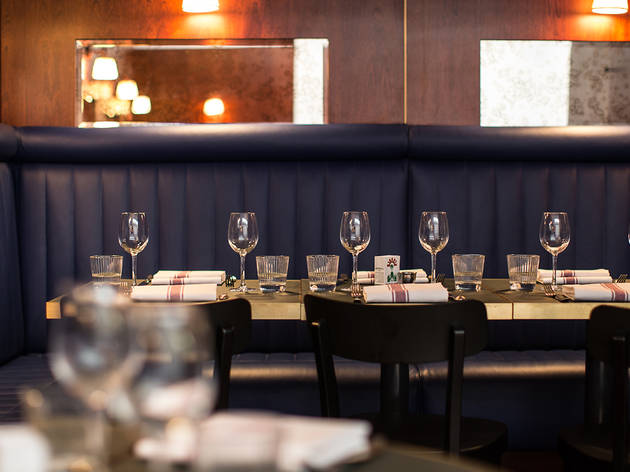 4/10
© Helen Cathcart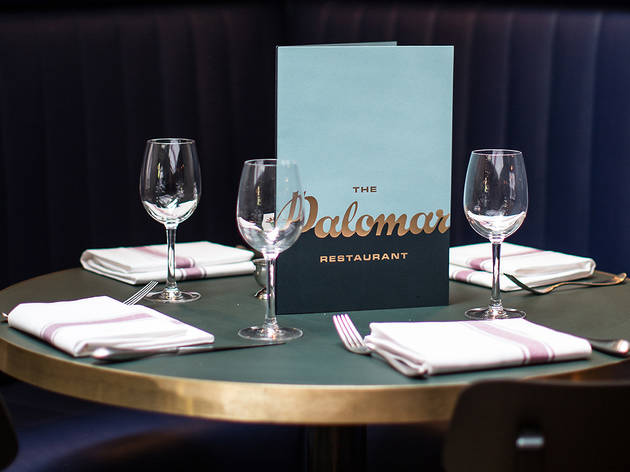 5/10
© Helen Cathcart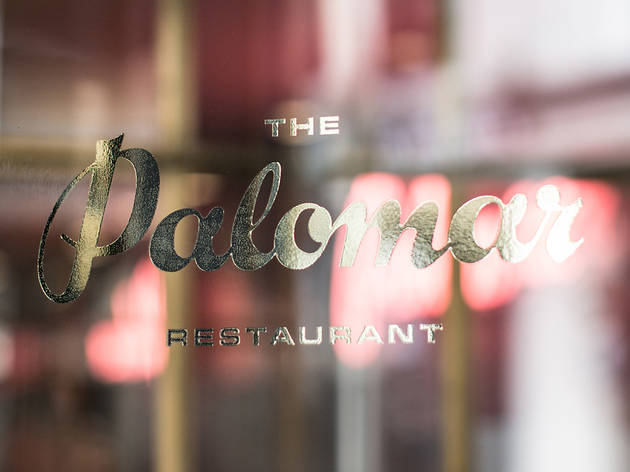 6/10
© Helen Cathcart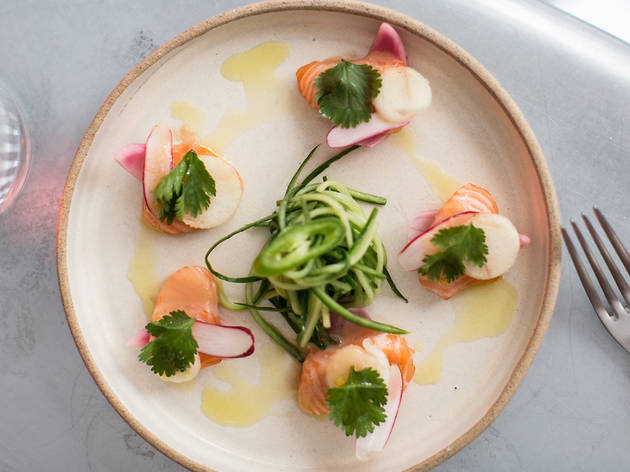 7/10
© Helen Cathcart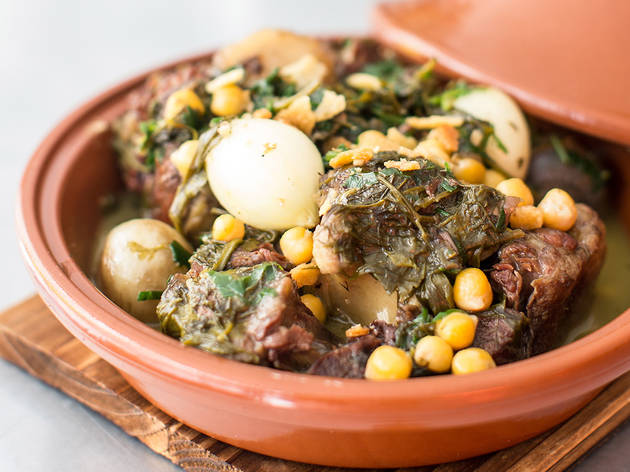 8/10
© Helen Cathcart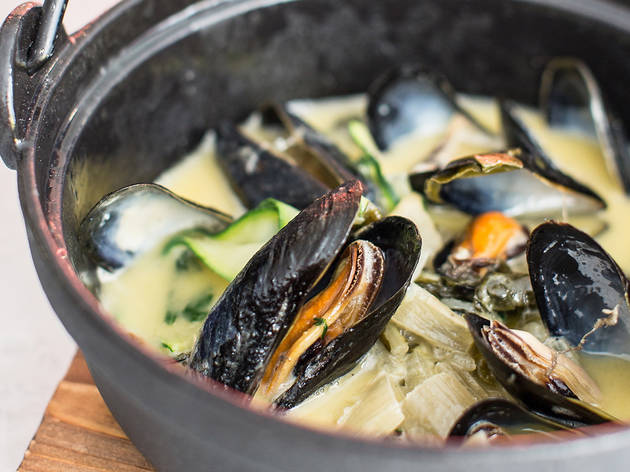 9/10
© Helen Cathcart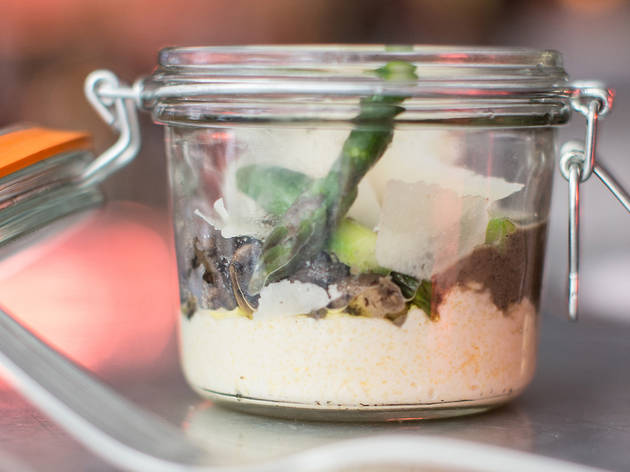 10/10
© Helen Cathcart
Time Out says
Fantastic modern-Israeli food, pulse-quickening dance music and a warm family atmosphere at the West End's most unlikely bar-restaurant of the moment.
Pulse-quickening dance music, free-flowing drink, vibrantly flavoured dishes. These are commonplace enough in Israel's fashionable restaurants, which are filled with beautiful people partying as if tomorrow may never come. London's Jewish restaurants couldn't be a bigger contrast. Many of them are still too worthy, too dull, or stuck in a kosher past that doesn't innovate with dishes. But the London Jewish restaurant scene has just bucked up with the arrival of Palomar. Run by two Israeli-born nightclub entrepreneurs, it's become the West End's most unlikely bar-restaurant of the moment.

We were greeted like family as we arrived and were seated at the bar. These first-come, first-served counter seats have the best view in the house, as troupes of people squeezed past us along the narrow corridor of the bar, through to the leather-upholstered banquettes of the equally cosy restaurant at the back. Many shaloms are exchanged as new arrivals bump into acquaintances or friends. The convivial feel is helped along by the huge ratio of staff to customers, ensuring a glass never goes empty.

Our waitress talked us through every dish – the full restaurant menu's served at the bar – with the smooth efficiency of an El Al air traffic controller. A 'raw bar' is also squeezed into the unfeasibly tiny entrance area, doling out the cold dishes. The menu's not kosher: not with seafood such as a octopus tentacle, served Spanish tapa style with chickpeas, spinach, mallow leaves, yogurt and a kick of chilli. Dairy and meat also mix in this kitchen, for example a scoop of finely chopped beef with bulgur, tahini, pine nuts and herbs, a dish you might find anywhere in the Middle East – called kubania in Hebrew, kibbeh nayeh in Arabic.

Many of the dishes are recognisably Sephardic, that is, gathered from the Jewish diaspora when the family tree grew vigorously through North Africa, Iberia and further afield. The Yemeni-style bread, kubaneh, was our pick of the starters: a yeast bread baked in a tin, it's tipped out still piping hot, to be torn by hand and eaten with rich tahini and tomato dips.

Tempting though it was to order the pork belly tagine for novelty value, we opted instead for the more orthodox Moroccan-style chermoula-stuffed sardines. The coriander-slathered oily fish, served with Moorish shards of fennel, orange segments, olives and almonds, was an appealing explosion of flavours and textures. Our favourite though was the dish called 'shakshukit' – no relation to the vegetarian dish of baked tomato and pepper dish called shakshuka, but a spicy mincemeat dish served in a swirl of tahini and yogurt, with freshly-baked round laffa bread: the tastes of the souk.

Palomar transported me straight back to the Tel Aviv party scene; now, it seems, the party's come to London. Jew or Gentile doesn't matter here, but as well as being prepared to explore modern Sephardic cooking, bring an appetite for fun.
Details
Address:
34 Rupert Street
London
W1D 6DN

Transport:
Tube: Leicester Square or Piccadilly Circus
Do you own this business?
Average User Rating
4.4 / 5
Rating Breakdown
5 star:

16

4 star:

5

3 star:

2

2 star:

1

1 star:

1
Sure it's great but never made it there. Received a call in the cab en route to say they couldn't accommodate us. Appalling.
Pretty tasty, great atmosphere, a little bit pricy for what you get, seems like all their good chefs have moved on to the Barbary.
I want to start by saying that this is such a great place. Although a little tight with space as you can see from image 1 (a bar in a hallway some might say). Still the space is quite enough and when you are sat down you become none the wiser. The staff are brilliantly efficient and so friendly and the food divine.
I've pretty mush have had most of eh food on the menu from the bread to the salmon to the beetroot...the list goes on. Every dish I tried and every taste was delicious. For dessert I have the Jerusalem Mess and oh my it was not a mess at all! The Eaton Mess has been one of my all time favourite desserts and at Palomar they now how to mix flavour with texture and make the dessert something you want to go back for again and again.
A great place with a good atmosphere, brilliant staff and delicious food.
Amazing food and service. I was worried after booking this place that it wouldn't live up to the hype, however, it definitely deserved it's reputation! It's definitely worth booking ahead, as it's a very small restaurant. The dessert was also just as good as all other food!
Brilliant restaurant with delicious food. On a rainy Saturday lunch time, this really was like walking into a Jerusalem cafe. The atmosphere is electric and chaotic; good music, friendly staff, buzzing bar and an oyster counter. Sit at the counter to be in the thick of it or for a slightly more private dining experience, sit at the tables in the back. The deconstructed kebab is delicious, as is the steak tartare. Highly recommend!

AMAZING!! The best restaurant I've ever been in my life. Food was fresh, clean and smell very well.
Extremely Yum! managed to get a table on a friday evening prior to The Book Of Mormon. Incredible food amazing ambience. The place oozes confidence the staff just love working there and you can tell that they all seem to be having a great time, in turn you feel good. definitely worth a visit.

Loved The Palomar - I'm only annoyed I didn't visit sooner! Unusual and delicious food, fun atmosphere sitting up at the Kitchen Bar, and not too pricey.
Palomar (English): Mount Palomar, a mountain in Southern California, northeast of San Diego, height of 1,871 m.
Palomar (Spanish): a shelter with nest holes for domesticated pigeons.
I've no idea why it is called Palomar. What I do know though, is it is very very good.
Every time I tried to book a table online I was rejected. What was I to do? Give up? Turn up and hope for the best? We opted for the latter on Saturday evening. We turned up at 7pm to find a hubbub of people outside and one of the managers with a clipboard. She took our name and phone number down and we went for a drink, anticipating a two-hour wait. Our call came early though, after just over an hour, so we walked back, at a brisk pace to ensure our space wasn't given away.
We were shown to our space at the bar, on the far right, and were greeted by Thomas, second in command in the kitchen. Not only was Thomas second in command; he took our order, served our food, answered our many questions, discussed life and love with us and plied us with shots.
We ordered the seven course tasting menu to ensure we didn't miss out on anything special. Each course was spectacular. Salmon carpaccio followed by "kubenia" (extremely finely hand chopped beef fillet with bulgur, tahini, herbs, pine nuts and tomato). This was really great as it was very unlike any raw beef dish I'd had before, and beautifully presented.
Next came "Polenta Jerusalem style" (asparagus, mushroom ragout, parmesan & truffle oil with a poached egg). This dish was perfectly sized as any more could have been slightly too rich and any less would leave the consumer wanting more. This was followed by a risotto with salmon then sea bass and mackerel with braised cauliflower.
We then had onlget steak with a financier (a small, spongy French cake) with a blueberry sauce served on the side in a very miniature saucepan, the whole dish nicknamed "steak 'n' cake." It makes dining out far more interesting when you try something for the first time. This was definitely the first time I had mixed steak with cake and it was pretty liberating, if a little confusing for the taste buds. A very loose comparison would be a chocolate covered pretzel (sweet yet salty).
The final course was a multi-faceted dessert; chocolate cremeux (eaten with a spoon but denser than mousse) with puffed rice crunch, pomegranate coulis and cocoa tuile, labneh ice cream, tahini ice cream and raspberry cheesecake. I adored the chocolate, and thought it went superbly with pomegranate coulis. The labneh ice cream tasted a little like frozen yoghurt but better, and the malabi was delightful. I'm afraid to say I didn't like the tahini ice cream; I have no doubts that if I were to compare it to rival tahini ice cream this would win hands down, but the flavour and texture are quite unique and unfortunately not my favourite.
Every so often an 80's classic would start playing and the whole Palomar team would sing along, Tomer (head chef) would drum away at the kitchen counter and the shots would come out. It felt like a more upmarket version of the bar in the movie Coyote Ugly. We didn't want to leave (but were so full that falling asleep then and there would otherwise have been inevitable).
The tasting menu plus a carafe of wine came to around £60 per head, but ordering from the regular menu would make it significantly cheaper. It was worth every penny though, and I thoroughly recommend going without a booking and waiting to sit at the bar to get the full experience. I enjoyed Palomar so much I'm going to create a rating system just to give it ten out of ten:
Rating: 10/10
I'm well versed in Israel's foodie scene, including Assaf Granit's Jerusalem hide-holes, so I expected a direct replication in London. But London is not Tel-Aviv, not even Jerusalem. The food was similar, but everything was a little less fresh, a little bit blander (a result of our climate, no doubt, but also finished with less devotion and attention to detail); the atmosphere lacked that friendly informality that makes Israel's best restaurants so compelling. Yes, there were smiles from the staff, but the interactions were forced rather than fun, everything was correct and worthy rather than vivacious and chaotic. I can see why the Palomar's been embraced by London: you can almost feel what it is aiming for, and in a city so strangled by the serious business of social convention, even its slightest crack comes as a breath of fresh air. But Honey&Co does the real Israeli experience oh so much better (though it replicates a Tel-Aviv lunch rather than a Jerusalem dinner), and The Palomar isn't what it could be. It's a start, though...
Superb food, lovely staff, great atmosphere, fabulous time had sitting at the bar watching it all go on.
Amazing place. The food was just fabulous ! Every dish was WoW.
Finally something new and fresh in London .
The service is superb and the cocktails where 10/10.
Will be back here for sure asap.
All the best!