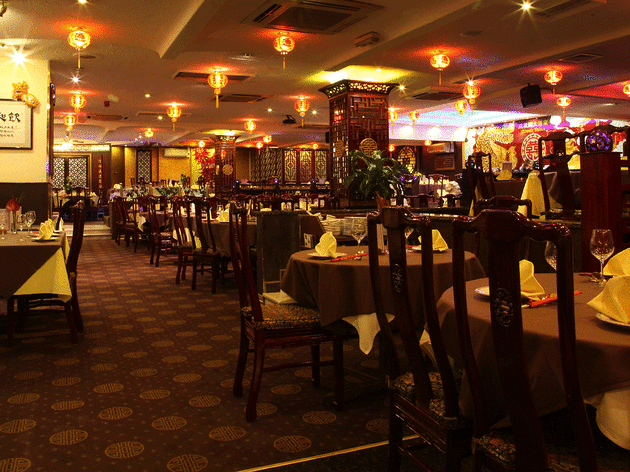 Time Out says
Very large, very high-class, very good Cantonese cooking both from main menu and dim sum list - don't fail to book if you're heading there for a weekend lunch.
The rule of thumb in Chinese restaurants is to look around for diners of Sinaean extraction and be sceptical when you don't see them. That said, Phoenix Palace's dinnertime abundance of well-fed, tie-wearing western and south Asian men in late middle age is an endorsement; they're the international businessmen used to the Cantonese food served in the upmarket Beijing, Shanghai and Hong Kong spots that this large restaurant most resembles. Expensive, heavy Asian wood decor, and Molton Brown hand cream in the women's toilets emphasise the similarities.

The arena-like layout of raised tables on the edge of the central dining area is good for people-watching, and spying to see which tables are being the most bold with the expansive menu. The crispy duck pancakes here aren't London's best, but they didn't disappoint. Scallops in crispy green fried 'bird's nest' were tasty, though we suspect the MSG kick had been diminished for western palates.

Service can let things down, with the occasional lengthy wait between courses, but the excellent har gau (shrimp dumplings) are a reminder of why reservations are a must for weekend dim sum – unless you want to queue for more than an hour.
Details
Address:
5 Glentworth Street
London
NW1 5PG

Transport:
Tube: Baker Street
Contact:
Do you own this business?
Rating Breakdown
5 star:

2

4 star:

4

3 star:

3

2 star:

2

1 star:

3
It was our favourite restaurant last 10 years, but we will never go there in future. There are a lot of Chinese restaurants in London. Thanks God. My daughter wanted to have a birthday party and hire VIP room there. They made a reservation for her. She send them the menu for the party. We went to them to make a pre-payment, but they said it is OK, because they know us so many years and prefer cash on the day of the party ( very strange! ).
At last just 2 days before the party they called us and said that VIP room was booked for somebody's bigger party and offer us just a table in the restaurant. We refused and had to find another place for all my daughter 's friends and re-write the invitations for them in a hurry. So don't trust the people from this restaurant.
Only been for dim sum, but it's a really solid menu with the odd surprisingly inventive, palate pleaser (wasabi basted crispy king prawns, anyone?). If you want a reservation, you have to call up the day before, unfortunately (they won't take bookings for Sunday afternoon on the day). But it's a huge place, and even with people who've booked in advance being given preference for available tables, we only had to wait for about 15 minutes at peak time. It does get hectically busy on a Sunday and service can be a bit distracted at peak times (but to echo other comments below: not rude. They're rushed and occasionally hard to flag down, but always polite). There's a reason that it's consistently rammed: very decent food in surroundings that are a cut above your standard Chinatown bargain basement joint. If you're after trying out the city's best dim sum, this place should merit a visit at least once.
The inside of the restaurant is magnificent, exactly how a top Chinese restaurant should appear. They have large tables for bigger parties but also offer intimate smaller tables in secluded areas. The service is not the quickest, but given the size of the restaurant I would not describe this as a major issue unless you are extremely impatient with getting your food. The food is very good; I had a spicy duck dish last time that was as good as any Chinese restaurant I have been too. There are probably better Chinese restaurants in more up-market areas of London, but Phoenix Palace is not over priced and so I was very satisfied with what I received.
Best Chinese Restaurant in London for Dim Sum, dinner & party banquets. Very friendly, courteous, helpful and polite staff. Excellent quality of food. High recommend.
I have been coming to Phoenix Palace regularly for about 10 years. It can get quite busy, but I've never had a bad meal here, and while I would agree that the service can at times be rather "business-like", I have never found the staff to be rude (I do not recognize some of the comments below). The food is pretty much all very good. They are good with children and the vegetarian selection is good. On its day it is a 5* choice, but I'll give it 4 because they charged me GBP 2.00 for prawn crackers last time I was in and it's not like the rest of the menu is underpriced.
I have been to Pheonix Palace on a number of occasions and after a break returned to have the worst experience in a restaurant ever. Having spent nearly an hour waiting for our main courses, we were repeatedly told it was "on its way"; of course proven false on each occasion. Finally I requested to speak to the manager, who advised we leave because we would not receive our food soon. Nothing short of rude and obviously the last of my visits to Pheonix Palace. I know the food to be good here, but not worth putting up with the rude staff. Dining is an experience and there are many other worthy ones in London.
Some dim sum very good but a lot very average. would not rush back.
Lunch for two today. A big mistake. The "consommé of vegetables" was some few bits of random vegetables in lukewarm tasteless water (in a very small bowl). To our question 'what is the beef soup', the moody, unsmiling waiter answered 'it is a soup with beef'. beignets of lobsters seemed fresh, but so drowned in oil that the taste of the seafood was lost. My friend, who had had a good experience at this place in early 2012, ordered kangaroo meat and found her dish dried and flavourless this time. A plate of spinach was uninteresting in flavours and overly priced at 11.80GBP! An upside? Enough space between tables to have a personal/business conversation. But one can find a similar setting on Edgware rd, for half the price. The bill, for which we had to ask many times came at 76 BP (the only drink being tea). We ask for the service charge to be taken off, which was done promptly by the smiling waitress (unfortunately, she hadn't served us). The tacky decoration could be fun if the place wasn't so pretentious: cheap paper napkin at that level of price!
Decided to try phoenix palace as I am very keen on cantonese food in particular and i thought i'd try somewhere different. i dined with my father and our first experience from walking in was shocking. waiters left us standing at the entrance waiting to be seated for a good few minutes when the restaurant was at less than 20 percent capacity and well staffed. Finally we sat down and tried to order drinks but on two occasions we were stared at by the waiter then ignored. now for the food. ordered as appetizers, lettuce wrap vietnamese spring rolls which were very good and wonton soup. The soup was cloudy, flavourless and was like having a "chinese takeaway" style soup. For main course we chose crispy fried eel fillet with salt and chilli and mixed rotisserie meats (crispy pork belly + roast duck) The eel was cooked perfectly however the actual quality of the eel itself was questionable. It was very fishy and left an unpleasant after taste which suggests this was not fresh fish and at £20 for a dish barely bigger than a starter this was totally unacceptable. The roast meats were very average, crispy pork was ok, the roast duck was dry and not a touch on the delicious roast pork and duck you can find in china town. at all times during the meal the four waiters and three waitress' serving had their backs to our section of the restaurant accept they seemed to be incredibly attentive to the chinese couples sitting on either side of us...hmm?. The bill came to £72, I told them to take the service charge off immediately. They took it off straight away but didn't even think to ask why i was asking for the service charge to be taken off the bill, most restaurants would require some sort of explanation to why you didn't think their service was up to scratch. The only reply I got was "sorry sir", This tells you a lot about what kind of restaurant this is. This is the kind of restaurant where wealthy tourists who know nothing about cantonese cuisine or good chinese food in general go and waste their money and i feel embarrassed that i picked this restaurant out. My advice to anyone reading this who wants great authentic cantonese food, is to save yourself £70 and go to chinatown and enjoy yourself. I will credit this restaurant on two things only. Its got quite a nice atmosphere especially if your with a group of people which a lot of restaurants in and around chinatown don't have and the steamed rice is served in nice wooden pots. I don't know which was worse the food or the service, but i will never eat her again.
Pleasant surprise, excellent deco. Food tends to be promptly prepared and orders filled in matter of minutes. Busy, and yet services are prompt. Though less impressed with the lack of interactions from the waiters, as they go about their jobs like machines, but then they don't chase you out once you finished your food. Recommended.
Really excellent dim sum, including some Japanese-influenced dishes that I hadn't tried before (Wasabi Prawns, cold baby octopus, etc.). Staff very helpful, charming and polite. Bill came to 33 quid for two including tea, beer and service. A fantastic place which I will certainly visit again soon.
I go to Phoenix Palace regularly, because after tasting mostly all the good Chinese restaurants in London, I think this is consistently the best Chinese food in town. Although the service can be a little rushed sometimes, the waiters are polite and willing to please. Every dish in this busy restaurant in excellent.
Snap up exclusive discounts in London
Time Out's handpicked deals — hurry, they won't be around for long...