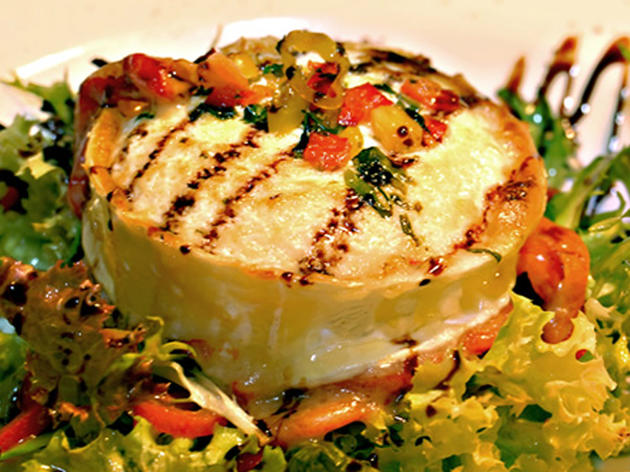 1/10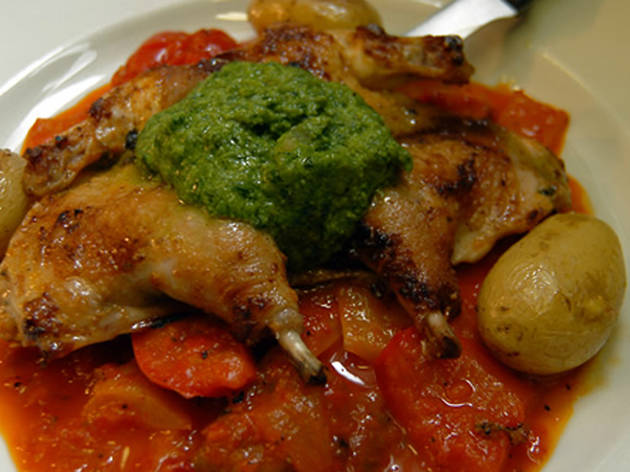 2/10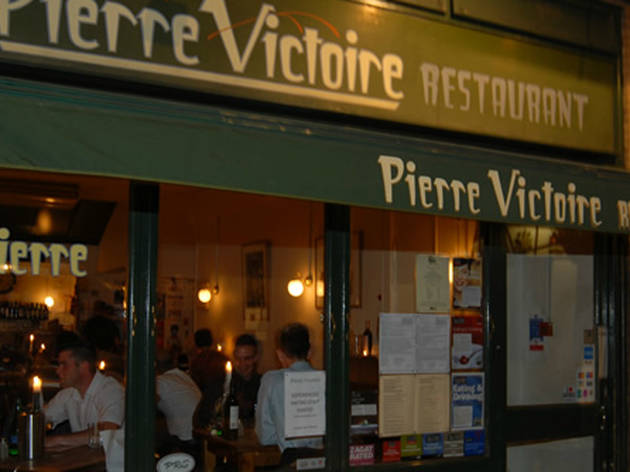 3/10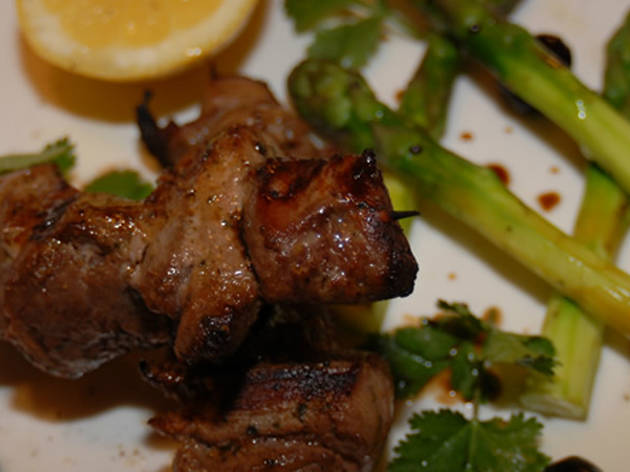 4/10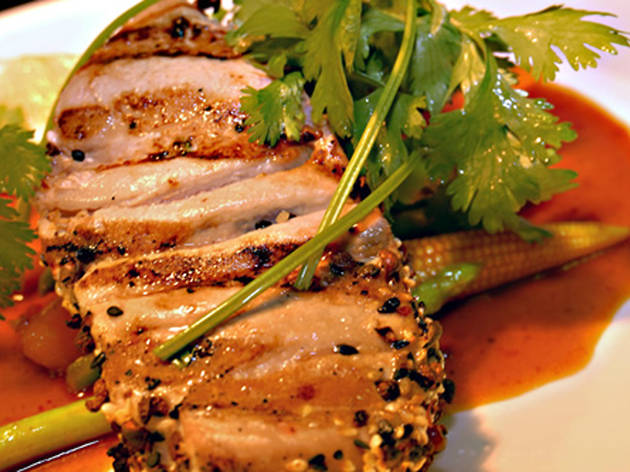 5/10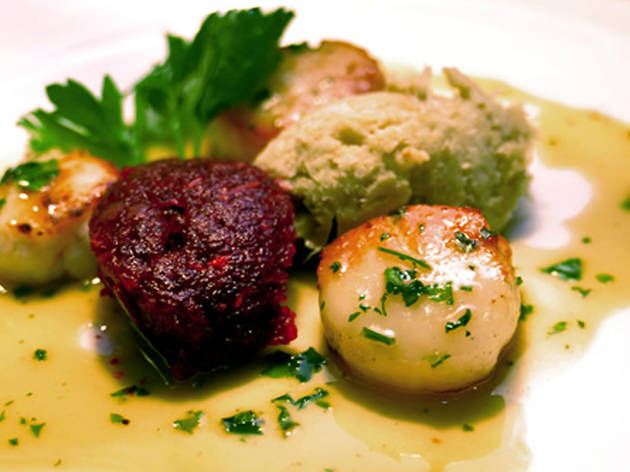 6/10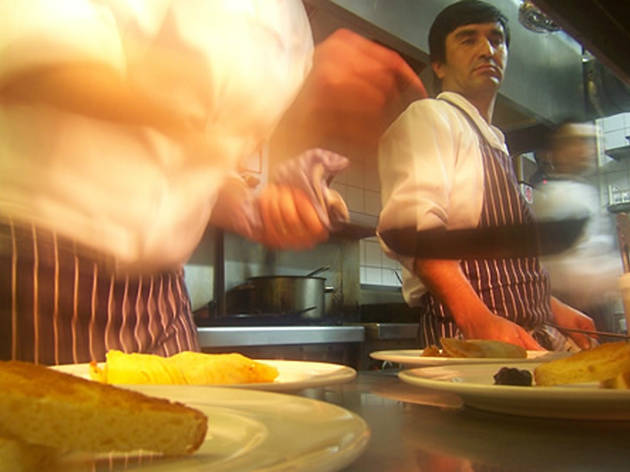 7/10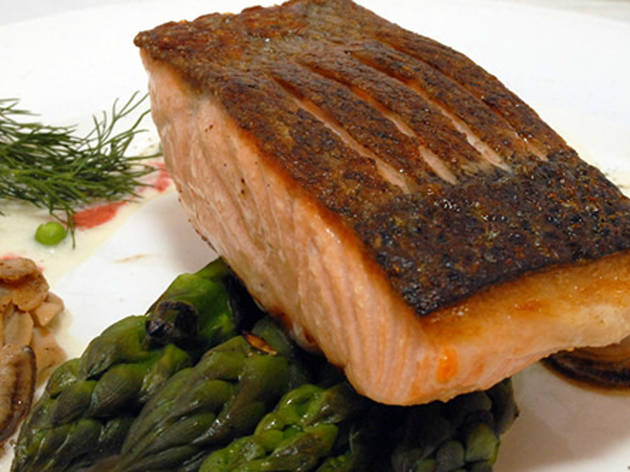 8/10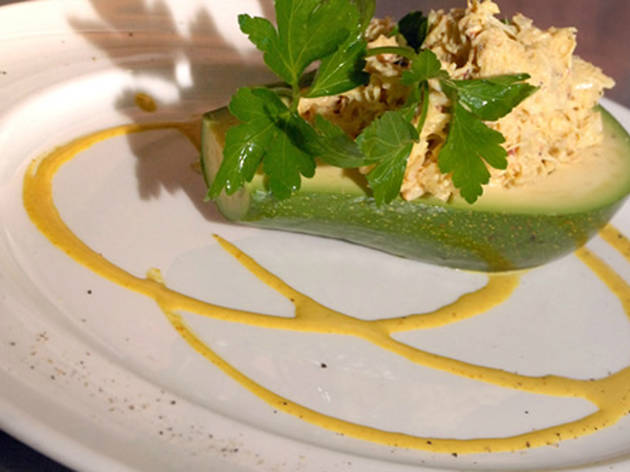 9/10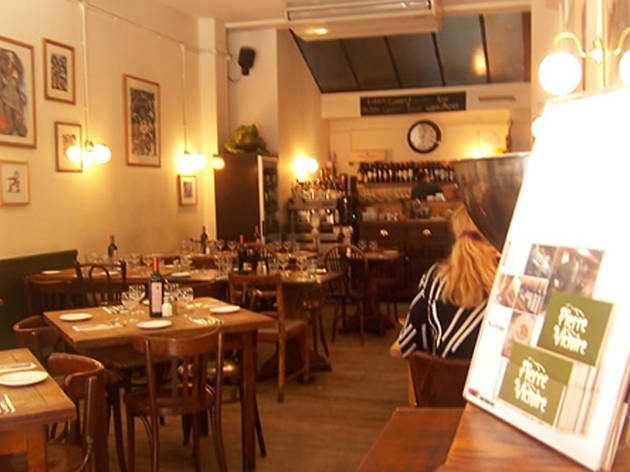 10/10
Time Out says
The last couple of years have seen an influx of high-quality, cheap barbecue shacks into Soho – so is the competition making this cosy, Gallic dining room feel dated? The hordes of after-work twirtysomethings who continue to pack it out certainly don't think so.
There are undeniably antiquated touches: staff attempt to lure customers into spending £10 more than the price of house wine by plonking £25 bottles of Chianti on tables. And the astonishingly long menu (15 starters and 18 main courses including no less than four variations on steak- frites) tends to opt for quantity of over quality. A portion of mushroom parcels featuring big, tacky pastry squares with scant filling failed to impress; neither did the chewy skin of twice-roasted belly pork served with dry mash; but the rich tomato ragoût topping tender spatchcocked baby chicken was better.
Cooking might be variable, and mains cost a not-inconsiderable £13 or thereabouts, but there's no denying the charming, low-lit ambience of this perennially popular restaurant. It has a sense of humour too. The main stylistic touch paying homage to the venue's French theme? A giant plastic frog squatting in the corner.
Details
Address:
5 Dean Street
London
W1D 3RQ

Transport:
Tube: Tottenham Court Road
Contact:
Do you own this business?
Rating Breakdown
5 star:

7

4 star:

4

3 star:

1

2 star:

0

1 star:

2
Very cosy French restaurant yet in the centre of London. Ate there on New Year eve. Staff were very friendly and helpful despite being very busy.
Food was good and sensible portions.
Will return for sure
I love this place - my boyfriend took my for my birthday and it was such a great spot - relaxed yet cosy with a nice intimate feel. The food is great for the money and the pre-theatre and lunch time menus are something we have since gone back for many times, and these are great options. The staff are not pushy, so you do not feel like you're being pushed out to make way for more people. It gets busy though, so best to book a table. Wine is also excellent
Absolutely Loved it. The review is spot on. The food is fantastic, the menu, while simple has such a wide range, and between the 3 of us we all had different meals, and we all loved it. The Wine list is really good, and the desert, well, The Chocolate Mousse, Well. And best of all, everything, including the wine, is very well priced. I will go back again and again.
I took my mum to this lovely French restaurant in Soho thanks to the wonderful time out offer of two courses and a drink for a 10er. And let me tell you it was the best freaking tenner I've ever spent! the food was delicious the service great the staff wonderful and really looked after us we didn't feel rushed even though they were super busy they allowed us to eat at our own pace and didn't hover around us.
Although we were restricted to a set menu there was plenty of choice and all looked as yummy as each other which made choosing what to eat seriously hard.
I would highly recommend the Bavette steak with classic Shallot bordelaise sauce. The meat was tender and juicy and also a decent size, and oh my god the tartan was to die for the apples were caramelised to perfection and had a lovely toffee apple taste. I could definitely eat it all day.
we loved it so much we can't wait for our next visit.
I know this restaurant has a lot of good reviews , so this may come as a surprise however my visit was a terrible experience. The head waiter (the one with the beard) came up to my table which was a table of 6 people which we reserved, and told us half way through our meals to HURRY UP as they were getting busy and that they wanted us to leave by 7 o'clock. Also while we were eating the waiters kept hovering around the table, giving us nasty looks and picking up our plates before we had finished our meal to make us uncomfortable so we would leave. Many of you may not have the same experience as i did but i have been to many restaurants and not once have i been told to hurry up only after an hour of first sitting down. i will not be going back there ever again. I have never reviewed a restaurant online before but this experience was so terrible and shocking I felt I needed to warn people this restaurant is very rude...very stuck up!
Sister venue to Prix Fixe further along Dean Street, Pierre Victoire offers the same winning formula. The same set menu is offered at two different prices depending on whether you are having lunch or dinner. The stripped back decor and casually friendly service mean the experience feels genuinely rustic French. Unlike many other places which give the impression the set menu is a way of getting rid of leftover food, here the frequently changing fare is an inventive mix of classic French and modern English, all of it delicious . Go at the end of the lunch rush and before the tourists start turning up for the pre theatre dinner slot.
Went yesterday with my dad and my friend. The staff was very kind, even if the place has a rather informal format, they looked after us pretty well. The atmosphere is great, I've certainly been thinking about Paris all the time. The menu is SO large! We were reccomended a very nice wine, had starters that we shared with bread, lovely mains (I went for the duck, and they have many vegetarian options as well) and dessert (don't miss the créme brulée !). The bill was £ 87 and after leaving the place we were rolling rather than walking. Definitely coming back!
Not the best experience I've had, but far from the worst. Service was a bit lopsided, with about five waiters serving us and food arriving a tad late. Food however was tasty and rustic. To begin with we had the scallops and salmon. Scallops was underseasond but salmon good. For mains we had a cheesy Cod and a large portion of duck which both made us feel happier about the evening. Finishing of with the apple tartan and creme brûlée which both were what you can expect. All in all the evening was all right but I think I would recommend going here when the place is less busy, we went on a Saturday night round 9.
A gem in London!! Excellent Food, Excellent Price and Superb Service!!! We were there November19th 2011
Fantastic food and great prices! All round great atmosphere and restaurant...