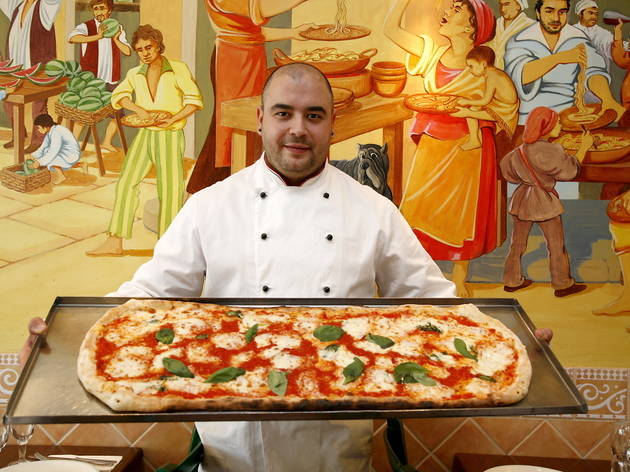 Some ten years after opening London's first 'long pizza' parlour, and with the aid of the capital's allegedly oldest wood-fired oven, Pizza Metro's popularity remains undimmed. The Battersea restaurant – now prettily done up with terracotta tiling and ochre-washed walls lined with copper pans, film posters and murals of Naples – is a magnet for local families. Kids poke at the fish tank, sit astride the Lambretta and tuck into that joyous combination of pizza and meatballs all on one plate. Adults enjoy the 'point of difference' aspect of a steel tray bearing a length of variously topped pizza hauled on to the table, with everyone cutting off portions as they eat – at the least it makes mixing and matching easy and sociable.
The pizza bases are sound, if not the best, and the toppings fresh and reliable. Ours ranged from a basic margherita and truffled porcini with rocket to the improbably named CiCCioBoMbA – a bit of almost everything including those meatballs (sizeable, tender, juicy). Other starter and main-course options abound, but the long pizza is the draw. Drinks are basic yet well priced, and the outsize personality and caricature accent of the manager are thrown in for free. It's spoilt a little by the hard sell on desserts – unappealingly paraded under your nose – but the crowds still come.
Venue name:
Pizza Metro
Contact:
Address:
64 Battersea Rise
London
SW11 1EQ

Opening hours:
Dinner served 6-11pm Mon-Fri. Meals served noon-11pm Sat, Sun
Transport:
Tube: Clapham Junction
Price:
Main courses £8.50-£16.95
Menu:
View Menu
Do you own this business?
You may be interested in:
Average User Rating
3.6 / 5
Rating Breakdown
5 star:

6

4 star:

1

3 star:

1

2 star:

0

1 star:

3
Best pizza in London. Friendly staff. I've been going there for years and I've never been disappointed. Friends I've taken there loved it too.
Pizza Metro on Battersea rise is absolutely delicious which was a brilliant surprize as I usually only love pizza express!!!!!!! It has to be the most authentic Italian restaurant around, from the Italian relics and mural on the walls to the Italian pizza dough throwing makers, to the waiters and the revellers - all Italian! At one point the waiter burst into song, true passionate and creative Italian styley. I would go again as I also enjoyed the novelty of sharing the HUGE pizza with our special sections with my companions.
Pizza was good (as per) BUT service was absolutely shocking! We were a party of 10 & although our starters came out promptly- we then had to wait 90 MINUTES for our mains. And when it did arrive- 2 of the pizzas were wrong & they'd messed up the order completely. When we kicked up a fuss on receiving the bill, the Manager was SO rude to us and said he wouldnt take any more than the 12.5% service off (which, if i'm not mistaken, is optional anyway?!) He got really nasty & tried to palm us off with free desserts- which we did not want. We ended up refusing to pay for the wrong & messed up orders. Anyway- it breaks my heart to say it as the food is good- but due to the service & attutude of the staff- i will NEVER be returning :(
True Napolitean style pizza, perfect in every way. I've been back time and time again and never been disappointed.
Moved into the area recently, and was looking forward to visiting Metro on a weekday evening. Seated quickly enough, but from there the service declined on a steep downward curve. It took 10-15 mins to order drinks, and then a good 30 mins for our starters to arrive. I mentioned this to our waiter who apologised blaming a new ticketing service. Low and behold, exactly the same thing happened with our mains and after pointing this out after another half hour, was promptly ignored by the waiter. Walked out straight after, worst service I've ever experienced in my life.
Finally had a chance to sample the food at Metro's. Lived up to what I have heard and more. Atmosphere friendly, fast service and left to enjoy the super tasty pizza. Friends I was with also enjoyed their food and were very impressed. Will definitely be going back again.
Excellent food but absolutely terrible staff. The waiter in charge was incredibly obnoxious to the other staff, shouting at them and even being physically rough. He was slimy and came across as very insincere with the customers. Added to this, we had to wait a very long time for our pizza and eventually asked if we'd been forgotten about. They almost certainly had made a mistake, as it took slightly over an hour for it to arrive. The restaurant itself is pretty cramped and it's hard not to really annoy the people next to you if you have to get up at any point. It's also extremely noisy, probably owing to the number of people crammed in. The huge gong which was produced along with a dire and cringe-worthy chorus of 'happy birthday' sung by the freshly abused staff didn't help. All in all, while the food is good, the poor service did spoil the meal. The inclusion of 12.5% service charge on the bill didn't improve our mood on leaving - it was a relief to get out of the place.
I went there yesterday with my 4 month old baby and a friend. I can empathise with CDNB as it is a very popular restaurant with families. We were sat next to the same scooter and a child wedged her way through and clambered all over it with no one saying a thing! So I just assumed it must be stable and ok with the staff and parents. For me it was a relief that the staff were great with my baby, didn't rush us but were very attentative and accommodating of the buggy. The food is seriously good, fresh ingredients, plentiful and really tasty plus reasonably priced. When you've got a wriggly baby on your hands, breast feeding as discreetly as possible and trying to eat your meal it helps to be in a great place like this. I just wish I'd left a bigger tip!
Well I'm not sure if it was because it was a Sunday afternoon but the place was overrun by kids. We were the second table to arrive and were seated right behind the first who had 2 kids. The next group was then sat next to us who also had 2 kids who proceeded to climb all over the ornamental scooter right next to our table without the parents or staff saying anything. The next group came in with 4 kids and we then had 3 of them climbing all over the scooter, at this point we asked to move to which the waiter asked 'why?' as if he didn't notice the jungle gym right next to us, we were then sat in the corner out of the way. Soon after that a large group with more kids showed up and we were asked to move so they could park their HUGE pram next to their table. The kids didn't end there and 2 further groups arrived laden with kids before we left. Now I have no problem with kids but between the kids running amok, parents who couldn't care less and the staff who acted as though it was the norm it made it hell on earth if you wanted a simple Sunday lunch and I couldn't eat my food and pay so I could get out fast enough. Now the food was good, starters were average but the pizza saved it for them, both pizza's were served on a massive metal plate which was original and they tasted great. So in short, unless you have kids and don't mind going somewhere while they and loads of others run around like crazy then definitely go, if you don't then give this place a very wide berth!
Pizza like back at home! Based on the same idea as the Metro Pizza in Vico Equense, near Sorrento, where people drive for hours to try it, Battersea Rise Pizza Metro has a great pair of pizza makers from Napoli who produce the real thing with perfect dough and sweet tomato sauce imported from Italy.
More venues
Sponsored listings