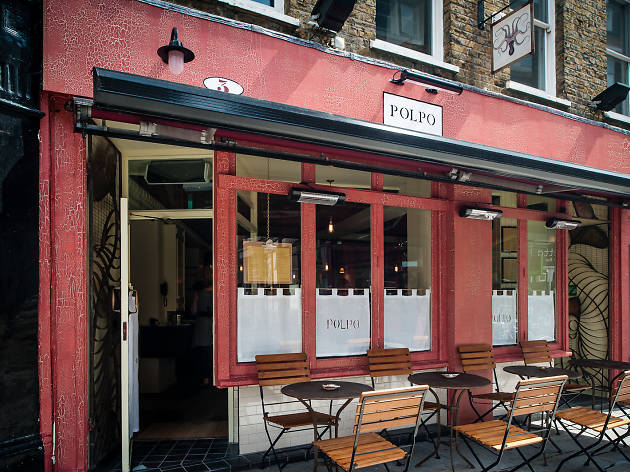 1/5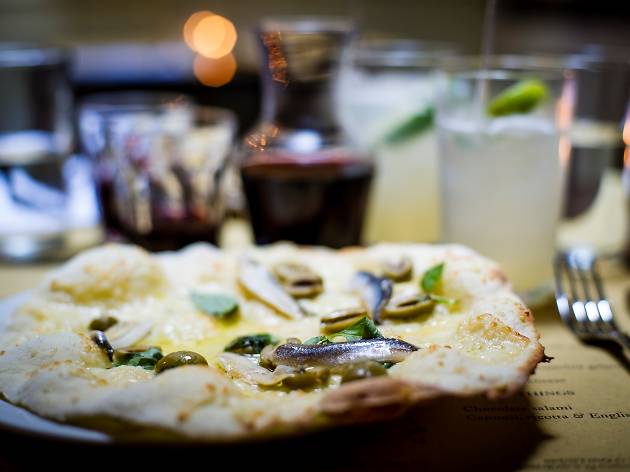 2/5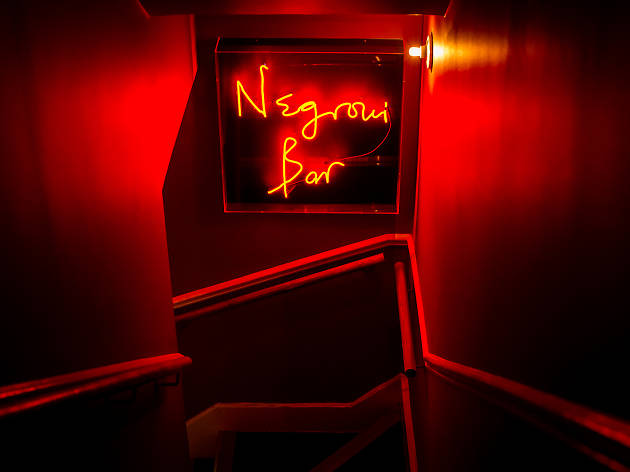 3/5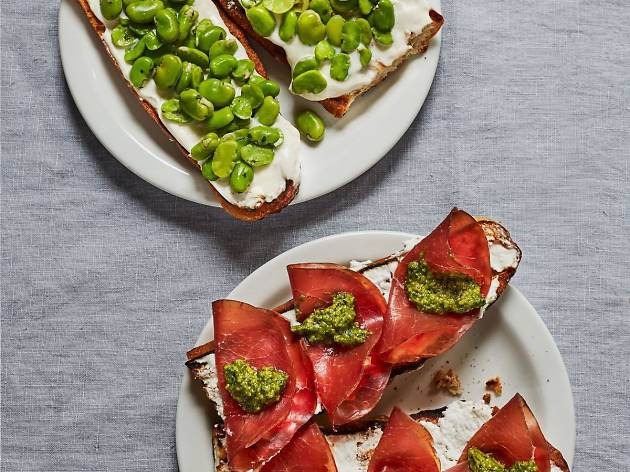 4/5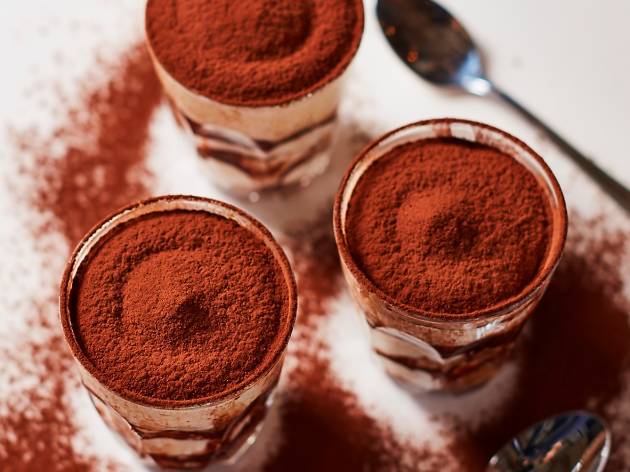 5/5
Time Out says
This Venetian-inspired mini-chain of déshabillé bàcari doesn't seem out of place on a street lined with food industry behemoths, though how long its carefully conceived decor (old Underground-style tiling, tongue-and-groove panelling, Anaglypta ceiling) can maintain the veneer of individuality will be interesting to see. We like Polpo on the whole – there are many reasons to do so. You don't have to dress up, the menu of small plates is flexible, food is served all afternoon and until gone 11pm most days, and water is brought to the table without asking. The kitchen's unfussy cooking doesn't aim high and therefore often exceeds expectations. Fennel is a favourite ingredient, whether it's the spice featured in salami and meatballs, or the bulb used in salads. Cicchetti of sweet grilled fennel with white anchovy was a lovely start to a meal that was hard to fault. Tender pillows of pink-middled grilled lamb came on a juicy basil- and caper-flavoured caponata that was more tomatoey than sweet-sour but delicious nonetheless. Staff were keen and chirpy, but had no clue about the specials board, from which we eventually chose a ricotta and cherry semifreddo with comforting biscuity texture. As with the other branches (Soho, Covent Garden), there's also a bar in the basement.
Polpo Smithfield says
Details including butcher-paper menus and copper ice buckets, hidden behind velvet curtains, with low intimate lighting transporting the diner to Venice. Dishes are designed to be shared, making each meal a feast, a convivial and restorative experience with friends.
Details
Address:
2-3 Cowcross Street
London
EC1M 6DR

Transport:
Barbican tube or Farringdon tube/rail
Contact:
Do you own this business?
Average User Rating
2.4 / 5
Rating Breakdown
5 star:

2

4 star:

2

3 star:

5

2 star:

2

1 star:

7
Deserves a higher rating - always enjoy going there
Last week I took a few "out of towners" to my local Polpo thinking that the restaurant was a good option for large groups with its large selection of small plates and relaxed atmosphere. Where in the past I have always been happy with Polpo, this time I was massively underwhelmed.
Service was rushed, sometimes even rude and many dishes (especially the meatballs) arrived cold. Don't get me wrong, overall the food does taste really nice, but if you decide to go to any Polpo and there is the usual queue to get in ... just go somewhere else. It is not worth the wait.
A fantastic Italian restaurant – I've had a number of great meals here…. It serves delicious little dishes of Italian delights (the meatballs are my favourite) and carafes of wonderful wine- you won't be disappointed.
I visited Smithfield Polpo a few weeks ago left incredibly disappointed. The hot food we ordered arrived cold, borderline frozen in the case of the meatballs. We sent it back and received the meatballs again just a degree or two warmer. We also had octopus which was like chewing through truck tires. I had altered the waiter of an allergy yet I took a mouthful of salad to discover it was covered in the very thing I was allergic to, later on I spent the rest of my evening being quite sick. As well as bad food we also experienced long waits - desert took 35 mins to arrive despite there only being 6 of us in the entire restaurant at the time. The staff were not very apologetic and I would not recommend this restaurant to friends or family.
I left Polpo very disappointed last night. The evening had stated off well: I sat down at the last available table available so I didn't have to queue. While waiting for my friends to arrive, I had the chance to appreciate the very welcoming and stylish setting, with brick walls illuminated by a soft candle light. Scanning though the menu though, I was surprised to see very few dishes belonging to the venetian tradition. Where are my sarde in saor? What about my portion of baccala mantecato? The plates offered could have been found in any other tapas bistro, boasting pork belly and meatballs. To add to my disappointment, my drink, an aperol spritz, was not stirred and was served with lemon instead of a slice of orange(!). When I tweeted the mistake to the restaurant, they referred its recipe to a cafe in venice.. making a spelling mistake with the italian. Friendly service, overpriced and mediocre food. Don't think I will come back.
Great local pit stop. Love it.
Disappointed by our return visit to Polpo in Smithfield. My husband and I were given a table in a tight spot leaving little room for movement. Some of the dishes were lukewarm (roast potatoes) although we were not charged for them as we complained, some dishes were good but others mediocre. We did not feel full at the end despite spending £80 for 2 including wine. On a previous visit, we were a group of 12 and were asked to sit very tightly together until they finally agreed to give us an additional table.
So another Polpo! Polpo has always done its thing rather well. It's a decent stab at authentic Venetian dining, small plates, good flavours. Sure the food is probably not going to win any major awards anytime soon - but to go to Polpo jut for the food is not really the attraction. Polpo soho has created a charming ambience with a real buzz that does faithfully evoke the sense of being in a local Venetian haunt. Polpo Smithfield is the exact opposite of this. What should be an informal, buzzing place to eat has now become a dry, soulless lunchtime crush for City types. At lunch I was surrounded by a seething collection of self-important, secretary screwing, boozing city pricks - consuming vast quantities before thrusting their cards at the waitresses. Polpo Smithfields appears to located solely to make money - and it will, but the atmosphere and life of Polpo Soho are non existent in this rather sad setup
Extremely overpriced despite the reviews. I don't understand why Polpo os so successful in London.
Went for lunch expecting great food following reviews of the Polpo restaurant in Soho. I was hugely dissapointed. Whilst the menu looks enticing, the actual food is terrible. No flavour at all. We ordered a rabbit salad which tasted more like plain lettuce with boiled chicken. Octopus salad lacked a decent marinade. The only OK dish was a mackarel salad, but nothing special.
Spent an evening here with some friends who were over from China, hoping to impress them since they were last here in the 90s. Sadly, we ended up taking them one of London's most tasteless, overpriced, pretentious places to have ever popped up in our little neighbourhood. Staff were snooty when we arrived, and we got the impression they were doing us a favour by getting us a table. We sat down and ordered 4 main courses, a bottle of wine and side of "garden greens". The garden greens arrived five minutes before the main courses and consisted of a few leaves of cabbage. £5 for that. FIVE POUNDS FOR A BUNCH OF CABBAGE LEAVES. My squid ink risotto lacked any kind of flavour, and my partner's beans could have been made at home by boiling them in plan water for a few minutes. The other main courses were apparently "fine". The wine was overpriced for £20 - compare this to the cracking bottle you could get for that price in Vinoteca around the corner and it's not a great bet. Huge letdown.
Snap up exclusive discounts in London
Time Out's handpicked deals — hurry, they won't be around for long...