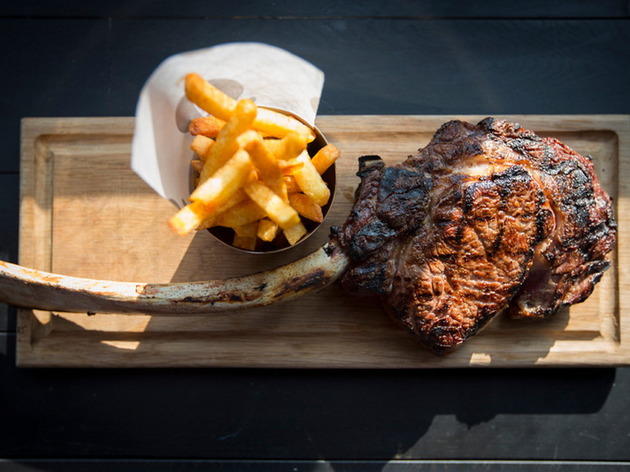 1/9
2/9
3/9
4/9
5/9
6/9
7/9
8/9
9/9
A US-style grill in Chalk Farm updating American classics with skill and intelligence - and the desserts will give your cardiologist a heart attack.
'Twat.' 'Cow.' 'Wanker': those of us who have ever worked 'front of house' in the past would expect this kind of abuse on a Friday night, when service would reach boiling point and the chefs would lose their cool. Afterwards, we'd sit down for a few beers, and all would be forgiven. These days, of course, all the cool, sexy restaurants have open kitchens, so you can see – and hear – all the action.
So it was with some admiration that we watched the chefs at this US-style grill. On the Friday night of the first official week, the place was heaving, the kitchen struggling to cope. No names were called. The cooks kept calm and carried on, while the equally professional waiting staff gave us sincere apologies, bringing out complimentary cocktails. Our main courses took an hour to arrive – but the food was well worth the wait. Having demolished a terrific seabass ceviche starter, we'd moved on to 'Southern fried chicken' – actually two fillets, flat-beaten and breaded like a schnitzel (with Japanese panko breadcrumbs, for a lighter 'crunch'). Cooked to perfection, it came with another twist: a variant of a persillade (parsley, garlic and oil sauce), here made with wild garlic, and a few capers for sharpness. A side of rough-textured 'creamed' corn (spiked with shallots, garlic, coriander and chilli) was so good we'd have happily eaten an enormous plate of it. But praise be to baby Jesus that we'd left room for pudding – an outstanding pecan and bourbon tart so boozy it should have come with an ABV warning. The large, high-ceilinged room is edgy and sexy – dark walls, rusty girders and vintage wooden butchers' paraphernalia – the music loud and rocky, but make no mistake: this is a slick operation (it's owned by Des McDonald, one time Ivy chef and former CEO of Caprice Holdings).
Service was polished and attentive throughout, never missing a beat, even when the kitchen was on the point of combusting; we easily forgave them any delays. 'Thank you so much,' they beamed as we left, their brows showing not a drop of perspiration. 'Hope to see you again.' Hospitality staff of London: this is how it's done.
Venue name:
Q Grill
Contact:
Address:
29-33 Chalk Farm Road
London
NW1 8AJ

Opening hours:
Open noon-11.30pm Mon-Thur; noon-midnight Fri-Sat; 11am-10.30pm Sun
Transport:
Tube: Camden Town or Chalk Farm
Price:
Meal for two with drinks and service: around £90.
Do you own this business?
You may be interested in:
Average User Rating
3.1 / 5
Rating Breakdown
5 star:

0

4 star:

6

3 star:

1

2 star:

5

1 star:

0
When I came here for dinner it was a fairly quiet Friday night - I had the chicken which I thought was delicious, but my other half chose the flat iron steak which unfortunately was quite on the tough side.
Overall the service was good, our waiter was friendly and welcoming but our drinks took ages to arrive and my food arrived my order of chips had been forgotten. It took a bit of effort to get the waiter's attention again, and then by the time he brought them over I'd almost finished my meal!
Overall a nice experience but nothing outstanding. Glad I've been once but I probably wouldn't go out of my way to return.
Been for dinner a couple of times - my thoughts and pics are on my blog here: http://hyhoi.com/2014/04/q-grill-chalk-farm/ - good food, bit pricey, great bourbon cocktails. There's not much else going on in the Chalk Farm area, so this is a great addition.

- Nina
Have You Heard Of It? bar & restaurant blogger | HYHOI.com

I have been here for lunch once and it was very good. I returned, however, early (6:30) on a Friday night and had a miserable time. The service was abysmal and the waiter (I think his name was Leigh) was surly and rude. Foodwise, it is okay. The hummus and steaks were very good, the prawns were nothing special, but the "Market" fish was old. The service is very, very slow both for getting drinks and food. We will not return.
I had such high hopes for this place. Visibly it was wonderful, great seating and atmosphere. The view of the chefs working was an added delight. But the pretentious menu and general attempt to be a bit avant garde took away from what promised to be a good meal.
The coleslaw was drab (I recommend chicken shop for some mouthwatering, zingy coleslaw), the chips were nothing you couldn't get from any chip-shop, and the ribs were too dry with a lack luster BBQ sauce. A good sauce can perk up any rib rack!
Though the beef hash was a nice idea with the fried egg and tasty, though nothing that I'd write home about.
The biggest issue was the rather confused waitress who found even a simple request, "can I have mustard please?", confusing and had to make jokes about us asking her for things. What was that about?
Furthermore you will fume over the cheek of them to add a bottle of water to your table for £1.50 which is then poured from a tap is full view of the customer!
Overall its not an astonishing eatery, but rather underwhelming. Had they really stuck to being a Tennessee style bar with a simpler menu and focus on less try-hard food, this could have been a great place.
This place gets two stars; one for the look of the place and one for a superb Diplomatico mixed cocktail that made me smile!
There was a small issue cos I thought that "rare" meant it would be like a panda steak or something like that. However, the staff were very helpful and actually pretending to find it amusing to ease my embarrassment! Then when the (beef) steak came it was actually rather quite delicious indeed... ;)
What a disappointment this was and not up to the mark set by Pit Cue (soho) and the likes. All the elements were there - nice refit of the space and hipster staff but the food lets it down badly... The beef hash was tasteless and soulless alongside a fairly dull and zero flavour chicken grill. Such a shame as it's on our doorstep and we really wanted it to be good...
The culinary location that does what it set out to achieve, gastronomically entertainment in bespoke style, yet simple and adorning to the taste buds..what al no fuss eatery's should set their standards by!..