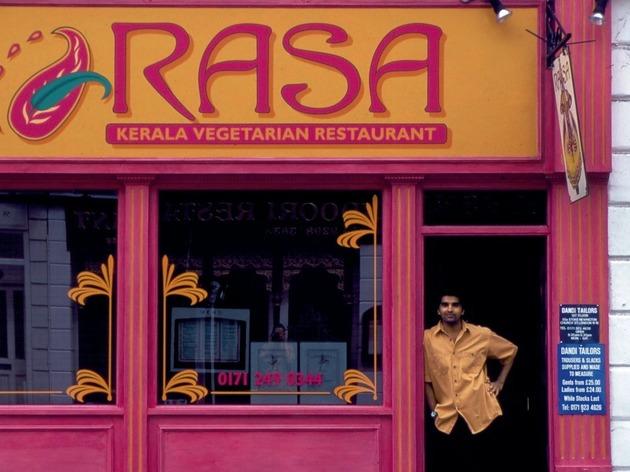 Time Out says
The bright pink walls of Rasa in Stoke Newington are almost as bold as the flavours in their south Indian dishes. Opened in 1997, the vegetarian Keralan joint was the first of the Rasa chain that's now spread as far as Birmingham. Their basics - lentil daals and chewy coiled paratha - are always wholesome and moreish, but try more unusual dishes like moru kachiathu, a turmeric-infused, sweet-sour runny yoghurt dish made with mango and green banana for authentic Keralan flavour. Almost everything on the menu is priced at less than a fiver.
Details
Address:
55 Stoke Newington Church Street
London
N16 0AR

Transport:
Tube: Stoke Newington rail or bus 73, 393, 476
Price:
Main courses £4-£6.50. Set meal £16 4 courses.
Contact:
Opening hours:
Lunch served noon-2.30pm Sat, Sun. Dinner served 6-10.30pm Mon-Thur, Sun; 6-11pm Fri, Sat.
Do you own this business?
Rating Breakdown
5 star:

12

4 star:

4

3 star:

1

2 star:

0

1 star:

4
Seems like people posting feedback are getting the two Rasa restaurants mixed up. This page is for the vegetarian Rasa in Stoke Newington, which I agree serves great food and is well worth visiting. The other Rasa which is not a vegetarian restaurant is poor on food and price.
Don't know what the below poster did wrong to receive such a poor experience. I've been here at least ten times and taken various friends and family along, all of whom were impressed. If you order the right combo it soooo cheap and I've always been crammed full when I left. Nice staff, cosy atmosphere, highly recommended.
Superlative Kerala cuisine... Best curry ever, basically.
Rasa Rasa Rase , i need Rasa on a weekly basis x
One of my favourite cuisine ever. Love the food and hospitality. Very friendly and fast service even if it's really packed. Well, not really surprised that it 'll get busy easily. Hope it 'll continue like this and really looking forward to go there again!
Rasa is one of my veggie/vegan spots in the city. Expect incense-scented, mood-lit and slightly rough-round-the-edges vibes inside - plus amazing, amazing curries. My faves are the Nadan Paripu, which is a cream and rich lentil curry made of washed mung beans and split yellow lentils, and Rasa Vangi, which is made out of aubergine. Both are just £4.50. (Rice is an additional £2.75.) Even if I'm on a health kick, I can't leave without an oily Keralan paratha bread. And, the best thing of all is that even though they don't deliver they do their entire menu to takeaway. Although their dosas do get soggy before you get them home.
The vegetarian food is very good but if you leave anything behind don't expect to get it back. Today l stupidly left an unopened birthday card on the table at lunchtime. l got suspicious when the staff denied finding it. Apparently it contained £50 being a present from my children for my 65th birthday.
We had an excellent meal here (the vegetarian Rasa) last night, with a fine selection of starters and masala dosa for me and Cheere curry for my partner. The place was full at 7:15 and we only had the table from 7 - 830 due to their busyness (not a problem as we were done by then). The service was good and the prices (£38 for two with drink) very reasonable indeed. We'll be back.
Although the food was great, seems like the staff need sensitivity training with people from different races dining together. Me and my friend were constantly stared down by the waiters. Also the waiter serving our table was extremely rude and did not respect personal space. Horrible service. Will definitely not be going back.
Excellent food! Lovely service, good atmosphere.
I am a regular at both of the Rasas in Stoke Newington. I've tried many other Indian restaurants but Rasa is still one of the top 5 I've experienced in the UK. I was also surprised to read the first commentator's review (below). The last time I went to Rasa the waiter actually mentioned that we were possibly over ordering on the rice and bread. We really appreciated this as he was right. The portions were generous and delicious. I've never ordered a set menu though so maybe the first commentator just made a bad choice. Like the poster below II take friends and family to Rasa because the food is so good.
I was really looking forward to visiting Rasa having read and heard the positive reviews. However, I was really disappointed by the food, service and value. The selection of dishes is very poor, but nonetheless, I ordered a fish curry and my partner ordered the lamb. My fish was about as fresh as a teenager's sock and the sauce was indescribable. The lamb was very dry and overcooked. Keralan cooking should all be about the spices, the flavours and the smell, none of these were apparent in the curries that we chose. Not only was the food not up to scratch, the service was ridiculous. We had to ask for water four or five times., with our glasses never being refilled. The man who introduced himself to my partner as, 'the manager', was rude and uninviting - he didn't even bother speaking to me. I think he has a serious issue/problem with females. We'd only just put our spoons down on the plates and our bill was thrown at us and we were being ushered out of the door. I can safely say, I won't be coming back here ever again. There are some really beautiful places to eat in the area. Please don't waste your money by going here!
We were really looking forward to our visit to Rasa having read the positive reviews. However we were really disappointed by the food, service and value. We were 3 adults with two children. We ordered the 3 set meals as we wanted to sample the various dishes. However, the selection was very poor and in addition we were told we had to order a main meal as we could not share the set meal with the children. We were given 3 deserts (rice pudding!) two of which we gave to the children. At the end of the bill arrived with a 12.5% service charge. There are many good places to eat in the area. Based on our experience this isn't one of them!
Snap up exclusive discounts in London
Time Out's handpicked deals — hurry, they won't be around for long...