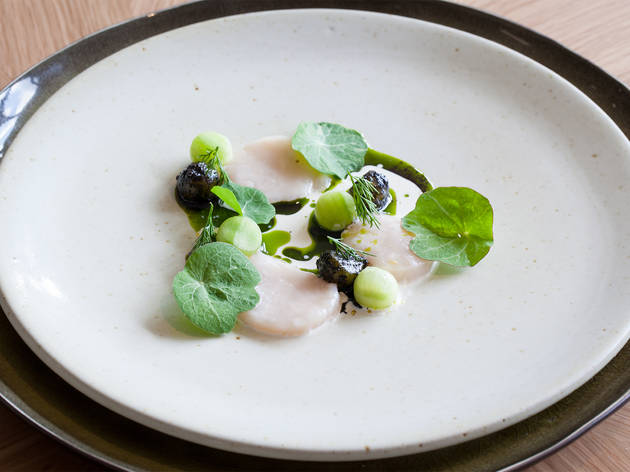 1/6
© Jonathan Perugia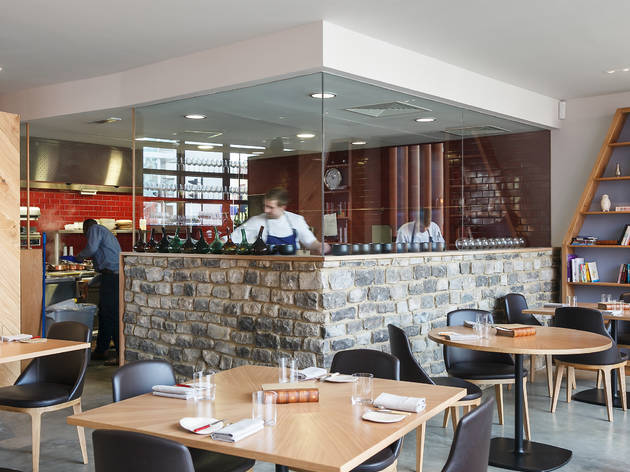 2/6
© Jonathan Perugia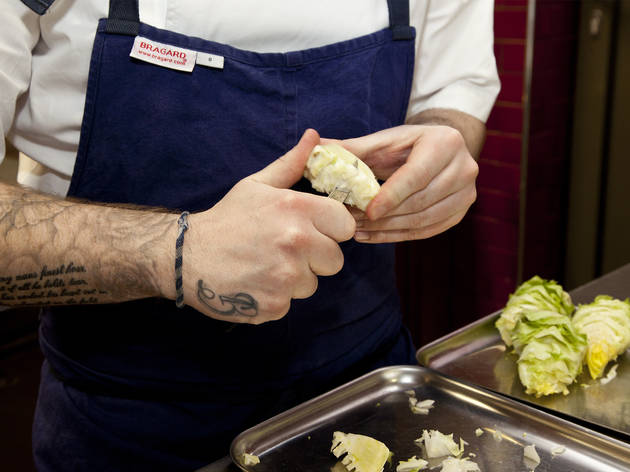 3/6
© Ed Marshall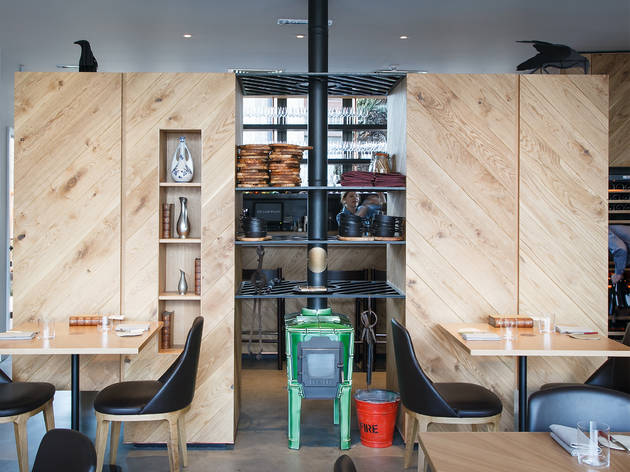 4/6
© Jonathan Perugia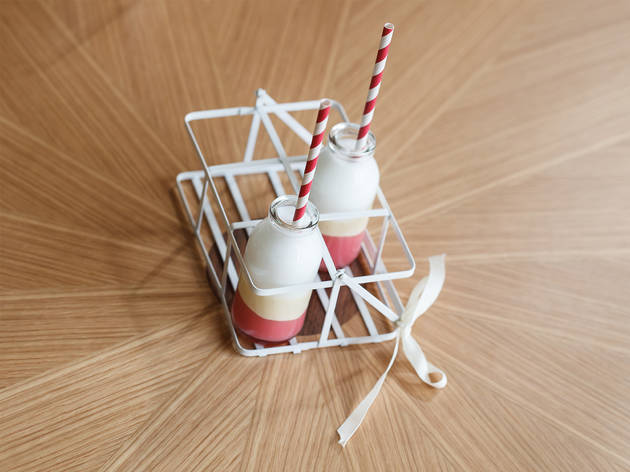 5/6
© Jonathan Perugia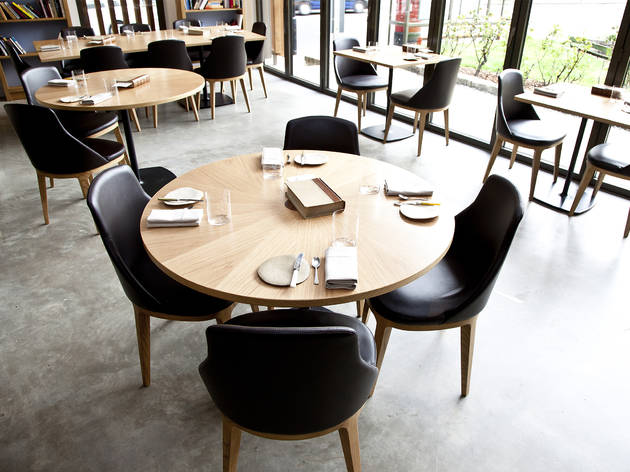 6/6
© Ed Marshall
Time Out says
The rapid succession of small, artfully crafted dishes at this Bermondsey outpost of modernist cuisine is playful, but the artistry's not mere gimmickry.
Please note, Restaurant Story has been re-furbished since the below review was published. Time Out Food editors, April 2018.
The anthropologist Claude Lévi-Strauss, best known for his book 'The Raw and the Cooked', made the observation that our food needs to be more than just 'good to eat' – i.e. safe, tastes okay, and feeds us – but also has to be 'good to think'. By this he meant we had to enjoy and appreciate the story, the 'meaning' behind it. That is why we value the vegetables we grew ourselves more than those from a supermarket, and why we pay more for organic meat from a farmer whose story we trust, than we do for a similar food product from a faceless corporation.
Tom Sellers understands the value of a good story. His CV includes years (not just weeks) working at Noma, Per Se and Tom Aikens, though that in itself isn't unusual in the world of fine dining. But this 26-year-old tattooed chef's tale includes a few London pop-ups and guest appearances before he has finally put down roots at this purpose-built restaurant in Bermondsey, where a Victorian toilet block once stood.
Sellers's time in Copenhagen has clearly had a big influence: the sparse and natural wood interior looks Scandinavian. But more than that, the menu shows strong New Nordic influence, with other styles that can broadly be called modernist. Think along the lines of Dabbous, Aikens, even Blumenthal, and you'd be on the right track.
The rapid succession of small dishes is playful, evoking childhood memories. The 'bread and dripping' is a loaf served with a lit candle made of beef dripping; as the tallow melts, you dip the bread as if it's melted butter. Tiny 'milk bottles', served in a dolls'-house milk crate, contain a dessert of rhubarb, custard, and a hit of sherbet at the bottom, eaten through striped straws. A second dessert of 'three bears porridge' has one too sweet, one too salty, and one just right.
The artistry's not mere gimmickry. Raw scallop is sashimi-grade, cleverly paired with the charcoal-like tang of dill-scented cucumber ash rolled around balls of fresh cucumber. 'Burnt onion' – actually more caramelised on one side – has a juniper-sharp gin dressing poured over it. There are three tiny, beautifully crafted appetisers, comprising bright nasturtium petals, crisp cod skin and rabbit presented like tiny fish fingers.
This Story likes to play, but both wine list and service needs more gravitas when such weighty prices are charged. One of our glasses of wine smelled corked. Our sommelier argued that it couldn't be corked, on the grounds that he couldn't smell it (though we definitely could). But this left the only bad aftertaste in what had otherwise been a magical meal.
NB we were told that bookings are being taken one month ahead; in May, you'll be able to book for June, and so on.
Details
Address:
201 Tooley St
London
SE1 2UE

Transport:
Tube: London Bridge
Contact:
Do you own this business?
Average User Rating
3.8 / 5
Rating Breakdown
5 star:

3

4 star:

4

3 star:

2

2 star:

0

1 star:

1
We visited Restaurant Story for a birthday dinner and were there on a Thursday evening. Firstly, the good. The venue is great; spacious and very calm. There don't appear to be many covers and, though this may explain the prices (more of which later), there is absolutely no sense of being rushed - you are there for the whole evening. The staff are excellent and there's a lot of them. They provide the story behind each dish and do so with good humour. We were presented with only two options for food; the 10 course tasting menu or the 12 course tasting menu (although this was clearly somewhat movable as they vociferously check your dietary requirements) and there were a number of pre and post delectations to enjoy, too. The food was often superb. That said, overall, it didn't blow our socks off. Now the not-so-good. The music. We were subjected to, I think, the playlists of the Chef and his friends. Other than that feeling a bit random and unnecessary, the music chosen was in complete contrast to the ambiance of the room and the general environment. (Oasis? Prince's Let's Go Crazy??). We were also subjected to many of the same songs several times and, often, the songs cut out half way through.Odd, as everything else regarding the service had been done to such a high standard. The only other gripe, but a big one, was the price. Restaurant Story is eye-wateringly expensive. £125 per head for a 10 course tasting menu, before drinks (of any kind), is such a lot (particularly when no other choice was presented). Some of the dishes, such as the beef dripping candle with sourdough bread, though beautifully done, must have been cheap to produce. I expect to pay a lot for quality, but there are limits. Sadly, the expense of it all is at the top of the list of things that I remember from the evening and it shouldn't have been.
Food was not the best we've ever had but they compensated by fantastic service and dizzyingly good alcohol pairing... as well as personalisation and just great attention to detail.
OK. I am a foodie and my expectations were high. And I was not impressed. The place is overpriced and the food is very average. We had the 6 courses which mainly consisted of onions, potatoes, pumpkin and celeriac. All very inexpensive ingredients... To charge £55 for a set meal of the cheapest ingredients seems a bit, well, ambitious. Of the six courses there was only one which included meat or fish. Bread was considered a course of its own which I found unusual. The amuse bouche were so unspectacular, I can't even remember them. I can't give them more than one star out of five for their food. They are also trying too hard which really got on my nerves. The pot with a duck which was steamed over hay and herbs and some other stuff was presented to us at the table in its oven dish. I guess this was supposed to impress us or enhance our dining experience but we just found it hilarious. OK the chef is 27 or something but this place is so far away from the wonderful Viajante or the ever impressive Chez Bruce as London is from Tokyo. Won't go again.
Went for dinner here with friends. It is a beautiful restaurant, great wine selection and some of the courses on the tasting menu were really excellent - like the lemon dessert. However a few items were just not up to scratch. The real issue here is that unlike most tasting menu's in London the portion size is just not adequate - at £75pp not including drinks or service it is such a shame you leave hungry. Slightly larger portions and a few more hit dishes and it would have got more stars!
Very clever and clean tasting food and experience. A Michelin star beckons.