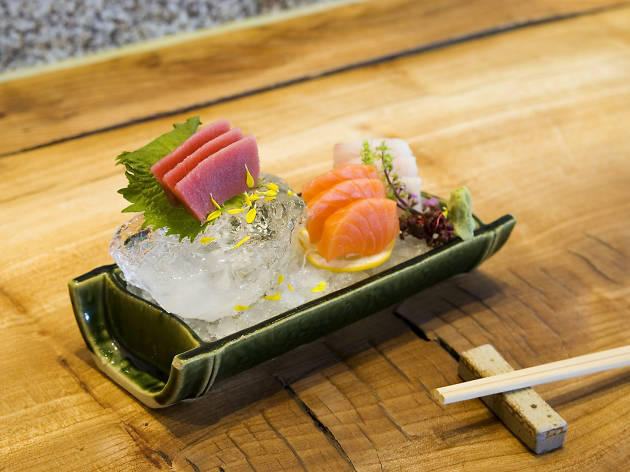 Time Out says
A theatreland branch of Roka.
Finding somewhere decent to eat near the Strand has always been a bit like figuring out what to wear on an English summer's day: trickier than you might think. Despite a profusion of swanky hotels and big-name theatres, there just aren't that many consistently great restaurants. Happily, this branch of Roka is an exception. Sure, there are aspects that feel formulaic and, of course, there are a fair few tourists, but this restaurant still blows most of the local competition out of the water.
On a recent visit, the food was as good as ever. Highlights included a yellowfin tuna tataki, the slivers of dazzlingly fresh fuchsia-pink fish lightly seared at the edges, then placed in little curls over a canvas of tangy, crunchy apple mustard dressing in caramel-coloured tones. Another delight was the tai no miso-yaki: a miso-marinated, skin-on, robata-grilled fillet of sea bream: an alternative to black cod, but at £15.60, much better value. A classic rock shrimp tempura, here served with a wedge of lime and a sweet-but-fiery chilli mayo, also got a big thumbs-up. The sushi, too, from black cod maki to sweet shrimp nigiri, was consistently good. And if you stay away from 'luxe' ingredients, like wagyu, and beef up your meal with a rice hot pot (£16) or some chicken yakitori (£5.90), you can eat well here for quite a bit less than you'd imagine.
Best of all, the service on my visit was superb. Nothing was too much trouble, plates were carefully placed – and replaced – throughout the meal, the table was kept scrupulously clean and everything was done with a smile. As at other branches, interiors are dominated by wood and stone, with a large robata counter giving off smoke and clatter against a soundtrack of funky Latin beats. If you're in the area for a show, this is the best place to go. And if you're not in the area for a show, hell, go anyway.
Details
Address:
71 Aldwych
London
WC2B 4HN

Transport:
Tube: Temple
Price:
Dinner for two with drinks and service: around £100.
Contact:
Do you own this business?
Average User Rating
4.5 / 5
Rating Breakdown
5 star:

22

4 star:

5

3 star:

1

2 star:

1

1 star:

1
My friend and I recently bought two Time Out vouchers for the famous Roka bottomless brunch which we attended last Sunday (18th June). Unfortunately several hours after we had eaten we were both very ill, I won't go into detail but it was not a pleasant way to end my weekend. We ate the same dishes including the main course which was the beef sirloin but something was obviously not quite right resulting in us both getting food poisoning. I don't believe the food was at all fresh on the day we came and it wouldn't surprise me if other diners were ill that evening as well. We emailed Roka Aldwych to let them know what had happened and we have yet to receive a response/apology. I've visited a few of the other branches in the past and have never come across anything quite as disappointing as this, I'm not sure I would recommend this voucher following this experience.
I came here on a Timeout deal & was blown away. The variety & quality of the food was outstanding. The staff were friendly & attentive. Our deal included wine or prosecco & the bubbles kept flowing. Dessert was a work of art too. V impressed.
I took a few friends along with my Time Out Offer for £30pp starter selection and main with dessert and bottomless prosseco. What a great deal for such stunning food. The quality of each dish was superb and there was more than enough food for everyone to feel completely satisfied. While I might have ordered more non vegetarian dishes and more sushi if I was not on the deal, the variety of flavours and textures was great and the Sea Bream was a surprising stand out. The service was very good but there was some confusion over how many Bellinis we could have; this was overcome by ordering too many really tasty Whiskey Sours. The staff were all very nice despite being a little male dominated and there was a nice buzz from the mix of young and trendy millennials and couples and families. Having had a few great meals at the Charlotte Street original, the buzz and energy of this outpost does not match the original but for this kind of value, you couldn't find a better way to spend Sunday evening dinner with friends or family.
I went to Roka Aldwych with a friend for their brunch with unlimited food and wine. We had the Roka voucher offer from Time Out which was great value for money. We did upgrade £15 each so we could have the black cod and lamb cutlets. Which were both out of this world! The sashimi was lovely and fresh. There were a couple of cold starters I've not had before which made a change but I am not sure I would order again. Overall the meal was lovely and I would go back.
So I have a confession: my only experiences of Roka have been at their weekend brunch. But their absolutely excellent weekend brunch that I have now frequented three times is without a doubt worth a review.
The brunch consists of a number of starter share plates, a main course (you select one per person on the table), followed by what can only be described as a dessert extravaganza, which I imagine is probably one of the most Instagrammed desserts in London. The dishes are nicely varied and always delicious, with the added bonus of being able to order as many of the starter plates as you like – something they don't like to advertise, but is definitely part of the deal.
And for the lovers of weekend-drinking, you'll be pleased to know that you'll receive a refreshing Bellini on arrival, and then your choice of prosecco, red or white wine throughout the meal up until dessert is served. And, because they have such wonderfully attentive staff, you will find your glass is always kept full and you'll rarely need to ask for a top-up.
The restaurant itself is a lovely space, if a little dark at times, so combine that with the great food, lovely staff, and free-flowing booze, you're in for a good time.
Tastemaker tip for you: Keep an eye-out for the Roka brunch deal on Time Out Offers. It's an absolute bargain, and now so popular it sells out in a matter of hours. Jump on it fast and your friends will thank you for it.
Went to Roka Aldwych bank holiday Sunday, I'd been looking forward to it for weeks as I've heard so many good things. I was extremely underwhelmed. When we entered the restaurant we were blasted with hot air, the restaurant itself was very hot and uncomfortable throughout the meal, even though the weather outside was not particularly hot.
We opted for the tasting menu, there were plenty of dishes on the menu and the dishes themselves were beautifully presented and the amount of food was generous, as you can see from my photos. However, the food was pretty tasteless, spices and flavours did not compliment each other, and the salads were covered in so much sesame dressing it rendered most dishes sour and unappetising. There was not a lot of flavour from the meat, fruit or vegetables, which made me feel like they were probably poor quality.
I wish I could say the service was much better but unfortunately it wasn't. All the staff seemed vacant and disengaged, our waitress was particularly quiet and sullen. They were exceptionally slow with our drinks, which felt even more apparent due to the heat in the restaurant. Overall I would not go there again or recommend the restaurant. Maybe the other branches are better, but I don't see how they can justify their service or prices.
Food here was excellent very tasty and there was a very good choice! I had the 10 course tasting menu. Perfect night with really good atmosphere.
Staff were all very nice and gave us excellent service!
We had a great Sunday afternoon here whilst enjoying the extensive Han Setto menu. The food was fantastic and even after the 10 dishes we each had to start, we were then offered additional dishes for no extra cost. The steak for main course and creatively decorative dessert platter were also perfect, although by then I was already happily full. The wine offered on the Han Setto (White, Red and Prosecco) were also all really good as was the grapefruit bellini on arrival. I'd recommend this restaurant and the Han Setto menu to anyone wanting to while away a couple of hours with great food and drink in a comfortable environment.
Its not often I buy a deal/voucher, but is not often you see one like this! Roka latest restaurant Aldwych, instead of our yearly get to together in Canary Wharf, same swanky layout, but instead of going up buffet style they have table service for the 10 sharing dishes with option to have any dishes as mnay thimes as you like. A good idea to order different mains as we all sharedc those as well!, when the dessert platter arrived, and I mean platter!! We couldn't of asked for more, great service and unlimited wine, wow!
Snap up exclusive discounts in London
Time Out's handpicked deals — hurry, they won't be around for long...