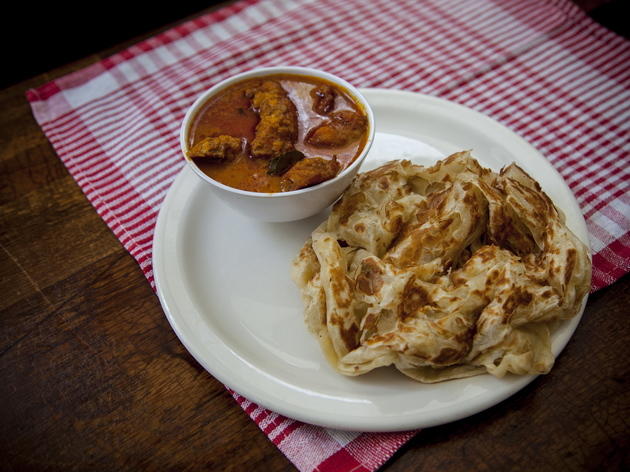 1/8
© Rob Greig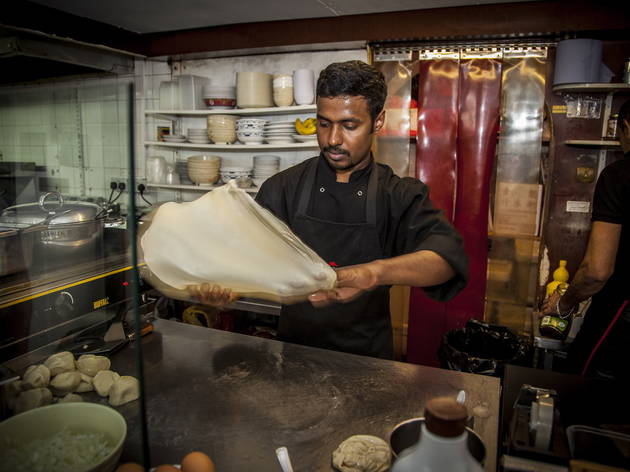 2/8
© Rob Greig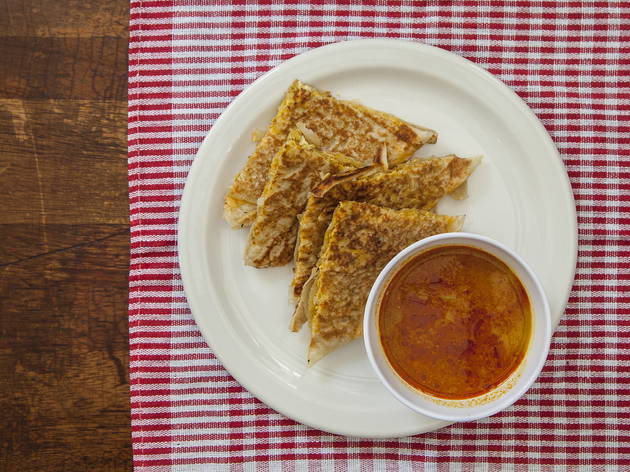 3/8
© Rob Greig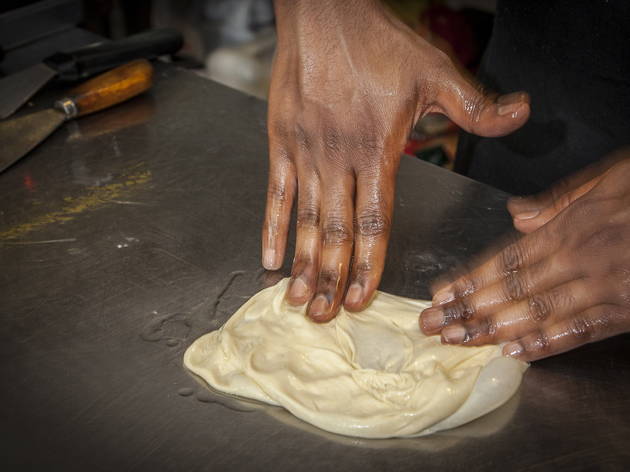 4/8
© Rob Greig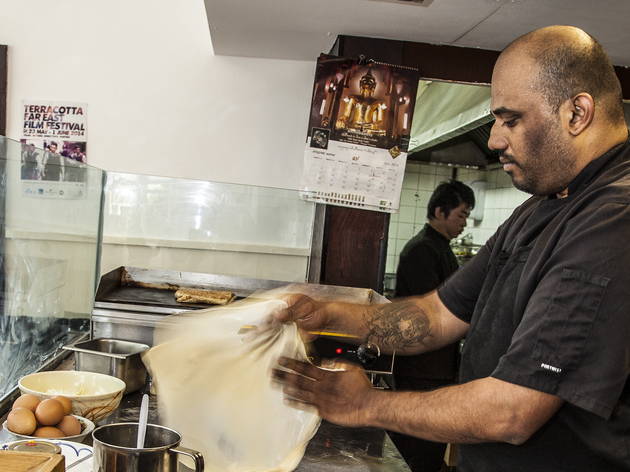 5/8
© Rob Greig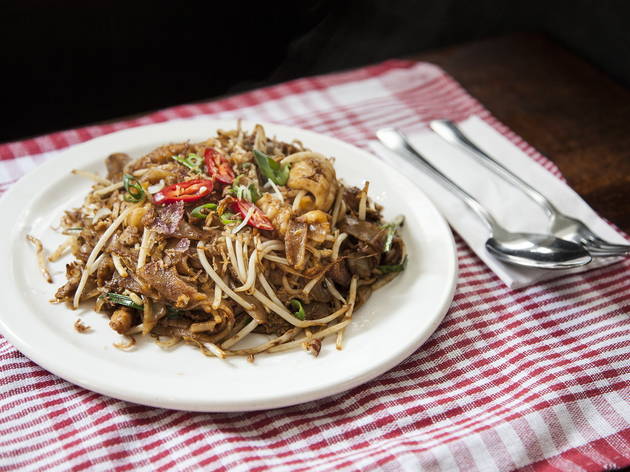 6/8
© Rob Greig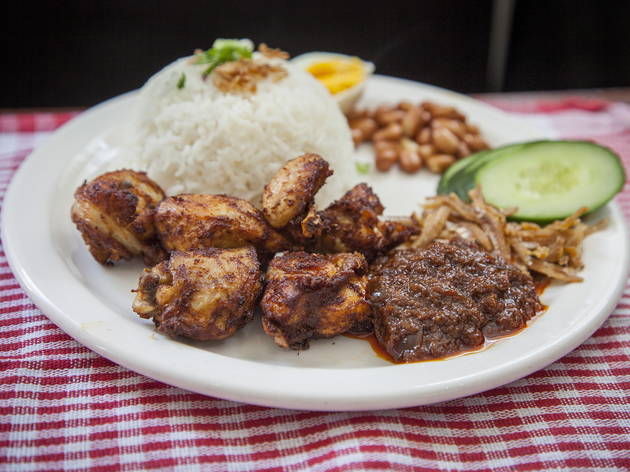 7/8
© Rob Greig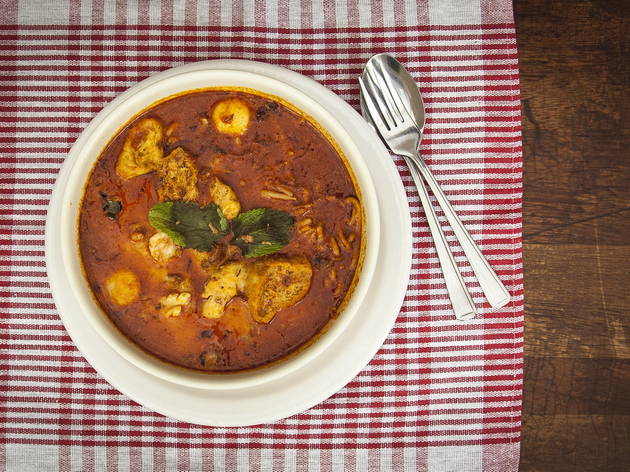 8/8
© Rob Greig
Time Out says
When you arrive at 40 Doric Way all you'll see is scaffolding and 'Euston Chinese'. But don't start thinking Time Out's failed you. You might think you're lost, but the dark, dingy basement restaurant below the neon 'open' sign is the right place. The king you seek is inside, and like Elvis he steals the show with his fresh roti canai.
A type of flaky flatbread found at Malaysian hawker stalls, it's not on the main menu here. So, skip the Chinese dishes (although the handful of Malay ones aren't bad), and ask for the 'Roti King' menu instead.
The plain rotis come with curries (chicken/lamb/fish/lentil, all costing £5.50). We liked the warm, tangy fish option; or the 'murtabak', which has a dry meat curry sandwiched into the dough (£5). The mildly spiced lamb version came cut into thick squares and with a bowl of thin veggie curry for dipping.
Yep, for Roti this place is a revelation. You might have been lost, but now you are found. Uh-hu-huh.
Details
Address:
Euston Chinese, 40 Doric way
London
NW1 1LH

Transport:
Tube/rail: Euston
Do you own this business?
Average User Rating
4.4 / 5
Rating Breakdown
5 star:

13

4 star:

3

3 star:

5

2 star:

0

1 star:

0
I have been working in the area for a few months now and trying to find a tastie lunch option that wont break the budget.
I can VERY happily report I HAVE FOUND IT!!!! I went for take away lunch and got noodles and a dahl with paratha - I can safely say both were delicious. I cannot wait to go back and have dinner there.
Only issue is this place gets SUPER busy, I waited 15 min for my takeaway but at least you know its fresh and popular. You can also watch them make the breads right there in front of you *drool*
Be prepared to wait a little when visiting Roti King. Around the corner from Euston station, it is in a basement level with really limited seating. But once the wait is over you will be glad you made the effort. Roti King is inspired by Malaysian/ Indonesian flavors and is presented in its original street food style. We got the Roti Canai and the Beef Rendang, although the rice was a little dry with the Beef Rendang, the Roti in this place is amazing. Stick to what they're known for and you will not be disappointed.
Roti King is a tiny little cafe/restaurant hidden down a back street near Euston station. It gets really busy so I would recommend getting there as close as possible to 5pm (when it reopens after lunch). My favourite part of the meal was the Roti Canai. The Roti was so fluffy and crispy at the same time and not greasy at all - which was a good surprise after I'd watch the chef making the roti on the stove near our table. My friend had the beef rendang which she said was dry and I had the Nasi Lemak which was flavoursome however the fried chicken was also dry. It definitely is the Roti king, with the roti being the best dish on the menu!
I've been meaning to go to Roti King for a long time. Finally made the visit. We turned up at 4 only to find out they close between 3-5pm.

We decided to wait around in the area and got back just after 5 - that hour wait was worth every min!

A few things I will remember for my next visit:
- Make sure I get there at the beginning of their re-opening hour of 5pm. Within 15 mins the entire restaurant was filled up and within 35 mins there was a long queue formed outside already! And these queue were looking like an average 45min-1hr wait! There's not much else to do in this tiny street apart from wait....

- It's a small cosy restaurant so shouldn't really bring more than 2-3 friends.
- The beef rendang, Roti Canai with curry lamb, Mee Goreng Mamak were all so delicious. The coconut rice that came with the randang was the most fragrance and light rice I've ever had! The roti was light and surprisingly not greasy. Can't wait to go back! - Must make sure I'm more hungry than last time so I can try EVERYTHING! :)




Very good. Malaysia Boleh!

Fantastic, tasty, cheap, like being back in Malaysia. The queue's worth it!
We arrived to this small authentic Malaysian restaurant with my mum and auntie (Malaysian) & we were highly impressed with this tastie dish, Cantonese Ho fan. We also had the laksa and the roti with chicken curry, all not good for the waist line so not a regular in our diets. They we're all authentic, exceptionally well priced with large portions -so a definite must in London if you're into Malaysian food or just want to try something new.
Very authentic Malaysian food made freshly and at a great price right in the center of London... Feels just like home.