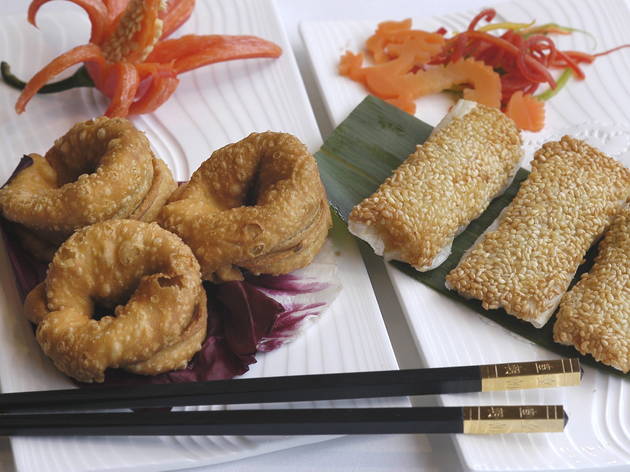 Time Out says
A stalwart of London's dim sum parlours, perennially popular for its authentic, perfectly prepared dim sum and fantastic Cantonese/regional Chinese dishes.
This stalwart of London's dim sum parlours is always a pleasure to visit. Its perennial popularity ensures a lively atmosphere, and its authentic, perfectly prepared little dishes are head and shoulders above most of Chinatown's lazy offerings. The long dining room at this original Queensway branch is lined in mirrors and black lacquered walls, with depictions of curling waves and geese soaring above.
Some of the capital's best little packages of Cantonese treats are served here. Beef balls feature wonderfully light ground beef enlivened with strong accents of ginger and water chestnuts. Delicious wun tun soup has light dumplings floating in a rich broth with an undertone of five-spice, adding a depth rarely found in this classic soup. Peruse the special dim sum menu for more innovative dishes: crab and spinach steamed dumplings, and prawn and chive packages in batter were both a delight.
We could happily eat solely from the dim sum list, but the main menu offers fantastic Cantonese and regional Chinese dishes. The shaolin monk vegetarian clay pot contained an outstandingly fresh assortment of Chinese vegetables: bamboo, lotus root, mini pak choi and tofu, all on cellophane noodles.
Details
Address:
13 Queensway
London
W2 4QJ

Transport:
Tube: Bayswater or Queensway
Contact:
Do you own this business?
Average User Rating
1.9 / 5
Rating Breakdown
5 star:

1

4 star:

1

3 star:

1

2 star:

3

1 star:

8
Horrible customer service. Staff were plain rude. Went in the restaurant, told there were no seats and had to wait 15min, that's fine, we waited. I had my parent stay in the restaurant while I look around. When I got back, a family of four people who just came in got seated (we were a group of three, and the only people waiting other then the other family). We asked the restaurant why, the answer we got was that they reserved seats, which is total bs since I saw that exact same family checking out other restaurants before they came in. Anyways, their staff were totally rude and disrespectful to customers.
I like the food, but not the staff :/

Outrageous staff, walking around without a care in the world. My wife tried to get one of the staff's attention who's walking towards her and she just have her the hand and without saying a word. A friend of ours also got the hand from the same woman. Never witnessed anything in my life! All the staff that we've encountered apart from the manager were either rude or dazed! It's such a shame because the food was tasty but with a service that we experienced it left a bad taste in our mouth. In the end we asked for the service charge to be remove from our bill. Given the situation you'd think that they'll ask why?? Did they £$@*.... Management has some serious staff assessment to do in this place. "Shaking my head while writing this"
I think the food is good but the portions are small for the price you pay. The staff is rude especially one of the managers that defended his staff's action of kicking the door that leads to the loos and kitchen and hitting my 4-yr old on the face. He said that every restaurant do that (kicking doors open) after I complained. I sent also a complaint by email but never got a response. Needless to say we never went back there again.
Food is not bad shame about the service. Break my heart when |I see restaurant cannot provide a good service.
The Dim Sum was nothing special. The service is poor. Can ge better service and better food elsewhere.
Rude really rude service. Therefore I was rude back. Will never go here again. Food is good though.
Food is ok. But staff seriously need to learn customer service, a simple hello, goodbye and a smile goes a very long way. Puts me off going back.
Good Fresh Dim Sum, One of the worse service I ever received in a restaurant, waiters and waitresses are plain rude. Will not go back, just as well as the attitude of the staff clearly says "We don't need your Business" £60.00 for one person, not exactly cheap.
I agreed. Nothing special about this restaurant. Poor quality and poor service.
Shit service. Never going back again. The look on the waiters faces were priceless. It was as if we owed them a living. Poor, poor, experience. Food was so-so.
I can't review the food because we didn't get in, but the couple in front of us were greeted and sat, then we were not acknowledged and the large group behind us were greeted and sat, and I'm not sure with reservations. The lady greeting people never acknowledged us and then the lady who I think was in charge when we looked shocked just barked 'Fully Booked' at us without actually asking if we had a reservation or not. I felt as though they just didn't like the look of us, sooooo rude, would never go to any of their restaurants, and don't seem to be alone in the opinion.