Sagardi Basque Country Chefs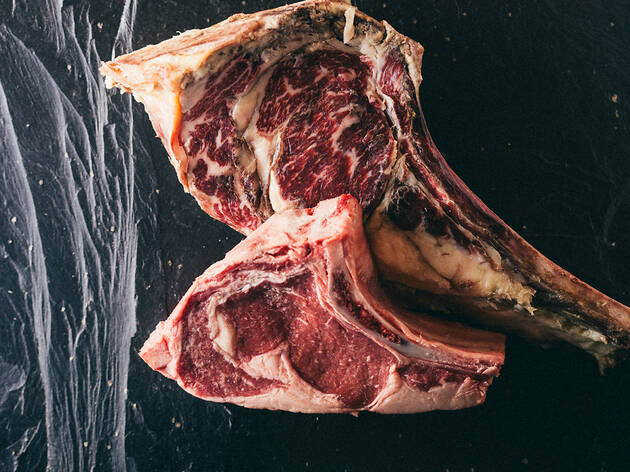 1/10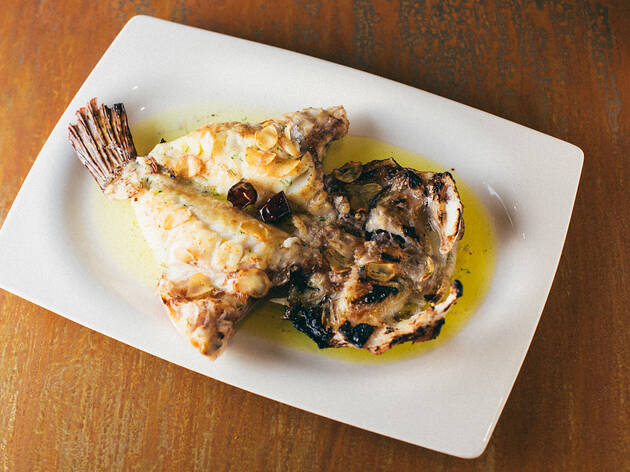 2/10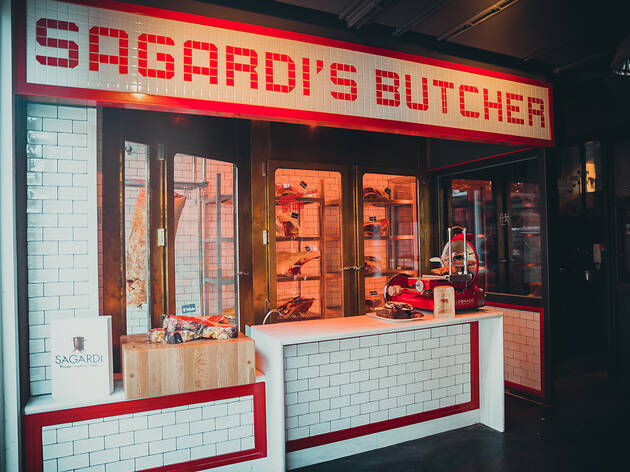 3/10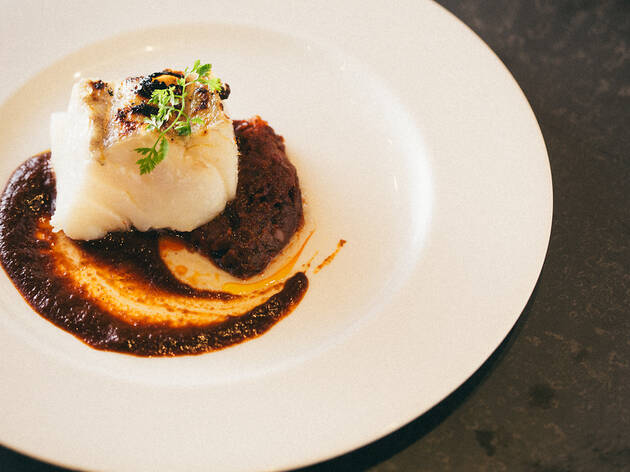 4/10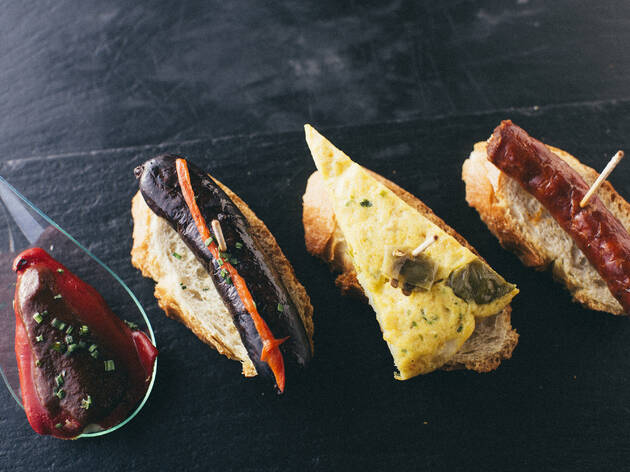 5/10
6/10
EDU_ROSA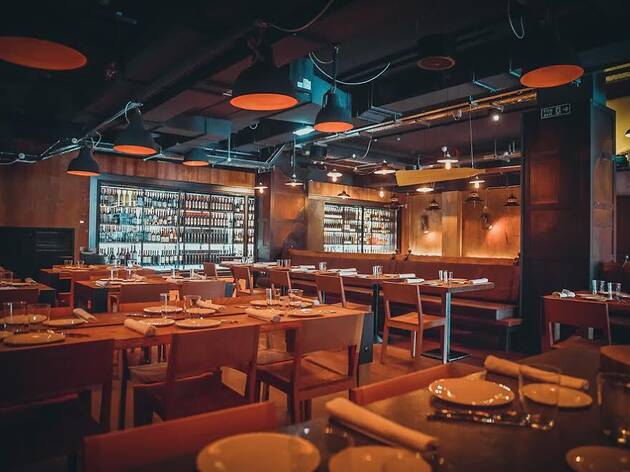 7/10
8/10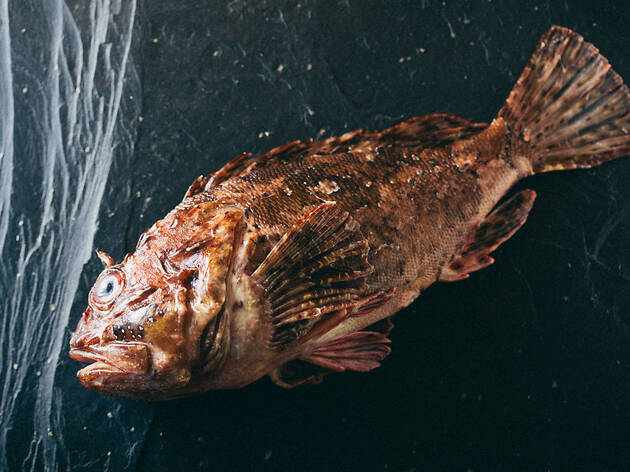 9/10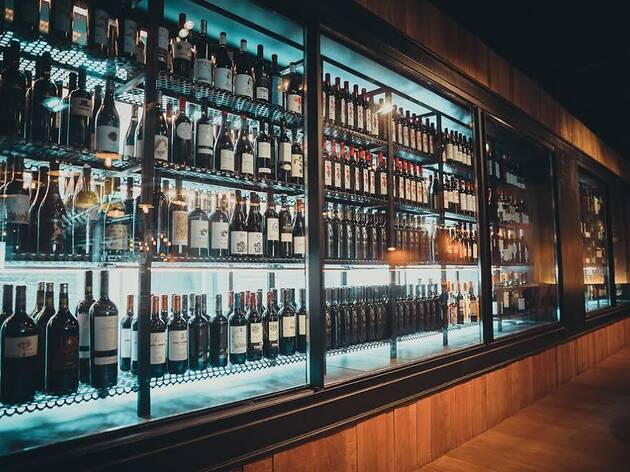 10/10
Time Out says
A London branch for the Spanish steak specialists.
We've had the Argentinians. We've had the Americans. We've even had the Brits. Now there's fresh meat in town: Sagardi, a steakhouse from the Basque region. Part of a respected Spanish group, this is its London flagship.
The large dining room has a hint of high-class dungeon about it: all heavy hanging chains, warm woods and gleaming cabinets of wine. (Sadly no whips, though.) Chefs bustle behind a glass screen. You can see the kitchen, just not hear it. Or, now I think of it, smell it.
Which – while it's a novelty these days to come away from anywhere with a grill not smelling like a bonfire – is a damn shame. Because the food smells (and tastes) terrific. The signature ingredient is a Basque speciality: txuletón, beef cut from cows of at least six years old. The result is an immensely full-flavoured piece of meat. All it needs is proper cooking, which Sagardi does beautifully, over burning oak. Sure enough, our impeccably seasoned, cooked-on-the-bone txuletón vaca had that winning combo of intensely smoky outer and ruby-red, melt-in-the-mouth middle. But this joint is no one-trick pony. There were moreish pan-fried txistorra (crisp, cocktail-sized cured sausages) and a terrific salt-cod omelette: a pillowy, herb-flecked tortilla punctuated by mellow sautéed peppers and onions, plus enough fish chunks to give it texture and flavour without overwhelming the other ingredients.
There's a tome of wine heavy enough to press flowers with, but sensing that we weren't secret oligarchs, our waiter recommended a traditional 'porron' of Riojo (£16 for 500ml). A glass watering can (of sorts), the idea is that you 'open wide', hold it up high and pour the wine, in a constant stream, into your mouth. Fun, yes. Easy? Just don't wear a white shirt is all I'm saying.
But – and it's a big but – prices are painful. Even for somewhere pitched at the chest-beating alphas of the Square Mile, the bill is likely to trigger a 'sharp intake of breath' (you know, the one builders give you when you ask how much the tiling will be). So go on, find a friend with an expense account. Then do it some damage.
Sagardi Basque Country Chefs says
Paying tribute to our roots, we showcase authentic Basque cuisine in a comfortable, modern ambience. The finest seasonal produce from the Basque Country including the piquillo pepper, mushrooms, txuleton meat or Donostia wild fish is treated with finesse by Chef Iñaki López de Viñaspre. A painstakingly selected wine list and delicious cocktails complement the food perfectly.
Details
Address:
Cordy House, 87-95 Curtain Road
London
EC2A 3BS

Transport:
Tube: Old Street
Price:
Dinner for two with drinks and service: around £150.
Contact:
Opening hours:
Mon-Sun 11am-11pm.

New

Private events:

This venue has areas available to hire for private events

More info

Do you own this business?
Average User Rating
3.8 / 5
Rating Breakdown
5 star:

3

4 star:

0

3 star:

2

2 star:

1

1 star:

0
Sadly our experience here was not great. First of all the food is fantastic - what we got anyway. Sadly you need to deal with the staff to get it. They range from incompetent to rude.
They got our order wrong twice. In my experience a restaurant would normally then apologise and try to improve the situation. Sadly the manager here argued, got surprisingly aggressive and was actually just quite unpleasant. They also then tried to suggest they didn't understand our English - which is a disappointing excuse in a city like London (and ironic as we had a fluent Spanish speaker with us anyway).
All in all a very disappointing experience and I would suggest avoiding this place. There are better steak restaurants in London with better service - and this one isn't cheap.
Basque restaurants in London are like buses – wait for ages, then 2 come along at the same time. Last month, we reviewed Eneko in Aldwych, now we have Sagardi, situated bang in the middle of trendy Shoreditch. We could attempt to describe Eneko as projecting the image of a sophisticated BMW car, whilst Sargardi possesses more of the cooler, younger vibe of a Mini – both equally pricey but providing quality.
Our large group of 15 were led to the basement where private rooms reside – this offered us privacy and the freedom to be raucous, however, we missed the theatre of the main floor, showcasing the huge charcoal grill where the steaks were prepared. The staff were very knowledgeable, bringing us hunks of meat joints to choose from, describing their age, type of cow etc – too many details if you ask me..don't give my food character or personality please..I feel guilty enough as it is!
So how did the food taste? – we tried a huge selection including Fried Txistorra sausages – tasty chorizo like bites, Grilled Biskay black pudding starter – portion rather copious to stomach alone, definitely a sharing plate. From the grill, we sampled a T-bone Ox steak. Prices were dear at £60 a head for the meat ALONE with no trimmings. We could tell there was pride and joy with the meats offered (showcased in the window display – vegetarians look away). Sadly, we were disappointed by our first experience of Ox…undercooked and a bit tough and chewy (perhaps Ox just does taste like that). Out of the 'home-cooking' style dishes, we selected the oxtail stew slow cooked in red wine for 4 hours which was rich and luxurious, however at £24 with no sides, you begin to realise this place ain't cheap. Top dishes were the tuna tartare (£16), ham croquettes (£8) and the super tasty clams in green sauce. Bizarre pricing baffled us , with a side order of grilled peppers priced the same as the tuna tartare ….perhaps our ignorance in Basque delicacies is exposed here.
Our impression of Sagardi is that it is not really steered at families (based on our Saturday night with cool hipsters hanging around the bar). Friendly staff helped carry a buggy down the stairs and there is plenty of space for buggies – however, the location and dim lighting of the venue doesn't really suit kids (plus no baby changing).
In summary, Sagardi is pretty good – some dishes were hits, some not so. Prices are pretty steep (unaffordable for stay at home mums who don't live off their city lawyer/banker husbands) and if we had to choose between our favourite new basque restaurant, we would have to opt for the more refined Eneko .
An incredible passion for aged meat, simple ingredients and superb executions. The atmosphere is genuinely Basque/Spanish.