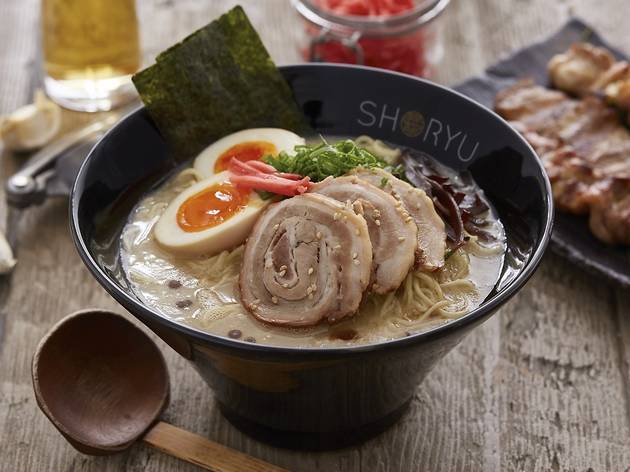 It's quick, it's central, it's comfortable and welcoming – and its ramen are silky, soothing and slurpable.
Shoryu pips its tonkotsu-touting West End rivals for texture and stock, even though Bone Daddies stands out for extra fat and lashings of rock 'n' roll. As well as Hakata-style ramen (noodles in a rich, boiled-down, pork-bone broth), speed is of the essence here: within months of opening in 2012, this original branch started a standing-only service; in July 2013, Shoryu Express opened a few doors down, proclaiming itself 'a rapid, self-service-style prototype ramen bar… for those in a rush'. Both help ease the hassle of no-bookings dining. Dracula tonkotsu (Van Helsing would be a more apt name) – with caramelised garlic oil, balsamic vinegar and garlic chips– packs a flavoursome punch. Extra toppings such as bamboo shoots and boiled egg are to be expected, but kaedama (plain refill noodles) are a godsend for anyone sharing soup stock between small children or bumping up the volume for a voracious teen. A varied choice of good sides, sakés and sweets can really make a meal of your visit.
More
Less
Shoryu Ramen says
Shoryu Ramen specialises in Hakata tonkotsu ramen from the Hakata district of Fukuoka city on the southern island of Kyushu, Japan. Hakata tonkotsu ramen is a style of ramen made with a thick, rich, white pork soup and thin, straight ramen noodles.
More
Less
Venue name:
Shoryu Ramen
Contact:
Address:
9 Regent Street
London
SW1Y 4LR

Opening hours:
Lunch served 11am-3.30pm, dinner served 5-11pm Mon-Fri. Meals served 11am-11pm Sat; 11am-10pm Sun
Transport:
Tube: Piccadilly Circus tube
Price:
Main courses £6.90-£12.50. Meal for two with drinks and service: around £40
Do you own this business?
Average User Rating
3.3 / 5
Rating Breakdown
5 star:

4

4 star:

6

3 star:

2

2 star:

3

1 star:

3
Went tonight after a good experience the previous week. This time the service was terrible. We waited 45 mins after our order was taken before asking a waitress if our food was coming; she said it was; we waited another 15 mins. I went to the counter to ask again and there was no apology or effort made to deal with the situation. We were seated by the window and could see one of the waiters having a heated discussion with one of the chefs. Basically, an unpleasant experience, despite the food being pretty good.
We left without paying, although given how little of our order arrived, I guess this wasn't a huge loss for them. It seems like the way they keep their prices low is by overworking underpaid, inexperienced staff. Avoid if you don't want to take a chance with your night.
I've been to this restaurant twice in the past week! It's just that good! When you walk in you are immediately welcomed by all the staff. The ramen is so good. I had the Dracula Tonkotsu and the Karaka Tan Tan Tonkotsu, both tasted delicious and would highly recommend both. I also ordered the Hirata buns (chicken and prawn) and they were very delicious too! Everything was very reasonably priced and the service was quick! The only thing I would say is that as it is quite a small restaurant and you can't book so you might have to wait a little while for a table. Luckily when I went we didn't have to queue either time but noticed it got busy very quickly.
Customer service is abominable. I sat my table and noticed chopsticks are missing. AND asked for a set. I waited patiently for 10 minutes nothing. I think asked blond front person the same...this time 40 minutes passed til I left place. I won't mind if they noticed to eat Ramen or even share with my famity of 8 believe necessary. I rather not come back. The experience was standard to a KFC with service being in broken English. I wanted to give to stars. This site doesn't allow. So ppl please stay away. CUSTOMER Service makes even bad food taste and bad Customer can even best food taste real bad. One time thing more even with multiple eye contact the service ppl missed the ball.
such a bad experience for dinner. my friend and I went there and the service was terrible and very unpolite. NEVER AGAIN! I wouldn't recommend this chain ever!
I came here when it first opened (a lot) and then I came back again recently... the broth has completely changed - much richer and saltier not the kind you want to drink like soup. The hirata buns were lacking in filling. The tables are sat too close to other people... I so do not want to overhear the awkward conversations. A last minute resort only!
after walking for hours around London we found our selves in soho in the middle of this stunning set of restaurant we chose the Ramen japanese . the staff were welcoming and the food was magic. I especially loved the tempura Brussels sprouts and the frozen froth Kirin beers was bonza mate. satisfied Aussies would eat again here in a heart beat.
The secret to the tonkotsu broth is CREAM. I am allergic to dairy and was extremely disappointed to find out I couldn't only have two of the miso ramens when the waiter asked me about allergies. When I asked why there was cream in the broth, he said "this is Japanese cooking". If Shoryu had any idea about Japanese cooking, they would not use cream or milk in any of their broths.
I feel like customers are being tricked - anyone can be a tonkotsu ramen master and make a delicious and rich tonkotsu broth if they add cream into it!
Great atmosphere, food was fantastic. Place was packed when we got there but the service was still quick. My friend was allergic to Gluten and they were very considerate in pointing out the dishes that she could eat. 5/5
Service is great, atmosphere is cozy, but ramen just didnt cut it I am from Vancouver, we have superb ramen there. i was fiending some ramen after 2 months in London, so I found this place on this site. Had great expectations but left with sorrow and disappointment. This is like that of a Japanese fast food place. The soup was just warm not hot, the noodles were not chewy and I had to pay extra for the toppings, wtf? The flavour was ok, not as good as people described. I guess people have not had proper good ramen. Can't say I have had ramen in Japan ever, but I have had way better ramen, just not in London.
Great stock, fresh and tasty toppings, nice service. Proper ramen!
Shoryu is definitely my favourite ramen bar in London. The broth is so creamy and noodles just like we use in tonkotsu ramen in Japan. Love it and will be back with friends!
More venues
Sponsored listings