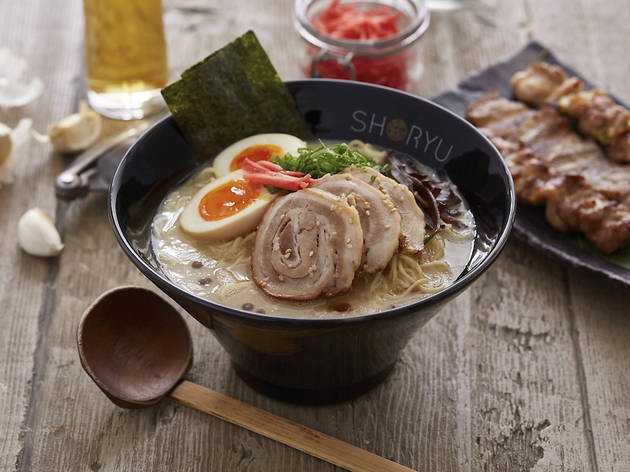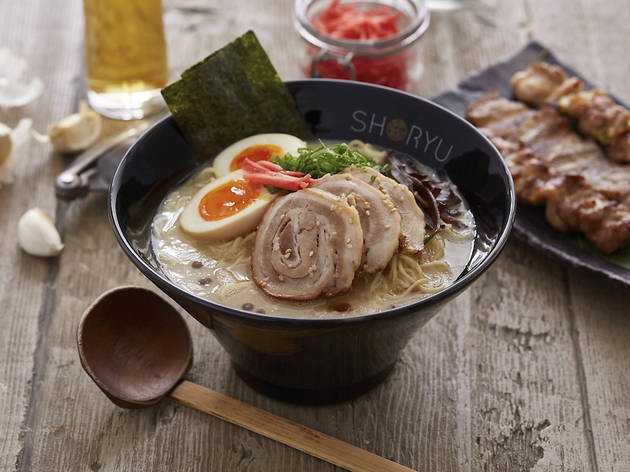 1/14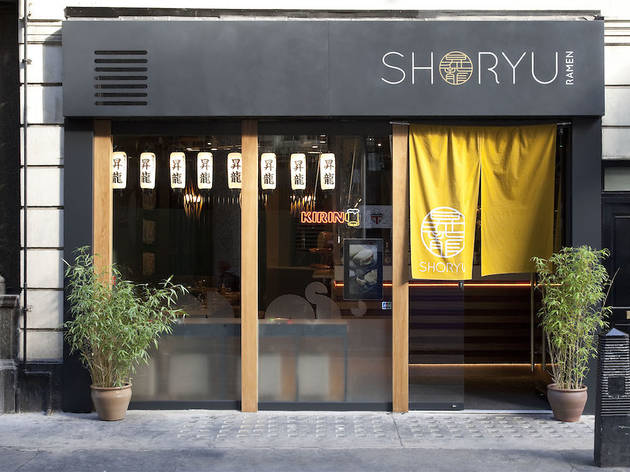 2/14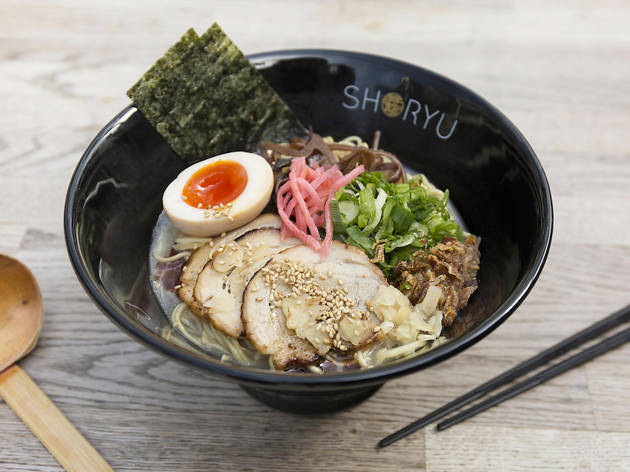 3/14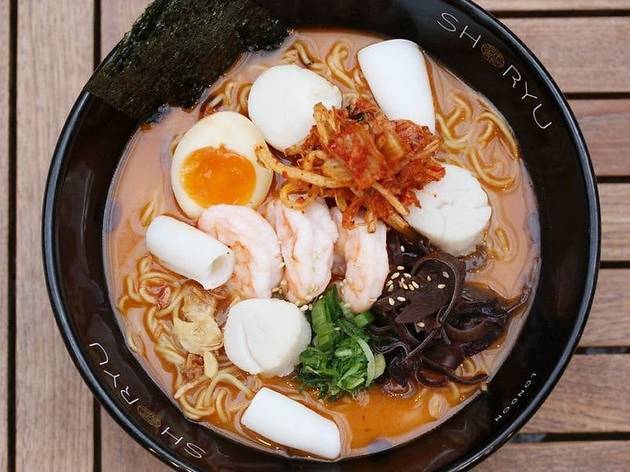 4/14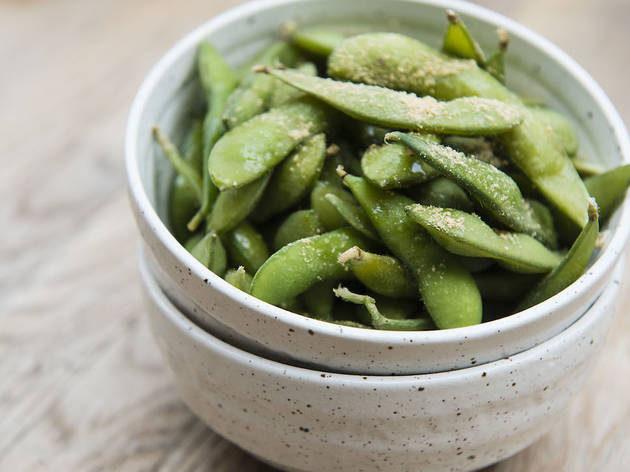 5/14
(C)Holly Wren Photograhy Ltd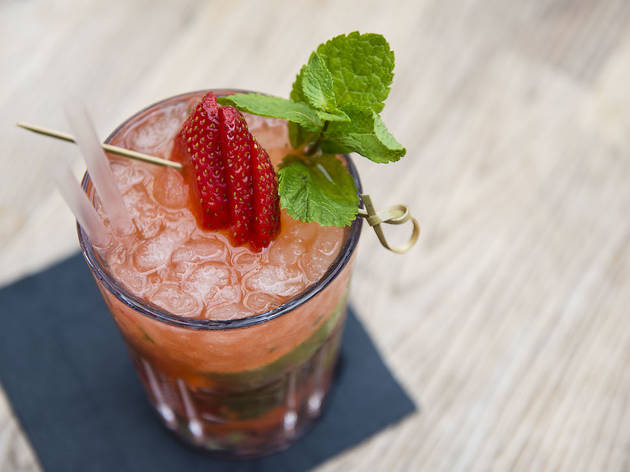 6/14
(C)Holly Wren Photograhy Ltd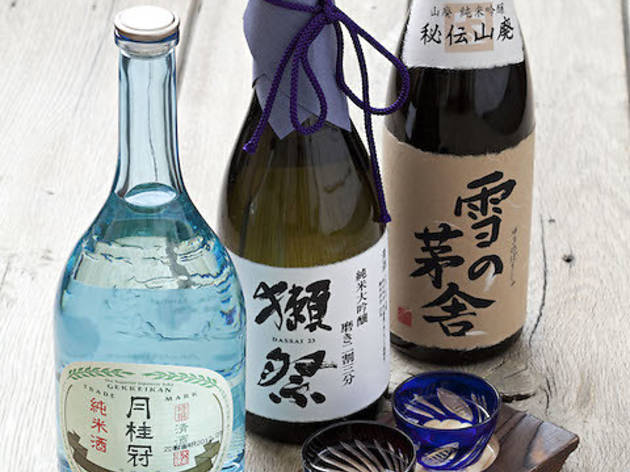 7/14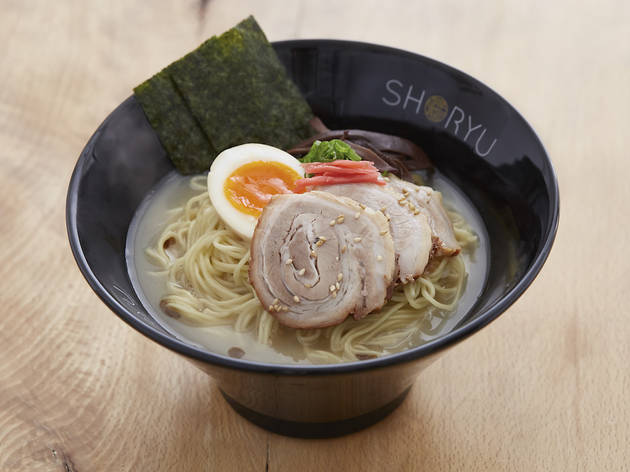 8/14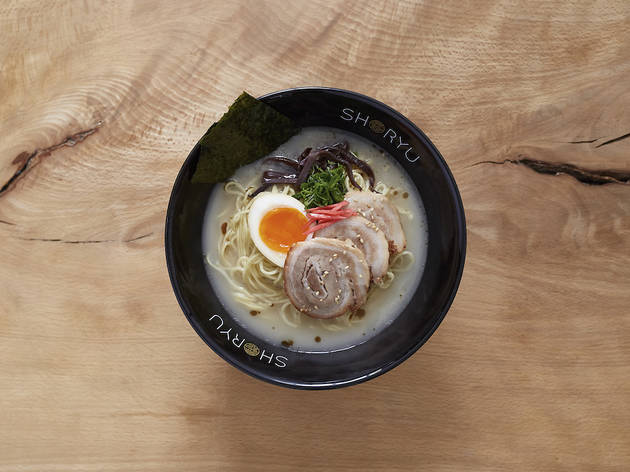 9/14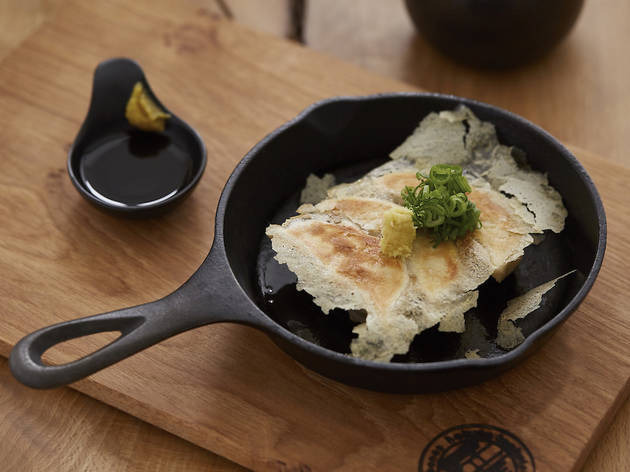 10/14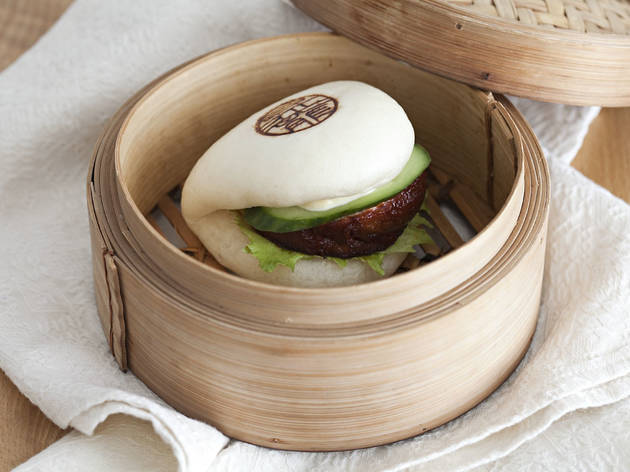 11/14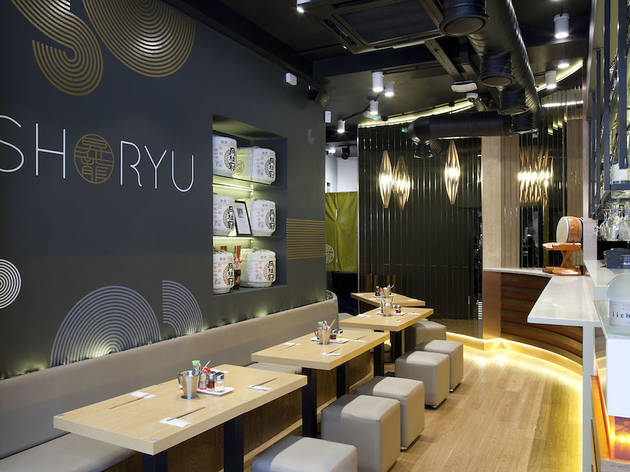 12/14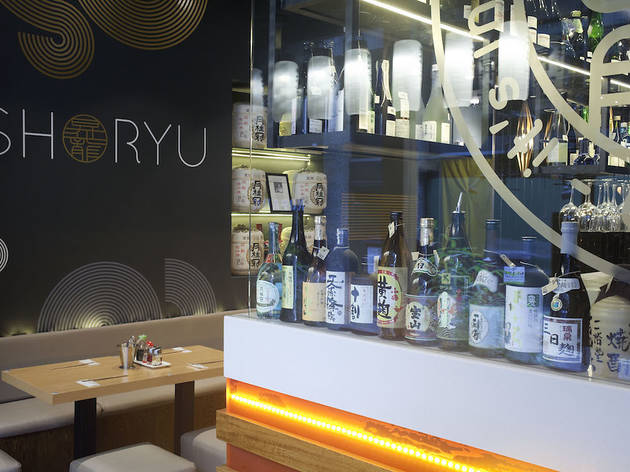 13/14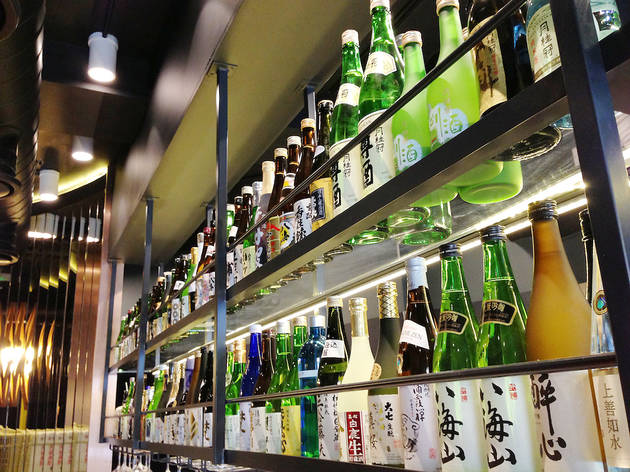 14/14
Time Out says
Second branch of the Hakata ramen restaurant on Regent Street. The Soho spot has a more restaurant-y feel than the canteen-like original. There's the same range of noodles in long-simmered bone broth, plus steamed hirata buns stuffed with juicy pork slices, chilli sauce and mayo.
There is also a saké sommelier Mimi Tokumine, who is often on hand to offer advice to diners. However be warned this is not a bar; arrive on your own and you'll not be seated until the rest of your party arrives, and you need to order a meal to go with your drinks.
Shoryu Ramen Soho says
At Shoryu Soho we have the largest selection of sake, shochu and umeshu in the UK, with over 130 options to choose from. Our expert staff can help guide you to make the right pairing. Shoryu Soho also has a subterranean Private Dining Room that can seat up to 14 people, perfect for any celebration.
Hunting for that perfect venue in Central London? Roll up and set your eyes on our 14 person private Dining Room at Shoryu Soho, so look no further for that dream venue! Contact us to discuss your party needs.
From the team behind Japan Centre, Shoryu Ramen launched in November 2012 and has been recommended in the Michelin Guide 2014, 2015, 2016 and 2017. Shoryu Ramen specialises in Hakata tonkotsu ramen from the Hakata district of Fukuoka city on the southern island of Kyushu, Japan. Hakata tonkotsu ramen is a style of ramen made with a thick, rich, white pork soup and thin, straight ramen noodles. Our Hakata tonkotsu ramen recipe has been specially created by our Executive Chef Kanji Furukawa who was born and raised in Hakata, to provide the UK with highly crafted, genuine tonkotsu rarely found outside Japan. Shoryu's owner Tak Tokumine is also a native of Fukuoka city and along with Kanji is dedicated to championing his hometown's local speciality.
Details
Address:
3 Denman Street
London
W1D 7HA

Transport:
Tube: Piccadilly Circus
Contact:
Opening hours:
Open 11.45am-3pm, 5-11.30pm Mon-Fri; 11.45am-3.30pm, 5-11pm Sat; 11.45-3pm, 5-10.30pm Sun.

New

Private events:

This venue has areas available to hire for private events

More info

Do you own this business?
Average User Rating
3.9 / 5
Rating Breakdown
5 star:

2

4 star:

7

3 star:

3

2 star:

0

1 star:

0
I wanted to like this place but for £12.50 for a bowl of Ramen, I now realise its rather pricey. That said, its delicious and quick. Pretty instagramable too.

I like a restaurant thats not scared of spice and I ordered something that was rather chilli hot. Tick. Gets my vote.
The best bit of the ramen was the half egg. the yolk was perfect, solid but still soft in the middle. Molten yumminess.
I would go again but only if I found an offer or couldn't find anything better.
My only warning would be if you have a food allergy please be careful and check. I asked for gluten free noodles but only when they served it they told me there was gluten in the soup.
Popped in for lunch as looked good and wanted a Bun fix. Was not disasppointed. I know this is a Ramen eatery but I like my picky bits and what we got was outstanding. Pork and Chicken buns, perfect, not stodgy and meat cooked to perfection. Gyoza's came in hot sizzling pan, novel and gave that extra crunchy bit of taste. Felt satistified and smug all afternoon for finding such a pleasant lunch. Love the fact a drum gets banged every time a new visitor walks through the door. Service was top as well. Polite, well manner, made you feel welcome. This makes the list to revisit, and Im sure it will be more than once...

I'm addicted to ramen. There, I said it. I'm hooked on the stuff and need a regular fix of bone broth to keep my withdrawal symptoms at bay. The fragrant bowls of steaming liquor provide the ultimate pleasure for my palate. Problem is, I've found another delicious supplier to feed my uncontrollable habit. Ramen fever has spread to epidemic proportions in our capital over the past year thanks to the opening of three very different, but hugely popular Japanese tastemakers. Bone Daddies, Tonkotsu and Shoryu have been cooking up vats of the stuff to hungry Londoners with raving success, each gaining a loyal following. After my umpteenth trip to Bone Daddies (I much prefer their broths to Tonkotsu's) I thought it was about time I gave Shoryu a whirl, and play the ramen field a little. I tipped up at the newest and largest of the two Shoryu branches in Soho and was confronted with a jam-packed restaurant and a queue. Nothing new there then you may say, it is London after all. But this was no ordinary evening; the mercury was tipping 30 degrees, we were in the midst of a freak heat wave and these people were still flocking to dine on piping hot soup - I figured they must be doing something right. Hopes were high. The venue however was underwhelming and predictable, typical 'pan-Asian' décor resembled a Busaba Eathai and a Ping Pong interior lovechild. But don't judge a book by its cover, one glance at menu was enough to forget the stereotypical surroundings and get lost in a watery world of ramen. Larger and more diverse then the original Regent Street offerings, Shoryu had a menu filled with authentic hot soups, hirata buns, yakitori skewers and even cold broths more suited to the sweltering weather outside. Of the three ramen I sampled the 'Dracula Tonkotsu' stood out as being the most unusual; bbq pork with roasted black garlic mayu, balsamic vinegar and garlic chips gave it a sweet and tangy taste unlike anything I've tried before. The signature 'Ganso Tonkotsu' was a clear and light miso broth loaded with the usual trimmings; half boiled egg, seaweed, bamboo shoots and perfectly al dente noodles. My personal favourite, the fiery and rich 'Tantan Tonkotsu' packed a serious chilli kick and with its hefty load of minced pork was a much heavier alternative to the others. Not one for the spice-shy I hasten to add. 'Salted chicken skins' would have benefited from another 60 seconds cooking, more fatty and soggy than salty and crisp. Cocktails, much like the décor were fitting but not thrilling. I unsuccessfully attempted to cool off by sipping a Shochu sour on the rocks whilst intermittently dabbing stray splatters of chilli-ramen juice (and beads of sweat) from my brow. I may have been hot, but boy was I satisfied. As a ramen obsessive Shoryu had a lot to live up to. The food was much more adventurous than Tonkotsu but the vibe wasn't as cool as Bone Daddies. In terms of the big three, I'd say it takes an honourable second place in the power struggle to be top of the ramen revolution – others will disagree. It may be tarred with a 'Japanese junk food' brush but it sure feels much more wholesome than the usual burger and chips I wolf down after a late night Negroni session, either way I'll be back for another hit very soon. Looks like I'll be chasing the ramen dragon for a little while longer. Someone call The Priory, I'm addicted.